TLDR;
The days of going to the video store or video kiosk in this case are over for Blockbuster.
When I was a kid I always looked forward to that Friday night trip to select a video the local video store. My parents would always go browsing the store to see what movies they wanted. Me, I was right there in the Nintendo section browsing the latest games. I remember renting everything from Zelda, to Metroid, to Mega Man, and even total crap like Deadly Tower and Total Recall.
As time marched on the local video store was a replaced by the mega video store Blockbuster Video. While it was sad to lose the local place I was also excited by the shear overwhelming volume of choices in games and movies.
In recent years Blockbuster has fallen on hard times with the rise of GameFly, Game Access, Steam, Netflix, ITunes, On-Demand, and other online rental and steaming content services.
For a while Blockbuster tried to reinvent themselves with Blockbuster Express. A Kiosk similar to Redbox where you could rent movies. However today all that comes to an end with the announcement that the Blockbuster Express Kiosk is no more. This is what I got in my inbox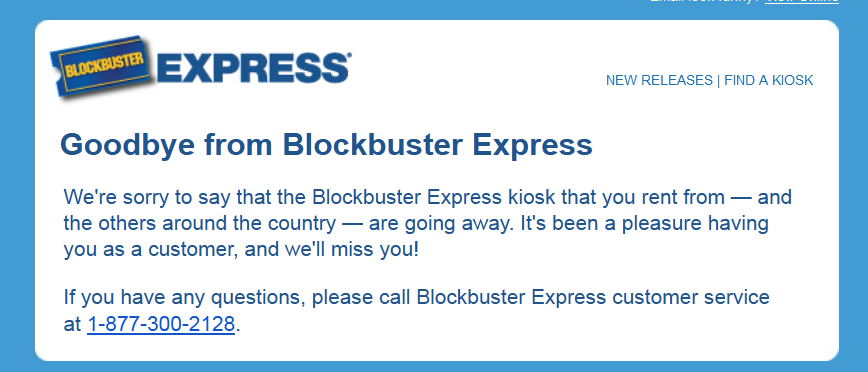 With this the last vestiges of Blockbuster Video and the video store in general are now gone.
I know time and technology marches on and the old is swept away for the new but I can't help but feel a little sad to see them go. I just have so many memories going to the video store, browsing around, discovering movies and games I have never heard of, and taking my wife there when we first got married and sharing our favorite movies with each other for our nights in (if you have not done this with your wife/husband/girlfriend/boyfriend do it! it is a real bonding experience).
So what are your thoughts on this? The march or progress and technology or a time to mourn the loss of an institution?