Check out some of the Cover Art for the Mega Man vs Sonic The Hedgehog Cross Over
1/24/13 1:32pm
As you may all remember, last year Archie Comics, Capcom and Sega had agreed apun in Comic Form that their companies mascots would be not only crossing over but in typical Super Sentai fashion the two Universes will have a fight aginst one another! Very soon the Worlds Collide story arch for both Mega Man and Sonic the Hedgehog will be released and the fight takes place in both characters worlds. This is one excuse as to why the Arch takes place in multiple comics besides our Heroes Main ones, anyway thanks to The Mega Man Network they not only have scans of some of the covers for the cross over but also a description to the second part of Mega Man and Sonics duel.
"
'When Worlds Collide,' Part 4 of 12. It's Sonic versus Mega Man – Round Two! Celebrate 25 issues of Mega Man with the throwdown brawl to end all throwdown brawls! The Blue Bomber has the home field advantage this time; can Sonic keep up in this unfamiliar city? Meanwhile, Drs. Eggman and Wily make their boldest move yet in their master plan! This milestone issue marks the dramatic conclusion to the first act in the biggest crossover story of 2013! Featuring a stunning gatefold cover by Sonic/Mega Man art legend Patrick Spaziante, and a special 'E.F.F. (aka Evil Friends Forever) variant' featuring Drs. Eggman and Wily on a (presumably evil) bicycle built for two!"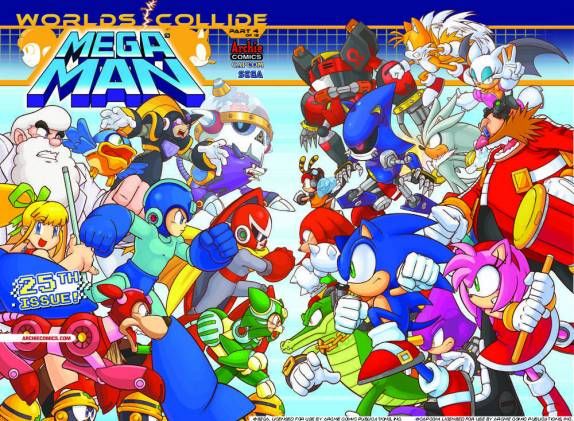 So g1s are you excited on Sonic's and Mega Man's second duel(If you count the Death Battle of their Mad Doctors of course) I for one am excited for this battle!
» Source: http://www.themmnetwork.com/
» Tagged In: #Archie Comics, #capcom, #comics, #Cross Over, #G1 Blog, #g1 news, #Mega Man, #Sega, #sonic the hedgehog, #video games, #Worlds Collide