TLDR;
I would hate to bring up this horrible event once again, but I couldn't help but showcase the great things that people have done in support of those effected by the mass shooting.
Editor's Note: I know a lot of media outlets and such have been spending the past two days trying to understand the shooter to discover what his motive could have been, which I find rather sad. I get that we feel the need to understand where his head was at but we have to shift that focus towards how we can prevent such a tragedy from happening again. However, before we can do that, we have to take the time to reflect and mourn the loss of those innocent people whose lives were cruelly cut short and offer our condolences to those who knew and loved them.
The director of the Dark Knight Rises, Christopher Nolan, has recently written a response in regards to the shootings that occured yesterday during the midnight opening of the film in Aurora, Colorado. He said...
"Speaking on behalf of the cast and crew of "The Dark Knight Rises", I would like to express our profound sorrow at the senseless tragedy that has befallen the entire Aurora community. I would not presume to know anything about the victims of the shooting but that they were there last night to watch a movie. I believe movies are one of the great American art forms and the shared experience of watching a story unfold on screen is an important and joyful pastime. The movie theatre is my home, and the idea that someone would violate that innocent and hopeful place in such an unbearably savage way is devastating to me. Nothing any of us can say could ever adequately express our feelings for the innocent victims of this appalling crime, but our thoughts are with them and their families."
Along with the film's director, many fans have also expressed their greif and sorrow through art and a newly annointed black ribbon symbol in commemoration of the great tragedy.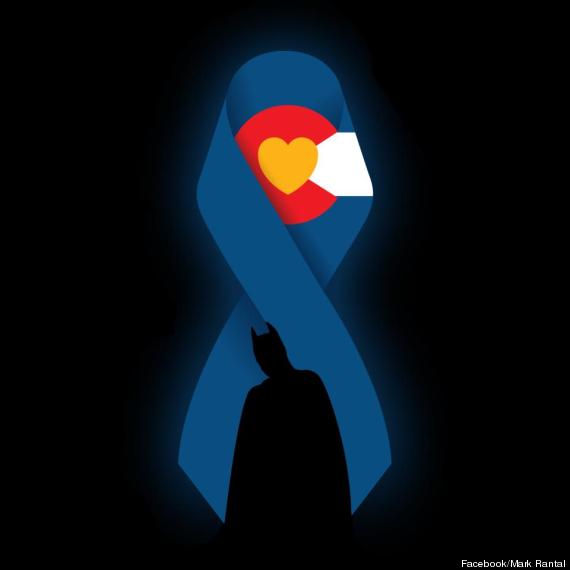 While nobody may ever know the reasoning behind shooter James Holmes's senseless act of violence, what I do know is this. If he thought he could scare us into abandoning our childhood hero, if he thought that he could terrorize us into stop believing in everything that the Dark Knight has stood for and will continue to stand for in several years to come, he has failed.
If anything, he has only encouraged people stand up for everything that Batman represents, and everything that both fans and the American people have adored about him for so many years.
There might be nay sayers out there who believe that the symbol of Batman has been shamelessly shoehorned as a promotional symbol for this great atrocity, but what I have to say in response to such accusations is this.
Sometimes, we all need a hero. Nothing more, nothing less. And upon looking at those who have risen up in support of the people who were effected by the Colorado shooting, I would say we have several heroes already among us.
I would like give my personal greivances to everyone effected by the shooting and I would like to thank everyone who has helped remind us that through this horrible event, heroes will rise.