Dark Review: Pokemon Black Version 2
1/12/13 8:35pm
Starting off 2013 with my reviews of some recent games I've played, I start off with the sequel to the game that started the 5th generation of Pokemon. Is this game worthy of being a Champion? Or is it a shameless cash in?
MWHAHAHAHAAA!!!
Greetings g1s! It's the start of a new year of reviews and luckily for you, I have plenty of new games I have recieved recently that I can do my morbidly dark reviews for. Since Pokemon Black Version 2 is the game I have beaten first out of my Christmas games (which is funny since it's one of the longest to beat), I shall do that one first.
Before I start, I must say that this is probably going to be THE last and final DS game that I will ever play new. I always thought that Okamiden was going to be my last DS game that I will play new, but oh boy I was definitely WAY off since many other DS games got released after 2010. For one, Pokemon Black and White Version released in 2011 so already that put Okamiden as an older DS game, and then (a game that I DID NOT see coming to be honest) was announced for 2012 and that is the game I am reviewing right now: Pokemon Black Version 2.
I originally got White Version 1 for 2011 since my brother already got Black Version 1 a few months before me. In 2012, I (somehow) managed to convince him to get White Version 2 this time around and that I will get Black Version 2. ........after some thought, I probably should have stuck with White Version 2 like my brother said but oh well. Normally I review a game when I get 100% on it, but let's just say that this game would probably take YEARS to do. On to the review!
THE GIST: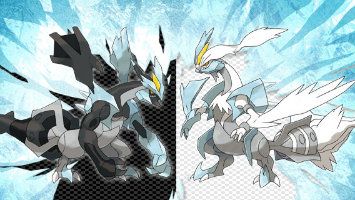 Pokemon Black Version 2 is the sequel to the highly successful Pokemon Black Version game and it is created by GameFreak and Nintendo. This game is a turn-based RPG that is simple and complicated at the same time. .....but for the most part, it will be simple if you just want to focus on beating the game.
You probably know what the Pokemon formula is already so I'll just talk real quickly about any noticeable changes that have been made.
From my knowledge, the battle system is practically the same as it has been in the past. I don't think that any new stat changes have been made for Pokemon and I think that only a handful of new Gen 5 Pokemon are introduced....and I think even then they are only legendaries. However, this game combines Pokemon from all 5 generations this time around instead of only having new ones.
Story wise, this game takes place 2 years after the Black Version's story. You are on the (predictable) road to stardom by taking down 8 gym leaders in various towns and then to challenge the Elite Four and stuff. Team Plasma is at it again, but this time to use the power of a legendary Pokemon to freeze Unova because.....they're evil. You're trying to stop them, along with your rival/neighbor (who I named Cartman) who is angry at Team Plasma for stealing a Purlion from his sister 5 years ago. There's also this scientist that wants to see what the potential of Pokemon is.
While you do travel over most of the same Unova that you remember, a good number of changes have been made to several areas and there are new areas and towns to explore. I'd say that roughly two-fifths of the game is made up of new areas.
This game is also bigger than the last game. It took me about 28 hours to beat this game---about 8 hours more than White Version did (then again, I goofed off a lot). There is also much more to do such as this Movie Studio where you have to do specific battles, this Join Avenue that has this gimmick to get you to interact with others, and (most importantly, perhaps) the Pokemon World Tournament where you can take on past gym leaders from older games. You can even play against past champions like Red too!
THE GOOD: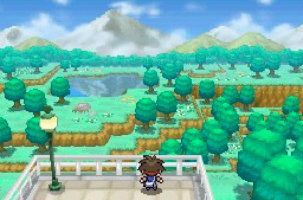 The best part about this game is that this game has a LOT of content in it and you will be hard pressed to find nothing to do with it. Yeah, don't expect to beat this game in one sitting unless you are Jared or something (which I believe he actually IS trying to beat it in one sitting). Hundreds of hours can be spent perfecting teams of Pokemon, doing all of the sidequests, etc. easily if you are those that are huge Pokemon fans. There are medals to collect, movies to make, old rivals to beat, and I'm only scratching the surface.
The areas that are new have lots to offer and even some of the older areas get renovated. Victory Road, for example, is an entirely new area. You will also get to go through a new area in the city that you haven't gone through before in the older game. While a good portion of the game will force you to go through older areas, this new stuff is a breath of fresh air and it keeps things interesting. Even in the starter towns that you went through in the last game will be a little bit more difficult to go through than it was last time (since they will have much higher levels). Prepare to go through many fun (other than caves) and cool-looking terrains throughout the game! This probably helps the game to become far more addictive than it should be.
This game includes Pokemon from all 5 generations right from the get-go and it mixes up things a bit and it allows you lots more diversity into what kind of team you want to create. My team was Magnezone (named Magnet Man), Emboar (named Ganondorf), Flygon (named Trippy), Roserade (named Poison Ivy), Golduck (named Donald), and Hydreigon (named Reptar). I have to admit that I like this team more probably more so than most of my past ones, and that was thanks to the diversity this game had. This also allows easier Pokedex completion.
The Xtransciever gets an upgrade in this game and allows you to call others. ----BUT don't worry! You won't hear annoying kids talking about how cool their Rattatas are or what top percentage its in! This time you can call only the people you care about (or at least partially care about) and they can tell you the stuff that matters--where to go, what to do, friendship ratings, weakness charts, evolution know-hows, all that stuff. It's far more useful than you think.
The Pokedex also gets an upgrade as well with the new Habitat list that allows for easier completion. Something else minor that I liked is that when your max repel is used up, it will automatically ask if you wish to use another. Thank you Game Freak.
This game (for better or worse) is pretty much the same style of gameplay you have seen in past games, which usually means that it will be highly addicting to get through. I can't really explain it.....it just....IS.
This game has great visuals (despite it being on a DS), lots of color, and generally looks great like the other Gen 5 game looked like---now with extras! The battle menus look more snazzy, and it generally has been touched up a little bit for the better.
The music in the game, while having many of the same songs and music from the past gen 5 game, has been remixed and it sounds more than glorious. It's like walking through memory lane all over again---which is probably what the game was aiming for in a bit since this game only takes place 2 years since the last game. The stuff at the World Tounament has some amazing remixes of good old tunes.
(yep, him too)
I have mentioned this before, but this game is A LOT bigger than what I expected, which is a plus since that makes it worth the money more. It almost makes up for the fact that there is no official "second quest" that I was hoping for where you would go back to Hoenn or something. However, the World Tournament has you battling out some awesome fights from the older regions so that's a massive plus.
Oh, and this game also has difficulty settings! .....They don't add as much as I hoped but they are there.
THE BAD: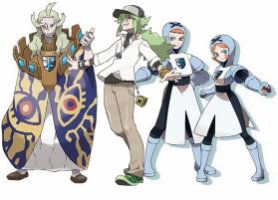 This game does have its share of flaws. The most annoying thing though is that most of the same flaws are ones from previous games in the Pokemon franchise.
The one main flaw I still find is that the game just doesn't feel dangerous enough and that random encounters and trainer fights either become a chore, or annoying, or grindy. Let's start with the danger factor. Other than losing a small sum of cash and going back to a Pokemon Center (with a distance to your losing spot that is usually small), there is NO other setback or penalty for losing. If there could have been a penalty such as Pokemon having a chance of DYING, or you losing more money or items, or if the game is set up with a checkpoint system of some sort instead of being able to save anywhere you want then this game will feel like....well....a game. This is just one of those games that you can pretty much just walk through without any fear--especially if you know what you are doing.
Random encounters are as annoying and pointless as ever. Especially in caves, I feel that the encounter rate is still far too high. They usually aren't that great to start out with, but the thing that takes the cake is that you can ESCAPE from it usually 90% of the time. What's the point other than to waste my time if I can just run away? Also, the unique amount of Pokemon you can encounter usually isn't that high, so blech. Just stick to max repels.
Trainer battles can become a chore since they usually have only one or two Pokemon and they are usually very easy to take out with only one strong-hitting move. Speaking of trainer fights, this is one of the easiest Pokemon games I have played to date. The Elite Four and the Champion are a joke this time around since they mostly have the same levels as you, and I was deeply disappointed in that regard since I recall the Elite Four being HARD in games past. There is a difficulty setting you can unlock AFTER beating the game (which is a little frustrating) but it really isn't much harder at all. At least battles after the game are harder though. As a last note on difficulty, your rival is also a joke as well. Did people complain that Pokemon games were too hard?
Your bag and item selection and sorting, while better than previous games, still needs work. There should be a pocket for balls and hold items, for one. .....Favorites would also be a good plus. This game also STILL treats you like a noob in the start of the game even though this is 2012. I'm pretty sure everyone knows what tall grass is by now... It should at least give you some sort of option...you know?
Also, this game is a DS game. At this day and age, you would expect (or at least hope) for Game Freak to have a 3DS Pokemon game by 2012. Surely it wouldn't have been that hard? Well, at least generation 6 is confirmed to be a 3DS game.
I also think that this game is still far too similar to the games released in 2011. This game feels to me like a glorified expansion pack to the 2011 games since many areas are recycled. You know what areas to expect (mostly) and which Pokemon to use--especially for veterans.
The story in this game is also kinda meh. I feel that the original Pokemon Black and White games had a better story (and a far more epic ending, I might add) than this game did, which again is disappointing. The story is a little more predictable than it has been and Team Plasma only really does anything "bad" until the final areas of the game. Even when they did, they gave out a rather lousy excuse at times. Yes, even more lousy than Team Rocket's evil shennanigans.
THE EVIL: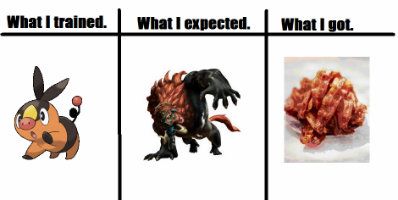 From: http://pokebot.everyboty.net/?i=1538
Remember when I said that I probably would never 100% this game in years? Yeah well I wasn't kidding. This game is HUGE and it is designed to never allow you to have a life if you are determined to get everything. There are three main reasons.
One main reason is that the extra amount of stuff in this game is incredible and can be highly time consuming. If you wish to master the Pokemon World Tournament, then get ready to train some guys to be a new A team. If you wish to perfect the Movie Studio, then expect many failures before succeeding (especially if you don't use rentals). There is a bunch of extra stuff and new areas you can reach after beating the game and it can easily clock in at about 15 hours after beating the game.
However, that is nothing compared to the next reason, and that is that you need to catch ALL 649 Pokemon to register into your Pokedex. This is absolutely insane for many reasons. For one, did I mention that 649 is a lot? Well it is. Also, your game only has about 2/3 of the Pokemon that can be obtained in the entire Pokemon universe, so that either means you BETTER have a lot of other Pokemon games at your disposal or a very.....VERY nice friend/minion. Also, you are going to have to catch some of the same Pokemon multiple times so that you can have all evolution stages in your PC (so that you can have them all ready for generation 6). Oh, and please don't get me started on Event Pokemon.....friggin Game Freak.... And what do you get for doing all of this? I think you get some lousy certificate for completion and this item that allows you to get Shiny Pokemon at a VERY SLIGHTLY higher rate. ...........at least it's something but talk about stingy.
The final reason is that this game has a new thing called Medals....or in other words achievements. The thing about them is that there are 200 of them and some of them are just absolutely ridiculous or incredibly time-consuming. Some of the more insane ones are listed below and the pictures shown are from Serebii.net.

For those unfortunate souls that MUST catch them all. ....poor Ash...

Sometimes you just have to grow up.

Note that I got $400,000 when I beat the game.

For Facebook users.

I guess it's their way to reduce the amount of cars off the roads?

.....to train them is my cause?

Red will sweep the floor off of you.
I hope you like don't like traveling...
For those that have 100 Jirachis that are willing to be traded off.

The hardest medal of them all.

Why bother getting the rest if you have this one?
Note that there is a medal for each type.

Time to go Rambo with my level 86 Meganium.
For those that have no life.
There is lots I can say about how much Pokemon resembles animal fighting but I think that I have discussed enough on that regard.
However, Team Plasma in this game *minor spoilers* has been branched off from another Team Plasma group. No longer are they using a cover up of "being good", they are now in it for world domination! MWHAHAHAHAAA!!! And what better way to do this than to dress up in all black and look like pirates....kinda? Well, either way, Team Plasma has no need for coverups now and my evil side likes that they don't hide their true side any more.
There is also some patch of tall grass at Floccesy Ranch that....uh.....shouldn't be in the game.
THE VERDICT:
This game is actually quite a bit of fun. However, for those that have played Pokemon Black Version 1 in the past, then this game isn't a necessary purchase (especially if you are interested in its story) but it still wouldn't be a bad one either. This game does borrow very heavily from its past game world structure despite having new areas. This game also plays it far too safe and I do hope for a future game to be more daring. However, this doesn't make it a bad game in the long run. The game is still fun and is quite addictive. For newcomers or for those that haven't played the 2011 game, then I do urge you to get this game and I do find it about as good as the 3rd generation (and better the 4th generation).
For those that need they're Pokemon fix though, this game packs a big punch. I give this game...
7.9999 Life-Stealing Medals out of 10.
I gave it a score like that since I just can't find it in myself to give it a full 8 for playing so safe...yet it has so much content! DAH! Either way, this means that this game is really, really good but just a hair behind great. (although for those that are newcomers, I would give it an 8.4 then)
Next time on Dark Reviews, I'll probably either review Jak and Daxter or whichever game I 100% first. Until next time! MWAHAHAHAAA!!!