Darkhyrulelord and Nobleteam Discuss: Our Worst Games
1/28/13 2:32pm
g1s Darkhyrulelord and Nobleteam are here to talk about our games that are THE worst of the worst games that we have ever had the unfortunate experience of laying our eyes on. Do you dare to hear of our memories? Then delve in, brave warrior!
MWHAHAHAHAHAAA!!! Greetings, g1s! Today,
g1 nobleteam
and I shall delve into the very depths of video game hell itself to unearth some of the worst games we have ever played. Are there any redeeming qualities to these games at all? Well, we shall certainly *try* at some point but trust me when we say that they are BAD.
So finally I have joined the dark lord to make a blog so evil as we look at some of the worst games we've ever played. These games are so damn evil that not even a warlock punch can save you from these turds, but somehow will there be a glimmer of hope with any of these games...? Chances are nope that will not happen. So here are some of the worst games we have ever played now ENJOY IF YOU DARE! ... cue lighting
Now, before we start, keep in mind that this is NOT a top 5 list for each of us. We are simply talking about 5 BAD games that we have played in our past that has tainted our lives in some degree. So expect this blog to be a little bit more nonchalant as we each discuss five games that have haunted us. Yes, even the Dark Lord himself. I shall start with mine first and then nobleteam will talk about his five. (I will be in normal font and Nobleteam will be in italics.)
Darkhyrulelord's worst games
#1. Virtual Chess 64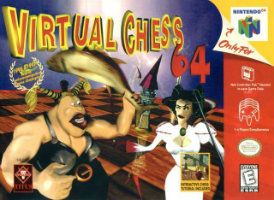 Hey nobleteam, what has your chess experience been like?
The last time I played chess was my freshmen year in high school so limited is my experience with chess.
Hmm.....I recall playing some chess in high school, but everyone else really wasn't too...driven (I guess?) to be really good at it in the Chess club. HOWEVR, back in elementary school (of all times), I was in a rather hardcore chess club and it was TOUGH. Ever since I was 6 or so, I enjoyed chess quite a bit. I decided to join the chess club and my skills were increased by tenfold but that was because I got whupped multiple times. Have you ever been in a chess tourney before?
I can say that I have never been in a chess tournament as one I'm a checkers kinda of guy or at least for the drama now I overstated "YOU SUNK MY BATTLESHIP" whenever I played that board game, but to get back on point I have never been in a chess tournament in my life.
I remember Battleship. I always lose that since I think my brother cheats by moving his ships. Anyway, chess tourneys even for a third grader were super difficult. I don't know how, but I managed to be 25th in the state for my age at the time and I won a 10th place trophy once. I also nearly won a team game but I lost the championship game. *warlock punches* Well, in those tourneys, I will gaurantee that you WILL lose a lot, and Virtual Chess will make you lose a lot too. ....but for all of the wrong reasons.
Have you played chess video games before?
Yes if you include the simple chess game that comes with windows, but outside of that I haven't played any other chess games.
I have played some chess video games before. Chessmaster for the Gameboy was.....OK. (although the thinking time for the CPU is ridiculous) Lego Chess for the PC wasn't too bad, but the difficulty curve is rather unfair. But Virtual Chess 64....where do I begin? Perhaps I should start that Titus made it....the same guys who did Superman 64.
Sounds like another classic from this developer
YEP!
For one, the controls are.....awful. I don't remember much, but it took me awhile to even figure out how to move the piece.
Sounds like I will be punching of the warlock kind of I ever see in person.
Yes, many pieces were warlock punched (or at least N64 controllers). The worst part about this game though is how unfair and annoying the CPU AI is. Even on the lowest difficulty setting, games can take hours since the AI is rather difficult and is extremely defensive. Like.....the CPU will make very little mistakes and just continues to troll you for the rest of the game.
Cheap AI sounds like an NES game within this N64 game.
Indeed. However, some "good" things about this game are some animations you get whenever you take a piece......however...the graphics for this game are rather...ugly to look at (even for N64 standards) since Titus made it. All you have to do is say Titus with this game and anyone would shiver.
Sounds like you had a blast playing this game, which makes me wonder what other awful games has the dark lord played?
#2. Tony Hawk Ride (Wii)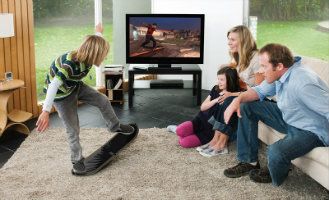 This is easily one of the worst games I have ever played... : /
Have you played any Tony Hawk games?
I remember playing the first couple of Tony Hawk games on the PS1 then after that I stopped playing them as well since I lost interest after Tony Hawk Pro Skater 2 on the PS1.
Well....aheh....this was my first and only....a good start. It was given as a "family" gift and is probably one of the (unfortunately) worst gift games that I have played. Ever got a bad game as a gift before?
My parents just give me money to buy games as well the last time they gifted me a game I didn't mention I wanted them to buy for me well it ended with me getting a pretty bad game. So now I just get cash or gift cards to buy game at my local game stores from my parents now.
That's a pretty good idea. This is why I always give them a list if they ever wish to give me something like for the holidays or something. Anyway, this game came with the most clunky and strange skateboard peripheral I have ever seen. Even this 3rd party Radical snowboard thing I got I while back was FAR better than this one.
All I remember about Tony Hawk Ride was how funny anyone looked whenever they tried to play this game, as it is somehow really funny seeing someone that is drunk tried to play this game.
lol, Game Grumps should try playing this one. Something good about this game is how stupid the person using the board will look like. You will look less silly if you used a Kinect.........possibly. It's pretty hilarious.
However, the controls are absolutely abysmal since half of the moves DON'T EVEN WORK THE WAY THEY ARE SUPPOSED TO and the game is so ridiculously strict that you have to be PERFECT to beat a level. Want to play free roam for fun? Well too bad because I think you have to unlock it. Have fun while being forced to do things that don't work!
I bet this game was a Better with Kinect game too, which really means unplayable with Kinect.
(Actually I don't think so but) the final nail in the coffin for this game is that there is this guy that cintinually taunts you every time you fail. This game caused much anger in my parents, which is saying a lot. I'm surprised that this game hasn't been destroyed yet.
Wonder if this guy is more annoying than the "Where did you learn how to Fly" lady from that avgn video?
Actually not, but he keeps saying, "Dude....no". Maybe he's saying that to the game?
#3. Rampage: Total Destruction (Wii)
Another shovelware Wii game! What a surprise! lol Also, this game was another random "gift" game given to my brother. My cousin (who gave it) said that he saw it for cheap and thought it might be good since it had Rampage in it.
Another "Gift" sounds like your getting tortured with these amazing Wii games.
Hmm....maybe. Then again in the Wii years most of the good games I got were ones I bought or something. Well, other than the actually cool Pixar-like animation you get in the beginning, this game is garbage. Once again, the controls are godawful since you have to move in a 3D environment using only the Wiimote move controls. *shivers*
I remember Rampage when it was a 2d it seems like so long ago since those days, and another wii game in which the controls are bad ... well guess that #378 on the bad wii games then.
Yes, it's not even worth the $5 price tag it's so bad. The controls are so bad that again many of the moves you are supposed to do don't even work and this game will be monotonous very quickly after you destroy the same buildings over and over and over again. If a game makes destroying buidings boring that that's quite the accomplishment. .....although....there were some coolish things about it though.
Well looks like this game did something right it made one of the most cool aspects ever really dull...I think Godzilla would like to punch this game.
No, I'm pretty sure he would step on it like the bug/turd it is. You don't want to put your hands on this filth. Some of the only "good" things I found about this game were some of the cool monstrosities you can play as.....but they all play the same so there's no point.
#4. Defender of the Crown (NES)
Have you seen the Continue show?
I don't even now what that is, so my response is no I haven't.
Hm...well the Continue show is a group of 3 guys who play a random retro game for about 30 or so minutes and then say whether it is good or not. ....They made the unfortunate decision of trying out this game. You think that a game about Kings battling each other out with armies would be cool, right?
This idea sounds good for a concept too bad, a lot of nes games with good ideas tend to get bad games for the most part.
I could fill my entire list with some bad NES games I have, but.....I'm going to try to mix things up for a bit. Indeed, many games have good concepts and have the potential to be good like Conan and Xenomorph and Back to the Future but it kind of makes you think that they just took the easy path, you know?
They likely had a deadline or really had no idea how to program a game for the Nes, so they just shipped this game out to try to get a profit.
lol Easy money! Well I guess it worked since somehow I have the game. : / I have reviewed Defender of the Crown before for a Review a Bad Game Day blog but I must reiterate at how atrocious this "game" is. It's supposed to be a strategic game, but the game (and manual) really don't even bother how to tell you how to really play it.
If it's a RTS on the NES I can only imagine how bad this game truly is.
It's not RTS but it still is confusing and not worth the time. When you start up the game, you will be bombarded by wads of boring text that will make you WANT to read your book for that certain English homework assignment.
When a game makes you want to read a book you can in a sense say that the game is educational as it makes you crave to actually learn anything that isn't in that game.
Indeed, you will not want to learn more about this game. However, for those brave souls that venture further, prepare yourself to see Atari level graphics, horrid music that sounds like farts, and gameplay so delayed that you would think that your NES has dial-up or something.
ALL OF THESE IN ONE GAME WOW I MUST OWN THESE, MUST BUG PARENTS FOR SHITTY GAME!
YES GET THIS GAME NOW! There are some other things you can do in this game like jousting but you will probably be too good at it since if you win, you will be "shamed" upon your people. (OK, I know that you weren't supposed to hit the guy on the head in jousting but I loathe this game so much that I made an exception).
The only Joust I know is of the old arcade game, wonder if the jousting here has any ostrich's in this game, wow seems I'm getting off topic a lot. From all I hear this sounds like another game that makes you wonder how and why it happened.
I guess they "tried" to make a cool midieval game, but they didn't put nearly enough time into it.
#5. Any game with a lot of text in a different language.
Didn't see this one coming, did you?
Wait what I'm still reading the intro to any game on APPLE II, I'll be done with that in 5 minutes, but yeah seems like a choice out of left field.
Well, I'm going to go on the record of saying that any experience I had playing edutainment games was FAR more enjoyable than ones I had when playing a game with a lot of text in a different language in the past (in this case German).
Well the only languages I know are Spanish .. actually all the cuss words in Spanish as well in part due to my family, and English through reading a novel within a game just seems like a major pain in the ass.
Action games aren't that bad since they are games that most people can understand. However, when you are forced to make me translate all of this stuff just to play a game, then it stops becoming fun any more and it becomes school--something I was never really fond of. The worst though are games that are in a language you know that also have multiple languages in it. Good examples are Braille from Pokemon Ruby and "dinosaur speak" in StarFox adventures.
Well the only time I had a problem like this is when I play some random rpg of the Japanese Nes/Famicom as I had no idea what anyone was saying so I gave up on the game as well it was in a language that I knew nothing about.
This is why more games should give people the OPTION of having multiple languages in a game. Sure, you might call me stupid for just not learning the language in the first place, but it probably would still be a hassle to play a game that is not in a language most familiar to you. Pokemon Gold (in German) was the first Pokemon game I played and it is one of the most frustrating experiences I ever had, to be honest. There were many roadblocks where you had to translate to (hopefully) get past and let's just say that my Meganium was lvl 39 by the time I learned how to use Cut.
Yeah I would like to see this or least offer the major languages based on region would be a nice alternative too.
Indeed. It could also be used as a good teaching tool for other languages too if you enjoyed the game a bunch (and know all of the conversations mostly). So nobleteam, what are your worst games that you have played?
Nobleteam's Worst Games
#1. Final Fantasy XIII
While the first bad game that I start off with isn't one of the worst games out there I just hated playing it and I can't believe there was ever a time in my life that I was happlily awaiting this game so my first bad game that gets a mention in no other than... than Final Fantasy XII.
Ooo yes, I have played this one. *(I assumed that he meant Final Fantasy 12 since that's what he typed.)*
Sadly this game's most fun aspect is well the fact the graphics to the game look nice, but sadly that is the only good thing about this game. What makes this game so bad is that everyone in the story here feels super generic or are rehashes of old rpg characters, except most of them are just so plain and boring or either really annoying. I do wonder what the Dark Lord think about this game?
This is the only Final Fantasy game I have played and I didn't like it much....at all. I got about halfway through it (I think) and this game has lots of problems going for it. Like what nobleteam said, the characters ARE very bland and I don't care for any of them. The story is a mess and is rather dull, and the combat system is overly complicated OUTSIDE of battle but actual battling is pretty much you....standing there and letting your guys do all of the work.
Ohh now you mentioned what I consider to be one of the weakest points about this game it's combat system, or known to me as button smashing as that what the combat is pressing x or a throughout the entire game. So after the first hour I already got bored of this game as pressing a single button for an entire game was no fun at all. Then the worse thing about this game is how linear this game is as the majority of the time you will only be going one direction which is straight which is pretty lame in contrast to other Final Fantasy games, and the game barely opens up to explore till late in the game. So in yeah this is a Hallway Sim, and it's super boring too, so don't play this game at all.
Also, the bosses have WAAAAAAAAAAAAAAAAAAY too much HP for their own good. Like, they will put Castlevania Boss HP bars to shame that they are that big. In fact, I gave up at this stupid moss boss since I was underleveled since I rushed through this game too quickly since I just wanted to get it over with. And yeah...while there is a lot to explore, this game is very linear.
I really forgot how boring the bosses where as they were so easy once you figured out that all you had to do was find one decent spell to hurt them and switch back to healing though it felt like each boss followed the same pattern. So yeah if you want to go straight you should buy Final Hallway 13, and you will get bored of it rather soon.
Wait, did you mean FF13 or FF12? Because lol, they probably play the exact same.
I meant 13.
I thought you meant FF12
lol just go with it.
#2. Killer Instinct (Game Boy)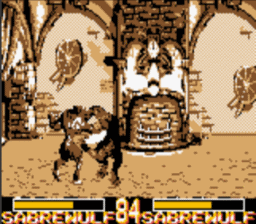 At #2 of bad games is none other than a classic fighting game just not as good as it's other version is Killer Instinct on the Gameboy.
I haven't played Killer Instinct but I have a pretty good idea as to what it's like. I saw the VGV for Mortal Kombat for the Gameboy. That game looks like a terrible port.
Truly most fighting games on the Gameboy are awful and Killer Instinct on the Gameboy is bad fighter on the Gameboy. Most people play fighting games with more than 6 buttons and in part due to the fact that Killer Instinct on the Gameboy only has 2 which makes doing any move happen by random which isn't a good thing as this game is also a lot harder than the Snes Version of the game. The AI here is super cheap and even if you play this game on easy you will likely lose in this game, but I wonder if the ganon think of all of this so far.
Cheap AI for a 2 button fighter? I bet that there is some little demon in the cartridge that has has 6 buttons or something and uses them to cheat against you. I wonder if anyone would be willing to play 2P with that game. That you would probably mean that both people have the terrible game as well as a link cable. I highly doubt it.
Yep playing this with somebody else requires them to have this amazing game, which at least means that someone else has also enjoyed your sorrow of playing this game. The only thing that is slightly even good about this game is the music as it sounds like an 8-bit version of the Snes version of Killer Instinct.
8-bit remixes can be cool indeed. At least it has SOMETHING going for it, right?
#3. The Simpsons: Bart's Nightmare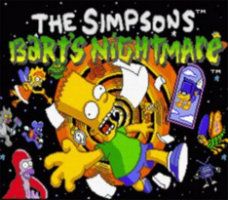 So while Killer Instinct on the Gameboy has good music I will be taking this to an area of gaming that rarely gets any good games ever... The Simpsons Bart's Nightmare.
We're going into Simpsons games now? I think that only a select few are good while others are mighty......atrocious like some of the NES games.
Yep and just like all other Simpsons games out there, this game is cryptic when you first play it as it doesn't tell you what to do. I remember how badly this game started as Bart would just show up on a road and you where expected without any help to figure what the hell you do, so in a sense it's nothing but a Simpson's Nes game with slightly better graphics.
Yep....certainly sounds like a Simpsons NES game for sure. Did the insruction manual help at all?
Well I got this game out in a Flea Market so sadly it didn't though it seems like it wouldn't be much help as the control to the game goes from decent to just awful. The only section that is slighlty easy is the blue door which plays like an okay shump though it's pretty easy to get hit as Bart's sprite in that section is pretty big. Then each other section just gets worse and worse... truly it's terrible.
At least it lived up to the name right? It makes you wonder if the people who made that game were self-aware that the game was awful and tried to warn others to not play it or something. You'd think that a game like Bart's Nightmare would take place at the school or something. Do you know how many great levels/ideas that game would have? It's a shame something like that wasn't used.
Sadly all 8 levels in this game are bad which lead up to this nightmare of a game and if you ever get to beat this game well lets just say that I would gladly watch the Mass Effect 3 ending again over the ending of this game anyday.
At least ME3 had DLC to change its ending...
#4. Dinosaurs for Hire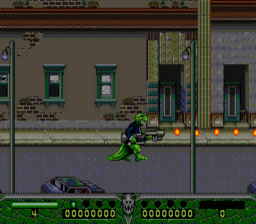 So now we move of to the other side of the 16 bit fence with a very bad genesis game, hell I might even talk about another one. So my third worst game I've ever played is a very generic game that tries to be like Contra, but it fails so bad so my third game is no other than ... Dinosaur's for Hire on the Genesis.
Hmm....sounds kind of familiar. I think I recall it being a Contra wannabe as well but this time with awful controls.
Somehow they messed it up though it didn't help out that your character was so huge that not getting shot in this game was truly a challenge.
Well you ARE a dinosaur right? They should have given them swords or something to make it more fair.
.....on second thought, perhaps not.
Actually that would have made things a lot more easy as the aiming in this game is pretty off and your weapon is pretty weak too.
If your weapon was weak, why couldn't the dinosaurs just use their own claws or something? They should make a dinosaur fighting game! ...*remembers a bad one* .....oh....wait.
Then there is the final thing this is an early 90's game so each of the dinosaur's you choose have plently of tude, with each one trying to be rad and all of that. And there is a Melee in this game but it barely even works.
There is a melee move in a Contra wannabe? That's....interesting.
Yep and it doesn't work... but the next game that I speak of is definitely a lot worse.
....and what is that?
#5. Alex Kidd in Miracle World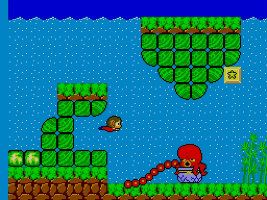 The next game was supposed to go up aganist Mario when it came out and my god I don't see how it ever was considered to be a challenge aganist Mario at all as this is one game that is pretty bad now which is Alex Kidd in Miracle World.
I haven't heard of Alex Kidd in Miracle World before (*actually---I didn't remember it until now*). It's a miracle that this game even made it on the store shelves, I presume?
Actually no as it was Sega's Mascot prior to Sonic do yeah this game was a pretty big name at first, but it's also a bad game in general. One hit deaths well this game has it, floatly controls you guessed it this game has that, and overall a relatively boring platformer too.
One hit deaths isn't necessarily a bad thing (Battle Kid) but it sometimes can be a hassile with games with bad control, I know. I'm glad that Sega decided to make a new mascot for themselves in the long run. GOTTA GO FAST! ...or at least do better.
Well it doesn't help out that the game is tough in part due to it's controls as you will likely not get too far in this game without a lot of luck or actually being good in this game. And there is the final thing that I don't like about this game is the fact that you can only punch your enemies to attack and your punch has a super short range, which actually makes it smarter to avoid enemies in general.
At least that gives you practice in warlock punching, right? While powerful, it doesn't have much range.
Yep it's like if the warlocking punch was stripped of all power and all of it's awesomeness all in one game.
Well then, that was a mighty fine time talking to Nobleteam about our experiences on past awful games we have played. Let this be a lesson that you should always do some research on a game before trying them out---especially if you are going to buy them or something.
So finally I was able to work with the Dark Lord in what I would consider the most evil blog I've ever been a part of to show off some of the worst game that either of us have played,truly this is the joy that you all need today as we have shared some of our misery with all of, so I hope you enjoyed this BLOG OF TRUE EVIL!
Remember to join the dark side for your blogs since evil is good. Be sure to share some of your worst games that you have played in the comments! Until next time. MWHAHAHAHAHAAAA!!!
Today's GANON Award goes to...