DEATH BATTLE! Prediction: Luigi Vs. Tails
3/17/13 6:56pm
Luigi Vs. Tails. Now read.
Welcome to my DEATH BATTLE! Prediction blog! Today we have two of the most regonizable sidekicks in videogames. Miles Prower, A.K.A. Tails, and Green Mario, A.K.A. Luigi.
First, let's re-state the rules of DEATH BATTLE!
Rules of DEATH BATTLE
-Combatants possess knowledge of each other only if it is canon to each fighter's universe.
-The battle must end in a death. For fairness, any personality restraints from killing are removed.
-All other character traits, tactics, and attributes are not removed and are attempted to be represented faithfully.
-Research used is determined equally unless specified.
E.G. If non-canon sources are used for one combatant the same is done for the other.
Now, without any further ado or adon't, let's begin!
CHARACTER BIOS
MILES "TAILS" PROWER
Miles Prower's backstory is a bit foggy, but the general idea is this: Miles was a fox without any parents, and was one day found by Sonic the Hedgehog. Sonic takes a liking to the little Fox, and 'adopts' him as his little bro. Since then, all Miles' have been best friends with Sonic the Hedgehog. For this DEATH BATTLE!, we'll be using the comics/games Tails.
Yasuchi Yamaguchi originally the main artist and zone designer for SEGA's Sonic Team was assigned to create a sidekick character for Sonic in an internal contest. Yamaguchi originally created Ray the Squirrel (who would only appear in SegaSonicArcade) to be used as a sidekick but designed Tails as an internal competition for a sidekick to the speedy hedgehog after Sega of Japan rejected the Flying Squirrel idea. The character was meant to hold a "deep admiration for Sonic" The name 'Miles Prower' played on a speed pun and was originally intended to be a tanuki, a raccoon-like canine native to east Asia, and extremely popular in Japanese folklore. The designers decided to change him to a fox, however, to avoid possible comparisons with Mario, who at the time had a power up called the Tanooki Suit, which allowed him to fly, and made him look like a tanuki. His entry won, but Sonic Team decided to change his character's name from "Miles" to "Tails" in which Yamaguchi was none too pleased at all about.
LUIGI
Luigi is the cowardly younger brother of the famed Mario. Luigi, like his older brother, can use a plethora of power ups to enhance his abilities and grant him new powers. Luigi has not shown much difference from his brother, Mario, aside from being hesitate and very jumpy (Ha!). For this DEATH BATTLE! We will use the games Luigi, NOT including the Paper spin off series.
Luigi was born when Shigeru Miyamoto set out to create Mario Bros. after being told that Mario resembled a plumber, a notion he wanted to officially establish. However, after observing the two-player competitive and cooperative gameplay of the arcade game Joust, Miyamoto wished to incorporate a two-player mode into this game. Miyamoto's answer to Joust's stork-riding player 2 was Luigi, Mario's green-clad younger twin brother with whom he could compete or cooperate. While Mario's name was based on Mario Segale, Luigi's name was based on a popular pizzeria near Nintendo of America landmarks, named Mario & Luigi's. With 2-player mode in mind, Nintendo and publishing companies such as Atari gave Luigi immediate publicity, making him the star of multiple advertisements for the game.
WEAPONS
A PLUMBER'S DEADLY... VACCUM?
Luigi's arsenal of weapons is vastly weaker than his abilities, but nonetheless, they are usefull. Like Mario, Luigi has a hammer that can break through many things. However, it has a tendency to fall off. Luigi can, however, time his attacks to prevent this from happening. Luigi also has his trusty Poltergust, given to him by Professor E. Gadd. The Poltergust can inhaled many things, mostly ghosts and small items. It can also exhale, shooting out any items it inhaled.
HANDMADE GADGETS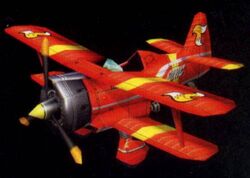 "The Tornado is 18.7ft in length (5.7m), it has a 12.1ft (3.7m) wingspan, it is 6.9ft (2.1m) in height, its primary engine is a 480HP, 12-Cylinder, air-cooled Twin Star and the secondary engine that is installed by Tails are two custom booster engines. The Tornado's maximum speed is 450km per hour if using the primary engine by itself and an astonishing 340 meters per second if both engines are used at the same time."
Tails has created many tools from scratch, but his most iconic is perhaps the Tornado. It's origins also vary with Tail's backstory, but the general idea is that Tails created multiple various versions that far outclass the last, and can fly them with no problem, even with Sonic standing in front of him. The Tornado generally carries a rather weak machine-gun like weapon that fires straight forward. The Tornado's enhancements, the Tornado 2 and 3 all improve on the last. Tornado 2 can transform to create an X shape, whilst the Tonado 3 can transform into a completely different machine; the Cyclone.
The Cyclone is a walking mech that is piloted by Tails. It walks rather slowly, but can transform again into Car Mode. The Cyclone has a built-in lock on Missile Launcher, Boost Mode, Laser Blaster and has Bazookas.
Tails also has an energy blaster that fires a single beam of energy that deals multiple blows to an opponent.
PROTECTION (ARMOR)
Like their big bros, Tails and Luigi use powerups for protection. For this segment, we'll use only defensive powerups; if they can perform an attack, they are skills/powers.
LUIGI'S PROTECTION
Luigi's power ups are vast, but his best defense is undeniably the Invincibility Star. When used, it encompases Luigi in a rainbow aura that enhances his speed. When touching a foe they instantly die.
The Blue Koopa Shell allows Luigi to slide and swim like a Koopa, and while in the shell, Luigi can also hide inside it, making him almost invulnerable.
The Mega Mushroom is a giant mushroom that turns Luigi into a giant unstoppable force. In this form, Luigi can topple anything in his way merely by stepping on it. However, he's very heavy in this form and cannot use any power ups when in this form. Also, as shown in DEATH BATTLE!: Mario Vs. Sonic, the shrinking process leaves the user vulnerable.
Finally, the Invincibility Leaf. Like the Invincibilty Star, it makes Luigi, well, invincible. However, Luigi can also 'glide' with his tail and attack with it as well. Also, it has no time limit; it seems to end when Luigi or Mario complete a level.
POWER BOXES
Tails, like Sonic, gains his protection from Power Boxes. These boxes grant the user the power inside. It is unlocked by being spun through.

The Invincibility. It grants the user 20 seconds of invulnerability.

The Normal Shield. Blocks one attack, then fades away.

The Electricity Shield. It grants the user protection from Electricity, as well as any attack from opponents, albeit once. The user also gains a double jump.

The Bubble Shield. Allows the user to traverse water for an unlimited amount of time, and gives the user a better jump. Can block any attack from opponents once.

Fire Shield. Can block fire, and gives the user a flame burst attack. Can block any attack from opponents once.
SKILLS/LETHAL POWER UPS
FLOWERS AND HAMMERS AND... TANOOKI?
Luigi shares many powerups with Mario. As such, I will give Luigi more than what Mario had for an interesting battle.
Ice Flower and Fire Flower. Using them allows Luigi to shoot small spheres of either fire or ice.
Allows Luigi to throw powerful hammers.
Tanooki Suit. Allows Luigi to fly with enough P, blocks an attack, and gives Luigi a tail attack.
Copy Flower. Creates clones of Luigi.
Allows Luigi to hover and become transparent.
Encompases Luigi in rocks. Luigi can roll into a rock and attack.
Gives Luigi a boomerang.
The Golden Flower. Turns anything it hits into gold.
Aside from that, Luigi can jump exraordinarily high, sometimes even higher than his brother, Mario. Luigi usually acts on instinct, using whatever he currently has. Luigi is cowardly, often running away from danger. However, he has shown spurts of bravery from time to time, albeit short-lived. Luigi is skilled in baseball, soccer, tennis, and go-karting. However, these are not his best outward weapons. Behold, the Thunder Luigi.
Luigi jumps high into the air. He waves his arms around as the ball floats around him, leaving a plasma trail. Now electrified, he focuses his hands in front of the ball and launches it towards his opponent.
TWIN TAILS
Tails' unique trait is his genetic abnormality that has granted him two large, fluffy tails. During his lifetime, Tails has learned to use his two tails to his advantage in many situations, which is usually for transportation or unique combat moves. Most notably of his skills with his twin tails, Tails can achieve flight by spinning his two tails around like rotary blades to fly like a helicopter. This allows Tails to travel across rough terrain, moving through areas where flying is the only method of passing through, or even just getting to higher places. When in flight, Tails can move at incredible speeds, reaching that of 768 Mph, and can even go fast enough to keep up with Sonic. This makes Tails one of the fastest characters in the series, right behind, or even at the same speed as Sonic. Tails' method to flying around with his twin tails is often refered to as Propeller Flight or sometimes by other names. When facing enemies in combat, Tails can also use his twin tails for defensive and offensive purposes, by using them to attack his foes by twirling around, or swinging them like a whip. There does appears to be a limit to Tails' endurance, concerning how long he can stay airborn with his twin tails; as shown in nearly all his game appearances, Tails can only fly with his twins tails for limited periods of time. After that, Tails will become exhausted from the effort and starts falling down from the air.
Finally, Tails is known as the Chosen One, known for stopping Mammoth Mogul from destroying the multi-verse. With enough Chaos power, Tails can assume his 'super' form, Turbo Tails.
Though his looks vary, Turbo Tails' powers generally consist of Invincibilty, Unlimited Flight, and Chaos Control. Though this form has been somewhat forgotten, it has played a major role in Sonic lore, helping Super Sonic and Hyper Knuckles defeat Mammoth Mogul.
SUMMARY
Tails Advantages
Smarter, more strategical

Almost as fast as base form Sonic

Very strong willpower

Can fly and swim

Takes some brutal beatings

Lot's of traps and weapons
Tails Disadvantages
Can easily become dizzy

Talks a lot

Afraid of ghosts

Fairly low self confidance

All shields are easily disposable

Does not like to fight friends (Will be removed for this battle)

Easily surprised
Luigi Advantages
Pretty much Mario

Lot's of potentially deadly powerups

Has a Mega Strike, like Peach

Can make himself invincible many times and ways

Can clone himself
Luigi Disadvantages
Cowardly

Usually naaive and careless

Not as much experience as Mario; that includes fighting

Not as fast as Tails
Dang, this fight was absurdly difficult to finish.
Now, I'll admit, Tails is my favorite Sonic character, and I've never been fond of Luigi. So, on one hand is a formidable, experienced fighter who is the underdog in terms of power, then there's the other, who is a walking bomb. Deadly, and almost unstoppable, but not exactly cunning or deceiving. So, for this match... I'm going to give it to... Luigi. It breaks my heart, but Tails is not as fast as Sonic. Fast, yes, but certainly not as typically fast. See, if we compare Tails' TOP Speed (700MPH +) to Sonics average speed (700+ MPH), it's evidant that Sonic is indeed faster. Mario almost defeated Sonic; Tails is not as physically strong, nor is his Super Form nearly as powerful as Sonic's. Luigi, on the other hand, is Mario + a chicken. Tails has very few ways to win this. So, as much as it pains me to say this, Luigi wins.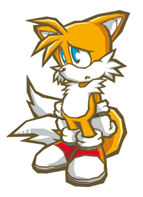 Oh.. well, to be fair, it was rediculously close. (Wishful thinking)
The winner is Luigi.
Author's Notes:
For confusion, this was the game/comics Tails, and game Luigi. Luigi also had all of Mario's powerups, I just forgot to add them into the analysis.
Next time, on my DEATH BATTLE! Prediction Blog:
» Tagged In: #brothers., #DEATH BATTLE!, #FastBlade5035, #Luigi, #Mario, #Nintendo, #predicting, #Sega, #Sidekicks, #Sonic, #tails
Just a heads up that on Friday, December 13th we'll be implementing two options for commenting on ScrewAttack. In addition to the traditional comment system we'll also be adding the ability to post directly via your Facebook account. Thanks!
I'm glad Luigi won. Great job on the research!
I just realized another think you may or may not be aware of. They won't do immortal characters unless they can killed. Yes I know what you are thinking didn't they use Starscream. Let's face it who laugh when he was getting owned. I know I did which is why they allowed that to happen. Besides that one of Luigi's power ups can't be used in this fight. Why because it pretty much guarantees this fight. Which isn't fair at all to Tails since it easily destroys the whole purpose. They make death battles either mismatches or near equals no exceptions. Luigi should not be allowed to use that power up for fairness reasons.
Not only that he did beat Dr. Robotnik on his own. It does take a lot of guts to fly as high as he does. Either he's using his tails or piloting the Tornado. I seen more proof that Tails is the braver out of the two.
I agree. I'd definitely give tails the win in this fight. He has the superior stats (except possibly attack strength) as well as the more broken moves i.e. paralysis rings, Super transformation with four auto attacks, the spark plug thing from sonic riders that burns people to a crisp. Then there's flight of course.
I am aware of those as well since I'm a very big Sonic fan. Tails just had his super form which involves all seven Super Emeralds.
In the classic sonic games. Forget which. Sonic and Knuckles also have Hyper forms and all three of their hyper transformations are stupidly overpowered. Knuckles can even cause earthquakes just by climbing up walls.
Last I checked it is in question if Tails were to be allowed Super Tails. I just found out there does exist Hyper Tails but too little information to work with. So that would have to be ruled out in the overall research.
Where does there exist Hyper Tails?
I totally agree Tails would win this fight. Even if there was no power ups. Tails has built a lot of machines in short amount of time. Thus he would be much smarter than Luigi. His normal strength should be greater as well. He could match his jumping ability just like in Mario vs Sonic. I honestly don't think Luigi could win against him.
Actually, I mentioned Tails' energy shooter from Battle. I also considered his Chronicle moves, but most I felt would not do much in a quick paced 1v1.
Perhaps I'll redo this one. I have a feeling it will be my most controversial blog ever.
I considered the speed part, but Tails has never really shown to use it like Sonic does most of the time. And the Flickies are easily countered by Luigi's clones. Also, Hyper Tails was only used once iirc. Even then it was optional too.
Granted, but even so, Luigi could easily freeze it or step on it. Also, Shadow was extremely weakened beforehand.
Thanks!
I'm not sure if I agree with the verdict, but I think research was fairly well done and well organized.
Personally I think this fight would have ended the same way as the sonic vs mario fight, with tails winning because he would have a speed advantage over Luigi,once both characters exhausted their powerup arsenals. I would also argue that tails is a much more powerful than you are giving him credit for, as he is not only capable of replicating most of the offensive feats/attacks as sonic in the main games(he can defeat all the same enemies as sonic,and can preform altered versions of all of sonic's signiture attacks except mainly the boost and light speed dash/attack) and has even fought against or received training from powerhouse characters like sonic and knuckles in some continuities.
I would also say that you missed some of Tails lesser known abilities, like his special attacks from sonic battle, his special moves from sonic chronicles, and inventory from tails adventure.Of course I'm probably just being nitpicky with those things.
Luigi is one of my favorite video games characters of all time, but so is Tails. Honestly I would have given the win to Tails due the fact that Tails is absurdly faster than anything the bros. have dealt with and that as super Tails he has flickies that can auto attack his enemies. Even beyond Super Tails there is hyper Tails, and anyone's hyper form could make any superform look like crap - and that's as classic tails where he still a little kid.
The tornado is capable of transforming into a combat mode with can outdo G.U.N.'s fleet and compete with Eggman's, both forces are vastly superior to anything you'd see on modern day earth. He can also use fake rings to paralyze enemies and has even beaten Shadow in a serious fight during sonic battle.
Verdict aside, this is still a well done prediction blog. Good job!
Urk... yeah, unfortunately.
Thanks! Expect He-Man Vs. Lion- O this weekend! (I'm almost halfway through the He-Man tv show... SOOOO MANY freaking episodes.)
Woohoo! Go Luigi!
Well-written and researched as always!