Death Battle Predictions:Professor Layton vs The Riddler
12/13/12 7:13pm
Ultraguy and the LousyTactician team up to bring you a brand new prediction blog.
Rules of Death Battle
-Combatants possess knowledge of each other only if it is cannon to each fighter's universe.
-The battle must end in a death. For fairness, all personality restraints from killing are removed.
-All other character traits, tactics and attributes are not removed and are attempted to represent faithfully.
In case you were wondering
As there is no real armor used by either fighter, and only a few gadgets, we have decided to categorize these character's abilities into 2 rather than 3 categories. Intellectual Skills, which covers each character's known mental prowess, and fighting skills, which covers both their weapons, and physical abilities.
Backstory
Layton
Growing up in the city of London and later moving into the small village of steviano during his late teens,Professor Layton has spent the majority of his childhood aiming to be model student and actings as a gentlemen toward all the people he loved and cherished. As Layton grew older his knowledge of the world around him grew exponentially, and thanks to the inspiration provided to him during an expedition with his fencing buddy Randall, eventually decided to settle down in a career of archeology. Surprisingly however Layton intentions to focus on his archeological studies where often interrupted by different mysteries that always seemed to impeded into his personal life(although Layton would often get involved by choice).
As Professor Layton got older he began to embrace his developing mystery solving abilities and began to play an active role in crime solving whith the Scotland Yard. He also became the go to person for solving difficult problems among his friends and was eventually called upon to solve mysteries on a regular basis. The scope of these mysteries has varied, but they have typically grown larger in scale as word of Layton's mystery solving abilities started to spread. To date Layton has uncovered the remains of two lost civilizations, battled and defeated a supposedly immortal vampire, discovered the hidden treasure of the golden apple and prevented the destruction of 3 different major cities. Professor Layton is described as the perfect example of English gentlemen, not only is being kind, polite and smart, but incredible brave as well. They professor is also not a stranger to tragedy, having experienced the death of a friend and the disapearance of another.
Riddler
Edward E. Nigma, alias The Riddler, was exposed to puzzles at a young age and quickly became fascinated with them, showing genius intellect even in his early years. In most of his stories, it is his father's parental abuse that morphs this love of puzzles and intellect into a demented love of crime. With a narcissistic desire to prove his wit, he began a spree of robberies and burglaries, always making sure to leave behind a riddle, believing no law enforcer would be able to solve them.
What he didn't count on was the Dark Knight to solving them and bringing him to justice. After being intellectually bested by Batman, he gained yet another obsession in his life. Outsmarting Bruce Wayne. He has escaped Arkham Asylum more times than one can count, stolen priceless relics, led large groups of organized crime, and of course is a wiz at making a good riddle. He even became a hero, and ally of Batman's, in one comic arc, though returned to the dark side in the end.
In case you were wondering.
The Riddler's personality has varied a lot from incarnation to incarnation. In some stories he is easily more sociopathic than any enemy Hershel has faced, while in others he is arguably more over the top than even someone like Don Paolo. Since the more modern and darker incarnations of him tend to be considered more intelligent, for this fight we'll be analyzing the more sociopathic Riddlers...With a few exceptions of course.
Don't expect us to mention anything done by the Batman Forever Riddler...For obvious reasons.
Intellectual Skills
Layton
After spending the majority of his lifetime studying, analyzing archeological data, solving mysteries and helping with police work, Professor Layton has developed a nearly unparalleled intellect and deductional ability. In fact his intellect is so incredibly high that he can easily solve the most difficult of deductional puzzle at first glance, and can easily discover and deconstruct the complex plans of his adversaries from only a handful of seemingly insignificant observations. The Professor has even learned how to read the slight emotional changes in the people around him, often catching people in the act of lying, picking out imposters disguised as his companions, and occasionally gaining insight into mindset of his opponent.
The Professor is also not a stranger to life or death situations and has become so adept at staying calm and collected under stressful conditions that he won't flinch even when confronted with by a powerful enemy or deadly trap. Layton also maintains a calculating and cautious persona when fighting his enemies both mentally and physically, always making sure not to run head first into danger and never making assumptions that could potentially backfire on him if he is wrong. Finally Layton has displayed an almost absurd amount of mechanical ingenuity, creating many MacGyver like contraptions to aid him at a moment's notice, including two fully functional flying machines and a coin machine shot gun.
Riddler
Throughout all of his life The Riddler has been honing his intellectual genius. It is by far his deadliest trait. The field of intellect he specializes in is naturally puzzles. He is a master of finding patterns even in the most random and unrelated pieces of information; crafting a new, complex riddle for each crime he commits, and always goading the law to outsmart him. His educational background is vague, but he has shown he has an encyclopedia's worth of knowledge on philosophy and literature. Much of this knowledge is attributed to his own self-learning. He's an autodidact in every sense of the word.
His deductive skills are often compared to The Dark Knight's, and many of the crimes he has committed have been the most challenging cases Batman has ever had to solve. Being a creator of death traps, The Riddler has learned some elements of escapology. Arguably not to the extent that Batman does, but impressive non-the-less. The fields of science are also ones The Riddler specializes in, the two important ones being engineering and computer technology. He has made use of several gadgets that override security systems in the past, and programmed automated turrets in Arkham City to protect several Riddler trophies, proving he has the means of bending technology to do his bidding.
The biggest weakness The Riddler faces intellectually, and what usually gives Batman the edge, is ironically his own riddles. They're his trademark, but there have been times where he didn't want to leave behind any clues, yet his unspecified obsessive compulsion made him leave behind riddles regardless. He has also shown time and time again he won't kill his opponent unless he has proven to himself that he is intellectually superior to that opponent. In the Adam West Batman this was used to justify the bizarre traps he put Batman through, but even in the newer comics this remains true. Albeit, in less ridiculous ways.
Fighting Skills
Professor Layton
While not the Professor doesn't like to resort to fisticuffs as his primary means of solving a confrontation, he can and has shown himself to be a more than capable fighter on more than one occasion. Professor Layton Preferes to fight with one handed bladed weapons in a traditional fencing fighting style, but will occasionally substitute his sword with a long blunt object if traditional weapons are unavailable. On occasion he has also created improvised weapons to gain an advantage against his opponents, such as when he created his infamouse "coin machine gun" from a group of random slot machine parts. It can also be noted that professor Layton's surprising swiftness and athleticism has often aided him in the middle of battle or deadly situation, allowing him to outrun falling objects, avoid ancient temple traps, and outmaneuver enemies far larger or deadlier than he is. Finally while the exact skill of Laytons fencing can be debated, he has proven to be a match for his equally skilled fencing buddy Randal, a group of sword wielding mechanical mummies, an immortal vampire and the far more experienced fighter Descole.
Riddler
While not the martial artist Batman is, the Riddler has shown some combat skills throughout his 50+ years of existance. He is both able to hold his own against competing thugs, and has the athleticism and physical control required to break through some of Gotham's toughest security systems. But he still rarely ever engages in physical confrontations himself. Fighting is something The Riddler usually leaves to his henchmen. When he is forced to engage in combat, he remains just as crafting and deceptive as he is when committing crimes.
His question mark-shaped cane is incredibly sturdy, and packs an assortment of gadgets. The most common gadgets are: a computer hacking tool, some variation of an electric shock enducing weapons, and a hologram creating device. There was a time when his cane had a built in firearm, but he normally uses standard pistols shaped like question marks, and several gimmicky, question-based weapons, the big one being jig saw pieces that explode.
Summary
Layton
Advantages
Better fighting ability and athleticism
Keeps calm under stressful situations
Can deduct a persons hidden motives based on their emotions
Often derails plans
Ingenuity allows him to overcome unexspected situations
Disadvantages
The Riddlers may not fight fairly
The Riddler has more advanced technology
The Riddler is more sociopathic than laytons typical enemies
Can't really defends against guns
Riddler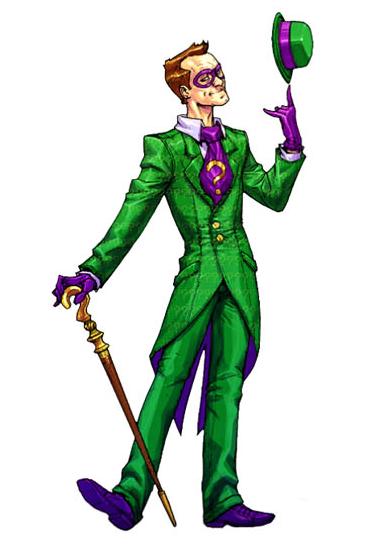 Advantages
Superior tech, and a wider variety of more advanced weapons
Is far more sociopathic than anyone Layton has faced.
Could catch Layton off guard with technological challenges.
Computer skills could challenge Layton
Disadvantages
Is physically incapable of not leaving behind clues for his adversaries.
Less physically capable than Layton, and has a less lethal main melee weapon.
Needed the assistance of other villains in order to achieve many of his more amazing victories.
Won't kill unless he has proven he is the intellectual superior.
Layton easily surpasses his mechanical know-how.
Deceptive tricks may not work as easily on Layton as they would other opponents.
The battle scenario
Since the combatants participating in this death battle are more intellectually driven than past fighters, we decided it might be more interesting to incorporate and showcase those intellectual skills in tailor made "cerebral" death battle, rather than the more traditional "gladiator style" death battle.
In our proposed scenario Professor Layton has become trapped within a 4 chambered Riddler Dungun akin to the ones typically seen in Batman Arkum city. Each of these 4 chambers have been outfitted with a deductive puzzle designed by the Riddler, an intercom that allows conversation between the combatants, and a variety of death traps capable of killing Layton should he fail to solve the puzzles inside. Professor Layton's goal in this scenario will be to solve all the riddles provided by the Riddler and confront him in a physical confrontation at the end of the final death chamber. Conversely the Riddler's goal will be to best Professor Layton intellectually and kill him with one of his death traps before Layton can confront him physically (or kill him in combat should the need arise).
The puzzles
In order to make our custom made death battle scenario as focused and clear as we possible, we have decided to take an extra step and actually create the 4 different puzzles that will be used by the Riddler over the course of our death battle scenario. Each puzzle will also be written in the second person instead of the third, since we feel it will be easier for most people to read that way.
Each puzzle used in our scenario is fully solvable by you folks at home, so feel free to post what you think are the correct answers in the comments box.
Scenario prologue
You awake battered and groggy in a large green room you can't seem to recognize. Disoriented and confused you observe your surroundings in an attempt to locate an exit. To your dismay the room's only exit appears to be locked and despite you best efforts you cannot force the lock opened with brute strength. While you stand there with a confused look on your face you suddenly a loud clicking noise, followed by the voice of who you assume to be you assailant"Hello my lucky competitor, today you are going to be given the esteemed privilege of being the ginnie pig for my new and improved death chambers. Each of the chambers I have designed for you today have been implemented with a single Riddle or deductive puzzle designed to test your intellectual strength. Should you somehow succeed in solving all my riddles I shall give you an opportunity to fight me personally for your freedom, whoever when you fail to complete my challenges I will kill you with an array of different death traps I have stationed in every area. Now if you think you have the intellectual skill to match the mind of the world renown Riddler by all means let's begin the challenges, but it the much more likely event you find yourself overwhelmed by my vastly superior mind, feel free to ask me to put you out of your misery"
You notice a slight trembling at your feet and turn around to see a table and a puzzle rise up from the floor before you. Your assailant the Riddler talks through the intercom again "For your first challenge you must solve a 4 disk rendition of the classic Hanoi tower puzzle in the minimum amount of move required. Should you fail to solve this puzzle the room will be pumped with a toxic gas that will kill you in less than 5 minutes, however should you somehow succeed the door to your next challenge will be unlocked."
After the Riddler finishes speaking you look intently at the Hanoi tower puzzle laid before you and go over the rules for solving it in your head.
http://www.mazeworks.com/hanoi/index.htm ( link to an interactive Hanoi puzzle)
-Only one disk may be moved at a time.
-Each move consists of taking the upper disk from one of the rods and sliding it onto another rod, on top of the other disks that may already be present on that rod.
-No disk may be placed on top of a smaller disk
-You must only use the minimum amount of moves required
After successfully solving the puzzle in the first chamber you open the door and walk into the next one. Open entering this new death chamber the first thing you notice is that this room has two exits instead of one. Suddenly you feel a trembling by your feet and you notice two humanoid robots rise from trap doors directly in front of the front of the two exits. The Riddler once again contacts you over the intercom.
"Before you are two guards, one who tells you only the truth and one who tells you only lies. In front of you are also two doors, one which leads to the next challenge room and one that leads to a dead end filled with automated turrets. By asking my guards a single question, you must figure out which door to go through.
Mustering up your courage you decide to think critically and give an answer.
As you walk into the next chamber you notice that this room is bigger than the previous chambers and seems to have been divided into smaller sections by a series of metal fences that extend along the length of the room. Upon further inspection you also notice that each fence has a series of gates installed that allow access to the smaller sections. Before you can make any more deductions you once again hear the Riddler's voice over the intercom.
"Each of the gates in this chamber have been rigged to close shut once you walk through them. Your goal in this challenge will be to step on each panel of the room exactly once and navigate to the chambers exit.Should you fail to solve this puzzle, electric panels installed will activate and kill you instantly"
You have arrived in the final chamber and are anticipating what you anticipate to be an inevitable showdown with the Riddler. The first thing you notice when you walk into this room is that it contains a large body of water, a boat and a pedestal housing a variety of animal themed keys. As you look at these keys you're here the Riddler's voice over the intercom once again, he sounds angry and surprised that you have made it this far.
"In front of you is a pedestal containing a set of 6 different keys. Three of those keys are shaped like wolves while three of them are shaped like chicks. Your goal will be to use the boat to transport these keys to the exit located on the opposite side of the challenge room. However there are a set of rules you must follow. If you break any of these rules than the keys will self-destruct with enough force to kill you instantly"
(not an exact representation, but good enough)
-You cannot carry more than 2 keys on you person at a time.
-You cannot cross the body of water without carrying at least one key.
-You can't have more wolf shaped keys stay on one side than chick shaped keys
You collect you thoughts and get ready to attempt you final challenge
Final Verdict
LousyTactician
One of the reasons crossover battles of intellect aren't talked about as much as crossover fights-aside from them usually being less fun-is because judging intellect is a far more subjective process, even compared to something as open-ended as analyzing a character's fighting abilities. However, given that Professor Layton specializes in the type of puzzle-focused thinking The Riddler bases his riddles around, has shown he is capable of not cracking under stress, and is more physically capable, I think it is fair to assume he could handle the majority of challenges the Riddler throws at him; or at the very least, the ones given in this analysis.
The Riddler might be more sociopathic than any of Layton's other villains, but I'd argue Hershel has faced just as deceiving of opponents in the past. He has definitely faced more physically capable threats, and been in deadlier duels. While I cannot think of many ways he could get out of The Riddler holding him at gunpoint, along with Riddler not being the type for physical confrontations, there is plenty of evidence that suggests if given the chance, he would want to best Layton in an intellectual challenge before killing him. And as we've already established most of those challenges would end in Layton's victory.
In terms of pure knowledge, I could see an argument that The Riddler's encyclopedia's worth of philosophical information is superior to the professor's, but Layton has all the necessary knowledge in the field that counts for these specific tasks. Puzzle solving, and dealing with mechanical devices. The only challenge I believe The Riddler could provide to outwit Professor Layton would be to challenge his computer hacking skills. Unfortunately, the only instance I can recall where Batman needed to resort to computer hacking to overcome the Riddler is in Arkham City, so it stands to reason it wouldn't be likely for The Riddler to create a hacking related task.
To top it all off, Riddler's own psyche has a terrible habit of working against him, leaving behind riddles and hints even when he doesn't want to. Some people have tried to attribute this to plot induced stupidity, but it is more similar to character induced stupidity since there is an explanation for why The Riddler performs these acts of self-sabotage (his mental disorder). Other intellectual scenarios could be argued differently, but if given challenges similar to the ones The Riddler has shown to create, and more specifically, the ones Ultra Guy has presented in this blog I would place my bets on Professor Layton as the victor of the intellectual fight.
Ultraguy
Layton that has spent his entire life developing and nurturing his intellect and deductional skills, so it seems fairly unlikely that the Riddler could create a puzzle that could actually stump him. Not only that but when it comes to a physical confrontation it's quite clear that Layton has not only has a larger amount of actual fighting experience, but has also been shown to much more physical fit than the Riddler typically has shown to be. Not only that but the Riddler's generally more non-violent ways of confronting his foes(outside of death traps), and his tendency to self-sabotage himself with his more obsessive compulsive tendencies, puts him at a disadvantage. Finally the Riddler's uncontrollable ego would probably cause him to believe that Layton would never be intellectually smart enough to overcome his challenges. Because of this it is highly likely that he would not actually be mentally pre-pared for a fight to the death when Layton inevitable confronts him face to face.
Author's note
We decided that it may be necessary to clarify why the Riddler may not win in a physical confrontation despite potentially wielding firearms. Quite honestly the Riddler would likely not immediately kill Layton if given the chance. DEATH BATTLE may remove any personality trait a character has against killing, but just like how Akuma didn't immediately finish off Shang Tsung because he wanted to see what challenge his new opponent (Scorpion Shang Tsung) would bring, if the Riddler were to, say, capture Layton at gun-point he would want to see what sort of intellectual challenge he'd provide. They still plan to kill their opponent; it's just that their other personality trait (their desire to be challenged) is being taken into account along with their desire to kill.
Also considering Layton has dealt with armed guards before (although admittedly with some cover and a handmade weapon) and the fact that Riddler has little experience with guns in most incarnations (he normally uses his staff exclusively), led us to believe the Riddler would most likely leave himself open to a counterattack.
On another note i found an interesting riddler themed puzzle site for you G1s up for more puzzle solving. http://riddler.batbad.com/