TLDR;
This is a new full expansion to mark the game's 10 year anniversary. Two new jobs, and many new crafting guilds have also been announced.
Editor's Note: Square Enix has announced that the second new job is the Rune Fencer, although details about this job won't be revealed until tomorrow. Thanks go out to g1s Shiro_Shishi and Kainin for the tip!
As predicted yesterday, on the first day of Vanafest 2012, the latest expansion for the MMORPG Final Fantasy XI, "Seekers of Adoulin" has been revealed. The official website can be found here, along with this trailer:
The action will unfold on Ulbuka, an enigmatic continent located far to the west of the Middle Lands. To protect each other's interests and defend against the evil forces that assault them, the mainland and its surrounding islands have banded together to form the Sacred City of Adoulin Alliance.
The majority of Ulbuka's lands consist of vast wilderness, which ambitious adventurers from around the world have come to explore.

A new light shines on the continent's history with each tree filled, each outpost built, and each secret spot uncovered. Make sure to keep your eyes peeled for danger however, for who knows when you may accidentally stumble upon a monster's lair! With so many treasures veiled behind exotic landscapes, harrowing skirmishes waiting around every corner, and quests begging to be undertaken, it's not just Ulbuka that will be evolving, but those who explore it as well!
A number of adventurers' guilds thrive in Adoulin, lending support to players in their quest to settle the land and expand their influence.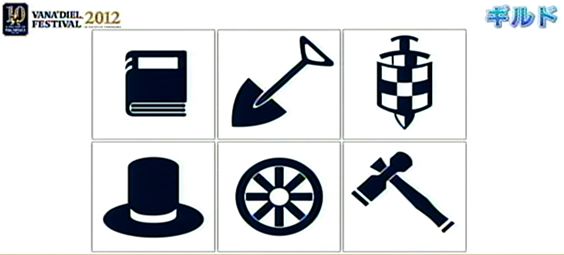 Information Guild
Exploration Guild
Security Guild
Amusement Guild
Transportation Guild
Workshop Guild
Harnessing the elemental energies that course through Vana'diel's veins in ways that no sorcerer can, geomancers both aid their comrades-in-arms and teach their foes how deadly the forces of nature can be.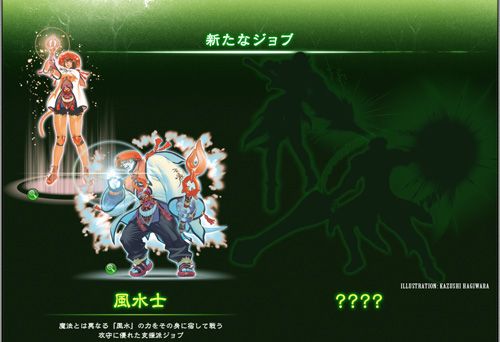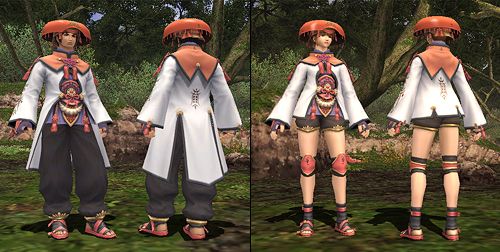 The Geomancer (pictured above), appears to be a support class designed to help buff other party members using special techniques (much how Bard was originally intended) to maximize their parties potential. But Geomancers also have the capacity to hold their own with elemental nukes, stun and other various tools, and gains specific offensive bonuses depending on what direction they are in relation to the monster: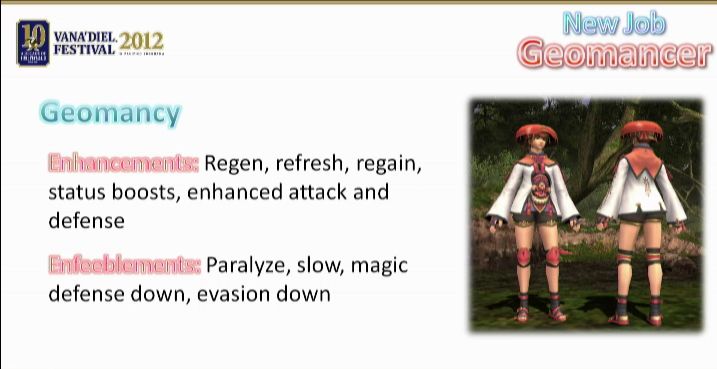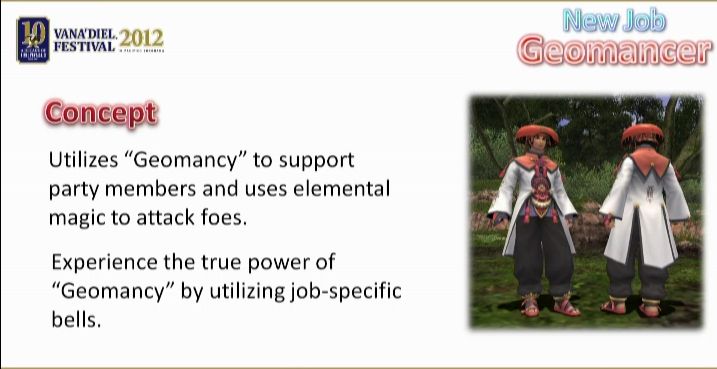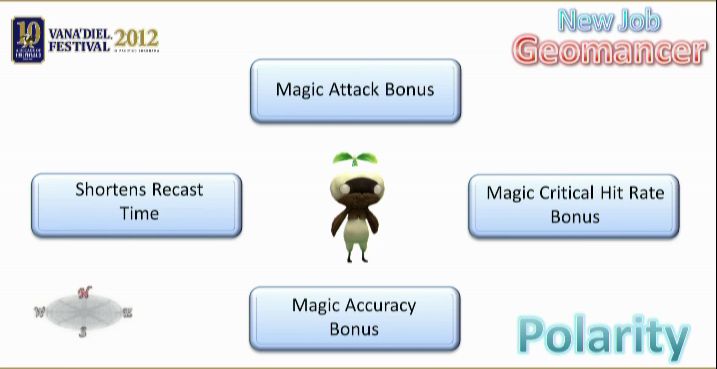 - By creating extensive fields of beneficial energy around themselves for their allies to enter, they support the whole party.

- The ability to place luopans (temporary name) where their brethren stand helps impart various beneficial effects upon them.

- Their job trait Polarity (temporary name) allows geomancers to receive different bonuses to their elemental magic spells depending on the direction they face when casting.

- Geomancers employ a new style of elemental magic that affects areas surrounding their comrades and is greatly enhanced by Polarity.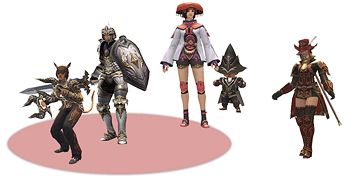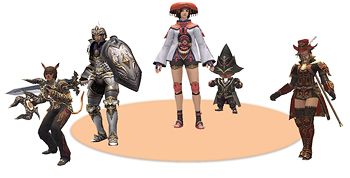 The second job is currently unknown, but it's been told that the profession will be announced during the second day of Vanafest 2012. So expect more information to come shortly! If you want my two cents, I would put money on it being Mystic Knight. (You heard it here first!)
Various new pieces of monster concept artwork were also shown off at the developers session, including some very interesting new beastmen entrants, an absolutely giant bee, an unknown antagonist, and possibly even new avatars: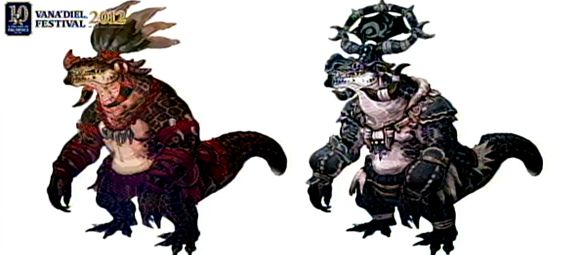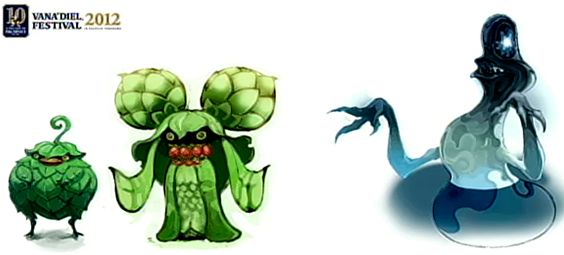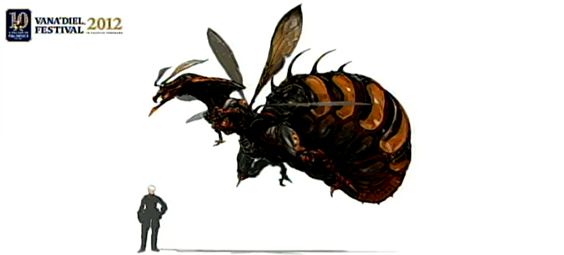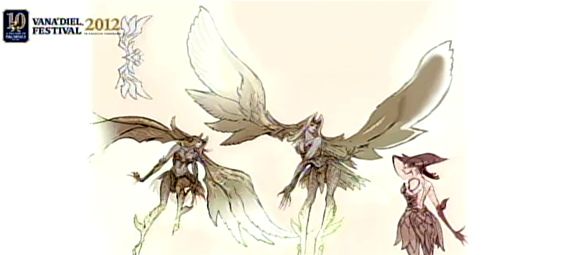 There is also some lovely landscape art featuring some of the town locations and possible exploration zones featured from the official website:



The rest of the first day of events at Vanafest was quite casual, with a taste testing session of native Vana'diel cuisine, from "pamamas" to "kabobs" (see if you can work out what those are!), to a brilliant session of live music featuring arrangments from Final Fantasy XI's stellar soundtrack.
But the undoubted highlight was the cosplay competition. There was some fantastic entrants from a young Lilisette, Aphmau, a wealth of jobs from the popular Corsair to the staple White Mage, with an extremely detailed Blue Mage eventually taking the crown. But I'm sorry, this particular entrant stole my heart. I almost died of laughter, whilst they wobbled awkwardly across the stage, almost falling over on many occasions. Just feast your eyes on this... :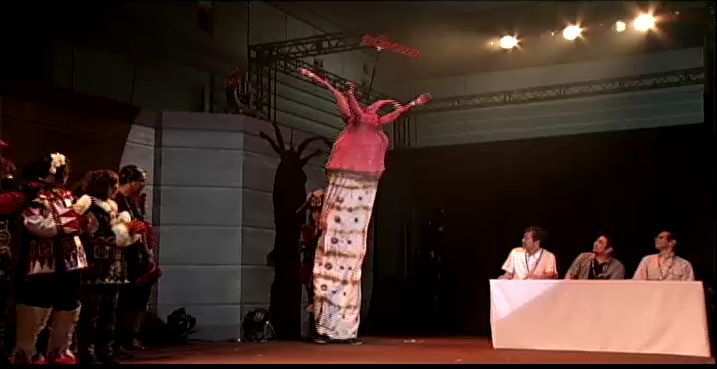 Note the red banner above it displaying the text of one of FFXI's most notorious monsters and the person inside the suit had a bubble blowing machine that was spraying bubbles all over the stage and on the other contestants haha, pure genius.
All in all, it was a pretty fun opening day to mark the 10 year anniversary. I expect there will be more big news later today as well, and I will cover as much of that as possible tomorrow afternoon.
I shall leave you with this intruiging but lovely image from Square-Enix's own Yoshitaka Amano, which may contain further easter eggs as to what is in store for the Seekers of Adoulin: