TLDR;
Help Flaps out with BRAWL MONTH by leaving suggestions down below and requesting to do a Wi-Fi brawl with him! PLEASE READ ON to figure out more about the upcoming month!
Dear Readers,
If you are a committed reader to my blog, which you of course should be, you may have noticed I haven't posted a blog in a few days, and this is mainly because of a few reasons. For one, I have been visiting family, and due to some sickness in it, there have been many often visits, so blogs on the weekends are unlikely. Also, for the longest time, blog ideas went on a HUGE stalemate. I seriously could not get an idea in my head of what I should write about, but thankfully many ideas are floating around my head, many reviews actually, so that should be nice. But a BIG reason is that I've been doing other things on the site.
For one, I am participating in the Titanium Man of Flash Gaming (or the TMoFG) on the site currently being run by DarkHyruleLord. Due to many people being eliminated due to failed entries and no scores given, there are only 26 of us left with the two rounds done. I am avidly participating in that, and I play the game A LOT throughout the week I have. This week is Space Pips, and it will be interesting to see each score. I also have written some various blogs for the site. I guest starred on Dallinag's "Pixelated Ponderings" and we discussed Angry Birds Space. It was a lot of fun to write it with him, so be sure to read it. It is in no way getting enough views. Lastly, I wrote this week's edition of "The Indie Shack". I discuss Trine 2, Rock of Ages, and Tiny Tower, three indie games I honestly love. Check all of this stuff out, simply because I am involved. 'Nuff said.
Today however, I am here to discuss something I will be creating myself that I am asking your help with. This isn't a project for ScrewAttack, but I am asking you guys to help me out with a project going on with my YouTube channel, with the same name, Flapperdoodle. This is a project I REALLY need your help with, so I ask you all to please hear me out.
In April of 1999, Nintendo released Super Smash Bros. for the Nintendo 64. Ever since then, Nintendo fanboys have loved the series, and many consider all installments in the franchise (Original, Melee, and Brawl) some of the best each console (N64, Gamecube, and Wii) has to offer. It is beloved by many, and it had brought many people together to not only whoop each other's asses, but just to have some god damn fun. I am surprised nobody has taken it upon themselves to celebrate this joyous birthday, and it seems fit that only I, the gracious Flapperdoodle, take part in it.
To celebrate this wondrous occasion, I devised a scheme of sorts to truly get back into the spirit. It is known by two words:
BRAWL MONTH
Every day in the month of April, I upload one match in Super Smash Bros. Brawl onto my channel, just to get into the spirit, and to enjoy some good ol' fashion fights! I have done this for two years already, and it has had moderate success. However, I want to make the third year bigger, and better. So, there are some things I need to do.
For one, I need ideas for regular brawls. I will put CPUs this year against each other considering the last two years I would play, but I find it more entertaining to see highly leveled CPUs bash it out. Brawls usually have some spin to them. Some of these things include:
- Characters being similar in some way shape or form people can recognize (color, rivalry, stage, series, etc.)
- A special item being placed on HIGH so that way it will be the main focus of the battle
- A special brawl being used in the wackiest way possible to produce much, much laughter.
- Using the type of brawl to your advantage (A "Sudden Death" using Stock or Mario Bros. battling for coins, or etc.)
I have used all of these methods, but of course I need your help to give me more ideas. I always ask my fellow subscribers and YT friends to help me, but after seeing how fantastic the g1 community is, I feel it is only appropriate to ask you guys as well. To give me an idea, it must have the following details:
1. All Characters Used
2. Type of Brawl (Time, Stock, or Coin), and How Much of What's Needed (Time or Lives)
3. Item Standards (Any Items on HIGH? All on?)
4. CPU Difficulty (1 to 9)
5. Stage Selection (can be Brawl or Melee Stages)
6. A Name For It (Make it Creative!)
7. (FOR SPECIAL BRAWL) Features Set to the Characters (Metal, High Damage, Bunny Ears, etc.)
8. OPTIONAL: Any Other "Special" Rules NOT Used in Special Brawl
9. OPTIONAL: Colors of Swap
All of these things must be listed so that way I can make the Brawl as you see fit. If you don't include any of these, I'll add what I see fit. I ask only 1-2 requests in case other g1s want to send in suggestions. I would highly appreciate this, and they will ALWAYS be excepted, and you will get credit. I will also be sure to let you guys SEE the brawls when they transpire.
Now here's my favorite part, if you want to brawl with me on Nintendo WFC, and I highly recommend it, I will allow that. I am Larry (Flapperdoodle) or larryfried613 on Skype, so contact me by that, e-mail at marioplayer97@gmail.com, or by message here at ScrewAttack, and we'll set something up. It will be filmed, you will be credited, but you can only have about 1-2 brawls with me to give other people chances. This is my favorite part, but due to low people joining last year, I ask if you can do this. Once you message me, I'll give ya my friend code and such.
I don't plan to make this an "event" of any sort. If some of you want that to transpire, get people, be my guest. But honestly, I would rather it be private simple brawls. That's all I ask.
Lastly, I may make a little TOURNAMENT as well. Not a g1 tournament, a fake tournament with characters in teams and fighting each other. If you have any ideas on that, be sure to let me know.
Well, let me know if you would like to participate in BRAWL MONTH in any of the three ways said above. If you are interested in seeing past brawls, there are various links up above when I list the special cases, and I'll provide some random links to some of my favorite brawls below:
YEAR ONE:
YEAR TWO:
(I would put the full videos, but I prefer you to also see the comments and the description)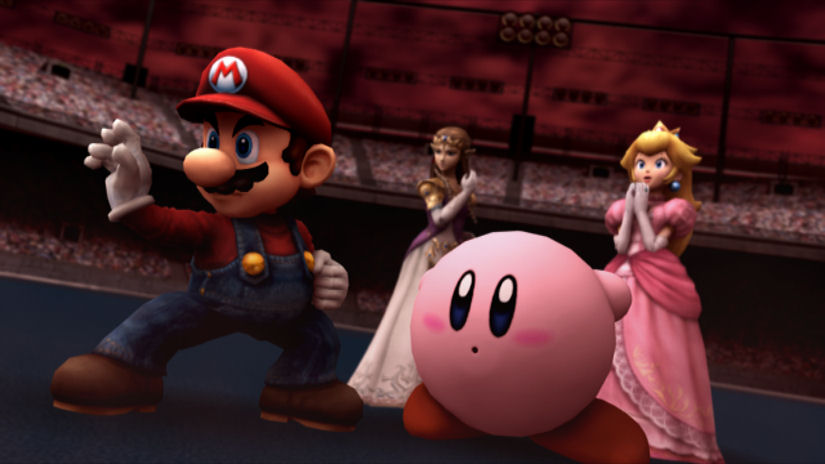 I would appreciate requests, ideas, and overall thoughts or questions down below. I would highly appreciate it. This is a very ambitious project to bring the g1s into this, but I think it will help me a little bit. Leave comments, ask questions, whatever. I'll be happy to answer and explain for you. Stay tuned for more of "The Tester", a review of a game, a movie, a flash game, and first impressions (I hope) on some games like Mario Party 9 and Super Mario 3D Land (which I will be borrowing), as well as some articles discussing disappointing games and a predicament I have been facing game-decision wise. STAY TUNED KIDDIES!
Also, just a shout-out, help my good buddy Alpha Unit with his interviews guys. He truly deserves it!
- Larry :)