Hey g1s, it is time for this month's g1 Community List! Me and 10 other g1s will count down the Top 10 16-bit RPGs!! Everything from the SNES, Genesis to the Turbo Graphix-16 (Yes, I'm counting this as a 16 bit console), etc...
However before we begin, see that blog banner up there and the thumbnail for this blog? Those were created by g1 Wulfon, who is apart of the g1 Sig Making Community over at the forums! Thanks Wulfon for the awesome blog thumbnail & banner!
Now an introduction form each g1:
"Hello I'm Kaibaman41, I became an active g1 right when The Mega Man Fan Film was released in 2009, when the new site came out for ScrewAttack (before the current design) I've been making blogs about pieces of game news ever sense."

" I've been playing since the Atari/NES era, my first game being Frogger; and I've beaten over 550 games, so I'd like to think that I know a thing or two about gaming. Most of my games on the list come from the SNES, as that is the 16-bit system that I played the most."

"You know who I am... Just your friendly neighborhood space marine! While I am not too busy trying to save the galaxy from impeding doom brought on upon by evil robots and swarms of alien parasites, I am here. Completely nerding out and showing my love for geek culture! And what better way to do that than gush about my favorite genre of all time? So what the hell are we waiting for? Let's do this!"

"Despite the fact of growing up with a SNES I rarely played the RPG genre with the only exception being Pokemon. One of the most ironic aspects about my childhood is that for a few years I could not stand any RPG aside from Pokemon (I believe that the two reasons that was because the gameplay was simple and because there was an anime series behind it). Within the last few years I have really begun to discover and understand just how incredible the RPG genre truly is. Despite the fact that I missed out on many classic titles while growing up I was finally able to discover how amazing the RPG genre thanks to one of my friends who introduced me to Final Fantasy VI, Chrono Trigger and a few other RPG's. Despite missing out on the games in my childhood."

"I grew up with the SNES, N64, and PS1&2 with mostly platform and RPG type game, mainly Mario, Pokemon, Mega Man X, and Dragon Quest or Warrior as it was called back then. I never grew up playing Zelda or Final Fantasy; unless you count Final Fantasy: Mystic Quest."

"Well, before I begin I guess I have to introduce myself. I just want you to know that I sound like Morgan Freeman. I've been a G1 since V3 and am proud to be one. I am also an RPG expert, if you would. (Without the ex or pert parts. Just call me a fan of RPG's.) You might have read the Letter To Series… Thingy, where I write letters to various game characters. And my recent analysis of Other M and that top ten about E3. That top ten was totally right, by the way. I am also a host for G1 Events where Jhawk, Jets and I watch anime, cartoons and movies and generally give a commentary on anything but. You can also catch me at G1 After Dark from time to time. Anyway, lets begin this Joesha- Wait. Other peoples opinions are on this list as well? Okay. Then I guess it's time for G1 Communities Top Ten 16-bit RPG's. (Note: Joeshadowman doesn't sound anything like Morgan Freeman)"

"Hey there, the name is Ataeru, not the metal band "Atreyu" mind you. I play a lot of JRPGs, Fighters, and Action/Platformers, but I always search for more that interests my eye. Excuse me in advance for my overabundance of commas. Anyway let's get to it."

"Hey, I'm Asai Nero Tran. Improviser, actor, voice actor, gamer, amateur film maker, vegetarian, and an all-around nice guy. Pleased to meet you!"

"Over the years technology has brought us great many things: notably video games. If there is one genre dependent on technology it would be the RPG. Some would argue that the golden age of role-playing games took off on the Playstation 2 because DVD's allowed for more cut-scenes and... More cut-scenes and... *sigh*

However, role-playing actually became popular during the 16-bit era. On the NES you have Dragon Warrior (or Dragon Quest if you lived in Japan), Ultima, and Final Fantasy which were pretty much games that use pictures and walls of text to tell you what's going on. Then BAM! 16-bits brought more colors, more pictures, more animations to tell the story in a whole new way.

There were plenty of RPG's during the 16-bit era, but these are the games that stand out the most to me because they mix technology and story telling in a way that cannot be reproduced on today's game systems.

To make this list I have to set few rules. There's only one entry per franchise. Port, remake, or not the game must have an entry on a 16-bit system. Gameboy Advance is a 32-bit system so no GBA games. At its core a role playing game is about making decisions based on statistics. Games like Zelda and Shadow Gate are not RPG's; they're adventure games.

Hello My name is LuckyMikeyJ and this is an entry for ScrewAttack's Top 10 16-bit RPG's. I hope that you find this list entertaining."

"I am NODlike, and I started gaming around age 5, but RPGs weren't really my thing until I was older, so I only have 3."

"Hey there, I'm g1 2200! Creator of the g1 Communtiy Lists. I became a g1 back in 2009 during V3 of the site and since then I have been participating more in the g1 Community. On the site, you will find me reading g1 blogs. However I spend most of my time on the g1 Forums, playing various g1 Forum Games, etc...

Also I'm a mod over at the g1 After Dark Tinychat room, so hop on by sometimes.

I am a huge RPG fan, I've played countless RPGs for many different platforms. My Favourite type of RPG are turned-based ones. Not a fan of action-RPGs that much, but there are some that I do enjoy."
In this list (including the Honorable Mentions) are games that are worth playing if you have not already. I have also allowed older RPGs that have been ported to 16-bit consoles.
Now for the list, but first the Honoralbe Mentions!
Honorable Mentions
Star Ocean
| | | |
| --- | --- | --- |
| Developer: tri-Ace Inc. | Publisher: Enix | Console: SNES |
| | |
| --- | --- |
| | |
| | "My first Star Ocean game was Star Ocean 3: Till The End Of Time, and it is still one of my favorite games today. So of course I had to play the previous games, and I was not disappointed. The most I remember about this game is the ability to talk to your party members in towns, and the events and conversations were usually pretty funny and added to the background of each character, making you care for them more as well as their relationships with one another... Think of the game as if a small ship from the Enterprise crashed on a primitive medieval planet, and you will get a pretty good idea about what this game is about." |
| | |
| | "I can't really say much about this game other then it is Enix's best series ever. I didn't really play it that much but I do remember it being different for its time. With real time combat and voice acting during battles. I can't ever remember what this game is about. I know some of you might be asking, "Then why put it on this list?" Well because I really like the Star Ocean series and thought that I should include at least one game in its series just so people know about it. And hey, years before the dating simulator Persona 4 tried to trick us into thinking it was an RPG, Star Ocean had a romantic mechanic that would put Persona to shame. (I guess if you're going to take anything away from this, it's that I don't like Persona 4. It's not an RPG. It just isn't.)" |
Super Ninja Boy
| | | |
| --- | --- | --- |
| Developer: Culture Brain Inc. | Publisher: Culture Brain Inc. | Console: SNES |
| | |
| --- | --- |
| | |
| | " I got this game for Christmas one year and knew nothing about it. I think the only way my parents picked games was the price. However, I played through this game a number of times on my SNES. I didn't really know that it was an RPG at first, because it has some side-scrolling/platforming elements to it. The bosses were really cool and you could fly around the map in Voltron. Ok, not really, but it was a giant robot and sorta looked like it. The game was a ton of fun and one of my favorites for SNES, even if it came from the bargain bin." |
Lufia II: Rise of the Sinistrals
| | | |
| --- | --- | --- |
| Developer: Neverland | Publisher:Natsume (NA)/Nintendo (EU)/ Taito (JP) | Console: SNES |
"What makes Lufia II Rise of the Sinistral stand out is not what it does, but what it doesn't do. For those who played Lufia and the Fortress of Doom, you know that the game was doomed to a cliche plot copied from another game mentioned on this list. Despite being a prequel, Lufia II takes all of the RPG cliches and throws them out the window. Yes, Lufia II is a linear RPG. To make up for it, Lufia II has some of the best written dialogue on the Super Nintendo, save for a few "Engrish transrated" typos which adds to the game's humor. Not only from the text, but through character movement you can easily tell what the characters are doing and feeling. In most RPG's the only thing that made dungeons different from one another is graphics. Walk a few steps, fight a random encounter, and occasionally find a treasure chest in a dead end. In Lufia II however every single dungeon is uniquely laid out with clever puzzles utilizing the gimmick of enemies move whenever you do. Every step you take you have to calculate. This is the same for battles. Yes, battles are turn based but what makes these battles great is the implementation of IP and spell targeting. IP can be summarized as if a character gets hit, they build IP. Then characters can use IP to use special abilities from the equipment they wear. This can make even a stupid fighter with no MP into a spell caster and vice versa. As for spells, they can target a single enemy, or all enemies, or the guy on the left and the two guys on the right. You can target any enemy or friendly you want.

More importantly, Lufia II tries not to be over the top because it doesn't need to be. When was the last time you played a Japanese RPG where the main character get married? Okay, then when was the last time you played an RPG to where the main character gets married and has a baby boy halfway through the game? Probably in a game after Lufia II was made.

For some reason this gameplay was never again explored in the series. Lufia II did have a remake called Curse of the Sinistrals for the DS, and it's a pretty solid action RPG. However, Curse of the Sinistrals cuts out most of the little things that made Lufia II great in the first place, including the puzzles. Lufia II also had a sequel in the works, but that project was a disaster before the development cycle began. Lufia does have games on the Game Boy Color and Game Boy Advance, though one was a random dungeon crawler and the other was a piss poor Pokemon clone.

Now that I think about it, can you imagine a game play like Lufia II with high definition 3D graphics? If you can, it feels very awkward and unnatural doesn't it. Which is why Lufia II is the number one 16-bit RPG. It's a game you cannot recreate for a next generation game system."

Favourite theme:
Pier Solar
| | | |
| --- | --- | --- |
| Developer: WaterMelon | Publisher: WaterMelon | Console: SEGA Genesis |
"Haven't heard of it? Well you probably wouldn't have, it only came out at the end of 2010, and instead of a big company, it's made by a homebrew crew of 8 that took 6 years to complete. While it may be new, it's still a 16 bit game, and I have to say, for a 16 bit game it is gorgeous and that's saying a lot. Nearly if not all of the game is beautifully detailed. From the characters to the environments, to the custscenes, it's honestly the best looking game that I have seen for the 16-bit consoles.

You start out in the game as Hoston, a teen who is trying to help out his father with a sickness, along the way he and his friends find an evil unfolding and thus start their adventure. Characters are a little bit cliche at the start, but are honestly handled very well, they're really likable. (Though some others might not quite think so). Same for the story, it's quite a compelling tale, though it may be a bit slow paced.

Now if you have ever played the Lunar games, you will know how the gameplay for this game is, but basically it's a turn based RPG. Unlike Lunar though, the game has a "Gather" mechanic, you can store up on gather then use the built up power to strengthen your attacks, or transfer it to another character. It's honestly really refreshing to have, and gives more strategy to the game. Also it's not a grind fest, your party will level up fast, and there isn't monsters everywhere in a few steps, it's honestly paced very well for the large environments the party traverses.

Music is unique and captivating to listen too, even more so if you put in the optional soundtrack CD. (given you have the Sega CD attachment of course) This is something I would put in my MP3 and listen for hours, it's that good. Given that it comes out in limited supplies, and are nearly sold out a little out when it goes on sale, but if you can get access to it, you got to buy it. It's one experience you won't regret.

-Gameplay and review (sorry for the long video, I couldn't quite find a quality video that showed off the gameplay without it being in another language or a beta build of the game)

(Game Sample: 00:00 - 28:19 Review: 28:19 - 1:02:00 (I wouldn't watch the review though, it has some spoilers)

Favourite Themes:
Seiken Densetsu 3
| | | |
| --- | --- | --- |
| Developer: Squaresoft | Publisher: Squaresoft | Console: Super Famicom |
"Seiken Densetsu 3 is one of the few games that I would consider to be perfect. The gameplay is extremely fun, the soundtrack is fantastic, the visuals are excellent and the replay value is extremely high. One of the greatest aspects about Seiken Densetsu 3 is that the story revolves around whichever 1 of the 6 characters you chose at the beginning of the game. Each character has their own story that revolves around the games main story (it takes some time to explain) and every two characters has their own final boss meaning that there is a total of 6 different stories and 3 different final bosses. The gameplay is very unique with the use of a class system where the characters are able to change their class during different parts in the game which changes what attacks the characters are able to perform. The soundtrack is absolutely awesome with some very memorable tracks and the atmosphere is very distinct. While I don't expect this game to make the list for the reason that is was never officially release outside of Japan, is it easily one of, if not the greatest RPG ever made."

Favourite Theme:
Top 10
10. Lunar: The Silver Star
Points: 10
| | | |
| --- | --- | --- |
| Developer: | Publisher: | Console: |
| Game Arts/Studio Alex | Game Arts (JP)/ Working Designs (NA) | SEGA CD |
Points given to this entry: 4

"The Lunar series of games are probably one of the funniest RPG series to date. Silver Star was the first game of the series and is well deserving of it's place amongst the top 10. What made this game even better, was the fact that it was remade for the next generation of consoles and AMV were added which had characters talking and singing. I recommended over the original version of the game... By the way, the last video listed is from the PSX Remake."

Favourite Themes:

(Extra Song from the Complete game)

Points given to this entry: 6

"Remember when I said you never mention RPGs on the Genesis without mentioning Phantasy Star II? Well, you never mention good games on the SEGA CD without mentioning Lunar the Silver Star and Sonic CD. Lunar the Silver Star is what almost every next generation RPG became. Animated cut-scenes, voice acting, an outstanding soundtrack, a deep turn-based combat system, and a heart breaking love story. Lunar may have been playing it safe with a few things, but you cannot deny the potential of Lunar's use of CD technology. Which is why most RPG's of the next generation were either on the Saturn in Japan or on the Playstation. Lesson learned Nintendo? We'll see with the Wii U."

Favourtie Theme:
9. Dragon Quest 3
Points: 13
| | | |
| --- | --- | --- |
| Developer: Chunsoft Co., Ltd. | Publisher: Enix | Console: Super Famicom (Originally on NES) |
Points given to this entry: 10

"Dragon Quest III is my favorite in the series along with one of my favorite RPGs of all time. The game greatly expands the ideas and gameplay of the previous two games like having a class system where you can pick between 8 different classes for each team member. Some of the classes are: Warrior, Fighter, Thief, and Mage. Also Dragon Quest III has two huge worlds for you to explore with over 60 places to go. The game is full of replay value, you can change out team members with new ones, trying new class types and have different personalities which effect how certain stats grow. Some of the games side quests are collecting Mini-Medals to trade for rare weapons and armor, Monster Stadium where you bet on monsters to get some extra gold, and Pachisi Tracks which works kind of like Monopoly. You travel across a board landing on spaces that will either reward or harm you, during the Pachisi Track you get only a certain number of rolls and if you make it to the goal before you run out you will be rewarded with powerful weapons, armor, and unique items. The games music is also excellent being composed by Koichi Sugiyama. This game was ported to the Game Boy Color in 2001 with everything kept in-tact except for the graphics and music"

Favourite Themes:

Points given to this entry: 3

"Out of the original trilogy of Dragon Quest games, DQ 3 is by far my absolute favorite. Essentialy, DQ3 is a prequel to DQ I and II, where you take the role of the legendary hero stated in the previous games.

Unfortuneltely I never got a chance to play DQ 4 -6, so DQ 3 is the best next thing when it comes to 16-bit RPGs.

The gameplay retains the classec Dragon Quest formula. Random encounters, simple stats and leveling up system, hiring warriors of different classes to form a party, etc... I love classec RPGs with gamplay such as this."
8. Phantasy Star 2
Points: 13
| | | |
| --- | --- | --- |
| Developer: SEGA | Publisher: SEGA | Console: SEGA Genesis |
Points given to this entry: 1

"Yes the series that pretty much set the stage for turn based RPG's, Phantasy Star helped to put Sega on the map for a lot of RPG fans. Though not really seen as a technical achievement today, many RPG fans have fond memories of this game and PhantasyStar 2 was a great squeal to an otherwise good game. Now I never played PhantasyStar, but I did play the second game and I thought it was pretty decant and probably the best game to start out this list. Yeah it didn't have the best story or the best music, but you'll be hard pressed to find a better RPG on the Sega Genesis. And yes this is the series where the infamous Phantasy Star Online came from."

Points given to this entry: 9

"Let's be honest here, when you think of Old School RPGs, you think of the SNES first... well most games for that matter. Which is a shame, because the original Phantsy Star series is one of the best out there, notably Phantasy Star 2. Released in Japan in 1989, and a year later for NA, Phantasy Star 2 takes place on a few planets in the Algol Star System a thousand years after Phantasy Star 1 took place. With the sequel, the story took a huge upgrade, easily being a very compelling story, which is something you wouldn't expect from how pleasant the characters look.

Speaking of which, for an 89 game, it's very impressive. Everything is detailed, especially characters and monsters, you couldn't get that kind of quality until the SNES RPGS came out, and even then shown the genesis could still compete with Phantasy Star 4. I would go more into that, but I haven't played PS4 yet, and I'm getting off topic.

The gameplay itself is what you would expect when playing a Dragon Quest game, but a bit more intricate. With it being like Dragon Quest, the game can and will be a cruel ride, but oddly enough very addicting to play.

I do have to say though, the music has shown its age, but none the less pleasant to listen too. Really, there isn't enough I can say about this game, it's been ported to numerous systems (and I think japan only remakes, but don't quote me) go play it!"

Favourite Themes:

Points given to this entry: 3

"You cannot mention an RPG on the Megadrive without mentioning Phantasy Star II. This tale was created from SEGA AM7 who are now known as SEGA Wow Overworks. Phantasy Star II is an RPG "on steroids" in SPACE! Well, not exactly space but in a science fiction setting with space travel. Phantasy Star II may have came out before Final Fantasy, but it has some firsts in the genre. For example, Phantasy Star II has an automatic battle system to where players didn't have to input commands every turn. This made all the random encounters, as necessary as they were, less tedious to burn through. Phantasy Star II does have animated battle sprites sure, but what really makes Phantasy Star II stand out to this day is the dark story very few games have copied successfully.

Phantasy Star II is an unforgiving game. Aside from killing off one of your main characters (spoilers) you have to plan everything ahead of time when going from one area to the next. Especially when you run into a encounter that's impossible to beat and run away from. Those playing Phantasy Star II for the first time may feel a little frustrated when they run into a monster which wipes out their party. Some will use a strategy guide. Either way, when you play through Phantasy Star II and beat it you will feel accomplished. I would put Phantasy Star II higher on the list, but it has not aged well. The music is still some of the most memorable on the Genesis, but those with photo-sensitivity may not want to play this one. You may have seizures from watching the screen flash red all the time.

Oh, did you know that Yuji Naka, the programmer of the early Sonic games, also made the original Phantasy Star on the Master System? It's true."

___________________________________________________________________________

Common Favourtie Theme:
7. Terranigma
Points: 16
| | | |
| --- | --- | --- |
| Developer: Quintet | Publisher: Enix | Console: SNES |
Points given to this entry: 7

"North America, you got screwed out on playing one of the most enigmatic action RPG's of all time. I know, because I only played this via emulation... Well shoot.

I JUST SAID THAT OUT LOUD!!!

Anyway...

From the developers of Act Raiser comes the tale of a man who resurrects the earth. Terranigma is more than a journey, it's a spiritual journey about life and those who want to take it away. You journey underneath the earth's crust. Seriously you're walking upside down inside the earth on the earth's crust. Once above the earth you cross continent to continent visiting famous locations from around the world. Ark, the main character of the story, not only has different moves to take out his enemies, but he can also use elemental rings and summoning pins to cast magic. Sure, Terranigma is a bit more simplistic with its stats, but it does have them. One of the more memorable things about Terranigma is the main menu screen. Ark literally jumps inside of a box which has a home inside of it. You may remember seeing something like this in Fable 3 maybe?

Also Terranigma is not an easy game, you have been warned."

Favourite Theme:

Points given to this entry: 9

"Terranigma. Yes, Terranigma, one of my all time favourite games; there's a reason why it is number 2 on my personal Top 10! This game is also the spiritual succsessor to Illusion of Gaia.

I'll be honest, I'm not a fan of action RPGs, so I don't really like games like Secret of Mana (GASP). However, I love Terranigma, it does everything right, the combat system is fun and easy to understand, the story is fantastic and the much is amazing. Don't even get me started on those perfect controls, for those few that experinced Illusion of Gaia, remember how you would have to douple tap the D-Pad to sprint? It felt awkward, didn't it? Well, this game fixes that issue by giving it a dedicated sprint button (Which you only have to press and not hold to start sprinting).

I would be liying if I told you I didn't cry at the ending. I did.

Everyone should definitely play this awesome game. In my opinion, it is on the same level of awesomeness as Chrono Trigger!"

Favourtie Themes:
6. Super Mario RPG: Legend of the Seven Stars
Points: 20
| | | |
| --- | --- | --- |
| Developer:Squaresoft | Publisher: Nintendo | Console: SNES |
Points given to this entry: 6

"Square were kings of the RPGs in the 16-bit era, there is no question about that. They were so good, that Nintendo asked them to develop an RPG based on their beloved Mario. And what do you know? It worked! I don't really need to explain why this made the top 5 games, right? I thought so."

Favourite Themes:

Points given to this entry: 8

"So one day Nintendo was like, "You know what genre is doing well? RPGs. You know what series is widely considered our best? Mario. We should combined the two and see what happens." While most people didn't think it could be done, Square and Nintendo teamed up to show that they where wrong. This is probably the funniest RPG I have ever played. Not to mention it found a way to combined two different generes perfectly. Those being Platformer and RPG. It also gave us a sound track this better then Earthbound's. (Yeah I said it. Not that Earthbound's music is bad or anything. Though it isn't as good as my number one pick.) The graphics were pushed to the max and really showed what mode 7 could do. Not to forget all the mini games. And by all I only mean one. Go Yoshi. Win this race so I can afford all them things I want. This game also holds one of the most memorable parodies in video game history. The Axem Rangers. I don't need to say anything else. I'm done. My case has been made for me years before this list was ever writing. Moving on."

Points given to this entry: 1

"You know you have one hell of a list when Mario barely makes it. As the name states, it is an RPG with Mario in it. Though now days seeing a Mario RPG is common. Back then it was unheard of. Super Mario RPG is fun from beginning until the end, all 32 megs of it. While exploring the world, SMRPG plays like an isometric platformer, which kind of gives you an early taste of how a Mario game might play in 3D. SMRPG takes the concept of random encounters and stomps on them like a Goomba. Enemies are on screen. So if you touch an enemy, you start a battle. SMRPG doesn't play like your typical RPG. If the player presses the "a" button at the right time, then Mario will do extra damage. When the player uses a special move, the player inputs the right buttons to power up the move. These are now known as quick time events. Which quick time events are now infamous for making new games suck. As for SMRPG, it makes the game more interactive which means more fun. Combine that with a memorable cast of characters and secrets then you got yourself a five-star game.

On that note, Geno in Super Smash Bros. 4. Do it Namco Bandai!"

Points given to this entry: 5

"I played Super Mario RPG after I had played the Paper Mario series. I wanted to know the origins of Mario RPGs and I was not dissapointed. Right away I could tell Paper Mario's style was greatly influenced by this game and why wouldn't it be? This game is just FUN.

Nintendo and Square team up to bring not only the last Mario game on the SNES, but also Square's last RPG on a Nintendo console for quite some time.

Using silicon type graphics to make the game look 3D is one of the games strong point and they do not dissapoint even today. SMRPG, even though it was developed by Sqaure, still has that Mario feel to it. The attention to detail is astonishing! Great characters like Mallow and Geno, plus the fact that both Peach and Bowser join your party, who wouldn't love a concept such as this? I did and I loved every moment of it!"

Favourite Theme:

____________________________________________________________________________

Common Favourite Themes:
5. Final Fantasy IV
Points: 31
| | | |
| --- | --- | --- |
| Developer: Squaresoft | Publisher: Squaresoft | Console: SNES |
Points given to this entry: 9

"This again I never owned on the original Super Nintendo but I did get a few of it's...what feels like millions of re-released systems. The Systems I have this classic is the Game Boy Advance, The Nintendo DS and the Playstation Portable. Although I feel like it's been ported to absolute death, it's a fun RPG to play every now and then especially on the PSP.

Favourite Theme:

Points given to this entry: 9

"My very first Final Fantasy game. Sure, I've been playing games since the Atari era, but this was my very first RPG (Zelda doesn't count). I was amazed by the sheer length end depth of this game and it's story, and it is the very reason I like RPGs today. In my opinion, FFIV has one of the most in depth stories and characters than any other game before it. The music made me realize that it was meant for more than just background noise for games, and added to the emotions you felt while playing the game... This game introduced me to the Paladin, and it has ever since, been my character of choice in D&D games... Ah, hell... Just go play the damn thing!"

Favourite Themes:

Points given to this entry: 7

"You know years ago Square Soft was at the top of the RPG world. They made almost every great RPG of the 20th century. And Final Fantasy 4 did for the series what Metal Gear Solid did for it's series. Now the mechanics where pretty much the same as the previous games, but it also saved the series for us over here in the states. The story, music, and gameplay have all aged well and it's also the first Final Fantasy to feature it's most famous mascot. The chocobo. This game was made during Square's high point and is another one of those RPG's that you've got to play. I also think it was the first Final Fantasy to feature a love story that didn't get in the way of the main plot, and even helped to push it forward. And like I always say, name me another game where you can go to the moon… via airship. I didn't think you could."

Points given to this entry: 6

"When Square made it's jump from 8-bit to 16-bit, their games evolved greatly! Active Time Battle system, story telling, detail, all if it evolved one stop forward.

The FF4 world is fascinating , the characters are memorable, the story is above and beyond anything of it's time.

There are a ton of characters in FF4, many of them came and went and one even died along the journey.

I had a blast playing through FF4, took me about 22 hours to beat the game including all the side quests. Easily one of my favourite Final Fantasy games and one of my all time favourite games."

Favourite Theme:

____________________________________________________________________________

Common Favourite Themes:
4. Secret of Mana
Points: 32
| | | |
| --- | --- | --- |
| Developer: Squaresoft | Publisher: Squaresoft | Console: SNES |
Points given to this entry: 8

"Secret of Mana holds a special place in my heart. This was the game that I rented out of blockbuster the most, back in the 90's. And I probably spent more money renting it, than I would of have if I had just brought the damn thing... That is how awesome it was. I could not of have placed this game in any other position than top 3."

Favourite Themes:

Points given to this entry: 6

"Secret of Mana is an amazingly solid yet amazingly underrated RPG that continues to be one of my favorite SNES titles to date. It was definitely one of more larger and more expansive games out there and made some of the other RPGs that preceded it to look miniscule in comparison.

While I don't think the game really broke too much new ground, it was certainly a game that perfected all the signature elements that make RPGs so damn addicting. Large worlds, various enemies, large amounts of items and abilities, and an intriguing storyline and universe.

And is it just me, or did SoM beat FF to the punch with the whole technology vs. magic theme? I think this game is well understood as a mash up of sorts between the FF franchise and the LoZ franchise in both its style, lore, and a little bit in gameplay. Which is an huge pro for anybody looking for the perfect RPG.

In the broad perspective of things, I think SoM is a staple in any SNES collection, and there is no way you can call yourself a true RPG fan until you have played this game."

Points given to this entry: 5

"Man, what has happened to this series? It started out great and then became forgotten. While I will argue that Secret of Mana is the best in the Mana series, I will also argue that the series just hasn't been treated well. What sets this game apart from other RPG's is that it not only had a real time system for it's battles, it also allowed up to three players to join in on the fun. Hell, I can remember beating the game with my friends back in high school one summer. There really isn't anything wrong with this game. The only problem I have with it is that it set a standard for a series that it can't reach anymore. But hey, let's not think about what is and instead think about what was. (A warning to everyone. Square is going to pretty much dominate the rest of my choices.)"

Points given to this entry: 8

"Secret of Mana was one of the most ambitious titles Square ever worked on and it's most definitely overlooked. It blended some elements of action/adventure games (such as the Legend of Zelda) with the RPG formula while also serving as the "flagship" game, of sorts, for the weapon wheel system that we see in many games today, such as Assassin's Creed, Dragon Age, Mass Effect, and many others (it was called the Ring Command in Secret of Mana). It's also one of, if not the very first games (and indeed, RPGs) to use have drop-in cooperative play. Instead of having to start the game with both (or all three) players locked in for the ride, someone (or someones) else could just swing in, play for 10 minutes or help with a hard boss battle and then drop back out, with not ill repercussions. The AI is customizable when there aren't multiple players, meaning there aren't many (if any) instances of dumb computer-controlled allies and that AI customizing system has been used in countless games since, each designed by scores of different developers across multiple different platforms.

Along with those innovations, the game was brightly colored and utilized the SNES graphical capabilities well, using only what it needed to create a unique aesthetic instead of trying to pump as much out of it as possible in order to be the best looking game out there. It wasn't a sensory overload, it was a visual experience. And on top of that visual experience, you have Hiroki Kikuta's absolutely wonderful soundtrack that traverses the range of human emotions with as much fluidity as a contemporary dancer moving across a stage during a routine.

Overall, Secret of Mana's strength lies in it's scope. Everything that it accomplished was already astounding, but the fact that it accomplished all of those things and did it well speaks volumes for the game as a whole, and Secret of Mana remains relevant to this day because of its ambitious innovation."

Points given to this entry: 5

"But Mikey! Secret of Mana is not an RPG. You run around and kill stuff like Zelda. Yes, you do. Unlike Zelda you have stats that determine everything you do. Secret of Mana is called an "action RPG". Though a bit simple in the dialogue, Secret of Mana is all about the action. You have eight different weapons to master, each with eight different levels of charge attacks. Plus that your companions can summon spirits with three attack and support spells giving you many options for strategy. On top of that, Secret of Mana has some of the best presentation on the Super Nintendo. No matter where you go, you will always find something beautifully detailed whether it be the graphics or the soundtrack, especially the soundtrack. Just listen to this:

And this is when you turn the game on. If this doesn't convince you that video games are art then I will personally come over to your house and punch you so hard it will make your ancestor's dizzy."
3. EarthBound
Points: 35
| | | |
| --- | --- | --- |
| Developer: Nintendo/Ape/HAL Laboratory | Publisher: Nintendo | Console: SNES |
Points given to this entry: 8

"This last one on my list of my Top Three 16 Bit RPGs have to go to Earthbound...sadly Nintendo is really neglecting besides including Ness in every Smash Bros game. Earthbound is pretty Legendary with it's history, it's various pop culture references in both North America and Japan, it's unique setting. And although has the typical threat that a group of heroes has to save the world from utter doom it's a happy and pretty cheerful RPG despite it's dark tone....that is until you face...Giygas of course. Everybody should have a shot at playing Earthbound either by somehow getting a copy of the game...or by you know sadly the only way most of us can play the game with Emulators. Even if you hate Emulators Earthbound has to be played."

Favourite Themes:

Points given to this entry: 7

"EarthBound is just one of those games that you simply cannot erase from your memory. While it's gameplay was not really that revolutionary, it's world, its characters, and its storyline contain some of the most unconventional and most memorable elements I have ever seen in a game. Unlike your typical, run of the mill RPGs, the EarthBound series dared to be something entirely different, replacing the usual fantasy world with 1990s American style setting.

To add to the sheer ridiculousness of it, you fight off an alien invasion with weapons like yo-yos, baseball bats, frying pans and psychic powers! It is also by far one of the most hilarious and most humorous games in not only the RPG genre, but in the whole 16 bit era. The gameplay is enjoyable and even though some might feel it is a little too reminiscent of Dragon Quest's at times, I see that more as more of a plus than a minus. The whole scenario this game puts you in reminds me of a comic strip from Calvin and Hobbes, and is all the more reason I love it so much.

In the end, I think Earthbound is an incredibly fun and a incredibly underrated RPG that ranks in my book as being one of the SNES's top hidden gems."

Points given to this entry: 6

"If you want a better example of a game that is a satire of the real world, you wont find it. This game looks innocent at first. But as you play through it you find that it's really about how a boy who is stepping out into the world to become a man. Everything about this game is a satire of its time. You have the cult of blue men trying to take over the world. Police Officers that abuse their power and beat up on a little kid. And that last boss. Oh God that last boss. I have friends who say that to this day they still get nightmares about him. To put it bluntly this game took traditional RPG's and throw them on their ear. In a sense at least. I can't really find a game that shows off just how evil the world really is. Not just in the world of EarthBound, but also in real life. It's one of those games that you have to play if you want to get into RPG's. Not to mention that this also has one of the best sound tracks in video game history."

Points given to this game: 4

"A very long time ago, I heard someone say that Earthbound is an overrated game. I always loved Earthbound for being a parody of an RPG but playing it now... Yeah Earthbound may be a little "over-hyped". Though many people will nitpick Earthbound for nit picks like "the psychedelic background masks the fact that text narrates the action in battles" or "the game still plays like an average RPG, I dunt see why it's popular hurr durr". In the end, Earthbound is one of the weirdest games you will play in your life. To be honest I don't know what good things haven't been said about Earthbound. Here's my spin:

Earthbound is an RPG parody where you play as a boy with psychic powers who's trying to save the future from Gygas at the request of a dying bug. That's as spoiler free of a plot as I can make it. Earthbound may not do anything "new" with the game play aside that your HP scrolls down like a gas pump, but it has it's own style with writing. The game is full of early 90's Pop-culture references like hippies and Mr. T. There's also zombies, killer robots, golden statues with your psychic powers, Siam, and even a world inside of your brain. Again, Earthbound is a fantastic game with a one of a kind story. Isn't that what matters?

Though overrated or now, few will be able to play Earthbound legally. Nintendo of America cannot bring Earthbound to Virtual Console because of lawsuits with copyright of pop-culture references of all things. Earthbound, a fantastic game everyone should play but never will. At least not legally. Which is why Earthbound will forever be overhyped.

LuckyMikeyJ and ScrewAttack.com do not support piracy in any way or form."

Favourite Theme:

Points given to this entry: 10

"Ah Yes EarthBound, number 1 on my personal Top 10 . I'm a huge Mother fan and EarthBound has to be my favourite Mother game.

The Mother games are grealty influenced by Dragon Quest, anohter one of my favourite RPG series, so of course I would fall in love with this game! EarthBound has it's own quirky charm, characters, NPCs, music, etc..

Out of all the 16-bit RPGs I have played, EarthBound is undoubtedly the most funnest and enjoyable 16-bit RPG I have ever played! This game is just perfect! It's hard to explain in words how awesome EarthBound truly is!

EarthBound is a pretty long game, but it never drags on. It constantly keeps the experience fresh with new places, events and enemies. Plus no random encounters! One awesome aspect of this game is that the overworld and towns are all connected as one big overworld!

There is just so much to love about this game and I haven't even touched upon it's 100+ song soundtrack!

Favourite Themes:
2. Final Fantasy VI
Points: 62
| | | |
| --- | --- | --- |
| Developer: Squaresoft | Publisher: Squaresoft | Console: SNES |
Points given to this entry: 10

"There is only one word for this game. Masterpiece... If you ask any Final Fantasy lover, what is their favorite Final Fantasy game of all time, they will probably say 6 (including our very own Jared). When asked who the best villain is, they'll say Kefka over Sephiroth any time of the day. I cannot even find words to describe this game accurately. This game is all about the story, the characters that get swept away by it, and the music that elevates it to epic proportions and to God-like quality."

Favourite Themes:

Points given to this entry: 10

"It stands to reason that Final Fantasy VI not only deserves to be the #1RPG of all time, but the #1 video game PERIOD.

A lot of fans might cite Final Fantasy VII as being their favorite and or the best of the series, but I humbly disagree. Final Fantasy VI marks the prime of the Final Fantasy franchise and of ALL RPGs.

Its sheer variation in gameplay and versatility in experience makes it a game you will never stop playing it. Never before and never since have I played a game as thematic or as emotionally gripping as this. While it certainly isn't the only game to do this, it stands as a monument to the fact stories portray the very basic theme of good vs. evil are the stories that will be remembered forever.

Boasting the gameplay of its series during the time, Final Fantasy VI is nothing short of perfect in the department of mechanics, replay value, and amount of content.

And just like all of the other games in the FF franchise FF VI is basically one big allusion to the history, mythology, lore, traditions, cultures, and beliefs of the entire world with references to figures like Odin and Gilgamesh.

The visual elements present in the game with the designs of its characters, monsters, and surrounding environments are breathtaking for a game in the 16 bit era and its villain, Kefka is among one of the most memorable and most evil villains to be featured in a game of any era.

In conclusion, Final Fantasy VI is a game that serves as a heartfelt homage to the invention of the fully formed and recognizable RPG that the original Final Fantasy and its creators at Square brought to us and continues to stand as a symbol and a model for all RPGs for all time."

Points given to this entry: 8

"Final Fantasy VI is easily one of the greatest RPG's I have ever played. The story, gameplay, soundtrack, atmosphere are all top notch easily making it not only one of the greatest games I have ever played in general but also one of the greatest games ever made. Few games are able to capture the same amount of emotion and atmosphere as well as Final Fantasy VI does. So much of the game stands out it is almost impossible to decide on a personal favourite. With an incredible story, deep gameplay, and astounding soundtrack Final Fantasy VI has and will continue to stand the test of time as one of the greatest RPG's ever made."

Points given to this entry: 9

"Oh yeah. Final Fantasy 6. I can't think of a better Final Fantasy, or a better game with such a wide cast of characters. Every character was given love and attention. The music is the best in the series. The story is better then what any other Final Fantasy has to offer. Not to mention that you can suplex a train, engine and all. Everything about this game is great, but there is one thing that sets it apart for all the rest. Kefka. Lets look at why he is the best villain in the series; and pretty much the best in any game what so ever. First thing you should know about him is that he is crazy. Straight up insane and even admits that his goal is to destroy everything because of how pointless it is to him. And you know what. Everything he sets out to do, he does. He becomes the ultimate being and pretty much destroys the world in the process. Not to forget that laugh. That laugh is so memorable that I would argue that it's the best sound effect to ever be made for a 16 bit game. Now Kefka isn't the only reason for why I like this game so much. It was also the first RPG I ever play and like I said, there isn't anything about this game that I can find fault with. Also, when I get a look at what Final Fantasy has become today it makes me sad. So thank you FF 6 for being there for me. But sadly you aren't my favorite RPG. Even if you are the best of your series."

Points given to this entry: 9

"This game is already widely considered to be one of the greatest games of all time, let alone one of the greatest 16-bit RPGs. What's left to be said about this game that hasn't already be said? The story is well-written, beyond words even. The score is emotionally engaging. It's moving. And the gameplay is refined from the previous iterations to allow for so much more customization and individuality, so one playthrough might not be the same as the next. But it' was still the same familiar formula that everyone knew and loved, so it was perfect.

On top of all that, the design and programming behind the game itself was impressive and well thought-out. The game used the Super Nintendo's Mode 7 capabilities moreso than any other games prior, and it used them well. It wasn't about using Mode 7 just to use it or just to say it had Mode 7. It was about using it to enhance the experience. It's almost like CGI, but on a smaller scale. Having CGI may be impressive, but it's just stupid when it's not done purposefully. Using CGI to enrich the experience of particular segments of an overall product is much more appealing because it's not a constant visual overload and it's actually more stunning whenever it's used because it occurs sparingly. Now take those last few sentences and replace CGI with Mode 7 graphics and that describes Final Fantasy VI's design insight.

In one word, Final Fantasy VI is amazing."

Points given to this entry: 8

"Never can mention a Top 10 RPG list without mentioning Final Fantasy. Final Fantasy III, or VI if you live in Japan, is the pinnacle of everything that makes a good RPG and more. By optimizing the game to work around the limitations of the Super Nintendo Final Fantasy VI has presented a tale with it's memorable presentation that still stands strong even to this day. Think about it. The only thing anyone remembers about Final Fantasy VII is that Aeris Dies. In Final Fantasy VIII you remember the theme song and that's it. While in Final Fantasy X you remember that you hate Blitz Ball.

Aside from the War of Magi dot dot dot with the humans and Espers, the story plays out like a classic dramatic opera. Each member has their own problems which can be traced to a single problem: The empire trying to take over the world. Though the game doesn't deviate much from the tried and true ATB (Automatic Time Battle) system, Final Fantasy VI does have is character customization. You can equip characters two relics which give them passive abilities. You can also equip Magecite which gives characters magic spells and stat boosts, a system which the concept is expanded further Final Fantasy VII's Materia system. Overall you will find the best things in the Final Fantasy series in Final Fantasy III. Now if only SquareEnix can play some of their older games to see what made Final Fantasy great. Maybe Final Fantasy XV won't be so bad if developers did replay some of the older Final Fantasy games.

I hope."

Favourite Theme:

Points given to this entry: 8

"Out of all the RPGs on this list, Final Fantasy 6 is undoubtedly the biggest, richest and best 16-bit RPG. I know what everyone is tinking, why place the game at number 3 on my own list and still say that? Well, because it is true, even though On my own personal lists, Terranigma and EarthBound are above it, they still can't compare to FF6. Even if this game isn't number 1, everyone will all agree with what I'm saying.

When I first played this game, it blew me away and I was hooked. It took me 60 hours to do all the side quests, teach every character Ultima, prepare for the final boss and beat the game. I loved every nano second of it... except uncursing the cursed shield...256 battles... but it was so worth it.

There's not much for me to say that hasn't already been said. Final Fantasy 6 is my favourite Final Fantasy game and on of my favourite games of all time!"

Favourite Themes:

____________________________________________________________________________


Common Favourite Theme:
It is time for number 1!...
1. Chrono Trigger
Points: 79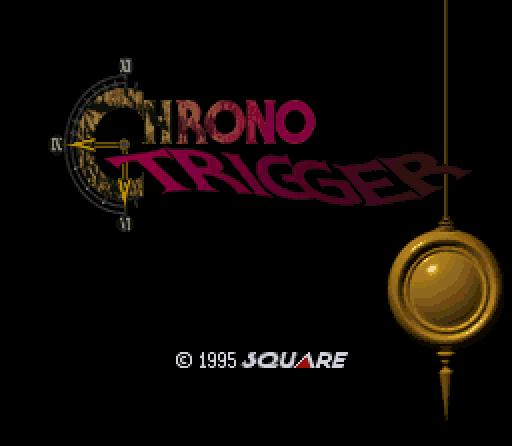 | | | |
| --- | --- | --- |
| Developer: Squaresoft | Publisher: Squaresoft | Console: SNES |
Points given to this entry: 10

"Although not one of my first RPG's Chrono Trigger is one of my favorites, admittedly I never got the game when it originally came out on the Super Nintendo but when word came out it got a port/remake on the Nintendo DS I loved it. Sure it took me several years to find this game...4 years in fact I could not stop playing this RPG to complete all of the story,including it's Extra Dungeons and the Secret Boss."

Favourite Themes:

Points given to this entry: 7

"I will probably get a lot of hate for not placing Chrono Trigger on the first place, but it was very hard to decide these last 4 spots. Sorry, but I just had to go for personal preference. Chrono Trigger has amazing visuals, music, story, characters, and pretty much everything you can imagine. It also offers multiple endings depending on your actions during the game... If you haven't played this game, then you are seriously missing out on a masterpiece that many consider as the best RPG of the SNES."

Favourite Theme:

Points given to this entry: 9

"By far, one of the most important and most impactful games in history, Chrono Trigger is a game that lies at the forefront for the argument that gaming IS art.

Everything from its graphics, its score, and its story is a perfect allegory to the magic and wonderment of RPGs. It completely shattered the linearity of games with over twelve different endings (You hear that Mass Effect? A 16 bit game puts you to shame!) and there probably hasn't been a game before or since that has managed to captivate so many people.

Its characters make up one of the best video game casts I have ever seen, and its twists, turns, and plot swings kept me at the edge of my seat throughout the entire experience. While some may say it is riddled with cliches, its presentation and gameplay were at the pinnacle of innovation and helped solidify its title as one of the most influential games to date.

I am both pleased and somewhat embarrassed to see that the games of today still cannot replicate the story crafting wizardry that only Chrono Trigger could provide.

To me, Chrono Trigger is an RPG that lies at the center of perfection but add on top of that, its long lasting effects on both the industry and gamers alike, and you have one of the most memorable and most well made gaming experiences the world has ever seen."

Points: 9

"Everything Final Fantasy VI did well Chrono Trigger did even better. The soundtrack exceeds the already amazing work of Nobuo Uematsu, the story is just as captivating, the atmosphere is very distinct in many different aspects, and while the gameplay is much different there are still hints of familiarity despite being much simpler. Without a doubt one of the greatest aspects about Chrono Trigger is its massive amount of replay value. With several different endings caused by the different choices the player makes throughout the game, the game could easily be played through several times with each time being different from the last. While many gamers and RPG fan will argue on which game is superior; Final Fantasy VI or Chrono Trigger, I would personally have to give my vote to Chrono Trigger for having an equally excellent soundtrack, simpler gameplay, an epic story, and a massive amount of replay value."

Favourite Theme:

Points given to this entry: 10

"Oh man I love this game. Yeah, anyone who knows me already knew that this was going to be my number one pick. Everything about this game is perfect to me. It also is pretty much the only game I've played that doesn't seem to show its age. Hell, it's such a great looking game that I would argue that the sprites are unbeatable. The music is the best any game has ever had and the gameplay is perfect. Not to mention that the backgrounds were so great that Square didn't need to make a separate filed just for the combat alone. Look, everyone has their favorite RPG, and even their favorite game. But I can't think of a better example of an RPG, let alone, a 16 bit game. Square had their A game ready for this, and it shows. Nothing since or before has ever reached the standers of this game. (At least to me it hasn't.) This game helped to shape me into the person I am today. It got me to realize that you have control over your own destiny and nothing can or should get in your way. Not to mention that it pretty much paved the way for RPG's of today. Do you really think we would have the Mass Effect series without Chrono Trigger? While Chrono Trigger wasn't the first game to have multiple endings, it was the first to give us a perfect amount of them. So yeah, I know I've said this a few times, but if you ever want to play a game and you have to choice, this is the one to play. This isn't just a must play RPG it's also a must play game. I don't need to say anything else. Go out and buy this game now. It's just about on every system out there. Even the I-phone/I-pad. What are you waiting for? Stop reading this list, go get the game and play it. (Okay read this list again if you want.)"

Points given to this entry: 8

"This one is a gimme, but it lives up to acclaim and then some. Animation is done by Akira Toriyama, as you can tell you play as Goku with Chichi, Vegeta and... hahaha oh I couldn't resist. Seriously though, characters and environments are unique and appealing, you wont forget how it will look.

Gameplay is turned based, but the game give it a unique take on it that keeps every battle fresh and enjoyable. What makes this game a timeless classic is the story, going through multiple timelines to save the world from Lavos with your party of well crafted characters you can relate to. It also doesn't hurt that it has some of the most epic scenes in gaming and plenty of multiple endings.

Oh and don't forget about the music, the tracks are of bliss and heart pumping action appropriate to the situation. If you haven't played this game, you're missing out, this is one of those games you must play before you die."

Favourite Themes:

Points given to this entry: 10

"In my honest opinion, the fact that Chrono Trigger even exists as a concept is fascinating. It was every dedicated nerd's wet dream: Akira Toriyama (the man behind the Dragon Ball franchise) did the artwork. Hironobu Sakaguchi (creator of the Final Fantasy series) was a designer. And Yuji Horii (the creator of the Dragon Quest series) was a writer. The three collaborated to conceptualize what would later become Chrono Trigger, and once it actually became a project title, there were dozens of other people on the project drawing inspiration from other amazing works, such as the TV series Time Tunnel and Ridley Scott's Alien.

The end result was a game with an amazing story written by people with a conscious understanding of a living universe (I.E. when the main characters aren't around, the world still goes on and doesn't just wait for them to come back), beautiful set pieces designed by artists and programmers with a particular specialty for the mise en scène (every single piece of that world was deliberately placed and tied back in with the living universe idea), and designers who knew how to make a great game that was fluid, fun to play, and entirely engrossing to the player; the battle mechanics were revolutionary, the animations and their respective implementations were innovative, and the overall feel of the game was purposeful, clear, concise, and mediated.

In short, Chrono Trigger is the perfect 16-bit RPG on every single level and not having it at number 1 would be a travesty."

Points given to this entry: 9

"Surprise! You thought a game like Chrono Trigger would be in the number one spot right? WRONG!!! Chrono Trigger takes everything Square Soft learned from Final Fantasy VI and throws time travel into it. Chrono Trigger also has Akira Toriyama, the creator of Dragon Ball Z, as the artist. Chrono Trigger uses the ATB system introduced in Final Fantasy. Chrono Trigger also has battles taking place on the map. Chrono Trigger has a memorable cast of characters including a frog knight, giant robot, cave woman, a geeky inventor, a tomboy princess, and if you want: an evil wizard from the past. Chrono Trigger has "team attacks" to where if two characters learn certain moves, then they can combine them into a super amazing attack. Chrono Trigger has an apocalyptic future, a tribe of sentient dinosaur men, an ancient civilization founded on magi-technology, multiple endings, hidden bosses and dungeons, even secrets hidden from your mother. Chrono Trigger has everything for it's time! Which is why it's not number one on the list..."

Points given to this entry: 7

"Chrono Trigger, what's not to love about this game? Created by the ultimate dream team of Hironobu Sakaguchi (creator of Final Fantasy), Yuji Horii (Creator of Dragon Quest) and Akira Toriyama (creator of Dragonball). CT is a masterpiece of a game! Story, music, battle system, it's all perfect. One of the best things about the game is the battle system, just like many Square RPGs of that era, it implements the patented ATB system. But it has it's own original system as well, which works with ATB, the "Tech System". Allowing party members to perform duel and even triple attacks! Oh and that beautifull soundtrack! I listen to it all time while I'm working! One of the, if not best Soundtracks on the SNES!

There's not much I can say that hasn't already been said by everyone else. If you have not played this game, I suggest dropping whatever you are doing and purchase it on a cosole you own and play it!"

____________________________________________________________________________

Common Favourite Themes:
_________________________________________________
This concludes our g1 Community's Top 10 16-bit RPGs!!
I would like to thank g1s Kaibaman41, Rurounizanza, Samuraispartan7000, 6ix1337, MegaSilverX1, joeshadowman, Ataeru, AsaiNeroTran, LuckyMikeyJ and NODlike, for being apart of this month's g1 Community List!
Hope you enjoyed reading through this list, if you have any suggestions for possible future lists, post it in the comments.
Want to be apart of the next list? I'll be posting an announcement blog about it soon, so remember to keep a look out for that.
Well, until next time g1s!