Hey g1s, how's it going? I'm back to present this month's g1 Community List! Coincidentally, EVO 2012 just happened, so it is the perfect time for the g1 Community's Top 15 Fighting Franchises!!
If this is the first g1 Community List you are reading, then this is how it works: g1s create their personal top 10 on a given topic, I score each entry on every list with points depending on where it was placed, then compiled it into one definitive list.
When reading each g1s quote, you will notice that it says this next to their profile image - "Points given to this entry: " Here is where it shows how many points out of 10 they scored that entry on the Top 15. 10 being the highest and 1 the lowest.
Without further ado, here is the g1 Community's Top 15 Fighting Franchises!! But first, here's a few Honorable Mentions.
Honorable Mentions
Dead or Alive
"Now, as much as you want to rag on DoA and all of its boobs and swimsuit volleyball girls, but its fighting games have been pretty solid. The controls are pretty nice and the fighting overall is easy to get into and easy to pick up. Sure, its characters and its entire entity isn't one of the more memorable fighting game series, but even so, I think that the series is enjoyable when it needs to be, and it deserves to at least be on the bottom of my list."

"Juggling Boobs from Fatal Fury, floor falling from Mortal Kombat, merge them together and you make Dead or Alive. The chicks are so hot, that they are hotter than the chicks from Arcana Heart. The characters speak Japanese, and for the chicks, it doubles their sexiness. DoA5 will feature Virtua Fighter Characters Akira, Sarah and the leaked Pai Chan, and will be more realistic."

Favourite Game: Dead or Alive 4

Favourite Characters: Hayabusa, Hayate, Hitomi, and Ayane
Arcana Heart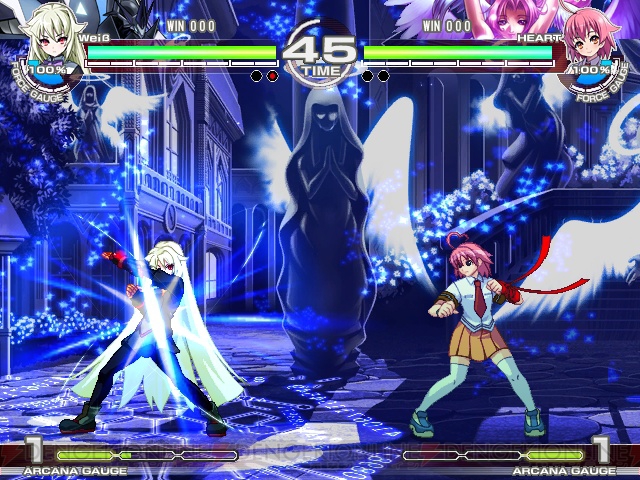 "Hellooooo Girls. What separates this from all other female fighting series? Well, apart from the homing button (Used for rushing in directly to your opponent, regardless of it's position) and the unique characters, I would have to say the Arcanas, spirits that can aid you through the battle and litteraly change strategies for each fighter!"

Favourite Game: Arcana Heart 3

""Nothing else to say other than this is the game that introduced me to the series."

Favourite Characters:

1. Clarice Di Lanza

"A demon nun who decided to live in the human world out of boredom? Yes please! This character seems to be playing like some sort of zoning character, using her long slices to pressure the opponent."

2. Kira Daidohji

"A twelve year old girl inside a water blob, using it for various grappling techniques? I have no problem with that."
The Last Blade
| | |
| --- | --- |
| | |
| | "A samurai fighting games made by SNK? Yes please! Not a very well known SNK fighting game franchise with only 2 games, but one of my personal favorites. So what we got is excellent weapon based 2D fighting games with superb sprites and graphics and really solid gameplay. Easy to pickup but hard to master. Very much overlooked SNK gems." |
Bushido Blade
"In a world filled with 10,000 hit combos, damage scaling, life-bars the size of 3 course meals, and fighting game characters who can survive nuclear explosions, it's hard to imagine a realistic fighter being all that entertaining. But dammit is Bushido Blade entertaining! Rigid timing, precision, accuracy, and sometimes flat-out stupid nerve twitches is the name of the game in Bushido Blade. Unlike traditional fighting games, in Bushido Blade if a player makes the right move at the right time with the right character using the proper weapon instant death with befall their opponent. It is far from perfect in its balance, but I have too many fond memories of insta-killing friends to care. Some games like the GOD-AWFUL Deadliest Warrior fighting game have mimicked it, but none have matched the fun I had with the original."

Favourite Game: Bushido Blade

Favourite Characters: "None, they're all kind of bland admittedly."
Capcom vs. SNK
"The two biggest fighting game giants in the video game industry were for the longest time Capcom and SNK. SNK seems to have fallen a bit on the totem pole, but the memories of their amazing crossover fighting title will remain in my mind. The 3 on 3 fighting works like no other game, the roster is damn good, and for its time it was one of the best fighters I could get my hands on. Very few series have blended two different fighting game formulas as well as this one did."

Favourite Game: Capcom VS. SNK 2

Favourite Characters: "A team of Guile, Akuma, and Terry Bogard"
Top 15
15. Darkstalkers
Points: 9
Points given to this entry: 9

"Let me just say I am a huge fan of horror themed stuff, and fuck me when I saw that there was a fighting game with only monsters as the characters, I probably shit my pants for all I can recall. This game had all the classic monsters, vampires, werewolf (fucking kung fu werewolf to be exact), Frankenstein's Monster, Zombies, ghosts, etc. This series was also the first to introduce the chain combo system( L>M>H), and EX moves. The stages were gruesome and atmospheric with blood and stuff (later censored), and mind blowing ones like fighting on the side of a skyscraper. This still is one of my favorite fighting series and I do hope that the Darkstalkers Are Not Dead, and we get a 4th title."

Favourite Game: Darkstalkers 3/ Vampire Savior

"This game had all the characters, including bosses as playable characters and had the best round system were you both start with 2 bats, and when you get KO'd you lose one, so first to lose both would lose."

Favourite Characters:

1. Huitzel/Phobos

"An Aztec Robot, with LAZERS"

2. Jon Talbain/Gallon

"Fucking Kung Fu werewolf complete with nun-chucks . He wags his finger at you while snickering for his taunt..."
14. Fatal Fury
Points: 9
Points given to this entry: 2

"One of SNK's earliest fighters, this series would eventually evolve into the King of Fighters. It introduced a 2 plane system of fighting that was unique at the time, but I just loved the characters and that it had a decent story for a fighting game."

Favourtie Game: Fatal Fury Mark of The Wolves

"Now this game, the last in the Fatal Fury series, is one of the pinnacles of achievements in SNK's history. It has animation that rivals 3rd Strike and had a completely different cast from the previous entries with only Terry Bogard returning (complete with a super badass look). They added Just Defend (similar to SF3's parry system) as well as the Brake system to cancel certain special moves, so it was a very deep fighter."

Favourtie Characters:

1. Terry Bogard

"Southtown's finest, his unique trucker hat look made him stand out and I always loved his move quotes(BUSTAH WOOOLF) and win quotes (OK!)"

2. Freeman

"Introduced in MotW, he is a mysterious red haired man with long hair and fights with crazed slashes. My favorite of the new cast, it's a shame SNK hasn't used him in other games."

Points given to this entry: 7

"Simply the best of what SNK has to offer. What I always loved about SNK fighters was the fact that they had more humor in them than Capcom fighters. And they all look great."
13. Melty Blood
Points: 10
Points given to this entry: 10

"Ok this is were you all are likely going, 'Dafuq is Melty Blood?' It's the best goddamn fighting series to never leave Japan, that's what, son! This series developed by French Bread and Type-Moon, is the sequel to Type-Moon's Indie Visual Novel, Tsukihime. It had an extremely well written and thought out story (Kinoko Nasu is godlike) and it was further expanded on with Melty Blood. This series deals with monsters and the supernatural and as I mentioned, I fucking love that shit! Developed for Japanese PCs, the first game was heavy on the story mode since it was a sequel to an excellent VN already. While the graphics weren't anything too special due to being an indie game, the gameplay was extremely solid, and fast paced. It got so popular in Japan that it got several updates and was the first Indie/Doujin game to get an arcade port, and later a PS2 port. The later entries lessened the VN aspect and made it more of an arcade style. They also added characters from manga adaptations, and side/fan stories. It has gained a cult status in NA despite being an import."

Favourite Game: Melty Blood Actress Again

"This entry added several new characters, 3 different fighting styles (Full Moon, Half Moon, Crescent Moon) for each character to choose from, an an exclusive boss rush mode to face previous boss characters."

Favourite Characters:

1. Red Arcuied

"The main female of Tsukihime and Melty Blood, Arcuied Brunestud is one of the True Ancestors of the monsters we call vampires (known as dead apostles in the series). When she can't control her Blood lust she basically reverts to this crazed vampire form."

2. NRVNQSR Chaos

"One of the True Ancestors, his first name is pronounced 'Nero' and he is said to be made up of 666 Beasts. His play style is awesome, summoning dogs, deer, and shape-shifting his body into all sorts of what the fuckery. One of his air moves where his arm stretches out like a mutated crazy shit is often referred to as Resident Evil Arm or Biohazard in Japan lol"

3. Neco Arc

"TROLOLOL this is the best character EVA. Basically the manga had a sort of mascot in the form of a cute cat version of Arcuied and they put her in the game because it's so BAWSS. Also She shoots Eye LAZERS!"

4. Neco Arc Chaos

"Omg Neco Arc was so popular, they made a Neco Arc version of Nero Chaos! Lololol he can contort his body into animal ligaments and instead of just summoning a deer, he rides it!! RIDE THE DEER!"
12. Samurai Showdown
Points: 10
Points given to this entry: 4

"I'm not an SNK guy, but they've always had at least one franchise that caught my interest, Samurai Showdown. On the surface it looks like a fairly straightforward fighting game, except with swords and medieval weaponry, but the game goes well beyond your typical Street Fighter clone. It isn't the most fast paced 2D fighter, but it's one of the most strategic ones and a series that perfectly showcased what the Neo Geo was capable of. Anyone who has seen the beautiful background stages pan in and out as the fighting goes on know what I'm talking about. The series hasn't been doing too well recently, but the memories of the early titles lives on."

Favourtie Game: Samurai Showdown II

Favourtie Character: Jubei

"He made Screwattack's list of the manliest characters for a reason."

Points given to this entry: 6

"Everyone loves samurais don't they, so a samurai fighting game seems pretty obvious thing to do. One of the best franchises from SNK, filled with some clever and intriguing characters.On top of that it has a good fighting system that has more emphasis on strategy, defense and counterattacks. Of course the backgrounds are just beautiful and matches the samurai spirit(no pun intended) of the games perfectly."

Favourite Game: Samurai Showdown 4

"It had the most deepest and most fun gameplay of the SS series, as simple as that."

Favourite Character: Genjuro

"Cool sadistic badass, with great fighting style. He just wants to kill and that makes him one mean samurai."
11. Virtua Fighter
Points: 14
Points given to this entry: 5

"The most realistic fighting game series ever is Virtua Fighter. Nothing can beat that. Akira is the mascot who uses Hakkyoku-Ken. This is called Bajiquan in other places. The hardest fighter is also one that needs to give a player a main. This is why VF is number 6."

Favourtie Game: "Virtua Fighter 4: Evolution and Virtua Fighter 5: Final Showdown (can't decide)"

Favourite Character: Jacky Bryan

"He's a Bruce Lee from USA"

Points given to this entry: 9

"This franchise has come to evolve into the Bret Hart of fighting games. For those who don't recognize the wrestling reference, Virtua Fighter is known as the most technical fighter out there...and yet it only has three buttons. It was either this or Tekken for this spot of the list, but the only thing that appealed to me about Tekken is King, but even that sexy beast couldn't deter me from the juggle madness. This 3D fighter also has juggles, but it doesn't really rely on them for damage. Even with its latest edition, Virtua Fighter 5 Final Showdown though, the audio still sounds dated. This may be welcoming to those more embracing of the Virtua Fighter franchise, but it keeps it from going any further in this list."

Favourite Game: Virtua Fighter 5-Final Showdown

"To explain in one sentence, this is the most advanced and polished Virtua Fighter to date."
10. Killer Instinct
Points: 14
Points given to this entry: 3

"Yes, one of the many rare franchises people beg to make a return. While I'm not on my hands and knees begging for them to make a new KI, I still think it would be a lot of fun to have another entry. It has a fun cast of characters, and all of them can become much more memorable and much more interesting characters through a Mortal Kombat-esque story mode, and the game has that entertainment value it needs to succeed, but it overall needs a revival. If it got a well made one, it would've ranked higher. It just didn't have much to it for me honestly. I just played it, I didn't truly experience it."

Points given to this entry: 7

"People can whine and moan about Killer Instinct's 'balance' and how easy it can be to pull off combos but at the end of the day the game can be described with one word, 'FUN'! Ultra combos everywhere, an assortment of characters who somehow feel unique despite being generic fighters at their core, and of course a badass soundtrack; all of this and more is the name of the game with Killer Instinct and by the great, fluffy, marsh-mellow cloud in the sky it is great! Fans can be dementedly divided on whether the original or the sequel is better, but I honestly prefer its sequel or at least its N64 iteration. But regardless, Killer Instinct is just plain fun."

Favourite Game: Killer Instinct: Gold

Favourite Character: Jago

"I play him solely for the fact that he crushed someone under a car in his fatality."

Points given to this entry: 4

"Ultra Combo, Baby. The Term for all KI fans makes me want to hump a Super Nintendo. No kidding, you got Jago the Ninja, Combo the Boxer, Glacius and Cinder (Ice and Fire), Orchid the Ninja, Riptor the Dinosaur, Sabrewulf the Werewolf, and Spinal the Skeleton. Stereotypes are best in fighters these days. Just hope KI3 happens soon."

Favourite Game: Killer Instinct

Favourite Character: Spinal
9. BlazBlue
Points: 22
Points given to this entry: 4

"The Spiritual Successor to Guilty Gear, this game was the first animated 2D game I played on next gen consoles and was just as impressed as with Guilty Gear. Like Guilty Gear, Blazblue has some really crazy characters and even more kickass music. I liked GG's music, but Blazblue's tracks were more my thing. GG's Instant kill moves returned as Astral Heat Finishers and were really over the top, far more so than GG's. :


Favourite Game: BlazBlue Continuum Shift Extend

"The Latest update entry, it has the most complete cast of characters."


Favourite Characters:

1. Makoto

"Scantily dressed Squirrel girl...fuck she's hot. She has mad combos too (and damage in CSII) Her Unlimited version (ie boss version) is a shout out to the other famous fighting game Makoto, from 3rd strike. She has a DM similar to Makoto's Wall kick super."

2. Hazama

"Swag bad ass in a suit that fights with snakes. His Astral Heat Finish is my favorite."

Points given to this entry: 8

"After the Guilty Gear series came to an end I was a little saddened and started wondering what could take the series' place. What I got was the best new fighting game franchise of this console generation. The Blazblue games have now become some of the most widely played competitive fighting games out there. I personally am not the most skilled at it, but it's a lot of fun to play regardless and every time I see a bunch of EVO players going toe to toe with these bizarre, over-the-top, characters I can't help, but feel giddy. The game also does the impossible by making the control scheme SLIGHTLY more intuitive with the god awful Xbox 360 controller, though I still use a different controller. After seeing the great stuff Arc System Works did with Blazblue, I can't wait to see what Persona 4: Arena will be like."

Favourite Game: BlazBlue: Continuum Shift Extended

Favourite Characters:

1. Ragna The Blood Edge

"He might be kind of a douche personality-wise, but I'd be lying if I said I didn't think his shadowy attacks were awesome."

2. Taokaka:

"I actually didn't think too much of Tao until I saw the DeathBattle with her. I've been trying to main her since then. Cats are always awesome."

Points given to this entry: 4

"It took some time for BlazBlue to grow on me, I first saw it as a boring simplified version of Guilty Gear. But it has lot of good things going for it. Great looking sprites, crazy characters, crazy combos, crazy story. It's just crazy andI like that sort of thing."

Favourite Game: BlazBlue Continuum Shift

"More of everything."

Favourite Character: Hakumen

"Everything about him says BADASS. And I love his fighting style."

Points given to this entry: 6

"Welcome to the spiritual successor of Guilty Gear! Featuring an anime style world where people battle through the use of "Ars Magus"(?) , the game is unique due to it's drive system, where each and every character has a different drive with a specific utility, either to control the wind, freeze the opponent and many more!"

Favourite Game: BlazBlue : Continuum Shift Extend

"Let's be honest : The balance in the first game was a mess, with characters like Rachel Alucard, V-13 and Arakune pretty much controlling the game. Fortunately, with the addition of more characters and modes, Continuum Shift, while not perfect, pretty much managed to give every character a better chance at reaching the top while not having any "unfair" match-ups (V-13 vs Tager, anyone?)"

Favourite Characters:

1. Iron Tager

"THE POWER OF SCIENCE! This GIGANTIC Character is, compared to the majority of the WEAK AMERICAN cast, is able to deal REAL SOVIET DAMAGE! With it's drive, he is able to attract his enemy toward him, meaning that NOBODY IS EVER SAFE FROM THE SOVIET SOLDIER! ... (Thank you based Mike Z)"

2. Carl Clover

"Personality aside, Carl has a very interesting fighting style. While probably not the first to harbor a "shadow" style, His drive letting him control his Puppet / Sister makes him stand out of the lot, and sandwich combos are always fun!"
8. Guilty Gear
Points:22
Points given to this entry: 3

"I didn't hear about Guilty Gear until it was way into its 3rd or 4th Upgrade. But damn I was impressed. Really fast paced action, tons of crazy characters with unique fighting styles (who fights with a Pool Cue and balls?! Giant Scalpel?!) and very flashy instant kill moves that made me go 'Oh shit!' The announcer was also pretty boss, HEAVEN OR HELL, LET"S ROCK!"

Favourite Game: Guilty Gear XX Accent Core Plus

"The last game that was released in the series (prior to them announcing the XBLA/PSN Plus R update) it made all previous characters playable and as a bonus came with a soundtrack! "

Favourite Characters:

1. Venom

"This mofo fights with a goddamn Pool Cue and Billiard Balls! He has some crazy traps he can set up with those billiard balls. Damn I wish I was good with him."

2. Bridget

"Oh look it's a cute girly nun that fights with a yo-yo and teddy bear...SURPRISE IT"S A TRAPP! OMG UHHH it's....it's a DUDE! Her...his (-__-') story is that he was born as a twin with his sister, but twins were forbidden in his village so they had to dress him as his sister in order to hide his existence...best troll ever. Good job Arc System Works..."

Points given to this entry: 8

"Fastpaced, over the top characters, complex fighting system and overall just crazy. Everything from the unique and hilarious backgrounds and characters just made me love this franchise. If you love crazy, you'd love Guilty Gear."

Favourite Game: Guilty Gear XX Accent Core Plus

"The latest and most balanced installment, with the biggest character roster to date."

Favourite Character: Slayer

"Charismatic, classy gentleman vampire. "Slayer never loses. He simply chooses not to win.""

Points given to this entry: 1

"Arc System Works gave birth to the Guilty Gear Series on the Sony PlayStation. Sol Badguy vs. Ky Kiske, I-No vs. Dizzy, Johnny vs. Chipp, there were different types of matches that people could make. Reload, Slash, Accent Core, Accent Core Plus, and now Accent Core Plus R. I just hope that this version rocks in roster terms."

Favourtie Game(s): Guilty XX (Series)

Favourite Characters: Sol Badguy and Ky Kiske

Points given to this entry: 10

"Heaven or Hell! Let's Rock! Daisuke's baby, while not the most recognized franchise, GG is one of the most preferred fighting games (..well, it is in my personal case). This tribute to rock music sports one of the fastest gameplay styles of any fighting game franchise, where offense is the name of the game, a balanced cast, where the gap between the best and the worst character isn't too big, crazy characters and, of course, one of the best soundtrack that a fighting game could hope to have!"

Favourite Game: Guilty Gear XX: Accent Core

"I'll have to confess : My love for this series ( and this genre as well) is still quite new and Accent Core is the first Guilty Gear that I ever owned. And I never actually looked for the game for it's gameplay : I was first intrigued of it because of it's impressive music. I got in because of the music. It is a choice that I deeply thank my childhood for, as this game is one of my favourite fighting ga- scratch that, one of my favourite games of all time! Hopefully, Accent Core + R will come out soon on PSN / XBLA!"

Favourite Character: Potemkin

"POTEMKIN BUSTAA! The hulking mass of Zepp is one of my favourite characters of the game, and one of my favourite grapplers of any fighting game. For such a big guy where one could think that he would suffer the same fate as many other grapplers, he does pack a few tools to help him out, such as an overall ground shaker and anti-air grab, and deceptive speed."
7. SoulCalibur
Points: 23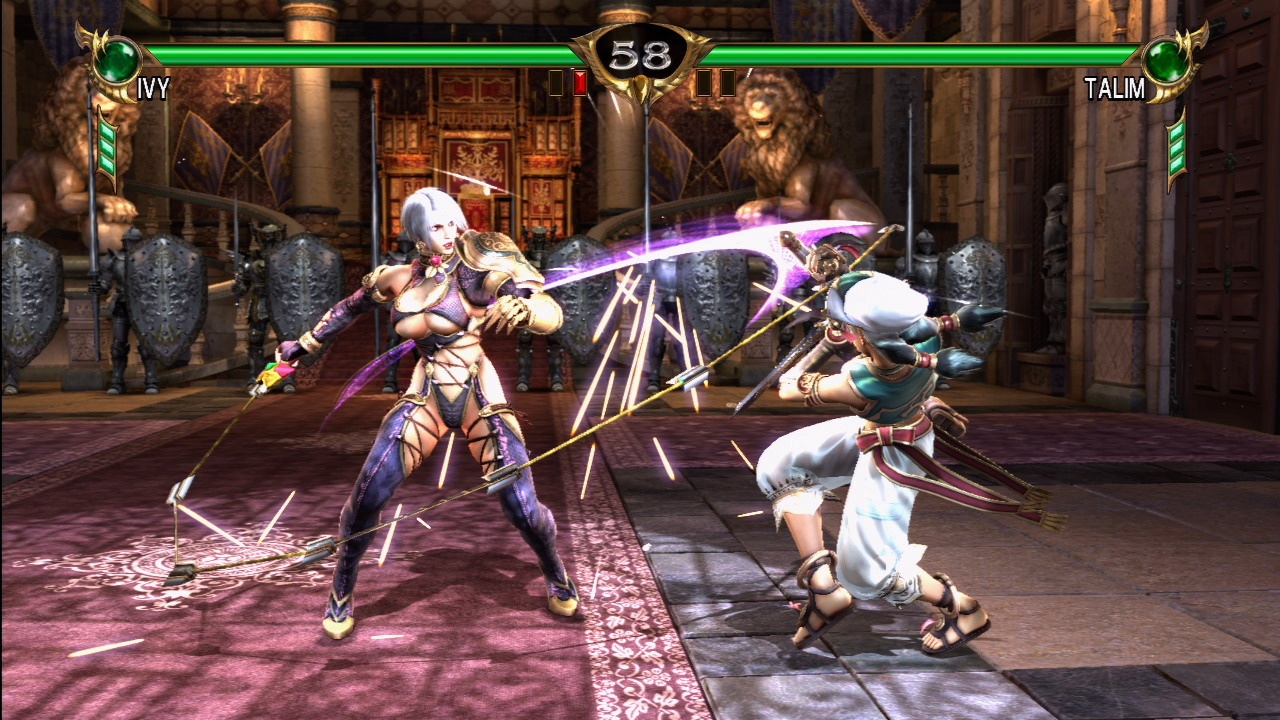 Points given to this entry: 6

"I love the graphical style of Soulcalibur with its strange fantasy/medieval graphical look, and its overall over the top character design. I always found it interesting to bring weapons into a true 2D fighting game, and the series does this with flying colors. The series, for me, as kept a very good standard, and while sometimes it falters in story and online play, it still keeps up and very fun and entertaining single and multiplayer mode, and always improves itself in areas of gameplay smoothness and controls. It's a very fun series, and if they focused on story and perfected it, they could've gone higher on my personal list.

Points given to this entry: 1

"I'll admit, I am not much for 3D fighters, and always stuck to 2D ones, but once I played Soul Calibur, I found out I had been missing a ton of fun. Soul Calibur for me just did everything right to get me into a genre I never really cared much for. It had interesting characters and the controls were spot on with the 8-way run. Add that they implemented guest characters from other games, and I was sold."

Favourite Game: Soul Calibur II (GC version)

"This was the game that got me into this franchise. It played so well looked great graphically, and the most blatant reason for this being my favorite...fucking Link! Link in a non Nintendo game?! BLEW my mind at the time."

Favourite Characters:

1. Link

"Best guest character ever. He even had most of his regular arsenal and the Bug Net was the best troll weapon ever! -. Cervantes- My main to this day, a badass zombie pirate, with very fast moves, and in SCV, a fucking gun super!!"

2. Voldo

"Just looking at him go is LOL. The SA crew know what I'm talking about, last years 24 hour marathon was a total laugh riot...Voldo mirrors ftw!"

Points given to this entry: 3

"Of the many 3D fighters that spawned from the popularity of Tekken my preferred one is the Soul Calibur series, particularly the 2nd installment. Some may think that is solely because Link was in it, but truthfully I never played as him that much. I just thought the game was a blast to play, the characters and modes were well-varied, and I love how the weapon a player chooses can affect how their character plays. The new Soul Calibur titles don't have the same spark of the originals in my eyes, but they're still worth a look."

Favourite Game: Soul Calibur 2

Favourite Characters:

1. Yoshimitsu

"His crazy stances are too much fun to use and I don't think I need to point out how bat shit insane the character is overall."

2. Mitsurugi

"Excellent moves, nifty stances, and a lot of interesting ways of mixing up an opponent. This is all available to the one man army."

Points given to this entry: 7

"The Ultimate Weapon-Based Fighter. Soul Calibur had you choosing your destiny. You had to choose Soul Edge, or Soul Calibur(evil or good), and save your future from villains like Nightmare, Inferno and Algol. Also the guest characters were awesome, such as Link in the GameCube version of Soul Calibur II. The Star Wars characters in Soul Calibur IV didn't serve the game justice, but the games were still awesome. Soul Calibur V was even played at Major League Gaming and will be played at this year's EVO Championship Series."

Favourite Game: Soul Calibur II

Favourite Characters: Maxi, Kilik and Xianghua

Points given to this entry: 6

"Soul Calibur Soul Calibur is the premier fighting game with weapons. Sure the latest games in the series hasn't been up to snuff, but who can argue the awesomeness of Soul Calibur 1&2"
6. King of Fighters
Points: 30
Points given to this entry: 6

"SNK decided to round up a few of it's gaming series and place them into one game. The King of Fighters! The gameplay was a unique 3 on 3 fighting style that was made up of teams from other series (eg Art of Fighting Team, Psycho Soldier Team) It was very different from other fighters and it had a continuing plot with characters dying off and such. Later games had massive casts of characters especially with the Dream Match games negating canon and having old dead characters being playable again. The King of Fighters also introduced us to some of the hardest fucking bosses in 2D fighting games, infamously known as 'SNK Boss Syndrome."

Favourite Game: King of Fighters XI

"This entry finally got rid of the yearly titles and introduced a tag system similar to the Marvel vs games, and leader specific super moves. It also has the most motherfucking hard boss ever, Magaki...yo fuck nearly invisible projectiles, and hit you anywhere on the screen super."

Favourite Characters:

1. Oswald

"From KoFXI, this guy just oozes cool, with a unique fighting style of using playing cards as slashing weapons. His leader move is hitting you with all 52 cards of the Deck."

2. Clark Still

"From Ikari Warriors, This muscled guy in a cap and glasses (kinda like Duff man) has such a bad ass super grab...he tosses you in the air a couple times, and on the last toss does a thumbs up before catching you and Back breaking you with his Knee."

Points given to this entry: 9

"All my favorite SNK characters brought together?! That's all I could ever want."

Favourite Game: King of Fighters XIII

"The latest KOF is in my opinion the best and one of the best looking true 2D fighters out there. It's easy to pickup and play, but the deeper mechanics of the game will take time mastering bringing the replayability to a another level."

Favourite Character: Shen Woo

Points given to this entry: 3

""This could obviously deserve a spot in the top 10. Characters were thrown in teams. Spanning from original characters from Orochi, NESTS, and Ash sagas, as well as some characters from Fatal Fury, Art of Fighting, Ikari Warriors, and Psycho Soldier, make a roster that triples a standard 8 character Fatal Fury 2 roster. The characters did speak Japanese, but they had cruddy English voice acting in Maximum Impact, which makes KoF #8."

Favourite Game: The King of Fighters XIII

Favourite Team: KoF XIII K' Team (K', Maxima, Kula Diamond)

Worst Team: KoF XIII Kim Team (Kim Kaphwan, Raiden, Hwa Jai)

Points given to this entry: 4

""Where some people may see Mortal Kombat as the rival of Street Fighter, I personally say that King of Fighters easily takes the title. Originally (and still) a crossover game between SNK's franchises, KoF is a franchise that offers deep technical gameplay, where the better player is rewarded for his/her actions."

Favourite Game : King of Fighters 2002: Unlimited Match

"What could be said about this special entry that separates it from the rest? One thing : Huge roster comprised of the majority of the KoF cast. What better kind of fanservice can you have in a fighting game?"

Points given to this entry: 5

"Sure, it's not the greatest franchise on the list, but there's no denying the complexity and uniqueness the SNK franchise has brought over the years. With characters like Terry Bogard, Kyo Kusanagi, and Joe Higashi, the franchise started really well, and is one of my favorites to this day, even if it has seen better days in terms of popularity. I believe the King of Fighters is highly underrated and should be given more attention."
5. Tekken
Points: 32
Points given to this entry: 5

"Tekken seems to keep up this amazing track record in my book of being ok. It isn't a GREAT series, nor is it a bad one. It always seems to impress me on the most standard level. The game has a cool cast of fighters, and the game's story can be interesting at times, let's not forget the fact you can play as a fricken bear, but really the games never exceed my expectations in fun factor nor replay value. They can be fun to pick up and play every once in a while, but I never feel fully invested in the game itself. It's well made, but not too impressive."

Points given to this entry: 10

"Here are 5 reasons why Tekken is #1. #5: Has comic relief animals like Kuma, Panda, Roger, Alex, and Roger Jr. #4: Increases roster size in each installment #3: A variety of good characters in each game (Eddy is good for noobs) #2: Introduced us to the Satan Form of Jin and Kazuya (and Ganryu, lol) #1: Has the best stage in the series, Moonlit Wilderness from Tekken 5"

Favourite Game: Tekken 6

Favourite Characters: Bryan Fury

Favourite Stage: Moonlit Wilderness

Favourite Ending: Jin's Tekken 5 Ending

Points given to this entry: 9

"Virtua Fighter started the 3D fighter, but Namco built on top of Sega's formula by adding memorable characters, a faster speed, and more focus on combos. When it comes to 3D fighters Namco knows what they're doing and Tekken is the best selling 3D fighter out there."

Points given to this entry: 8

"One, if not the most popular 3D fighting series worldwide. What exactly makes me love this series over some of the others would be due to it's remarkably simple controls for casual play, yet complex and deep mechanics to satiate it's competitive fans, It's iconic characters and, being probably one of the few to say this, it's electrifying music!"

Favourite Game: Tekken 3

"Probably the most popular game of the series as well."
4. Vs. Capcom (Marvel vs. Capcom, Tatsunoko vs. Capcom)
Points: 51
Note: Usually Marvel vs. Capcom is considered it's own series, however some consider it apart of the vs. Capcom series, (included with it is crossover games like Tatsunoko vs. Capcom). So I decided to place them all under one entry.
Points given to this entry: 7

"With its awesome cast of Marvel and Capcom superstars, hilarious and fun fighting style, and beautiful, colorful, and lively graphics, Marvel VS Capcom is definitely one of the most fun to play with friends. The fun factor in this game is at the top of the charts, and the games themselves are full of polish. I may not have been so fond of the fact they released their Ultimate edition, but the games are still a ton of fun, with some of the most entertaining fighting any series in this genre has to offer."

Points given to this entry: 7

"Starting with X-men Children of the Atom, where Akuma was a hidden Character. The prospect of pitting Marvel comics characters against Street Fighter's was just so appealing. It got even more crazy when they expanded it to Capcom games in general and gave many people insight into characters from games they've never tried, and subsequently got super popular (Strider!) The fast paced combat and flashy hypers made this series a staple to any fighting game fan."

Favourite Game: Marvel Super Heroes vs Street Fighter (JPN version)

"While I love the other entries, this one is my favourite because it had the best music of the classic games and I just fucking loved Cyber-Akuma as the final boss. Also the Japanese version is hilarious because of its bonus character, the Japanese business man fanboy, Norimaro. He's a caricature character and throws akuma dolls lol. I think Capcom thought he was too stereotypical and could be seen as offensive so they removed him from the US version :("

Favourite Characters:

1. Cyber-Akuma

"Super powered version of Akuma made by Apocalypse! Rocket Arms, crazy speed, best boss ever!"

2. Norimaro

"LOL just LOL"

3. Phoenix Wright

"My sole reason to pick up UMVC3. The gaming world's best Lawyer in a fighting game, with the most hype Lv3 Super?! TAKE THAT!!"

Points given to this entry: 9

"Capcom seems to love fighting with other companies whether it's Marvel, Tatsunoko, or whoever and every time they do pick a fight with another company, insanity ensues. The Vs. Capcom games don't have the greatest of balance, but their variety is staggering and its fan-base always seems to find amazing ways around the game's many balancing faults. So much technology has been discovered with these games, people would probably still being playing Marvel VS. Capcom 2 if the 3rd game hadn't come out. And no overview of the series would be complete without mentioning how great Tatsunoko VS. Capcom was."

Favourite Game: Ultimate Marvel VS. Capcom 3

Favourite Characters: A team of Nova, Frank West, and Vergil

Points given to this entry: 8

"Has anyone ever wanted Mega Man and Wolverine to beat the fuck out of each other? Well, no....But ever since the series came out, now you do! Now you and a group of 3 ultra powerful badasses in colored undies will duke it out! You're gonna be taken for a ride!"

Favourite Game: Marvel Vs. Capcom 2.

Favourite Characters: Iron Man, Wolverine, and Super Skrull.

Points given to this entry: 6

"Always wanted your very own Capcom character to go up against some character from X-Men, Gatchaman, or King of Fighters (Marvel, Tatsunoko, SNK). That is the logic of the Versus Series from Capcom. You have dream matches revolving around Wolverine, Captain America, and Deadpool vs. Ryu, Chris Redfield, and Dante. Marvel was the best challenger Capcom fought against, and Capcom won."

Favourite Game: Ultimate Marvel vs. Capcom 3 & Marvel vs. Capcom 2

"Both have huge rosters."

Favourite Team: Wesker, Zero, Doctor Doom (UMvC3) & Magneto, Storm, Sentinel (MvC2)

Points given to this entry: 7

"C'mon when it comes to fighting game crossovers no one does it better than Capcom. The Marvel series is the most well known out of these games. Sure Nintendo and SNK do crossovers as well, but Capcom brings another company into the fray. Does Chun-Li fighting Wolverine make sense? Strangely it does."

Points given to this entry: 7

"People love Marvel characters. People love Capcom characters. When you pit the two franchises together, you get absolute chaos that people can not simply resist. Period. With a 3-on-3 fighting style with hyper combos and a light health system, you can have some intense, quick matches with ease. However, with it's recent ease in difficulty in terms of moves lists, I have to knock it down a couple of pegs on the list."
3. Mortal Kombat
Points: 54
Points given to this entry: 8

"The latest game in the series really sealed the deal in how well done this series really is. With a fantastic lineup of fighters, each memorable in their own way, a fantastic gore and blood based fighting style, and a fantastic online playing system, the MK franchise has evolved so much. The original games were overall fun because of the great graphics and awesome characters, but thankfully for future entries, the games can continue to keep up a good story and fun multiplayer. The franchise definitely has that epic violent fun you won't see any other franchise have the balls to have."

Points given to this entry: 2

"Knowing how much of a gore hound I can be it might surprise some people that I've never been too into the Mortal Kombat franchise. I certainly like the series and thought MK 9 was great, but outside of the gore I just never felt the game did much to differentiate itself from other fighters. Oh well, I would still recommend the first 3 Mortal Kombat games and the new MK 9 in a heart-beat."

Favourite Game: Mortal Kombat 9

Favourite Character: Scorpion

"GET OVER HERE! (Yes I evaluate fighting game characters based off of their catch-phrases)"

Points given to this entry: 3

"Fun, gore and over the top."

Favourite Game: Mortal Kombat II

"It has Kung Lao."

Favourite Character: Kung Lao

"Because he has the coolest hat evah!"

Points given to this entry: 7

"FINISH HIM"

Favourite Game: Mortal Kombat 2

Favourite Character: Scorpion

Points given tot his entry: 8

"Finish Him! Gory, fun, addicting, this fighter made Jack Thompson scream about 9, NINE times, well Mortal Kombat vs. DC Universe was rated T, so 8 times exactly. Mortal Kombat was played at EVO 2011, MLG 2012, and will be played at this year's EVO. That is better than watching WoW Larpers."

Favourite Game: Mortal Kombat: Komplete Edition

Favourite Characters: Scorpion & Sub-Zero

Points given to this entry: 8

"Without this game there would be no ESRB. Sure without the gore and violence this game wouldn't have gone anywhere, but Mortal Kombat always had a unique style and it reigns as one of the most beloved fighting games out there."

Points given to this entry: 9

"This game caused the creation of a rating system and really stirred up controversy in the gaming industry; what's not to love about that? The blood and fatalities were what kept everyone coming back for more, even when our parents didn't want us to. The characters were memorable and unique (color-swap ninjas aside). Although the series really suffered and waned in its later years it definitely redeemed itself with its latest iteration. Speaking of which..."

Favourite Game: Mortal Kombat 9

"This game took the original 3 games, rolled them all together, and created what can only be described as an orgasm of violence and gore that succeeded in bringing out the sadist in all of us. It ended the timeline we grew up with and redefined it, while still giving us a good idea of how events really happened in the first three games. It's the only fighting game that has a memorable story (hell it's the only one to really HAVE a story). Let's also not forget its crushing difficulty; while I admit that it's really aggravating at times it also makes you feel accomplished when you finally kick Shao Khan's gloating ass. The fatalities look both awesome and disgusting at the same time and the new X-Ray moves make the game all the more memorable (don't be surprised if they show up again in the future)."

Favourite Kharacter:

1. Stryker.

"Despite what Craig (and a lot of other people for that matter) say about him, I actually like this guy. He's really just a normal guy who gets sucked into something much bigger than himself but he didn't walk away when he was needed. With MK9 he actually became pretty cool with a badass X-ray move and (thanks to how cheap they made Shao Khan) an easy way to beat the final boss. 2. Subzero. I always liked Subzero because ice powers are badass, but there's a little bit more to it. He's really the first character that we got a good backstory on (MK Mythologies) and the story of the guys behind the mask are just poetic. A man is framed for a murder he doesn't commit and is in turn killed by the vengeful spirit of that crime. His brother takes up his mantle only to find that his brother has been turned into a creature of darkness and hate. 3. Kung Lao. It wasn't until MK Shaolin Monks that I really got into Kung Lao. Playing through that game I gained an appreciation for him as an unappreciated alternative to Liu Kang. Certainly he was more of an anti-hero than Liu ever was but that's what made his character a bit more dynamic story-wise. His teleport is really handy in battle but his best asset is his hat. I'm not embarrassed to admit that I had a nerd-gasm when I saw the Buzzsaw Fatality for the first time."

Points given to this entry: 9

"Feel a sense of bias in my pick, but I'm going to pick this at number two because Midway kick-started a trend that can be somewhat seen still today with the over-the-top violence it presented to the table. Over the years, the franchise has seen better days for sure, but with the reboot NetherRealm Studios presented last year, it's a bright future in store for the famed fighter."
2. Super Smash Bros.
Points: 68
Points given to this entry: 10

"This game is literally a dream. It has always been my dream to be able to have a fight play out between Mario, Sonic, Solid Snake, and Pikachu. This game fulfilled my dreams, and is my favorite fighting game. All of the memories I have made with this game cannot compare to ANY of the other entries on my list. The stages are beautiful, the characters are fun to play as, the Subspace Emissary story mode in brawl was well done for a fighting game, and the game has a crap ton of replay value in every game. The fighting system is easy to learn, and the gameplay is overall the most memorable. I love this franchise so much, I'm telling ya."

Favourite Game: Super Smash Bros. Brawl

"My favorite in the series is Brawl, mainly because I've played that one the most, and because I think the cast of characters is slightly better. Also, the Subspace Emissary, in my opinion, is a fantastic story mode to the game. It's just a damn fun game."

Favourite Characters:

1. Ike

"So what if he's overpowered, I like his moveset, I think he's fun to play as, and that sword is fricken badass man. I just like having the power his character has... deal with it."

2. Link/Toon Link

"He is also fun to play as. I, unlike many people I know, try my best to use his full arsenal. his bombs, boomerang, and his sword and shield are all essential to his character, and I like doing my best to use him to his greatest potential."

3. Metaknight

"He can fly, which is fun, and he also has some really powerful and fun to use moves, like when he rockets to enemies as a tornado. The only thing is his final smash kinda sucks, but even so, he's a lot of fun to play with."

Points given to this entry: 5

"When Nintendo released the original on N64 everyone's mind was blown at the thought of Nintendo franchises beating the shit out of each other (much like the funny ass commercial) I rented it, it was some of the best fun I've had with friends...my God the trolling, the random items, the wtf moments! When Melee came out and I popped it into my Gamecube, I literally got goosebumps watching and listening to the opening. This series is just mad fun all around."

Favourite Game: Super Smash Bros. Melee

"This is by far my favorite because it is the fastest gameplay wise, you can mad troll with Kirby and his suicide throws, and it introduced me to a series called Fire Emblem via Marth and Roy. Fire Emblem medley theme is still my favorite Smash song."

Favourite Characters:

1. Kirby

"Greatest troll character ever. Oh I sucked you up and took you with me. WTF grab you near the edge and suplex into oblivion?! COME WITH ME TO HELLLL!!"

2. Marth/Roy

"Fire Emblem is awesome!! Ahhh that music! That charge up sword!"

Points given to this entry: 1

"I truly do love the Smash Bros. series and have always had a blast playing it with friends. It might not work best as a competitive fighter, something I wish its stubborn fans would realize, but it doesn't need to for me, it just needs to be fun. Any game that lets players willingly beat the crap out of beloved Nintendo icons is bound to be a hit and boy was it a hit! This might be at the bottom of my list, but it probably won't matter. The franchise is so damn popular it's likely to be at #1 on the community list."

Favourite Game: Super Smash Bros. Brawl.

Favourite characters:

1. Ike

"He fights for his friends and doesn't afraid of anything."

2. Snake

"How cool is it that in a franchise filled with cartoon animal mascots a character like SNAAAAAAAAAAAAAAAKE of all people appears in it!"

Points given to this entry: 9

"The 4 player slam-fest that has corrupted the world of Nintendo! Spastic, silly action dripping in the chowder of insanity that can only be experienced by getting hit with bats, mauled by your opponents summoned Pokemon, and the forces that the stage you fight on send after you! It's a kick to the sack that you must see to believe!"

Favourite Game: Super Smash Bros. Brawl

"I'm sorry Melee enthusiasts, I never felt the game was slow, I've never tripped before, and the character roster is just as refined here."

Favourite Character(s): "Uh? Don't have one..."

Points given to this entry: 10

"The flagship fighting game for Nintendo. It introduced the fighting genre to gamers who had never found it interesting in the first place. Before Smash Bros came along fighting games were called "too violent" by adults and arcades were packed with people who spent way too much time on them to get any real enjoyment out of casual play. The gameplay was like no other game at the time, defining the "party fighting game" that has been notably imitated recently. The cast was the stuff of dreams, I remember my friends and I having arguments over who would win in a fight between various characters before Smash Bros came out."

Favourite Game: Super Smash Bros. Melee.

"This game took everything that was good from the first game and made it better. With an expanded selection of characters and levels, good overall balance (although some notable exemptions exist) ,and various methods for keeping gamers interested, this was the pinnacle of the series in my opinion."

Favourite Characters:

1. Kirby

"This pink puffball was the first character I ever played and really mastered in the series. Is copying ability coupled with with speed and maneuverability were always a huge reason my friends would constantly curse my name when we played."

2. Pikachu

"Again, speed was key here but also the surprising amount of power the little guy packed. The Thunder attack was great for taking out people jumping above or just barely escaping being knocked out of the screen."

3. Ice Climbers

"These guys were good in Melee but were straight up BEASTLY in Brawl. Their attacks hit hard, could freeze people, and, best of all, you were essentially fighting with 2 characters. If you were good (or lucky) then you could get them facing separate ways when attacking or even get them in different areas to fight 2 people at the same time. They could be a little slippery in controlling (mostly in Melee) but were very effective once you get used to them."

Points given to this entry: 10

"Some say this isn't a fighting game and shouldn't count. To those certain people, I simply give them the official definition of fighting: "Fit to fight; Tending to stir up a fight", which then directs them to the definition of fight: "A game, contest, or diversion in which the participants hit or pelt each other with their limbs and (or) various objects" (Dictionary.com). I can see that Mario, Pikachu, and the rest of the Nintendo crew are clearly hitting each other with their limbs...and shells...and hammers..and Pokeballs..and guns..you get the gist. And it is a blast especially with three other friends playing along! There's just so much one can do in a single match that it is merely..well Smashing! And for those 'pros', the game has potential for combos and advanced strategies. The reason this franchise is only #3 is because said strategies are a bit of a stretch to find out and even then they're too many variables to deem it as tournament worthy as say other games to be featured on this list."

Favourite Game: Super Smash Bros. Brawl

"SSB 64 was merely an experiment for us American audiences to see if it was worth making. Melee improved on that formula so well that the Brawl community still prefers to use it today. But to me, the amount of things added to Brawl is more important to me than wavedashes and wombo combos...but the tripping sometimes makes me miss the former."

Favorite Character of the Series: "CAPTAIN FABULOUS!!"

"It may be just a costume, but he still wants you to show him yo moves. He'll also shove a Falcon Punch you right where the sun don't shine!"

Points given this entry: 9

"The platform fighter. The Nintendo epic crossover. The chaotic, yet deep technical series. Super Smash Bros, whether you like it or not, is one of the most popular fighting game franchises ever. It is a series that managed to keep within Super Smash. 64, Melee and Project : M (Brawl does not exist in my book) both the casual and the competitive fans hooked up for many years. For the casuals, it is the chaotic fun of a 4 player strife between Nintendo's protagonists and villains (with the addition of third party characters). For the hardcore, it is the surprisingly deep gameplay mechanic that each games of the series shows within it's borders that kept the competitive crowd alive. Not many games can achieve that, and thus is one of the many reasons of it's inclusion as one of my favourites fighting game franchises."

Favourite Game : Super Smash Bros. Melee

"The game that enhanced the franchise after the awesome 64 and stood it's ground against Brawl. For many, if not the majority of the competitive Smash scene, Melee is simply the best. I could talk about the many great characters, the iconic stages and the superb music being a nod to each and every represented franchises molded by Nintendo, but the reason that I prefer this to the other two has to be because of the fast and technical gameplay. Gameplay that astounded me when I decided to return to Melee after a long Brawl session (too long, I say, too long...). Gameplay that makes me crave for more hours of intensive fights between other competitive friends. I have no other words. Melee is simply, in my book, the best of the franchise."

Favourite Characters:

1. Jigglypuff

"The perfect troll machine to astonish casual players who may see the balloon Pokémon as "weak and ineffective", and more serious players due to her extremely good aerial game and, of course, her ultimate weapon being resting on your opponent."

2. Mr. Game and Watch

"GaW is, simply put, a "Sprite Cannon", as this characters favours raw high damage for a fragile defense. The reason I love him would be for it's unorthodox style, using bacon, manholes and parachutes in his wacky arsenal... Well, I guess that I could also include his speed too."

Points given to this entry: 6

"Even though I'm not a huge fan of this series anymore, I do have to admit that the popularity among the franchise is still burning brightly. I mean, how can you hate the idea of Nintendo's character's from old and new duking it out in an item-based fighter? It stuck gold on impact, and it still sells millions of copies to this day."

Points given to this entry: 10

"At school, I have a bunch of friends in band class. Now, there are two bands that have to practice during our class period, so we practice during half of the time, and then we have the rest of the time off. Usually, we would take the teachers projector and sneak into the practice rooms in the play some Smash Bros. I have had so many amazing moments playing with these guys. From yelling "RANDOM EXPLOSIONS" every time Snake blew someone up, to this one asshole that kept spamming Kirby's rock move, to the one time we did a 99-stock battle on Poke Floats (that I won, by the way), to the school-wide tournament that we all but rigged in our favor, to the unspoken rule that everyone followed to kill whoever choose to play as Meta Knight, to the battles where every one must choose a random character and we played on a random stage (and my delight when I was randomly given Mario, the character that I could kick everyone's ass with). I have so many memories, playing with those guys, sitting on the piano in that practice room, with a controller in my hand and a goddamn smile on my face, and you know what? I think that I'm gonna have those memories for the rest of my life. And that is why Smash Bros is the best fighting franchise of all time."

Favourite Game: "Never played Smash 64. Melee is a better fighter, but Brawl is a better party game. I refuse to put one over the other."

Favourite Characters:

Melee: Mario, Captain Falcon, Link

Brawl: Snake, Sonic, Toon Link
Number 1 is...
1. Street Fighter
Points: 101
Points given to this entry: 9

"I'm not gonna lie, nearly every character here is known in the pop culture scene. The graphics, the combos, the moves, the stages, the characters, nearly everything in this game is done to such a tee of perfection. The game is so much fun, and has such a varied cast of characters, each with their own skills, that if you practice, you can master any character. The comedy can be funny, the moves and special moves pulled off are awesome, and the game series has made such an impact on popular culture, it is impossible to not see it as one of the greatest."

Points given to this entry: 8

"The almighty first name in fighting games. Everyone knows all the classic characters and moves. It's a worldwide phenomenon and the foundation of the entire fighting game scene and genre."

Favourite Game: Street Fighter 3: Third Strike

"This game just hit it all right. Some of the best 2D animation ever, new cast of characters while still including some old favorites. Some of the best mechanics ever with the Parry system and Super Art selection. Also the music was very catchy (It's the Third Strike y'all, Street Fighter Three!)"

Favourite Characters:

1. Q

"The mystery man in a trenchcoat and robot like mask, all he says is HMM, yet he is one of the most intriguing SF characters ever...plus crotch explosion ftw!"

2. Zangief

"He wrestles bears, he's Russian, he's the reason a 360 degree motion is called the Spinning Piledriver motion. Sideways thumbs forever!"

3. Hakan

"Time to Oil Up! Trolling and Winning?! What is this madness?!"

Points given to this entry: 10

"An obvious choice for number 1, but Street Fighter made fighters what they are today and if there was any fighting franchise as critically acclaimed as it, I have yet to hear about it. It wasn't the first fighter it was just the first to be truly outstanding. Face it, when anyone thinks of fighting games an image of Street Fighter is the first thing to pop up. I agree with ScrewAttack 100% of the way when they say 3rd Strike, while not as insanely popular as 2 felt like the better game overall, though I have to admit I'm conflicted about whether or not 3rd Strike or Super Street Fighter 4 is my favorite in the franchise. So I'm putting both as my favorite!"

Favourite Game: Street Fighter III: Third Strike and Super Street Fighter IV

"I can't decide between either."

Favourite Characters:

1. Q

"He's a mysterious masked man in a trench-coat. Anyone who knows me should have a pretty good idea why he is my favorite Street Fighter character."

2. Fei Long

"I've always loved a good Bruce Lee clone and of the many fighting games to have their own stand in for Bruce Lee, Fei Long is my favorite. He has a pretty high tier ranking in SFIV, a good dash, and one long reaching focus attack."

Points given to this entry: 10

"Street Fighter. You can't get around the fact that SF is simply the best fighting game franchise ever and I'm an SNK fanboy so admitting this is something that takes great effort from me. Great fighting system in almost every game, great, well known characters."

Favourite Game: Street Fighter Alpha 3

"As good as Third Strike is, I have always preferred Alpha 3. With the isms adding a more customization and tactical thinking to the game. And it has my favorite roster of characters, some old favorites from Street Fighter 2 and some newcomers, and of course it has DAN!"

Favourite Character: Dan "The Man" Hibiki

"YA-HOOOOOOOOOOOOO! You know you love him."

Points given to this entry: 10

"Obvious choice...And guess what? It's also obvious to say it's "obvious" because you were obviously expecting me to state the obvious. Well, no matter how obvious it is, this IS the rightful number 1. This made the fighter! The combos, the crazy flashy moves and the diverse characters...Baby, this birthed it, and guess what? This is still where it's at."

Favourite Game: "Welcome to the world of Street Fighter III!"

Favourite Character: "Is it safe to say Ibuki? No? Okay..."

Points given to this entry: 9

Street Fighter did rock in fighting terms, but it was Street Fighter III: 3rd Strike, and the Street Fighter IV series that made it better again. Always fun to play with your friends, on LAN, Online, or with your siblings who want to learn a World Warrior. Ryu also was one of the greatest protagonists ever. The Beast still uses him at EVO and other tournaments."

Favourite Game: Super Street Fighter IV: Arcade Edition

Favourite Character: Fei Long

"Bruce Lee, dude."

Points given to this entry: 10

"Do I even need to say why? Without Street Fighter, fighting games wouldn't have existed. It all goes back to Capcom when it comes to this genre. I don't feel like saying more, because its pretty obvious why Street Fighter deserves to be Number 1."

Points given to this entry: 8

"What can be said about this game that just about everyone else hasn't already said? Memorable characters, pretty good tunes, tons of sequels because Capcom knows that the franchise basically just prints money (although quality has noticeably dropped with certain games). It's a great game to play with friends, it's been used in countless tournaments, and it really set the standard for how a traditional fighting game should be made."

Favourite Game: Street Fighter III: 3rd Strike: Online Edition

"That's a hell of a name but I really enjoy this game probably just due to having the most exposure to it. It is not the kind of game that you just pick up and play but even if you do you can still have a lot of fun with it. It's the kind of game that you want to keep playing even if you get your butt kicked. Normally I rage pretty hard when I get demolished in a game but 3rd Strike keeps it fun even when you're not doing so well, part of that is because you can make a comeback so easily."

Favourite Characters:

1. Akuma

"He's not entirely evil but he is obsessed and is willing to destroy anyone and anything that gets in his way. He's super-powerful but beatable, giving us something to strive for to beat. His 1-hit KO is also something that everyone fears."

2. M. Bison

"This is the cocky badguy who happens to be super powerful and leads a shadowy organization; basically pretty cliché. But his moves hit like a truck and the full extent of his power is only really hinted at. It's this mystery of, "what if he just went all out?" that really interests me. That and the Psycho powers he has are pretty cool."

Points given to the entry: 10

"Is this really a surprise? The one that started it all and even revived the entire genre when most players gave up on it. The metagame that can be compared to poker, the stylish combos that are simple to execute, the stereotypical characters with varying styles, it has it all! The games may go at a slower pace than most fighting games, there's still as much hype than any of them. I don't believe you need my description to know how important Street Fighter is to video games in general. However, I fear that Street Fighter is losing it's grip on its title as Fighting Game Champion. Capcom is going to have to do more than what they did with Street Fighter x Tekken if they wish to keep this spot on my list in the future."

Favourite Characters: TIE! Zangief and Rainbow Mika

"Continuing on with my obvious fangasm with wrestling, me and Zangief have been bros since Street Fighter II laying down REAL SOVIET DAMAGE before it was cool even to this day. The only exception being R. Mika of the Alpha series. For some reason, I was much better wit Rainbow Mika and I liked her personality...okay and her body. Please bring her back soon Capcom.
Grapplers FTW!!"

Points given to this entry: 7

"While the fighting genre existed before, we can safely assume that the second entry of the legendary series popularized the current fighting game style. What else can I say about Street Fighter that probably will be written by everybody else? With it's iconic (but stereotypical) characters and solid gameplay mechanic (Apart from, say, the ultras for SFIV) that makes every match intensive, really, what else could be said?"

Favourite Game: Street Fighter 3 : Third Strike

"Again, what could be said about the game that is considered " the best Street Fighter game" by many fighting game fans that won't be said? Controversial mechanic aside (Parry) It is my favourite due to it's fast-paced gameplay and probably one of the most unique soundtracks from the Fighting Street franchise."

Favourite Characters :

1. Zangief

"Due to being the original hard hitting grappler, Zangief is simply fun (but hard) to play with. Having no projectiles, The bear wrestler is all about getting on the opponent's face and wreck him / her / it with powerful blows"

2. Rose Strangely

"I have no true reason to add for my preference of Rose over many other characters, such as Ryu, Guile or Chun-li. Apart from the fact that she can reflect projectiles, She simply became one of my favourite characters due to how she played.... I guess."

3. Hugo

"What Zangief did, Hugo probably did better. With it's air grab, nice pokes and menacing height, He will always remind you that he IS NUMBER ONE!"

Points given to the entry: 10

"This is kind of an easy pick. There are only two clear choices for number one, and Street Fighter blows everyone out of the water. Yes, no choice is perfect, but Street Fighter is as close to perfection as you can come to really. With characters that anyone can play, such as Ryu and Sagat, to characters that can be complex and impressive to master, like Vega or Guile, Street Fighter revolutionized the fighting game genre hands-down. Or, in this case, hands-on."
____________________________________
This concludes out g1 Community's Top 15 Fighting Franchises!
I would like to thank g1s Flapperdoodle, PhantomExdeath, LousyTactician, Vellu, Alpha Unit, Overpowered Dom, Radio Madness, caboose_-1, A Zero 2 Hero, VinceX, Cyrax and Mr. West for being apart of this month's g1 Community List!
Want to be apart for the next List? Then keep a look out for the announcement blog I'm going to post soon, very soon!
g1 2200 out, until next time g1s!