g1 Features:The Resurrection
11/9/13 8:00pm
Hey g1s. Madhero15 here. How are we all doing today? I suppose you've looked at the title and description and wondered what is going on? What is happening in the g1 Features Universe? Well, a bunch of things actually. All of which takes a bit to explain. So here goes:
g1 Features started out as a place where the best g1 content around was given an opportunity to shine. With over 500 subscribers, we felt we did our job well. Stuff like Sidetracked, g1 Interviews, Indie Game Searchlight, The Digital Forecast, all good stuff. For the longest time, it went really well.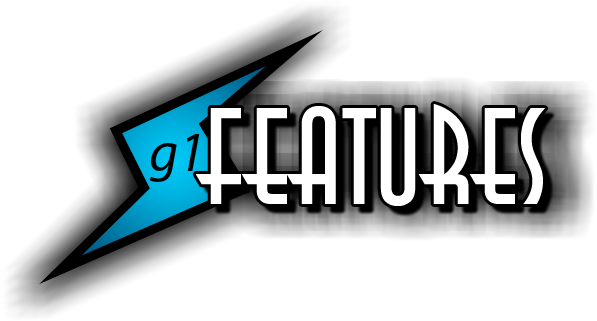 But since then, g1 Features has been in a bit of a rut. If you look at our description, none of the shows that we advertise are currently in production. If you want to go back to a non g1 Previews blog or video, you have to go all the way back to July, when Ask The Experts made its comeback (and never did anything else with it). Yeah, we've been basically running 2 series, and while they're great series, a program running only 2 series can't survive.
We here at g1 Features haven't really done anything to change it. This is a account that is basically given to everyone who has a blog on it, making it difficult to respond to many people. We had a bunch of people PM us saying they were interested in making a show, but none of us ever responded to that, because no one was really busy using the account besides posting a blog on there. As the new leader of g1 Features (we'll get to that in a moment), I'd like to apologize for the lack of clarity and responses.
But that's about to change
On Twitter (where I've been more active than on Screwattack cause of various reasons), Jetz and I talked about the state of g1 Features. Jetz.ACX admitted he wasn't all that busy with g1 Features anymore, and was looking for someone to replace him as the so-called ringleader. Being the power hungry monster that I am (OK, let's not take it too far), I asked if I could take on the role. He agreed, and here we are now. In any case, let's get to the meat of this announcement.
g1 FEATURES NEEDS YOUR HELP!
Don't think I can make it any clearer than that, but let's explain it anyway. g1 Features is about releasing great content (usually in a way that highlights collaboration and the tightness of the g1 community) in a regular fashion, but such a thing can't be done if there's no content. Therefore, I have something I'd like to pitch some ideas for content and see what you guys think.
THE RETURN OF
g1
INTERVIEWS

Interviews with other g1s has been a main staple of Screwattack for as long as I can remember. Screwattack Magazine used to do it, and a lot of other g1s used to do it as well. Alpha Unit used to do the last version of the show, but unfortunately decided to quit later on. In any case, it's a fun thing to do. It is always interesting to talk to other g1s about how they ended up discovering the site, and something about their favorite things.
What we need of course are people that are willing to give the interviews. I'd say around 2 people should be enough, with each switching it around and stuff. And of course, interviewees. Hard to do a interview without them. Feel free to volunteer.
Interviewers (2x)
Interviewees (ALL OF YOU)
WHO WANTS TO BE A SCREWATTACK MILLIONAIRE
This isn't a show that was on g1 Features before, but one I'd like to see anyway. You remember the show Who Wants to Be a Millionaire? Just replace the questions with gaming and remove the cash price and you've got pretty much the same thing. This was a show initially conceived by former g1 of the Year Terra_Corrupt, and I initially took up the mantle back in 2012, but decided to lay it to rest because I was frustrated by my own ability to make the show more ascetically pleasing.
But that's in the past, and I would once again like to bring the show back. Like g1 Interviews, I'd like to have 2 people who rotate as quizmaster, so that one can fill in for the other when the other's sick or doesn't have time to do it. And of course, people willing to take on the daunting quiz. Rules and some other stuff will be talked about on a later blog, should people prove interest in the project
Quiz Hosts (2X)
Contestants
The g1 Version of The Best/Worst Ever
Originally, this was supposed to be a project with me and Ehsan, which unfortunately didn't happen cause of reasons. That said, this seems like a great idea to do on here. Pretty sure you're all familiar with the format of The Best Ever, but for those that don't, let me explain. Basically, there's a topic, and you talk about the best/worst thing about that topic, like Water Levels or Pokemon. That's it. For this, I'd like around 4 regulars to appear, but if you're interested, its easy to join and become part of a rotated cast
AN ALL NEW PODCAST
O god, you have no idea how badly I want this to happen. I love podcasts, and g1 Features had a excellent one in the form of SIDETRACKED. Unfortunately, due to the leaving of co-host Kailoli and the increasing difficulties of editing, making the show got harder and harder. Because of this, this podcast will be a lot simpler, with around 3-4 people (this doesn't mean that guest hosts won't happen, but it'll be a lesser occurrence) doing a podcast once every week/ 2 weeks or so. Also, it'll be more of a Audio affair, making it easier to edit and send out to you lovely people. Now, nothing about this is set in stone yet, and is going to require a lot more thinking to get it up to speed. Still, if you like doing podcasts, and have the equipment to audio edit, we'll definitely consider it. Like I said, not fully developed yet, but definitely something I want to see happen.
People willing to podcast, have a flexible time schedule, and have microphones
Audio editors
YOUR OWN IDEAS
These are just some of my crazy ideas, but if you have some kind of crazy idea you want to share, all you have to do is say your idea, and we can discuss if its right for g1 Features. It needs to be something that can be done on a regular basis and have some sense of collaboration with other g1's, tell it to me, and we'll see what we can do.
EDITORS, PHOTOSHOP EXPERTS, ETC.
We're all human, and we're bound to make mistakes. Therefore we need superhumans willing to look at those blogs and kill all those nasty spelling errors and grammar mistakes. Its definitely more of a background thing, but it goes a long way to make any blog look better.
Speaking of looking better, I can't for the life of me do a decent Photoshop or create decent logos, but we do them for several of these projects. If you're willing to make the logos', thumbnails, banners, and more, that would be incredibly appreciated.
--------------------------------------------------------------------------------------------------------------------------------
That's about it. That's quite the laundry list of stuff. Of course, absolutely none of it is possible without your help. I want to bring g1 Features back, and I hope you're willing to help with that. g1 Features can once again be great place for content. But enough of this melodramatic stuff, I hope you like the ideas have, and hope you consider joining g1 Features. So hopefully see ya soon!