Let me start off by saying Super Puzzle Platformer is an amazing game. As the name of the game suggest it combines a puzzle game with platformer elements. The point of the game is simple, you shoot the coloured blocks to build up your high score and collect the nugget things (I don't know what to call them) to build up the multiplier which also powers up the blaster to make it easier to blast away the coloured blocks while not getting cru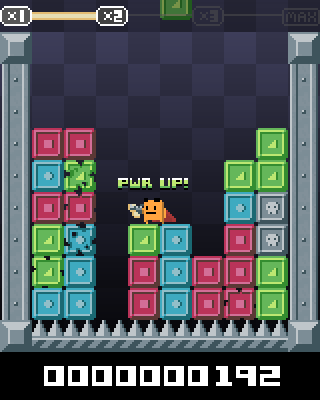 shed by falling blocks or falling onto the spikes below.
The game looks awesome with the classic style of graphics. The character you play as, Mr. Serious has a simple look kinda like Meat Boy or Pacman. He is just a little orange dude with a red cape and a blaster. The blocks remind me of Puzzle League DS with the coloured blocks that have the little image on them and I love when you shoot at the blocks they look like they are being destroyed.
The music for this game is great. It has nice little catchy tunes at the start screen and high score screen but the best part of the music is when you are playing the game. The music is great to listen even though it loops over and over again it has never gotten annoying or boring for me.
The gameplay is amazing, the controls are perfect and moving about is great. I have found myself playing this game for hours not noticing how much time has passed. It can be addicting trying to get on top of the leaderboard which I still have not done yet. The game is simple yet challenging as not only do you have to worry about falling blocks, you have to worry about skull blocks which can either be a block which have spikes on them or a drill block which falls down and takes out a vertical row of blocks which will kill you if you're not paying attention. The way the blocks fall change too from the normal slow pace to a fast pace or a line of blocks which fall with a gap so you don't get hit by a block. As I said at the start, collecting the nugget things from the blocks increases you multiplayer and powers up your blaster which allows you to destroy the blocks faster and if you are hit by a block your weapon is powered down but if you collect a nugget before you are hit again your multiplayer and weapon is powered up again. Being on top of the blocks you have to consider which blocks to shoot because if you don't pay attention to what you are shooting you could destroy the blocks you are standing on away and fall to the spikes below. The game rewards you for taking risks as the more blocks you shoot the bigger the score you get.
This is a flash game that I would be willing to pay for on Steam, Xbox Live or PSN. I have probably had more fun playing this game over a new full priced console game like Mass Effect 3 or Call of Duty. It is a perfect arcade style game similar to Pacman where all you have to focus is lasting as long as you can and trying to beat the high score. I would have to give this game 9.5/10.
Thanks for reading my first review and I would really appreciate your thoughts and criticisms on my review.