g1 Spotlight: Assassins of Kings
11/25/13 11:00am
Creator/Writer/Researcher:
Woodyman
Welcome to the g1 Spotlight… I'm Woodyman and I have no idea how I got here. I had a researcher and a writer, but they vanished. I'm guessing they were abducted by aliens. If you see either of them roaming the forests while nude please call the police.
In bad news, that means I'm the one writing/researching/proofing the g1 Spotlight this week so if there's anyone to blame it's me. I hope I make know mistakes! Nevertheless, I'm here to make horrible puns and chew bubblegum and I'm all out of…
Dis gon be good.
I always try to think of something clever to say here but can never think of anything. I guess I'm not SHARP enough! HAHAHAHAHAAHAHAHAHA get it? I'm on a boat. If you ever wanted to see a man with an epic mullet and a puppet sing a song about cruise ships then first off, you have really specific tastes, but secondly… I may have found it for you. It's Doug and Mo Diddley's first original song of 2013… "Cruise Ship"
ScrewAttack The Game
I feel like I heard that one before numerous times... Well anyway –Mazer (who created Gametrailers the game) wants to make ScrewAttack the Game as well. You can help here and make your very own character to appear in the game.
I'd watch this show...
... but I'm too Fluttershy? Is that a thing? I don't know, someone told me to say it. Either way I heard there's a new season of My Little Pony where they become friends again or something. You can discuss it here.
Forum Games
There are TWO forum games I feel like I must spotlight this week. The first is a game called RICOCHET It's basically Rock, Paper, Scissors but with guns and sign ups are still open. Secondly, I want to spotlight the latest round of SA Mafia host by yours truly... sign up now for some murderin fun.
Sigs
By Darkseid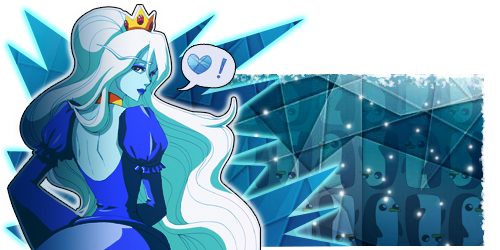 By Jesia
By Jawshy
The Xbox One was released just a few days ago, if you want to see all ScrewAttack has to say on the console, then check it out here.
Oh and Chad reviewed Killer Instinct.
You can't judge a book by its cover.
Darkseid2 our local anime obsessed g1… actually that title could go to a lot of you. Well anyway, Darkseid takes a look at the hyped Kill la Kill, an anime about scantily clad women that actually has a lot of substance. You all know I no nothing about anime, so let's move on. Umm… I need a pun… Judge and Yuri? That was bad.
V is for Video Games
Bigjoe91's ABCs of Video Games is coming to an end soon it seems because we are already at V. What does V stand for? Virtual Bart! A game that I absolutely despise. However, Bigjoe91 doesn't because he chose to review it. V will see if his opinion if valid, vill v?
Would you kindly
Go back to Rapture? I wouldn't because the Little Sisters are creepy beyond belief. Kill them with Bees! If you want to go back to Rapture then the latest DLC from Bioshock:Infinite entitled "Burial at Sea" will help you. If you want to know more about the DLC and if it's any good then buzz over to EnigmaXtreme's video review.
What an animated review!
Jay L. Thunder (who has the coolest name if that is his real name) has decided to review the latest game about killing dudes with a dude in a white hood, Assassin's Creed 4: Black Flag. The beginning of the review got me HOOKED, so tell me… ARRRGGGHHH you going to watch it?
Morris Bailey
Dark Morris aka Dark Magician is reviewing a game EVERY g1 should know. The site you are on RIGHT NOW is named after a power-up in the series. If you haven't already guessed, it's Super Metroid.
Damn… I already used my music pun.
There are video game songs everyone knows, and then there are some overlooked and underrated songs that no one remembers or remixes… Bluebomberimo, counts down the latter. Man… I feel like these puns are falling FLAT… HAHAHAHHA
For Shame!
Being a gamer fills you with good feelings of accomplishments. Whether these accomplishments are awarded by Xbox or internal, it doesn't matter. When you beat a game or just do good in a game it feels rewarding. However, Bygjuice is ashamed because of these 10 reasons.
Gotta Catch em All! ConsumerMon!
The Pokemon series is a cash cow for Nintendo, and anyone else who published Pokemon products. There are video games, DVDs, toys, plushes, card, tabletop games, and so much more. So in honor of the series that stole our money thenerdy8bitghost counts down the Top 5 best Pokemon commercials.
I can't tear myself away from this video.
CazTheGamerGuy rants about why would Sony release a game on the same day, Microsoft released the Xbox One. Then he reviews that game… well at least he tries to review the game. It's called Tearaway and it's for the Vita, so no wonder I never heard of it.
I can't let you do that Car Facts.
­8BitEric (who looks like he's at least 64 bits) shares some interesting Star Fox facts with the g1s. I never knew the one about The Beatles. It's an interesting little video. Also what does the Star Fox say?
Space monkey mafia.
Everyone's least favorite internet show, SILVERMANIA, is back this week to commemorate the assassination of JFK. They play the controversial game JFK Reloaded that is funny and disturbing at the same time. Not much else I can say about this one without going to hell… so I won't.
Where's Madhog!?
I don't know, but Team Yume Podcast is continuing on without him. In this episode they're talking about Soul Eater and RWBY. I don't know what RWBY is about, but I know everyone is obsessed with it. Also Soul Eater is awesome! So get stuffed on some anime/podcasty goodness.
MURDERER!
In video games the protagonist murders numerous goons and baddies on his or her way to save the day. Think of all the Goombas and Koopas we killed in the Mario games without batting an eye. I don't feel bad killing Koopas though cause they were walking right tortoise. HAHAHAHA! Nevertheless, Captain Gamer encounters an enemy in Dark Cloud 2 that makes him question his murdering ways.
I wanna hold your hand
Everyone complains nowadays that video games are too easy. I remember back in the day when you started a game you were left to your own devices to figure it out. There were no tutorials or controls flashing on the screen it was up to you and maybe the instruction manual. Seems like Give it a Shot Gaming remembers too, because he wrote a blog about it. Can you HANDle it?
Wii U read this blog.
That One Guy Named X doesn't think the Wii U is a current generation console and belongs with the other 8th generation consoles. Is this a bad thing? That One Guy Named X doesn't think so. You might want to give him your flame shields because this one will get ugly.
Chris Redfield is a Pervert
The Stickman is back in the spotlight for what might be the very last Ask Omegle ever. In this blog The Stickman messes with random strangers on the internet. In this one he's apparently obsessed with Resident Evil and noodles… I have no idea. Interrupt your daily rotini by reading this blog.
Shaggy?
Our very own gear12 has a COGnitive interview with the mastermind behind Zoink Games, Klaus Lyngeled. You can get down to the nuts and bolts of the interview and Zoink Games by reading along.
The Final Blog...
...in this g1 Spotlight is all about Final Fantasy. This week's Pick of the Week goes to a review of Final Fantasy V done by g1 Wulfon. I've seen reviews of this game before but never one that truly captured by like/dislike of this game like Wulfon's review. I generally like to give Pick of the Week to something new or unique I've never seen before, but this week it just goes to a fantastic review.
Well, it might have not been my week to write but I hope I was punny enough for you...
If not