TLDR;
All the best g1 made content from June 18th - June 24th
| | | | |
| --- | --- | --- | --- |
| | | | |
| Creator: | Writer: | Researcher: | Researcher: |
| Woodyman | MisterBo | viper.fox | Smoke108 |
WHO DARES AWAKEN ME FROM MY SLUMBER!!!
I AM BO , RULER OF THE MISTER GALAXY AND...
Oh! Blogging time!!!
For some listening music this week we have Kenshiro3 back with another Double 8Bit Remix... this one is Handel's Hallelujah Chorus...
PRAISE GEEZUS! SCREWATTACK HATH RETURNED!
Also we have the return on Guitar Guru and Epic Game Musicer, James Ronald with a kicking renditions of Dr. Wily Theme 2 from Mega Man 3 (with a western twist)
Finally we have a touching ORIGINAL love song inspired by... Mario Kart! That's right it's the Mario Kart Love Song by NERD LYFI... take a listen.
(This one made me cry)
Flowers? Really?
Well, MisterBo has a DeviantArt account. Even though it's not very video game related, it's worth promoting. Even if most of his work includes... flowers...
Note From Woodyman: I'll allow the self promotion this one time, cuz of flowers.
PIKACHU!!!... and Mass Effect
Well, aren't these lovely. Jesia has done some very well done and professional quality drawing of Pikachu and Thane from Mass Effect. You really should checkout these fine pieces of art.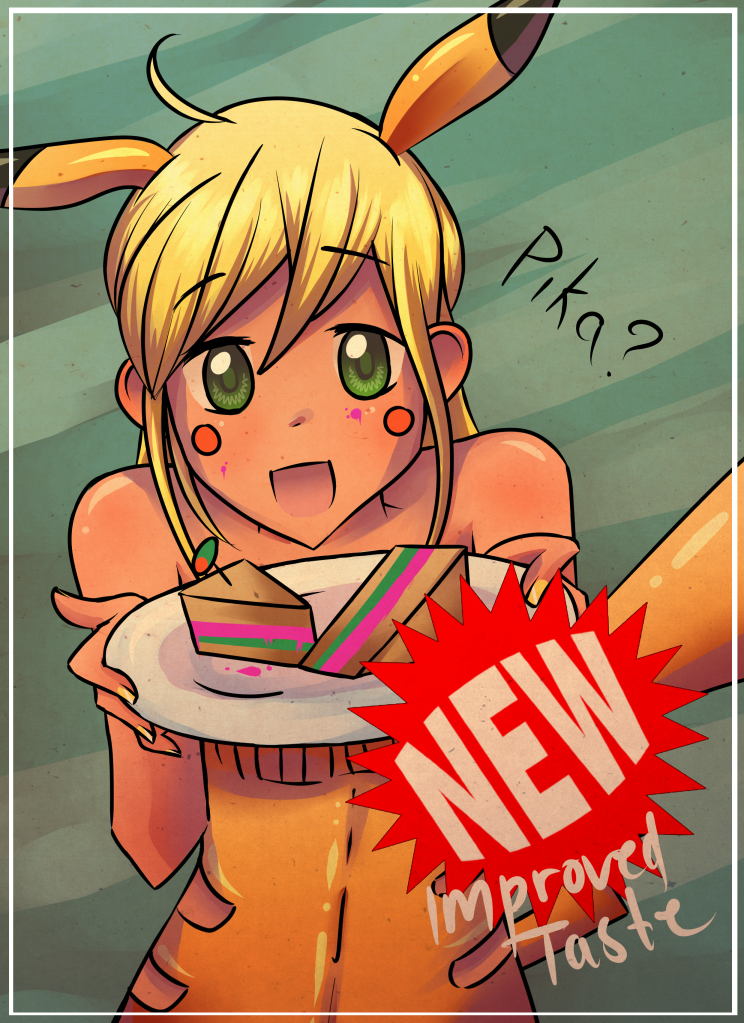 (Too much cute!!! BRAIN ASPLODE!!!!!)


Oh you MineAttack people are crazy.
If you don't have MineCraft, then get it so you can join the SUPERAWESOMEORGASMIC MineCraft server known as MineAttack. See what happens there in Metaking64x's promotional blog.
SEEKING ANY SLAVES/VOLUNTEERS
The Stickman has a new blog idea and he needs your help! His idea is a blog called "Spoilers!" where a group of g1s discuss recent films/games/TV/etc.. If your interested, then go ahead and volunteer!
*Guile's Theme Plays in the Background*
g1 2200 is trying to pull together as many g1s as possible to contribute to his list of top 10 fighting games. If your interested, look at the blog to see what you'll be getting yourself into.
Concerning those who were involved...
Darkhyrulelord has finally posted all 1020 answers to his AVGN trivia contest. If you even took a stab at guess a small portion of the answers, then you might want to see if you were right.
ARTISTS NEEDED!!!!!!
... for Space Penguin 1.5. The Stickman wants to get a bunch of g1s together to help create the next issue of Space Penguin. Whether it will be related to future storylines is up to him. If your interested, then go here to find out more.
There be some trouble in Toontown...
The ScrewAttack Mafia is back for the 22nd time and is hosted by Woodyman! If this sounds any bit interesting, then by all means check it out. Beware, there are RULES, signs-ups end of the 26th, and there's a 24 player limit soHURRY UP AND SIGN UP!!!
I'm not offically not motivated.
Juggernaut has come bearing the revival of ScrewAttack demotivational posters. If your interested in seeing some hilarity in the form in a demotivational poster, then this is the forum thread for you.
SIGNATURE TIME!!!
(by Ben Be Jamin)
(by ChaoticMeltdown)


THE BEST EVER VIDEO GAME SECRETS!!!! WOOHOO!!!!
Also, YOU, the g1 community, have the opportunity to enter a contest to make the Mario Party 5 After Dark banner. For any contest information you might need, I'd suggest looking at this.

I know he writes long blogs, but this is rediculous!
The king of evil, DarkHyruleLord, has really outdone himself with his longest top 10 list EVAR! This top ten list though is his wishlist for Death Battles.
Damn, you got screwed hard.
Seriously, if there was any way to be royally screwed in every sense of the word while involving video games in some way this is it. See how Ridler1 got screwed with his story about the "Real Kratos" project.
You son of a bitch.
A Super Famicom? You lucky ass mofo. You have the money to get something like that? Man, you are a true gamer. Watch Dark Magician present and brag about his addition to his collection in this video.
Wow, you were right. This is pretty crappy.
Woodyman made a video? Oh, this might be good. The problem is... Well, it's not good. Let's all watch as Woodyman tries to show us how to be awesome at Super Mario Bros. 2.
Seems legit.
g1 Alpha Unit explains pretty much everything there is to know about imitation NES's or clones. He explains the history and even gives recommendations for the good imitations. See if this history lesson/recommendation is helpful for you.
SCREWATTACK!!!! THE VIDEO GAME!!!! Unofficially...
Damn, this isn't half bad. g1 Mcgunn has created an unofficial trailer for the UNOFFICIAL SCREWATTACK VIDEO GAME!!! Go see the trailer and even help out with your own ideas and imput.
A fan's story of a love for Sonic games.
I always love reading these nostalgic stories of fandom. This is Altair0115's story of discovering Sonic and how it changed his life.
One does not simply revisit Pokemon Blue.
Pokemon, one of my FAAAAAAAAAAAAAVORITE video game series'. g1 InAmberClad decided to go through Pokemon Blue once again to relive the experience. Let's see what details are recounted from his journeys.
NES controller below Gamecube? BURN THE WITCH!!!!!
Anyway, this is JETZ.acx opinion on what he thinks are the top10 controllers of gaming. Some people have agreed, some people have disagreed. Go see what your opinion is.
I'm so empty on the inside...
Bigjoe91 has done a terrific top 10 on the nothings of gaming. Whether those nothings be that empty feeling you get inside when something happens or nothing in the literal sense, he's covered it all.
CULT CLASSIC MY ASS!!!!!!!!
Fairly newer g1, LSDreamscape, has done a blog about the game that he considers a cult classic, Jet Set Radio. Go read his explanation for why it's a cult classic and why it deserves your attention.
Crash who?
Remember Crash Bandicoot? That orange, fox-like thing on the PlayStation? No? I thought so. If you do or don't know who he his, either way you should read Dark Magician's blog about his "long" history of his rise and fall.
We don't owe them anything.
Apparently, casual gamers serve some sort of importance in the gaming community. g1 beyondthestars has given his definition of a casual gamer and why they are important to the gaming community.

For this Time Shift, I present a more unique approach than finding an old blog and reposting it.
Ladies and gentlemen, mostly gentlemen, I present to you ScrewAttack.com, April 9, 2006.
Note from Woodyman:

SO MANY G1S!!! THEY'RE EVERYWHERE!!!!! THE WORST PART IS THEY GIVE THEIR OPINIONS!
Anyway, being completely serious, Ehsan has finally posted the finished product of the g1 collaboration version of "Best Ever...", one of the newer shows on ScrewAttack. This version was done for the Best Ever Retro Boss Battles. LET'S SEE WHAT EVERYONE PICKED!!!!
SHALL WE?
Well, that's it for this week's edition of the g1 Spotlight. For those of you still wondering what the heck the title is refering too, it's not a video game but an anime. I won't sit here and explain it to you, go figure it out yourself.
Note From Woodyman: I thought it was referencing Assassin's Creed.
Special thanks to Smoke.108 for additional research. Also, I would like to give an "A" for effort to this weeks researcher, viper.fox, who became busy and couldn't get research sent in to me.
Now, I leave you with this...
This is MisterBo signing off.