TLDR;
| | | |
| --- | --- | --- |
| | | |
| Creator: | Writer: | Researcher: |
| Woodyman | The Guardian | Smoke108 |
All the best g1 made content from 9/24 - 9/30
Hello there all you g1s out there. How are y'all doing today? It is I, The Guardian this week my researcher was supposed to be viper.fox, but she was unable to join me this week. Instead, the equally capable Smoke108 will be your researcher this week.
Without any further ado, let's light this candle!!
First up, we have some g1 musics. It was a bit sparse this week but...
g1 akalink gave Pokemon Route 1 from Red/Blue/Yellow a remixing. Perhaps one of the most underused instuments I can think of, the kazoo, makes a staring role here
And our other entry comes from g1 blakerobinson with an orchestral rendition of Nate's Theme from Uncharted.
Next we got guitar guru with some more Epic Game Music. This time he presents us...Secret of Mana - Leave Time for Love.
Finallly Kenshiro3 is back with a Double 8bit Remix of The Orgy from Conan the Barbarian.
In artwork this week we have some amazing drawing from RetroEternity. My favorite is this Charizard but check out the rest on his blog.
Next up we got Imaschi's Shepards of "Art" Sketch
and finally DRQ made some photoshop stuff. You can see all of by following the link, or you can get powered up by clicking on Super Ben-Ku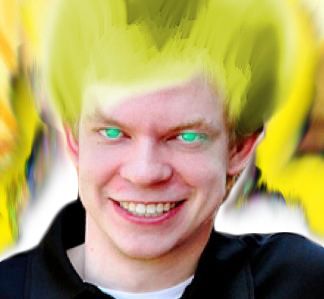 In Special News
g1 Dum Dum Dugan is going to be streaming on his Twitch chanel on Oct 20th for the Extra Life Gaming Marathon. You can help by spreading the word, donating, or joining Dum Dum Dugan. Please help... it's for a good cause.
In addition to Dum Dum Dugan, g1 ReturnOfFable and his friends will be streaming as welll. You can find out his information here.
Stay off the moors!
The Stickman needs your help on where he should post Space Penguin Series 2...Planet of the Were-Toffs. What is Space Penguin? How can you help? Click the link!
Ask me no questions...
...And I'll tell you no lies. Alpha Unit is in a need for help once again. He runs the g1 Interviews feature. Find out how you can help by clicking here.
WoodyWeen? Sounds dirty...
Woodyman (that's me!) is starting a holiday coming up called WoodyWeen. He'll be releasing a list every Tuesday and Friday but at the end he'll review 3 movies you pick. Find out how, right here.
EVENTually...
g1 Events is a great way to interact with the g1 community and make friends with fellow g1s. It's a great addition to ScrewAttack and if you wanna learn how you can take part, then follow this link.
THE FORUMS ARE COMING!!! THE FORUMS ARE COMING!!! That's right, after a month absense, the forums have finally returned! Having a shortened research time though, there weren't many new posts... but there are some...
ScrewAttack The Game
The game designed by g1 Mcgunn is now playable in your browser. Wanna play a game based on ScrewAttack? Well now you can!
Seiouzzz... BIZZNUSS!
If you want some serious conversation with fellow g1s without risk of insanity then check out the Formal Talk section of the forums.
However, we do have a few as well as some signatures.
Our first comes to us from g1 Thunderplant
Our next signature comes from g1 Darksied
And last but certainly not least we have Metaking's effort
Again, it is a joyus week for many in the community with the return of the forums!
You know what?
I was trying to figure out what to put in this section when I suddenly realized...
THE FORUMS ARE BACK!!!
It's been 4 weeks siince the forums went down and the fact that their back is a momentous occaision. If you don't visit the forums, then do so right now. All you have to do is click the image.
And now, what you've all been waiting for...
Let's get this party started!
Wow, That Is Huge
Our g1 of the year, Woodyman, gathered together a bunch of g1s and gave them a very simple task; design a video game See the results of what your fellow g1s came up with.
Tell it to Me Straight
g1Farmhouse came out with his take on the new dungeon crawler, Torchlight II. Check out his thoughts and drop your two cents on him. Yes, it is a video, but it is well worth your 10 minutes.
I See What they Did with the Title
The g1 podcast Randumb, headed by g1 BobboHead13, released its latest episode this last Monday. Check out some Playstation talk and a whole lot more this week.
Longest Title of the Year Goes To...
g1 Flashpenny and his ridonculous title for his latest blog. Regardless, this one blog could literally be 10 separate blogs, but instead is one filled to the brim with 10 co-written reviews with some pretty good g1s; Whitly, Woodyman, and darkhyrulelord. The length might be a bit intimidating, but it is well worth the read.
Contrary to His Username, Not Lousy
Another list coming at you, this time it's g1 LousyTactician's Top 15 DS Games. Well, half of it anyway. Be sure, after you watch part1 here, to look out for part 2. And on a side note, he has a pretty amazing speaking voice, I'm just saying.
There Be Symbols in Yo Game!
Now we are getting into some OverThinker territory here. g1 EmceeProphit is taking a very indepth look at the symbolism and the true meanings in the Suda 51 game No More Heroes. This is actually a three part extravaganza and this is part 2, so for the full take, be sure to catch the other 2 parts as well.
In a Time Before Blue Shells...
The Turks of Gaming, Zero and Tyrak are at it again folks. g1 ZeroChaosFire brings to us a little behind the scenes action with Mario Kart on the SNES. This time Zero and Tyrak got at it one on one for the... cookie land? Biscuit lunch?
Let There Be Brawl!
Three English blokes singing "America, fuck yeah!" Have not heard that one before. g1 TrouserHamms uploaded a little Brawl action. On their first match, that has to be the closest finish I have ever seen. Other than that, Brawl and all the other Smash Bros are just fun to play and watch, so give it a look.
I'm Insulted, We Don't Like Him, We Love Him
Keith Apicary, that is all. What? Okay, I'm being told that I do actually have to write something here. g1 AsaiNeroTran wrote this wonder of a gem as to why people like Kieth Apicary. Personally, it is the dance moves.
And the SGC Comitments Continue
g1 darkhyrulelord is living up to his end of his SGC wager and reviewing Tokyo Godfathers. Is it the cat's pajamas, or is it total poop? Only one way to find out.
READ THIS!
Woodyman here adding something to the spotlight. I've been promoting Flashpenny's original stories for a while now, because they need more views. They are THAT GOOD. So what I want all y'all to do right now is click the following link and read Flashpenny's story based on the Smash Bros universe it's entitled "New SSB: The Subspace Deception: Part 2"
This blog gets a 10 outta 11
g1 StPatrick enters the spotlight this week with a very throught provoking blog. He takes a look at the numerical review scored given to games, and explains to us why they are unnecessary. Give this one a read, especially if you review games, or rely on reviews.
Before anyone starts complaining about how short this Spotlight is this week, I'd just like to point out that my researcher only had 3 days to get all his stuff done after coming off the bench. He did man's work this week!
This Time Shift is a bit different from the usual. This time instead of the blog being older, it is a blog looking way back. g1 The Game Anthropologist is looking at some really bad game covers from the Sega Master System. He actually blames bad cover art for why the console sucked so much.
Every once in a while a blog comes along on ScrewAttack that I remember for a long time. A few that come to mind are Flashpenny's story from v4, "Nothing Gold can Stay", JetFire's Top 100 list, and Elmo 3000's fan-fiction about the Falcon Punch.
A new blog is joining that group. Whitly wrote a non-videogame story that is one of the best things I've read in v5. Check it out, I mean really, if you read this, check it.
And there we have it g1s, your spotlight for this week. I'd like to thank my researcher, Smoke, for stepping up on short notice and doing in 3 days what usually takes a week. I'd also like to thank all you beautiful people for reading.
Thanks and see ya next time.