TLDR;
| | |
| --- | --- |
| | |
| Creator/Writer: | Researcher: |
| Woodyman | Kaibaman41 |
All the best g1 made content from the past week.
It''s time to put on make up
It's time to dress up right
It's time to get things started on the most sensational
Inspirational, celebrational, muppetational
This is what we call the g1 Spotlight!
That's right g1s!
You've just entered the greatest blog that spotlights the work of other g1s.
It's the g1 Spotlight!
I'm Woodyman and I'll be your writer, and joining me is Kaibaman41 as researcher.
I hope we put together a good show.
Live from New York! It's Sunday morning!
Let's see who are musical acts are this week.
First off we have Kenshiro3 with a Double 8bit Remix of the System Shock Intro... I love Kenshiro3, I really do... will you be my Valentine?
Well after that somewhat indecent profession of love let's just move on. Blake Robinson and the synthetic orchestra is back this time the song is Lullaby of Resembool Remake from Full Metal Alchemist Brotherhood
As if this spotlight wasn't romantic enough, we got the best guitarist in the entire America's Hat aka James Roland with the Lufia II Love Theme... it's okay if you've never played Lufia II... no one did.
Yes... rather.... m'yah... other sophisticated jargon...
First off we have moocartoons with an awesome fanart of Maya from Borderlands 2.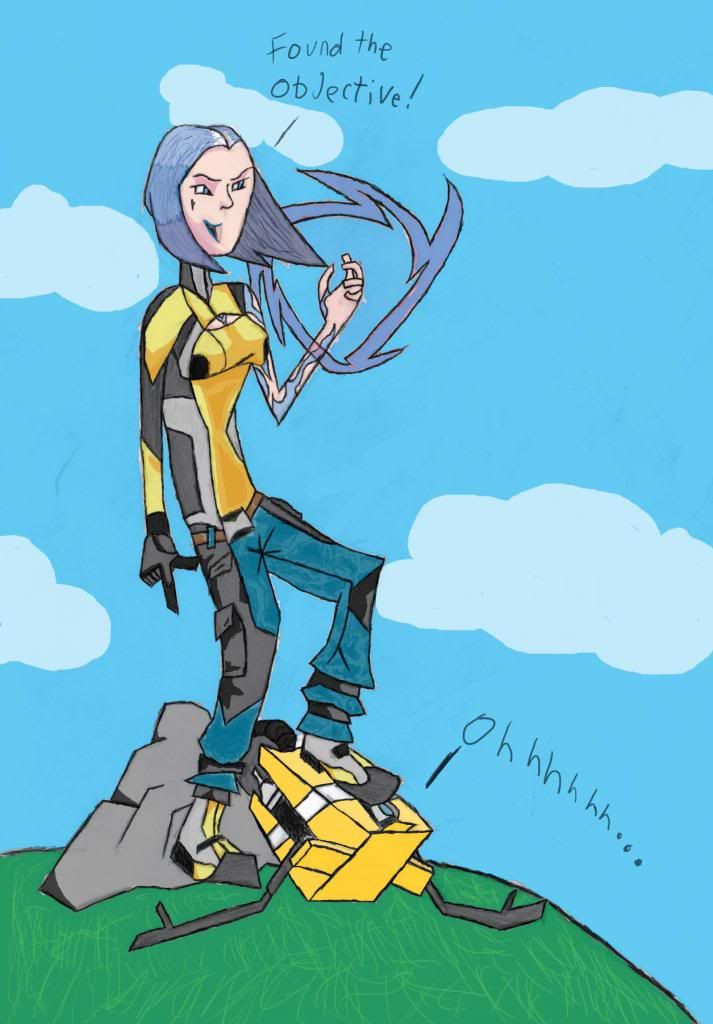 Also LiamGhX is back in the spotlight again for some Metal Gear Solid artwork, there's a bunch if ya click that link my but favorite is this collection of the MGS1 baddies.
What do you wanna see?
g1 supermatt64 is going to Katsucon (I have no idea what that is) and is gonna be recording his experience... but HE wants to know what YOU want to see! So tell him!
Take a look it's in a book!... or not.
Madhog Thy Master (who isn't my master) is making a show about reading and reviewing fanfictions. It's called Fanfiction R&R (I thought that stood for Reading Rainbow or Rail Road... I was wrong). He wants suggestions for fanfictions that you consider "good" and voice actors and people good for dramatic readings.
In forum news we got...
A place to nerd rage
The upcoming DEATHBATTLE has been announced and it is He-Man vs Lion-O. If you wanna throw around your opinion on the fight, you can here.
Sigs
So this week marked the 7th birthday of ScrewAttack.com and the crew/g1s celebrated with a 24hour marathon full of zombies, nipples, and insanity...
Yeah it was weird...
But honestly my favorite ScrewAttack moment from this past week has to be the return of The Clip. When the SA Staff said The Clip would be bigger and better they weren't kidding. As a huge Third Strike fan and a huge Muppet fan, I was in love.
All of you need to watch it ASAP!
Otherwise this image makes no sense.... haha
How you like I scricky scroll so fast!?
Because I could not stop for Death
a drunken elf-man stumbled into him on accident. That's just one of the weird things you'll hear about or encounter in the point and click game Discworld. Just watch IkiFoo's review and have your mind blown!
Warning: Lot of Rad in this Spotlight
The first mention of Rad has to be from Joe Walker's The Backlog. In episode 5 he takes a look at The Adventures of Rad Gravity starring a Bruce Campbell look alike
Dude... Madhog... I loved the intro to this review!
Les & Madhog take a look at the spooky film Paranorman. I haven't seen the film yet, but I really want to, especially after watching this review. If you wanna see their perspective on the movie, or learn a little bit about animation then watch it.
ABC Easy as 1-2-3!
The kitty cat is back with another entry in his gaming ABC's series. Today we're up to the letter D, but he couldn't decide between 2 games to pick. I'll give ya a hint though, they're both video games.
Jak Jak He's a Lego Maniac...
Well not really, but I really couldn't think of a funny title for this entry. Well umm...Green Biker Dude reviews Jak 3! He even has a robotic assistant.
EYE KAN REED!
You all know I'm a sucker for book reviews, I wanted to include this without even watching it, but I felt that'd be a bit unfair. Luckily Count_Zero has an amazing book review of The Sword of The Dawn. The third book in the Hawkmoon series.
It's the Final Boss Battle!
Do dee doo doo! Do dee doo doo doo!
Flashpenny aka the Penny who wears a trenchcoat and exposes himself to people (get it?) takes a look at all the games he's played in 2012 and then picks the Top 15 BEST FINAL Boss Battles, a lot of these games I never even heard of or touched, but now I'm really interested.
You've been so neglectful
I am honestly ashamed of Frankhaggar972. He made a list of Top 10 Games he wants to beat, and #1 is a game EVERYONE should beat... I did when I was a youngin... FO SHAME
THIEF!!!
g1 Overloading Toaster decided to steal FrankHaggar972's idea and make a list of the top 10 games he wants to finish as well. Hey guys, I made the same list about 30 weeks ago.
SUPAH N1NT3ND0!
In case you couldn't tell from that clever title, Noble Team 1 made a list of his Top 10 favorite SNES games. It's a great list, but I gotta say Genesis does what Nintendon't
So you're FOREVER ALONE on Valentine's Day...
...Well that's no big deal because Bortch has a list of the Top 4 Things Single People can do on Valentine's Day. If all else fails you can do what I did, get drunk and cry yourself to sleep.
Only I Nose The Truth!
I am a sucker for unique lists, and penguinx's list of the Top 5 Noses in Gaming is VERY unique indeed. I would have included Nosepass from the Pokemon games, but to each their own.
Weirdest game ever
Dylan plays a game with one hand. It's called Datura and in it you can fondle a tree, massage stone boobs, and look for a tree with a face... Either this game is odd, or Dylan is drunk... or both.
Don't worry - we got this!
I've never heard of The Comic Book Guys, but really wish I had long ago. It's a fantastic series about " two former Marvel employees try to break back into the industry on the other side of the desk." It's a hilarious, documentary style series and I'm addicted. It was THIS CLOSE to making pick of the week, so you know I'm not joking here.
Casualizing... not sure if it's a word...
...but it's the subject of The Rageaholic's review of Super Mario RPG. His view is that casualizing a game/genre isn't always bad. There's Tara Reid casualizing and then there is Super Mario RPG casualizing...
Have you ever wondered
What it would be like if Zombies Ate My Neighbors was set in Raccoon City? Well wait no longer because Bits of 8 shows us... also. why. does. Barry. talk. like. that?
I wanted to put this in Pick of the Week because of the Crosby Jersey...
Neveretheless, Dark Magician takes a somewhat depressing/somewhat insightful look at Sonic The Hedgehog 2 and Past/Present/and THE FUTURE
Get a grip!
A game grip! This is a show from the Super Rad Podcast guys where they showcase recent pickups from Craigslist, Thrift stores, garage sales and more! Also don't tell Woodyman that Im spotlighting them twice
Drunkcasting
I've actually just discovered this podcast. It's called On The Rocks and it's a show that pairs video games with their perfect drink... not entirely an original idea, but well executed. In this episode they talk about PSAS:BR
How can you not love Super Rad Podcast?
Just in this one episode I've fanboyed like 3 times... First off, their podcast is RAD. Secondly, they talk about Indie Game the Movie (which I LOVE), and thirdly, they talk about my favorite graphic novel and author of all time, Neil Gaiman's The Sandman... just listen.
This episode brought to you by sex.com
The dummies at Randumb think that this is the Best Episode EVAR! I seriously doubt that because I'm not on this episode. Nevertheless, they talk about stuff also NobleTeam1 is guestcasting! Also 4:20...
I miss the squeeky voice :(
Nevertheless, Gaijin Goombah is a special guest this week on Episode 5 of Hey Poor Podcast. In this podcast, I've learned that Gaijin likes Japan... didja know that?
NO ONE HAS OPINIONS!
Domestic Partnerships
It was Valentines Day this week and there is no better way of celebrating than to be with you're partner. If you're lonely and depressing, you can at least look at these partnerships in Flapperdoodle's The Perfect Platformer.
Wii Will Miss You
With the end of the Wii rapidly approaching, g1 LightningandIce decided to look at the very best (like no one ever was) aspects, and the very worst apects of EVERY Wii game he owns. A daunting task, but a balanced and interesting blog.
You may have heard of a fellow named Mr. Lange
He's the fellow that does the animation for DEATHBATTLE!
Well he's finally come out of the shadows to reveal something about Superman's past that Wiz and Boomstick forgot... it could very possibly change the entire history of mankind as we know it... Prepare your anus for...
Superman - Behind the Muscles
I really hope Lange actually made this... I'd hate to look like an idiot. If he didn't PotW goes to Comic Book Guys :D
I'd like to thank my partner in crime Kaibaman41... who wanted me to post a news article about ponies... FOR SHAME!
Also thanks to viewers like you.
I don't really have much else to say here sooooooo.......
BYE!!!!!!!!