g1 Spotlight: Half-Genie Hero
9/29/13 5:00pm
| | | |
| --- | --- | --- |
| | | |
| Creator: | Writer: | Researcher: |
| g1 Woodyman | g1 Caboose_-1 | g1 Mach5Mike |
WWWWWWWWWWWWWWelcome out to the g1 Spotlight on ScrewAttack.com everybody! Hey...I'm g1 Caboose. And my silent partner in crime is Mach5Mike.
Welcome out to the most entertaining collaborative blog of your video gaming week. I...oh we're not allowed to parody SideScrollers? Damn. Curse you originality!! I wanted to take the James Cameron approach to this thing!
Let's get this show on the road then kiddies.
It's another week so that means that we have more Epic Game Music for you guys! By the way, everyone should congratulate James for getting picked up by Retroware. Don't worry, he's still posting here.
Note from Woodyman: TRAITOR!
Next up is a music video by g1 Dum Dum Dugan. Note that he only made the video, not the song, which is called "Declaration of War" by OA and Scaredsim.
And last we have a blog showcasing music from the Kirby series by g1 ultraguy. I seriously love me some Kirby and this blog of his makes me happy.
In this week's artwork we have...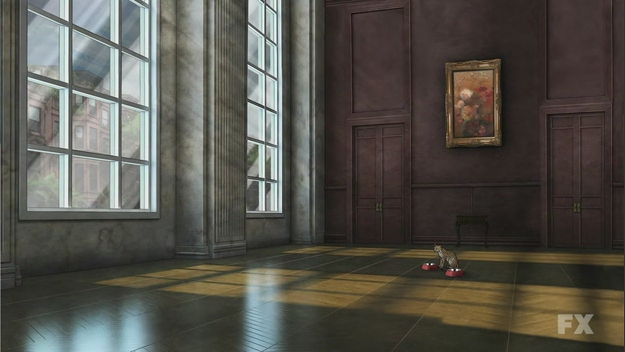 An Archer reference. Nothing else? Really? I guess we'll just move on then.
((DANGER ZONE!))
Not too much going on here either this week. That being said we're advertising some Kickstarters you may or may not be interested in.
The End Draws Near
The Titanium Man of Flash Gaming is up to its 8th game already. The announcement has been made and teams set. I wonder if we'll ever have a Steel Man of Mobile Gaming or Carbon Nanotube Man of Portable Gaming?
Too Many Options Here
The Playstation 2 has the biggest library of games to date. To find the best ones is no small task, but g1 Darkseid2 has an idea to fix that. He wants your opinion to help create the Top 50 PS2 Games. If you're partial to the forums then that version of the list is here.
Your Opinion Matters
g1 Lagunacloud is in a group of indie developers and they want your input on how their games should be made. He goes into more detail here.
In Case You Weren't Sick Of Hearing About Them
Both Mighty No. 9 and Shantae end just a few days from now. The former has announced the new stretch goal for portable consoles and the latter is edging closer to the first stretch goal.
Taking Hostages
That title only kind of worked in my head. The point is, River City Ransom: Underground (get it? Ransom. Hostages?) is entering its final week but it may miss its goal! If you want to check it out, do so here.
Sigs For The Week
Got a couple nice sigs for this week including a pretty badass Umbreon one.
Commence Fanboyism
In case you've forgotten, the next DEATH BATTLE will feature Star Fox vs Bucky O'Hare. But how well do these two actually match up? Head on over to the forums for some lively discussion on the subject as we all await the DEATH BATTLE Previews.
Note from Woodyman: I did no research, but if Bucky loses I will flip tables.
We had quite a fair number of reviews hit the site this week from the HQ, most notable being one of the single player mode of GTA V.
We also got to see Nick eat a Twinkie Wiener Sandwich (that Craig may or may not have dropped) and the guys met up with some musician in Tulsa. What was his name again? Some weird guy named Al?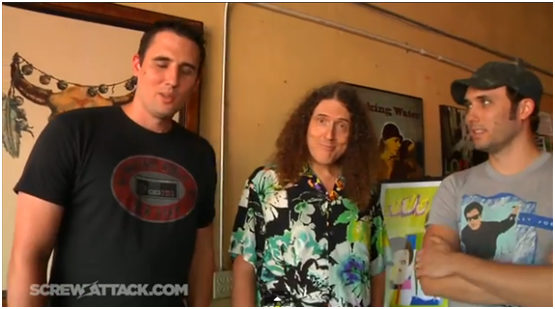 I hope none of you have opinions, because we're throwing so many at you that we've already mapped out how you feel about everything. That being said: your favorite cereal is now Count Chocula, you think Daft Punk is better than Skrillex can ever hope to be, and you believe that it is acceptable to hug strangers in an elevator with you since they can't escape.
AVGN Adventures
Many of us have already played AVGN Adventures and the Crew has been no stranger to plugging reviews from other sites. But we picked up a few for this week's Spotlight from the g1s. So check out the review from g1s DarkKanine and Lagunacloud.
D'Oh!
You guys remember playing the awesome beat 'em up The Simpsons Arcade Game? Well former Crew member Drake and special guest Gaijin Goombah decided to do a little catching up with this classic game.
Best Metroid? I'd Say So
g1 NFreak is doing a month of Metroid and decided to turn his attention to probably my personal favorite entry in the series: Metroid Prime.
This Is Why You Can't Out-Pokemon Pokemon
That title actually makes sense when you check out g1 CaztheGamerGuy's review on Spectrobes: Origins. Long story short, the game is an attempt by Disney to outdo Pokemon, but is it actually a hidden gem?
It's Kind Of Like Tempest Meets Gradius
Both Gradius and Tempest get a lot of attention in the shmup genre, but g1 BeneVolentDickNes decided to show off a game that's a nice mix of the two in the form of Gyruss. Oh, and the video features kitties.
Don't See Enough Of These
"These" being point-and-click games. g1 guardiancollective shows off some game probably no one has ever heard of named "Dreamfall". And yes, there is an obvious James Bond reference made because none of us have shame.
Completely Completed The Complete Collection
g1 bigjoe91 recently undertook the challenge of playing through the Final Fantasy IV Complete Collection and just finished it up. So how did it turn out? A masterpiece or a cat-astrophe? Yep, we're pulling out cat puns here. Quality writing on the Spotlight this week folks.
Fun Fact: This Syncs Up With The Power Rangers Theme
I speak of course about The Wonderful 101, a game that g1 omfgblondie decided to review. The WiiU is hurting for games, so is this one worth the wait?
Straight From Sega's Classics
g1 OutdatedGameReviews takes us on a trip as he takes a look at a Dreamcast classic: Shenmue. This game has always been described as a little different for an RPG, take a look why.
Golden Oldies
Well okay, they're not really that old, but g1 QuartrGuy certainly feels that way. Especially as he counts down his Top 10 Nostalgic Games. Even going as far back as the the Atari 2600.
Not Sure Some Are Exactly Hidden
g1 MetalJesusRocks continues a list of hidden gems on the SNES with another 10 games. I'm not so sure that Lethan Enforcers is a hidden gem, but I guess I'll let it slide.
Name 3 Video Game Women
Chances are you thought of Laura Croft, Samus Aran, and Chun Li. But there are plenty of other women in video games that are overlooked for one reason or another. g1 Filmtricity decided to look at 10 such women.
This Could Go Under Music
But it's my week to write so nuts to me! Fearless leader, g1 Woodyman, has put together a list of the Top 10 SNES Final Boss Themes. Did one of your favorites make the list? Or were you never able to even make it to the final boss of one of these games?
This Is Seriously A Bad Idea
You can make a drinking game out of video games pretty easy. However, there are some games that you really should never drink to and g1 Dylan found out that AVGN Adventures is one of those games. So what happens when you take a drink each time you die? Hilarity.
I Think I'm A Clone Now
g1 ParadiseandFaries has started up a new show called "Pretenders" where he shows off clone consoles. To kick it off, he starts with the Funstation! Then again, putting the word "fun" near that thing may be giving the so-called console a bit too much credit.
Another Fun Fact: Nuptup Is In This Game
If you watched Jared's Nuzlocke series then that's significant. Anyway, the indie game Volgarr the Viking released not too long ago and g1 Emessal decided to put it to the test in his Gamequisition series. It's rated S for sandwich too!
This Isn't Anything Like The Movie Running Man
Although it's easy to get that mixed up with a name like "3D Battles of World Runner". The Heavy Metal Gamer decided to bust this guy out from obscurity and discovers where the inspiration for those Sonic 3 special stages comes from.
Clearly Not One Of The Best Games Ever Made
g1 Really Freakin Clever is taking a break from showing us clever things in games and opting to show some...not so clever things with The Legend of Zelda: Ocarina of Time.
Believe It Or Not, Breasts Aren't As Big A Deal In Japan
It's one of the more easily pointed at cultural difference between the east and west: the views on sexuality and sexism. While both eastern and western games contain risqué content, the way they are shown is vastly different and that can lead to some reviews that are more ethnocentric than not. g1 Mazer digs into this with the new Suda 51 game Killer Is Dead.
About As Pointless As Politics
Time for a bit on controversy as g1 joeshadowman gets something off his chest. More specifically, how some gamers seem to view video games as something more than what they are and how that can be a detriment to other things.
Why Do You Retro?
Retro gaming has really taken off in recent years for various reasons. As many older gamers can make videos of older games and many are making games in the indie market now with the same ideals of what a game should be as they were in the past. g1 RetroLiberty has made an entire documentary with YouTube personalities on why they retro. It's well worth your time.
Apologizing For Saying A Game Sucks
g1 That One Guy Named X recently lambasted Ace Combat: Assault Horizon. Now though, he's having some second thoughts about it. Does the game really deserve as much scorn as he put on it or is it really just an irredeemable pile of crap?
Anyone Who Says That Halo Is Better Than DKC Needs To Be Slapped
g1 Bygjuce wants to keep this retro train we got going moving by talking about the differences between old-school and modern gamers. Not just the way they act but the way they look at games today compared to what we had back in the 8 and 16 bit eras.
Almost Didn't Want To Put This In Here
g1 Noble Team 1 has decided to talk about a number of popular games that simply bored him, regardless of controversy. I gotta say, he's got balls to talk about Kirby the way he does (better watch your back when I'm around now).
This Is How Superheroes Should Be
What truly makes a superhero story great, specifically a classic one out of Japan? g1 Darkseid has got quite a bit to say on the subject thanks to an anime named Gatchaman Crowds and its portrayal of a rebooted classic series.
Know Your Gaming ABCs
g1 bigjoe91, using titles presented by other g1s, is up to the letter R in his ABCs of Gaming series. I would have suggested "Republic Commando" myself for this one, but that's just me.
Get To Know The Makers Of AVGN Adventures
g1 MadHero15 managed to score an interview with Freakzone Games, the designers of AVGN Adventures. See how they feel it was to work on a game with such high expectations and even put in some questions from the g1s.
I Got That Kung Fu Kill You Without Thinkin' Attitude!
Gotta love Duane and Brand0. Not surprising that they came up with their lyrics to a game like Kung Fu as g1 Figcoinc finds out in his latest Retro Remix of this NES classic.
Just One More And Then I'm Done, Promise
The m.u.g.e.n. betting site Salty Bet can be pretty cut throat. You can also find out real quick if you have a problem that will bar your from certain activities as well. Don't worry though, as g1 Cyrax has made a handy guide for surviving Salty Bet. Just don't let it go to your head.
This Is How You Survive The Apocalypse?
g1 The Stickman shows of an NSFW text-adventure game in "Flexible Survival". The game would provide great commentary for anyone, the fact that it's Stickman playing it makes for a great read.
Bring In The Bros
g1 winbzy made a list back in 2011 on some of the biggest bros in pop culture. Army of Two aside, the list still rings true since you'd be hard pressed to find bigger bros than these. Bro link.
Death And Rebirth
There's no small amount of speculation that this industry is going through some difficult times right now, some even claiming that a crash is imminent or already happening. There certainly is plenty of evidence to this fact with even big name studios facing financial troubles (looking at you Capcom). Times like this make us wonder what is wrong with the industry and what can possibly be done to try and fix it.
One of the first people I heard to make the argument of a crash happening has a theory as to why. RazorFist, aka the Rageaholic, points to the death of the "Middle Market" as a reason. With this thought-provoking piece, it's easily my Pick of the Week.
Wasn't that fun children? Can you say, "I'm special"? I knew you could.
Big thanks to Mach5Mike for researching for me again, this time with 98% less spambots. Also, thanks to Woodyman for letting me write the Spotlight this week, it's always a pleasure to show off all the amazing stuff our community can make.
Now I must go; my people need me. AWAYYYYYYYY!!!!