TLDR;
| | | |
| --- | --- | --- |
| | | |
| Creator: | Writer: | Researcher: |
| Woodyman | Flapperdoodle | Mach5Mike |
All the best g1 made content from September 3rd - September 9th
Wassup g1s! How's everyone doing this fine Sunday?
It is a pleasure to be back working on the spotlight this week with my researcher this week, the awesome Mach5Mike. As many of you know, I was gone for most of the month of August, so I sadly missed out on a ton of awesome g1 content. So when I got back, I felt it was my duty to get back into the swing of things and catch up on the g1 community and their awesome work. And what better way to do this than to be constantly checking the g1 blog/video sections for the g1 Spotlight?
Exactly, there is no better way. So get ready to see the best of the best content from this week, all thanks to the g1s. Let's rock!
WOAH, THIS EXISTS?
It's time for some musical enlightenment. Options?
Well, a great option is to listen something originally written! Distrotion has actually created his own song, and it's great, so give it a listen.
What if Skyrim became a rock concert? Ok, that doesn't sound good at first, but Haxxal actually takes that idea and makes it work… epically.
If ya want something even more eardrum-breaking than that, Jawbreaker Alumni has shared with us something from YouTuber MetaZero. It's a rockin' remix of the Baby Bowser boss theme from Yoshi's Island! Hell yeah!
And if, for some odd reason, those other three options weren't appealing, Blake Robinson uploaded some awesome orchestrations! One is of the Game of Thrones theme and the other is of "The Last Day of the World" from Chrono Trigger. Give them both a listen, because they both are beautiful.
Has the music set the mood? Good, let's move on.
Before I show what everyone is waiting for, let me show you some other works of art.
AND, WE'RE, THE GOOMBA GRUMPS!
Gaijin Goomba, host of "Game Exchange", felt lonely as a goomba. So, he created some friends for him in the form of JonTron and Egoraptor… as goombas!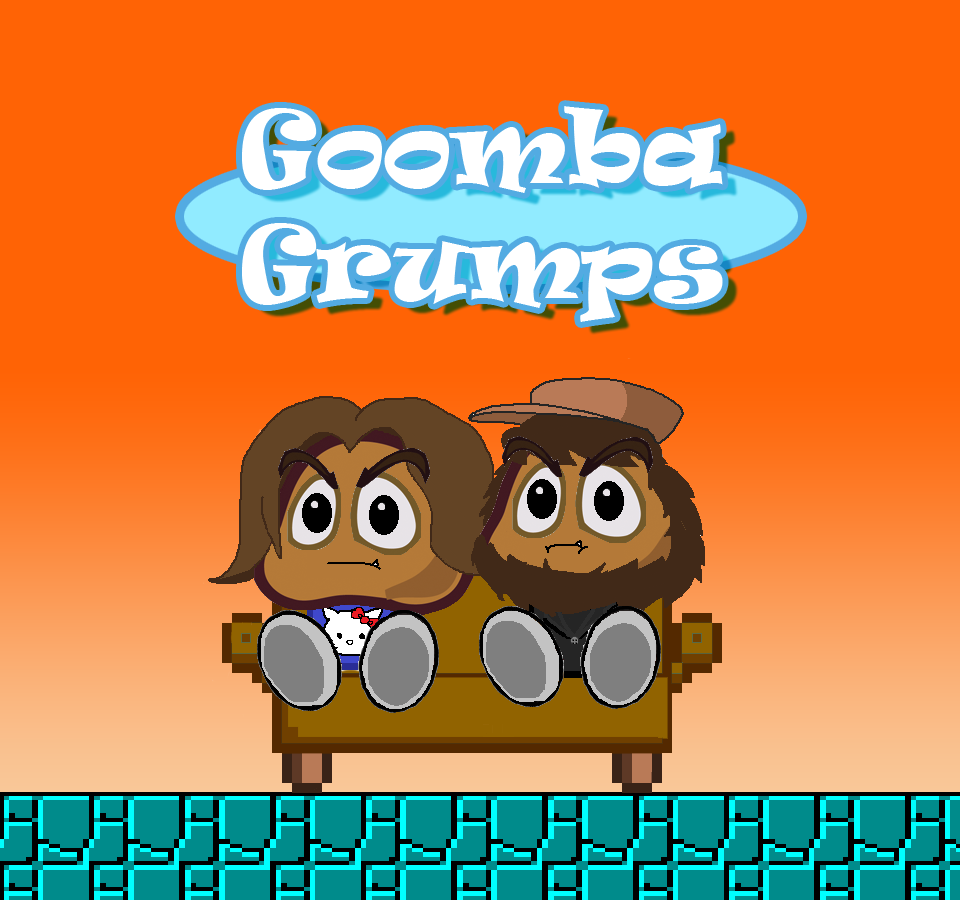 Wii Fans Beware
Joriss made this fan comic. Looks like he isn't the biggest fan of a certain controller…
I Love This Art Style
And CKing91 made this surprisingly epic picture of Pac-Man and Mario. Look at that stare in their eyes…
And… Like Last Week…
The DEATH BATTLE fan art goes on…
And on…
And on…
But in all seriousness, thank you to TOKYOzombie and Tjernstrom (yes, he made two) for their awesome artwork. Man, can't this DEATH BATTLE just come already?
Who Here Plays Counter-Strike?
Well than head over to this blog cause VariXX is starting an official g1 server for Counter-Strike: Global Offensive. Come play with your fellow g1s!
Who Here Wants to be the Next Titanium Man of Flash Gaming?
Well, apparently a lot of g1s do, as this year's competition is fierce and quite big. And you guys only got until tonight before the deadline hits, so get your act together and see what the next game you gotta play is!
Who Here Likes Cartoons?
Well thankfully g1 Events is finally getting onto starting Cartoon Night, as well as some other nights, or whatever. Check out the latest news in their most recent update.
Who Here Likes Having Questions Answered?
Ok, I promise that's the last one, but in all seriousness, TopGun wants to be sure you all have the facts about his StarCraft II tournament. Here are some important questions, answers included.
Lollipop, Lollipop, oh Lolly, Lolly, Lolly
Jawbreaker Alumni hosted a contest about how many times Lauren died in Lollipop Chainsaw. Somebody was victorious, and this blog will reveal to you who that lucky soul is.
Gather Round Y'all
Attention all Medics, Scouts, and Pyros! Come play some TF2 with the official G1 Steam TF2 Group! I know a ton of you play TF2, so I don't know why this blog hasn't gotten enough attention. Go join the group, cause Drake already has.
Show Nintendo Some Audible Love
G1 Herao is working on a podcast to celebrate Nintendo's 123rd birthday! What's even better is that this podcast is completely made out of audible submissions. You've got until the 23rd, so see the blog for details on how to submit your entry.
Jared, Chad, Sam, and this week's fourth player: Lauren, sat down to play Mario Party 7. G1s rooted, things were said (mostly sex jokes…), bets were made, and drinks were consistently sipped down. But in the end, it was Swag Master Sam who took the victory. This game was truly close, with plenty of intense moments. It truly was one of the funnier and more entertaining MPAD's we've had, so thanks to Jared, Chad, Lauren, Sam, Bryan, and Nick for a fun time. Until Mario Party 8… oh boy… (if you'd like a recap of the night, here's one by King Meatball I)
Also, I do really wanna give a shout-out to Jared and Bryan's PAX coverage. They've been showing off some awesome demos, interviews, panels, and photo galleries, so go discover what you may have missed at the event page.
The Spotlight will eventually be more organized, but for now, randomness ahoy!
Anchors Away!
JETZ.acx, our resident blog master, has once again enlightened us with another useful skill for us bloggers. Today, he's here to teach you how to work Anchor Points into your blog. Interested? Then read up.
Somebody Finally Sets us Straight
Everybody always says Navi is incredibly annoying, but Nitroklop has had enough of it. He doesn't think she's that annoying, and he knows why this cultural phenomenon has gotten so popular, and the answer probably won't shock you.
Man, it's so good, it's scary.
ShadowOfTheServer used the godly powers of Source Filmmaker to recreate the infamous scene about a certain "touchy" subject from Sonic Sez. *shivers*
Put Your Hands up in the… Toilet?
If anyone can make a true character study of that random toilet hand from The Legend of Zelda: Majora's Mask, it's Ferret75. He goes rather in depth on this mysterious character, and you actually WILL be utterly shocked to see what he figures out. It's a great read.
JRPGs You Say?
Indeed I do say that, cause Terra_corrupt continues his series "Prime Example" by discussing the JRPGs he thinks best represent the genre as a whole. Give it a look.
We Meet Again, Randumb…
Yes, as I curiously wait for my own podcast to kickstart again next month, BobboHead13 continues his podcast, "Randumb" with DRQ, darkvapor, and this week's special guest, The SpoonMan Abrams X! As a podcast producer myself, I can say this is a very entertaining podcast, so give credit where credit is due.
The Words of Truth Have Been Spoken!!!
That's right, RRPG made a video this week discussing why the Wii U should be less about graphics and more about the game experiences themselves. And god bless him for it.
LINK TO THE PAST-CEPTION!
Dark Magician and his friend Green Cape decide to each play Link to the Past… at the same time. In the same room. With the volume up on both. God help us all.
Ain't That a Kick in the Head
If you get what I am referencing, congrats, you have good taste. But you also have good taste if you take part in ScrewAttack Mafia at the forums. And after reading this story version of the latest game, I definitely need to get into a game soon.
I Honestly Didn't Know This Was Possible…
You can actually make true blue music in Minecraft. I knew there was a music block, but this guy goes on to make the Super Metroid fanfare man… this guy's got skill.
Can Rhythm Games Just DIE Already?
Seriously, I am getting tired of them. And just to show us how similar and how frequent they are, QuartrGuy actually puts two of them into battle; Rhythm Thief and Theatrhythm Final Fantasy. Which is better? I would say who cares, but obviously some of you do.
SPAAAAAAAAAAAAAAAAAAAAAAAAACE!
Yeah, I know, it's tired, but I couldn't resist. But trust me, I love Portal 2. And thankfully Lordx1095 is let's playing it, and I'm loving every minute of it.
Wanna be Mentally Disturbed?
Well you've come to the right place! Woodyman, thanks to The Stickman, has written one of the weirdest, most demented stories I have ever read on ScrewAttack. It's quite a ride...
You Won't Wanna Enter This Battlefield
Dark Magician and darkhyrulelord teamed up to see which of the big three consoles is the best: the XBOX 360, the PS3, or the Nintendo Wii. Check out what they discovered in this blog.
Sometimes, it's Better to Take the Easy Way Out
Sure, it's great to play it normally so you can feel slightly challenged, but sometimes people just wanna take it slow and play Easy Mode for some games. StealthMaster86 perfectly explains why this is and why it doesn't deserve to be judged.
Wii U: Mystery or Marvel?
Meh, I'd say mystery with still no pricing or release date. But psb123 is quite excited for the games, and he shares the top 10 games he wants to buy first in this video.
Thank You, Formspring
Alpha Unit has been asking some very random questions on Twitter and Formspring lately, and now he is revealing the many answers he got to the g1 public. Come see what the g1s have to say.
Let the games… begin!
As mentioned previously in this Spotlight, TopGun is working on a StarCraft II tournament, and in fact it already started. You can begin watching it with the first match up here!
Yeah Bryan! Represent Blanka Proudly!
In the 25th episode (holy crap there's been that many?) of Canadian Brony's FVGC, he gets a few more g1s to discuss their favorite video game characters. Spoiler… Bryan's is Blanka...
Truly a Community Effort
2200 and a bunch of other awesome g1s share their favorite hack and slash games in the form of a top ten. The g1s truthfully have good taste, cause there are some true goodies on there, so go see the results.
Psh, Story is for RPGs
That's the main response I hear from most people, but SFDefenderForLife is here to take stories in video games into more consideration. Take a look at his opinion, cause it is quite the read.
Where's the Sword of Fire?
Seriously, man? Bigjoe91 made a top ten of his favorite fire attacks, and he didn't include the Sword of Fire from Kirby 64. I mean… wow, quite the overlooking. Naw, it's a great list. Good job buddy boy.
Oh god, that's horrid!
Dallinag is back with another episode of Ask the Experts, and this time they discuss where Lakitu's spiky balls come from… and… it's not the prettiest imagery.
Half-Life 3 is Definitely Not Gonna Happen
A while back, Jamiethecomic uploaded a documentary called "Behind the Controller: The Making of a Gem" where he discusses the game creation process. That documentary had interviews with the biggest names in VALVE, including Gabe Newell himself. Go watch them to learn the truth behind the gaming industry and creating a game itself.
DEATH BATTLE, eat your heart out!
Ok, not really. But, KING SHIN KICK has shared with us an episode of Super Power Beat Down, a show similar to DEATH BATTLE. This episode pits Lara Croft against Nathan Drake, and actually lets the battle come to life. Holy crap, I'm in.
Well Finally Someone Pull the Plug…
I didn't see G4 as anything but an embarrassment to gamers in the form of a television network. But logicallydashing thinks it meant just a little to us gamers, as he explains in this little piece. G4, I may not miss you, but I'm sure you have a huge fanbase, so you will be missed.
The Force is Strong in this Review
ParadiseandFaries has another episode of his show "Sega Fanboy" for us, and this time, he takes a look at Alisia Dragoon, a game that seems to be reminiscent of another popular sci-fi series…
It's Like The Legend of Zelda. WITH MORE DEATH!
With the recent release of Darksiders II, GammaDX27 wants to go back a little bit to the original Darksiders and give it a look. Can it hold a candle to the sequel?
So Much Mega Man on My Mind
With my current retrospective, I have Mega Man in my thoughts currently, and it's perfectly timed with its 25th anniversary. And for those of you who are still a little annoyed, AkumaTh has some nice alternatives on how to celebrate the event. And give Mega Man a break guys, yeesh.
Boobs.
Nah, I'm joking of course. But for realzies, Alpha Unit has interviewed Kainin, Kailoli, and Roocrow in his latest edition of g1 Interviews. Give it a read, they truly are interesting people.
IT'S ELECTRIFYIN'
It seems we just can't escape the new DEATH BATTLE these days can we? Especially not now, cause the Official Death Battle Fan Blog has released their officially prediction blog. Who do they think will win the DEATH BATTLLLLLLLLLLLLLLLLLLE?
The name's Doodle. Flapper, Doodle.
There are a lot of James Bond games, most notably GoldenEye 007 for the Nintendo 64. But Thievius Racoonus wants to teach you all about the forgotten Bond titles. Take a looksy and learn about a few new games.
One of the games I remember very fondly when I was a much younger child was Spongebob Squarepants: Battle for Bikini Bottom. It was so much fun seeing my favorite cartoon at the time come to life. Looking back on it, even today, I think the game has a brilliant design, fun levels and boss fights, a good script, a well done collectibles system, and did Spongebob justice. Ya know who else agrees with me? Flashpenny.
Flashpenny re-uploaded his review for it. He discusses why this game is so good. If you haven't played it, ya really should try it out, cause it is easily Spongebob's best game, no question.
Why is this not featured? Honestly ScrewAttack, why is this not featured? TELL ME.
My pick of the week this week, plain and simple, is The Stickman's final installment of his Space Penguin trilogy, "Space Penguin #3: Oh no! The President is a Bitch!". Take it from me, The Stickman has put his hard-earned time into this trilogy, and he is not getting nearly enough credit for his hard work. His comic Space Penguin has been a very fun ride. Sticky's comic is full of humor, pop culture references, action, drama, and very good looking art. It's a shame the series has to take a break, but I think I speak for quite a few people when I say I am eagerly awaiting his return.
Also, for some answers about Space Penguin, check out the FAQ here. It does give some good answers to some VERY good questions.
Good job Sticky. You've done some good.
And, that's a wrap. Great job everyone!
I'd like to thank Woodyman for letting me write again, and thanks a ton to Mach5Mike for helping me find the best blogs from this week. There was a ton of stuff, and we did have to cut a lot of stuff, so thanks for understanding Mike. Thanks to all of you for reading, and I hope I'll see you all at my gaming blog!
Ah, it's good to be back…
See ya on the flip side!