TLDR;
| | | | |
| --- | --- | --- | --- |
| | | | |
| Creator | Editor | Writer | Research |
| Woodyman | Foxdark22 | Hero of Lime Bro | Mr. West |
Showcasing the baest g1 content from this past week.
Hello everybody, it's Sunday, so I guess you know what that means!
Sit back, and enjoy the ride with me and g1 Mr.West.
PLEASE DON'T STOP THE MUSIC! MUSIC MUSIC MUSIC.
First we have a Chrono Cross cover by Jez79
The great blakerobinson brings a taste of his musical remixing talent with some Castlevania Dawn of Sorrow
Blues the Hedgehog gives us something blue!
Then we have this drawing of some character I don't recognize by Jesia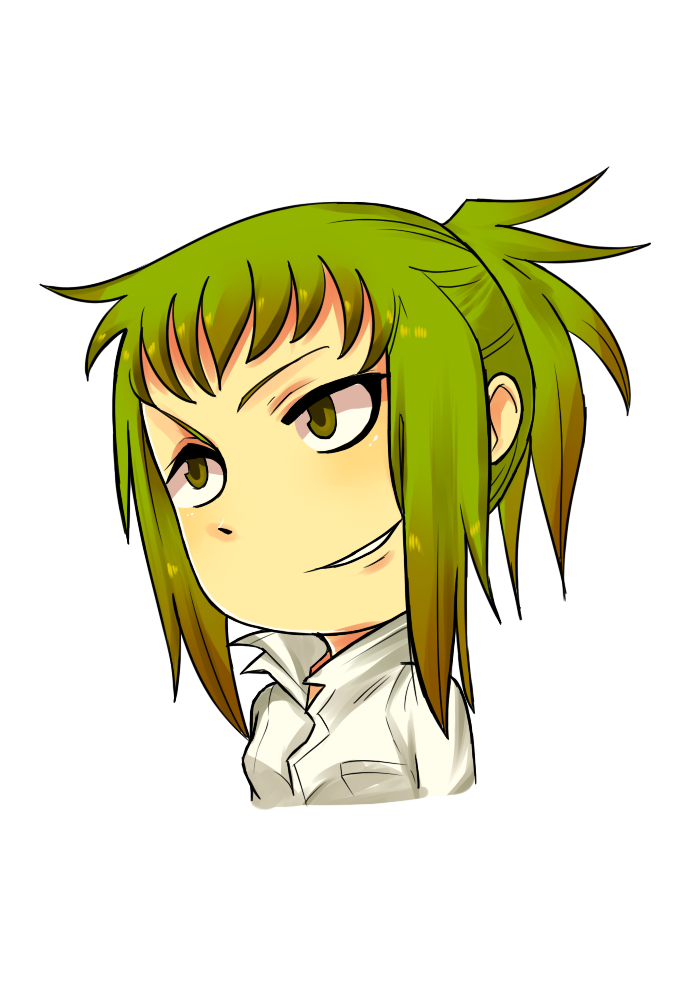 Metaking made a sig. Why? Just Cause he wanted 2
Thunderplant made a contribution for the Titanium man of gaming:
And last but not least, Distrotion made an anime sig:
Wanna be the very best?
Because the boss Woodyman is hosting the next TMOFG round,so tell me,are you a bad enough dude to win this round?
Did you have questions?
WELL NOW YOU DON'T! With the g1 Spotlight FAQ blog. Woodyman and his team (AKA his split personality) anwser everything!
What are you thinking?
Bored? Tired of posting you thoughts onTwitter/Facebook? If that's so, why don't you post those same thoughts on current thoughts? Warning: hilarity ahead
Problem,life?

Lost in life? Everybody near you has given you crappy advice about your problems? Why don't you try it with us, g1s?
Brentalfloss gives us a new video, this time it will shock your socks off:
The ScrewAttack crew gives us their reasons to love and hate Doki Doki Bros. 2
Finally we see what is the best damn video game weapon
And we are off to the main course!
I AM BAD!
And malicious too, but you're not here for that, you are here to see EpsilonZX's written review of the game Malicious, right?
Gotta learn them all!
The Pokémon franchise has become somewhat stale over the years, here is an awesome list by the Berale02 on how can the franchise improve.
An odissey
Need something for the weekend, then I recommend taking a look on g1 The Windwaker's review ofEnslaved: Odissey to the West
Let-sa play!
A game with Madhog. Hint 1: it's psycho-scary. Hint 2: It's not silent
I used to think
That Mario wasn't juiced over, until I read MegaSilX1's blog about obscure Mario games.
I DIDN'T ASK FOR
g1 JOESHADOWMAN'S BLOG ABOUTDEUS EX HUMAN REVOLUTION. But it's still a good read anyway
Why we love them
g1 LSDreamscape tells us the 6 virtues that makes us love video game characters. Warning: It may contain spoilers, or not.
Du dudu duduu dudu dududududu
That's The Simpsons theme... Just try harder... That's right. You see? And by the way, why don't you check out The Stickman's 10 sad truths about The Simpsons?
Rare is guilty of this
Backtracking... I don't like it. Banjo-Tooie, DK 64... UGH! So many items... But Jawbreaker Alumni asks the question: Is it good or bad? Check it to find out.
I (Fox) actually have a 3DO game
HAHA! But I can't play it because I didn't pay the $700 USD for the (mostly) piece of crap that the 3DO is. Paradiseandfairies show us some stuff about it.
SONIC BOOOM SONIC BOOOMM!
Our friend Ferret75 (He has killed 75 ferrets, that's the meaning of the number) is doing a let's play on the classic game Sonic The Hedgehog and he is accepting challenges!
Coming back, coming back to you...
Some places are unforgettable, like... ummm... aw dammit, I forgot... Well, Darkhyrulelord diidn't as he brings the Top Revisits in Gaming.
OMG WHO WILL MAKE IT FASTER?!!!
It's either Tom the Iron Man, Roocrow (Shelby) or Kainin as they race through Zelda: A Link to the Past. Check part 3 here and see some special guests appear to say hello.
Mmmmm.... virtual women...
Drake... yes, ScrewAttack's second Nick, AKA the guy that wanted to play Rock Band and screw everything up making me (Fox) very sad, has a new show and this time is showing some sexy videogame chicks.
Trusting and believing are two words a game company needs for success, gamejudge wrote an interesting article about credibility for a franchise.
Tired of hardcore gaming? Tired of always being stuck in this one game to no end? Say no more! F#ck commitment, and let our friend g1 bigjoe91 tells us ten ways of having benefits, with games.
Well friends, this is all I can give you, enjoy your Sunday
Lime off...
(Note from Fox: Sorry for being late but things came up with the writer, so we had to take more time, see you soon!)