g1 Spotlight: Randomize
11/18/13 11:10am
| | | |
| --- | --- | --- |
| | | |
| Creator: | Writer: | Researcher: |
| g1 Woodyman | g1 Noble Team 1 | g1 BigBossofMoss |
Wait what ... you sure it's my turn? Okay then, well folks looks like I'm writing the spotlight again after being bribed that I would get some bacon if I write the spotlight, and I'm joined by BigBossofMoss this week as my researcher. Since this might be my last spotlight for this year let's us celebrate it with BIG EXPLOSIONS, SINCE NOW IT'S ENDORSED BY MICHAEL BAY... BOOM!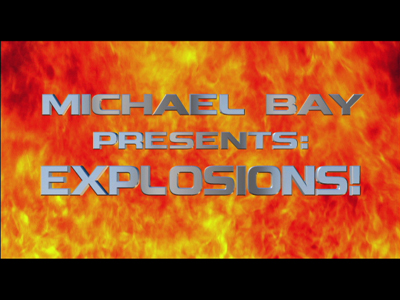 NOTE FROM WOODY: I feel like we already used that joke.
Wicked
Well since many of you might be hungry, why not whip a wall to find a pot roast, while listening this cover of Wicked Child from Castlevania by James Ronald, also known as Epic Game Music.
Stunning
Well since many of you were amazed by the Amazing Frog last week, why not have a wallpaper to such magnificence courtesy of Ice Cream Dude.
Sigs Ahoy
Well if you wanted to join a sig contest hosted by Darkseid for the winter, here is your chance to join this cross forum sig contest right here.
I don't know what these things are!
But if for some reason you want to tell the g1 community what guild/clan/team/company you're in, then you can do it here.
Merry Jesus Turkey Menorah New Day!
It's holiday season again so it's time to share what you're doing for the holidays. I'll be crying myself to sleep knowing I'll never be as cool as Woodyman.
SIGS:
Made by Wulfon
Made by Tielfigs
Made by Darkseid
Well with the launch of the PS4 the Nick and Craig tells us about what they consider to be the best launch titles ever, but they also included another video of honorable mentions as well. Plus we also had reviews of Batman's debut on the Vita and 3DS, alongside the most pun-tastic review ever with Assassin's Creed 4.
Well time to get started on one dazzling spotlight with the best content that the g1's have provided us this week.
I won't buy that for a dollar.
Well looks like Super Smash TV was on the Master System, which I didn't know till I read this review by the British Video Game Nerd. Is it as smashing as the arcade version? Yeah.......... no, but you can still find out how this port stacks up.
I wish to be the very best.
Many of you have begun and even finished your journeys in Kalos, except me, but regardless BenNiLing has one in depth review of Pokemon X. Warning read this blog is one long haul and only suited for those that want to be like no ever was.
HAWT
Sonic sure has been through his ups and downs, but sometimes you wonder if there is anything more about the Blue Blur, than just speed and chili dogs. (Note from Woodyman: Bestiality?) Well Ultraguy is here with some conspiracies that might be plausible, when it comes to Mr. Way Past Cool, which you can read about right here.
Rock bottom
Sometimes even the greatest video games series reach a low point, and Kazam2007 tells us what he thinks are the low points of some beloved series in gaming. While it doesn't have enough Sonic the Hedgehog on the GBA, it still a pretty cool list to read.
Current gen
Well with the PS4 being out at the time that I wrote this it might be a good time to look back at the games for this current generation of gaming, though with a stickier taste. Why not see read what games defined this generation for the Stickman in this blog, plus gimps and lizards too.
Waggling
While the focus for a lot of gamers might be on the new PS4 as of now, Wamahato is here with with a look back a list of the best offering of the Wii. After reading this first part I'll definitely be looking forwards towards the rest of this list, but till then you should check out part 1.
YAARGH
WELL AHOY MATEYS IT BE TIME FOR A ASSASSIN'S CREED 4 REVIEW, and I'll stop with that as E-Dog gives us his thoughts on the most recent entry in the series. Also this blog is said to have prevented scurvy, so watch this review for your benefit. and a bottle of rum!
More POKEMANZ?
I bet none of you have gotten tired of Pokemon, of course not so why not watch a video from AsaiNeroTran, that details his favorite 10 Pokemon. I just wished that watching this video would come with a Master Ball, instead of this Lure Ball for me, though still it's a pretty good video.
Blast processing
Well the Blue Blur's most recent adventure on the Wii U certainly looks interesting and EngimaXtreme looks at Sonic Lost World on the Wii U on the latest episode of Unboxed. Hopefully I'm good enough to watch this video once more, though so should too as that wouldn't be good if you miss this out. Note from Woodyman: Was that English?
Spazis
Well with Killzone Shadowfall looking to be the best overall title of the PS4 launch, CouryC looks back at the original game in the series in this video. Does this game hold up, well if you like a really dark game, then yes it does, but regardless check out this video review.
8-Bit bowl
I know so many of you love Football, well at least some virtual one... Maybe one of you do, but Living in 8-bits has one large Tecmo Bowl Tournament in these two videos. The only thing this video needs is some nachos, since I really want to be a nacho man.
Dreamy
I really love the Dreamcast, well specifically I love it for it's fighting games, but thanks to this video from MetalJesusRocks I now want more games for this old friend. If you happen to be a long time Dreamcast owner or someone that is looking into buying one, check out this video of some cool games for it.
Bones
Well one console remains to be released, but if you want to find out more about the Xbox1 well Gear12 and MadHero15 share their thoughts on what they think of the new Xbox. Is it as bad as the internet has deemed the Xbone, or is it solid enough to warrant a purchase, well find out on the next episode of Dragon Ba... on wait nah just read that right here instead.
Where are they now?
The Mario Kart series is known for it's crazy items like the blue seeker of death or the blue turtle shell, but what about one time items like the feather from Super Mario Kart, well Prowler64 is here to tell us about those items that are no longer seen, and to tells us how they can be implemented into Mario Kart again.
As gamers we all have different tastes when it comes to our favorite interactive medium, but being able to pick out our favorite titles isn't easy, though LightningandIce is certainly doing a great job at that with his first installment of his favorite 60 games. If you want a blog that is well written, nicely organize, and is just a great read well just check out this link RIGHT HERE.
WELL THAT WAS THE G1 SPOTLIGHT and oww my ears hurt from all that awesome content, and yes writing the spotlight means defying the rules of reality at times, so with that I'll be off to fight robot Jedi dinosaurs, or read William Shakespeare's Star Wars.
and I do hope you've enjoyed this spotlight as well.