TLDR;
g1 Spotlight is shortened this week due to technical issues.
Mega-Spotlight next Sunday combining 2 weeks.
Hey g1s,
Woodyman here and let me just say, I'm sorry.
The spotlight will be extremely shortened. I'm not here to make excuses and I don't want to get into it in a public place, but due to some lateness and the fact that my computer is a piece of garbage... this is a shortened Spotlight, with a mega spotlight combining this week and next coming next Sunday.
It was either this, or no Spotlight at all.
No one besides myself is to blame, so don't.
Every time I tried to add more to this g1 Spotlight, my computer crashed I got frustrated, I have no time today at all, and this is the result.
This spotlight will contain very few entries, just a few community/forum events that I think y'all should know about right away. I promise next week will combine g1 made content from this week and the next, so that anyone who released a blog this week can still get their time in the spotlight.


Game or Lame
g1 Jetz.ACX has a concept for a brand new game for the g1 nation. It's called Game or Lame and it's similar to Challenge Monday where g1s have to complete a gaming challenge and if they don't they're punished. Check it out now!
Goodbye Jared
g1 Ehsan is sad that Jared is gone so he wants to give him a proper sendoff. All you need to do is PM Ehsan your goodbye to Jared. As Ehsan says "It could be a writing that just talks about him and your well wishes, a picture, or even a video. However way you want to say your goodbyes is fine." More details in the announcement blog right here.
The Price Gouging Cat
If you're not a frequent forum visitor then I bet you didn't know we had this section. It's called g1 Market and it's a place where you can buy and sell gaming goodness.
Cross Forum Sig Contest - Fall 2012
Darkseid is back once again for his Cross Forum Sig Contest. What is this contest? Sig makers across numerous forums compete against one another by making sigs in a bunch of different categories. If you have ANY sig making skills, then check it out now!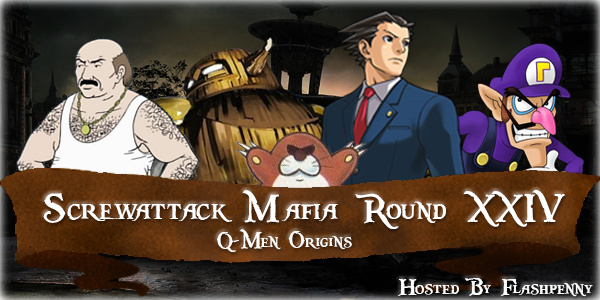 One of my favorite things to do in the forums is ScrewAttack Mafia.
"Mafia is a game that pits the uninformed majority against the informed minority. Occasionally there's an extra, smaller third party thrown into the mix in the form of the clique or psycho. In this round, the town will have to match wits against the Mafia, the clique and the psycho, all of whom are gunning for each other as well."
But it is so much more! I like to describe SA Mafia as basically a murder mystery in the forums. It's like Clue, but filled with cultural reference, deception, and fun.
The rules of the latest SA Round are right here.
and
The sign-ups are right here

Yes... this is really all that'll be in the Spotlight this week.
I'm terribly sorry, but there was no way around it.
Mega Spotlight next Sunday, I promise.
Woodyman