How to make the VGX's not suck ass
12/13/13 12:00pm
FOLLOW ME ON.
Y'know, if you want to...
Hey guys! Welcome to yet another wonderful, not-censored-by-Youtube Blog! We're nearing the end of 2013, and also Christmas so this is probably the last non-seasonal/Gimpy Awards themed blog from me this year. So....there was a little show entitled the VGX's that took place this Saturday passed, which turned out...interesting. Prior to the event, we were promised a rebooted, retooled and rebranded version of the VGA's more suited to modern gaming, a 'next-gen' show for a 'next-gen' year. So, what did we get? 3 hours of awkward, offensive banter between Geoff Keighley and co-host Joel McHale, about four awards that were passed out like takeaway menus through the mail-slot and a slew of mostly boring 'World Exclusive' trailers and reveals. Honestly, anybody with an iota of common sense would have known better than to expect it to be good, but for it to be perhaps the worst of Spike TV's annual gaming awards shows despite the fact that it finally eliminated pointless celebrity guests and shameful sponsorships? That was a surprise. So what went wrong? And what could be done to solve this problem in the future, if it even has one? Well, as a user of the internet, I feel it's my right...NAY...my duty to tell people how to do things in a way that pleases purely me! AND THAT SHALL BE DONE...NOW...LOOK...HERE IT IS!
...
....RIGHT HERE...
1. Have likeable, competent Presenters who actually want to be there.

Accomplished in VGA's? : No.
I think this was the issue most people had with the VGX's this year beyond all the other problems, a bad set can still produce a good show if you have the right team, but Geoff 'The Bland' Keighley and Joel 'The SHUT UP ALREADY' McHale are not the right team, they wouldn't have worked as separate presenters anyway, but with their powers combined? Car Crash Telly at its worst. Geoff has always been involved with the awards, and Spike TV's gaming content in general, but this was the first time he'd been the actual host of the 'big' awards show, and whilst he's clearly passionate about gaming and that's commendable, he's just the wrong person to be hosting this show, he lacks the presence needed to host 3 hours of uninterrupted programming and his interview style? Well...we'll get to that later. Joel McHale isn't a presenter either, he's a comedian/actor, and clearly one who wasn't payed enough to pretend he actually had any interest in hosting the VGX's, so instead of a funny personality to make the show enjoyable, he became a truly annoying pest looming over the entire presentation like a dark cloud of awkward side-jokes and fourth wall breaking interruptions. So, basically, we had a loudmouthed, rude comedian shouting everyone and everything down, and a dull co-host who just couldn't keep him under control. I got the impression that McHale's inclusion was a very last minute one judging by both his attitude and back-handed comments, and also the clear state of confusion and unpreparedness from both the guests and the staff (i.e Cameramen, Prompter Writers), but really it was never going to work, and in the future more thought needs to be taken over who takes the reigns. Really, it doesn't need to be someone famous, people don't watch these things for who's presenting them, if anything they'll tend not to watch them if they find out its someone they don't like. What it needs to be is someone who's enthusiastic, funny, likeable and professional. And I don't mean professional in a serious, no laughs kinda way, I mean someone who actually knows how to present, and how to react when something goes wrong beyond going "OH NO, OH NO". Focusing on two people rather than shoehorning in the cast of MTV's newest shit-awful reality TV show for five minutes is a huge improvement, but next year choose a less terrible duo to be in charge. They don't need to make the show single-handedly with their presence, they just need to carry it along without mentioning fucking adult nappies every 5 minutes and bringing the show to a halt by making fun of the camera man.
2. Populate your Set.
Accomplished in VGA's? : Yes.
Seriously, what the hell happened here? You build/rent yourself a massive fucking set but then go on to populate it with all of about 5 people? Again, I almost feel like this was a last minute decision by the crew, like they found out 5 minutes before going on air that they couldn't get an audience in due to health and safety or something, it was dreadful! 50% of the worst moments of the VGX's could have been removed or at least alleviated by populating the set with an audience. What was the fucking point of rebranding your show as a more laid back, intimate affair if you're not going to let anybody in to enjoy your fancy wood and rotating cogs? It's a late night, light hearted award show, invite a bunch of gamers and/or games industry members, set up a bar, let them have a good time, watch the show, laugh when needed...and...truly the most crucial of all...CLAP WHEN NEEDED. God damnit, how many times was a reveal, guest or award winner celebrated by the silent, awkward claps of Joel McHale and the intern behind the camera? Far too many, people were needed, and badly. In the past, the VGA's used to take place on grand, elaborate stages with a packed audience from all walks of life, the shows may have sucked but at least there was a sense that you weren't the only fucking person watching at the time. The VGX's should have taken a look at how Top Gear (And all its crappy international spin-offs) pull off the same concept they were clearly going for, but actually succeed. Beyond giving the most basic of impressions that your show actually means something, the audience is there to punctuate jokes and moments of gratification, and their presence allows for interactivity beyond the occasional badly read out tweet, it's just Live TV 101 to have a fucking audience for your awards show, and I don't quite get how Geoff and the gang managed to forget that this year.
3. Treat your guests with the respect they deserve.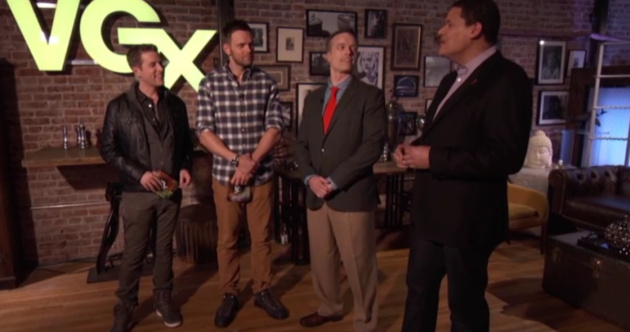 Accomplished in VGA's? : No.
This was the part of the show that pissed me off the most, honestly. I mean, we're used to bad presenters, awkward moments and even bad guests that are rushed along like a conveyor belt to speed up the show, but to treat your guests, who've been invited to what had been toted as a 'more intimate, developer focused show' by Geoff and the people making it, with such disrespect? It's a fucking disgrace, and another obvious rule of television that was completely overlooked by the hosts of the VGX's this year. For an example of just how terrible both of these presenters were during the interview/demonstration segments you need look no further than the Donkey Kong Country : Tropical Freeze segment where Reggie and a member of Retro Studio turned up to reveal Cranky Kong as a playable character in the game. Now, I'll be honest, Nintendo's reveal was a huge let-down, I mean, I'd never expected a new game to be shown off, like a lot of people had, but I at least expected something we hadn't seen much of prior to the show to be presented, rather than one of the more heavily plugged titles in Nintendo's line-up, particularly when the big reveal was something that bad been discovered at this point already. That said, that does not give Geoff and Joel the right to crucify Reggie, all but forget the other guest was even there, and completely ignore the game actually being shown off in favour of interrogating the both of them about the Metroid franchise to such an effect that if the interview had run on any longer, it was quite clear that the President of NOA would have finally stopped gritting his teeth into a forced smile and just beaten the shit out of the both of them with his meaty fists. Geoff spent the entire interview pressuring Reggie for more impromptu reveals, beyond a mere joke into the territory where, once again I began to believe there'd been some last minute change of plan that'd left Keighley unprofessionally angry with Reggie. Joel just continued to be the same snarky asshole he'd established himself as at the start of the show, but it got to its truly worst moment when both began to rib into one of the main bosses of Nintendo over the poor sales of the Wii U and Super Mario 3D World... on LIVE television. This pretty much set the tone for the entire 3 hour travesty with developers both big and small left red faced and at a loss for words over the pairs moronic questions/quips. These are game developers, not comedians, guys, they can't keep up with Joel McHale's constant attempts at offensive zingers at their expense, nor should they have to, they've come here to make your show mean something, and to treat them like dirt is a fucking disgrace. If your idea of 'intimate' is pissing over good natured people to get a cheap laugh, then maybe you shouldn't be making this kind of show to begin with.
4. Treat the Awards like they actually mean something.
Accomplished in VGA's? : Yes.
I kinda figured that with the removal of 'Awards' from the title this year there would be a reduced focus on that namesake, which is odd given that's the entire reason the show exists, but not all that unexpected given in recent years the main draw has been the exclusive reveals/trailers, not the handing out of the monkey shaped trophies that have increasingly been pushed aside more and more in favour of squeezing in more adverts, unfunny skits and reveals. I did not expect, however to not only see the amount of awards presented during the 3 hour show to be reduced to just a mere 8 of the 24 awards actually given out, but also see them being given out in such a woefully slapdash, unexciting manner which almost felt like a big middle finger to the people being awkwardly handed them as Joel McHale and the Intern clap slowly in the background. In the past the VGA's became increasingly less focused on the awards, but they always still treated the ones they gave out with anticipation and respect, which was, of course helped a lot by the large audience they'd actually bothered to invite. This year only the Game of the Year Award was actually presented by people who weren't the existing staff of the show, and even Matt Stone and Trey Parker, funny as they may have been (and, linking to the poor treatment of guests...c'mon guys...these two are comedy royalty and you treated them like nobodies) couldn't amp up the hype for what is the biggest hand-out of the evening. I personally enjoy awards shows (so long as I care about the subject matter), even when they do suck, because I like to see who's been nominated, who I think should win, and who actually does. Events like the Oscars, and the BAFTA's (Of which there is a much better gaming variety, I may add) feel like a big deal even when it's just old hasbeens in the back room jerking off over the 'good old days' of cinema, they build excitement and anticipation over the course of months, and they spare no expense in ramping up the tension on the big night. The VGX's might as well of just dumped their awards on the winners doorstep, half of them seemingly weren't even invited to get theirs in person, and the other half only seemed to be there for purposes unrelated to getting the award, which inevitably leads to the suspicion of rigged voting and all that jazz...but...even that didn't become a thing this year, why? Because nobody cared! And why should they when the show itself doesn't care? Either treat your fucking awards like they mean something, or stop giving them out, basically. That's a no brainer....ANOTHER no brainer.
5. Make sure the World Exclusives are actually worth the valuable time they take up.
Accomplished in VGA's? : Yes.
Like I said before, the VGA's have rarely been focused on the awards themselves, but that rarely mattered because the reveals that were taking up the airtime were actually exciting! Remember when Metal Gear Solid V was (amongst a shroud of lies) announced? Skyrim? Arkham City? The Last of Us? These are just some of the big games/shock announcements that made the VGA's feel like a mini-E3, often blowing the doors open on just some of the great games we could expect to see in the coming year. At the VGX's? We got two woefully short game teasers from Telltale, and No Man's Sky (Which was, actually the only true great moment of the show), that was it for big reveals, the rest of the games shown off were things we'd already seen, and what we were shown new was nothing to get thrilled over, at all. Clearly the budget on acquiring world exclusives was greatly cut back on from it was in previous years, I mean, when you have to rely on one studio to provide two of your three new game announcements, neither of which are actually seen beyond pre-rendered teaser trailers? That's not good guys, and since you have no awards and disgraceful interviews as your only back up to having no exciting reveals? Oh dear. Oh deary fucking me. It wasn't even that they lacked big developers to get stuff from, Remedy popped up to briefly show off snippets of Quantum Break, and then plug a tablet game, Randy Pitchford of Gearbox popped up, you had games being shown off from EA, Ubisoft, Square Enix and even Nintendo...but they clearly didn't want to bring their A-Game to the show this year, and why should they when you see how badly treated 99% of the people who came on were? Maybe if they'd acquired better exclusives, the interviews would have been less terrible? The only time Joel McHale actually shut up was when they were talking to one of four of the staff of Hello Games about their, frankly jaw dropping indie title No Man's Sky which pretty much stole the entire show in an instant. But that was the second of only two game reveals we didn't already know about to some degree, it was just...boring, it was 3 hours of waiting in wonder and generally being let down by what you were waiting for. It was clear the new games being shown off were the focus, not the awards, but through a mixture of poor presenting and weak reveals, there was just no wow factor to this years proceedings.
6. Actually know what you're doing.
Accomplished in VGA's? : Yes.
This one really just sums up the entire VGX 2013 experience for me, cheap, shoddy, rushed and boring. It should be clear to anyone who watched this show that behind this bullshit notion of a new 'scaled back, intimate show' lies the glaring truth that the budget for this show had clearly been slashed from last year's glitzy, Samuel L Jackson hosted gala, and whilst that bared some fruits in the way of no pointless celebrities and only one blowjob-tastic sponsorship moment compared to the thousands of previous installments, it mainly meant that the show lacked structure, coherence and a clear direction. If you were to play a drinking game where Geoff and Joel either fluffed their lines, said the wrong thing entirely, or just lost plot of what was happening, you'd have died of liver damage by the end of this 3 hour train wreck. Beyond the already mentioned atrocious presenting, empty studio and ill-treated guests, you've got the crappy camera work made worse by Joel's need to badmouth the guy at the helm and generally make his job even harder, bad mic's (At one point Geoff can be heard flushing a toilet, for instance, sadly not putting an end to Joels awful 'adult diaper' jokes in the process), incorrect button pushing (Geoff's lone attempt at plugging a corporate sponsor was interrupted part way through by a bizarrely random promo for MTV's Teen Wolf, in a show that was toted as being commercial free) and gaping, hellish pit of awkward moments ranging everywhere from Geoff desperately dodging Joel's incessant demands that he reveal his favourite/most anticipated games, to the set itself falling apart during the already eye gougingly bad segment with Reggie of Nintendo. It's quite clear, from Joel McHale's begrudging disregard for the show he'd been paid to present, to Camilla Luddington's confusion at spontaneously being requested to do something she'd already done, that nobody knew what they were doing, and nobody cared that they didn't. This was a cheap, insulting show that somehow managed to take so much of what was wrong about the VGA's away, and still manage to be the single worst iteration yet. There was just no confidence in what they were doing, terrible as it may be. Past VGA's generally sucked ass, but they did so in a proud, aggressive manner that just had to be respected, like a Pimp in a Chastity Belt it walked the walk even when it couldn't talk the talk. The VGX's feels like the same Pimp who just realized his predicament, and has quickly fallen into a deep depression. Will we see it return next year? There's no guarantee, with the reduced budget and unanimously negative response to the new style it could just be a matter of time until Geoff's beloved dew-fueled brainchild gets the Axe, and not the deodorant this time. If it does return? Well, hopefully they'll learn from their mistakes and finally...finally create the end of year awards show/reveal extravaganza we've all been waiting for for so long. And if not, HEY, YOU CAN JUST CHECK OUT THE GIMPY AWARDS, COMING SOON TO...THIS WEBSITE! YEAAAHH!
Thanks for reading guys! What's your opinion on the VGX's? What would you do differently? Let me know in the comments below, and until next time, Later Gators!