In the two years I was in Japan, there were few games that really blew my balls off in terms of awesomeness. Darius Burst was one of them. It was a four player co-op game I saw often in the various arcades around Yokkaichi and Nagoya.
It was as classic as R-Type. Not like a lot of the Japanese SHMUPS where you couldn't move. This game made you get around things. There was your classic basic weapons with a special charge weapon, usually a beam, that took some of your power to shoot. The machine itself was spacious, comfortable for far more than four players, and the speakers, oh GOD the speakers. When the boss was coming, it rocked your socks hearing the alert. Don't believe me? Watch a Lets Play here: http://www.youtube.com/watch?v=pojljK9vs5Q.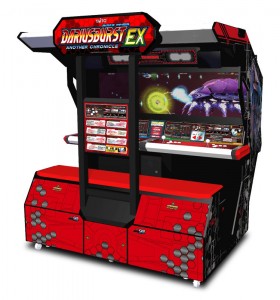 Anyway, I just read on Famitsu.com there is a rumor going around about "Darius Burst: Second Prologue" coming out to iPhone. ZUNTATA, a house band for Taito, the game's creator, has been working on some new music which has sparked the rumor.
It just reminded me about how awesome this game was, and how much I miss it. I'm hoping we can somehow get access to it if it does hit the app market, but I wouldn't hold my breath.
Anyway, keep an eye out for this game should it release in the U.S. ever. If you love SHMUPS, you will love this game. Also, if you have a PSP or PS3, BUY THIS GAME ABROAD IF YOU HAVE TO! It is totally worth it! Check out Playasia.com for starters about availability.