Life's a Beach - new content for GTA Online announced
10/29/13 11:00am
New DLC content announced for GTA Online to be released "early November". Better get your swim trunks ready.
For those of you who might actually be getting bored of doing stuff in Grand Theft Auto Online, boy does Rockstar have some treats for you!
First off is the promised Content Creator. This handy-dandy feature is finally coming our way, and will enable the ability to create custom races, missions, deathmatch setups etc. The more prominent (but still balanced) creations will be featured on Rockstar's spotlight service called 'Rockstar Newswire' to bask in the glory in front of the others.
The second bit of news is that the first batch of DLC for Grand Theft Auto V has also been announced called the 'Beach Bum Pack'. The Beach Bum Pack will include new weapons, vehicles, cosmetics, and Jobs that theme around the coastal areas of Los Santos. They weren't really specific with what's being added with this pack, but if I had to guess (a.k.a. make a wishlist), I'd take a guess and say that some of the stuff to be included would be more boats, beach buggies, some form of harpoon gun, swim shorts, bikinis, scuba gear and perhaps a method of obtaining your very own submarine.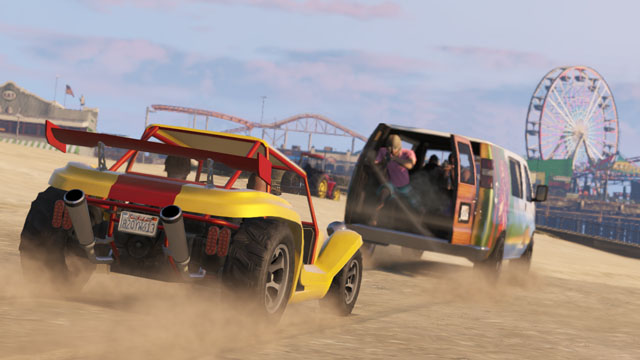 And if that wasn't enough, there will also be weekly special events hosted by Rockstar such as unique 'first come, first serve' in-game crate drops, Capture-the-Flag, and the long-awaited online heists. You'll also want to put up a good show, because your performance may be randomly selected to be broadcasted live via their new livestream broadcasts on Twitch.
Speaking of Twitch events and shameless advertising, the archives for the first ScrewAttack Gamedays are now available and with all this new stuff being added, I can only expect that the next visit to GTA Online will only get potentially better.
Xbox 360 Stream ft. Nick and Ben
Expect all of this to make its big bang debut somewhere in "early November". Let's just hope that none of this content gets delayed like the ammending $timulus package.
Comment Question: What do you expect to be included in the Beach Bum Pack? Are you excited for all the other new stuff hosted by Rockstar? Any plans already cooked up just waiting to be built in the Content Creator? With the new DLC theming around the shores of Los Santos, do you think any players will now actually consider giving any effort to increasing their Lung Capacity stat?