A look back: how does my old top ten N64 games list fare now?
7/30/13 4:00pm
I decided to look back at some of my older blogs and besides most of them being relatively basic now, sometimes I question myself. Did I make the right choice in terms of that blog? No blog has lead me to question my choices more than my Top Ten 64 games. This blog will be me telling you as in any of my regular reviews things that I like and don't like, with ultimately me stating whether any games on that list are as good or worse to me now. With that out of the way let's see how wrong or right I was one year ago.
Oh yeah, if you want to check out the original list that is the basis of this blog here it is.
First off let's start off with my number old 10th choice: F-Zero X
My history with this game: When it comes to racing games the original F-Zero on the Snes was likely the racer that I played the most, though when it came to it's sequel well I did play it a few times as a kid and teenager though not enough in which I remember much besides going crazy fast. Well I do at least have this game on for myself now, and while the Burnout series has become my favorite racing series, I think I can have fun playing F-Zero X, though it's a lot tougher than I remember now.
What I liked
The sense of speed in this game is just great as, plus the fact that this game runs so smoothly with all the other vehicles on screen, which is still pretty impressive to me this date.

One thing that this game gets right has to be the track design as it's over the top with all the speed boosters, crazy epic jumps and the overall structure of the tracks themselves, plus it has Mario Kart 64's Rainbow Road with less railing and more mines.

Well this game has plenty of racers in contrast to the first game, which is a huge step up to just using the same old 4 racers, and the multiplayer is also pretty fun as well.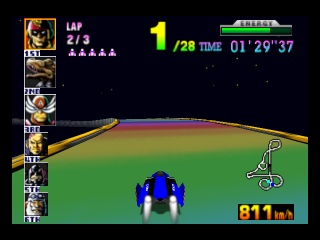 What I didn't like
While this game is great when it comes to it's sense of speed, the visuals to this game are pretty meh due to how undetailed they are, though it's still not as bad as having to deal with the fog in this game, which in turn makes some jumps a lot tougher than they should be to me.
Does this game still hold up?
Yes it does to me as the to me this game still controls really well, and has pretty good track design with a great sense of speed, though the only thing that might be relatively annoying to anyone is how tough this game can be due to really aggressive AI and some insane track design. So yeah this game is still a blast to play and well worth being on my top ten favorite N64 games.
Next up on this look back is Star Fox 64
My history with this game: Star Fox was one of those games that I managed to skip over during it's heyday as my first experience with the series was playing Awring section in Star Fox Assault, though I would end up getting this game a bit after that. While I might have been unaware of the internet's joke about barrel rolls, I do remember playing this game a lot just to see each major route to Venom, but besides eventually I just got bored of this game and stopped playing it outside of a few random sessions.
What I liked
It's simple, but effective control scheme, as piloting the Arwing, Landmaster, and Blue Marine as well piloting them using the N64 control feels natural to me.

The cheesy dialog will at least make you laugh at how bad it is now due to how melodramatic some of the lines are.

The multiple routes in this game at least provide replay value as many on rails shooters tend to be just replaying sections over and over again, as each major route is also an indicator for difficultly.
What I didn't like
As Star Fox 64 is a arcade style on rails shooter, I think I got bored of it as once I've played this game so many times I just no longer cared about this game, due to it just becoming monotonous to me.

Well usually multiplayer would be something I look forward in a game, but in Star Fox 64 it's just not that fun due to the limited maps which are taken straight out of the campaign.
Does this game still hold up?
It honestly does in part due to how simple it is terms of gameplay, and with a great effective control scheme, but there isn't much enjoyment to me outside of the replaying the main mission. So yeah if you haven't gotten this game, well try to get it for cheap as you can get some fun out of it, but just not for too long.
The next game to be look back at is Super Smash Bros.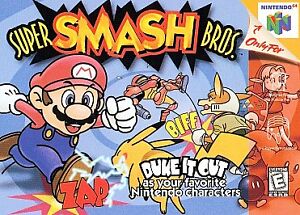 My history with this game: Well to me the original Super Smash Bros was a game that I remember playing and thinking how awesome it was , due to Nintendo characters just beating the everliving crap out of each other. Besides that I do have more fond memories of this game than the other two current entries in the Smash Bros series, though I recently found myself enjoying those games more.
What I liked
It's still really fun to play to this date as the controls are simple that mostly everyone can get them, like my sister as she manage to beat me in this game when she was just 6 years old.

I like the random nature of this game with either items dropping out of thin air, or having other deadly things like Whirlwinds and other hazards occur.

Well the one thing that this game truly does benefit due to having such a large cast is having some of the best music to each of the stages.
What I didn't like
Well yeah basically my largest problem with the game now is more of a personal matter, which is that Melee and Brawl are just far better options to the original game, due to the increases in terms of cast, items, and stages.
Does this game still hold up?
Yes it does the problem is that it's just be outshined due to it's sequels just offering a lot more than the original and well to me they have become more fun to play to me as well. So yeah this game can be fun just like any other entries in the series if you have people to play this with, but again Melee and Brawl exist, though regardless it's still a fun well done title that holds up due to the fun you can have with it.
The next game to be reexamined is what is considered to be the best rpg on the N64 Paper Mario.
My history with this game: Yeah this was another game that I skipped during it's heyday as well when it game to rpgs I wasn't really aware of too many of them and well the PS1 had plenty to suffice me when it came to that genre. While I might have not play the first entry I do remember playing the second Paper Mario game, which was a fun experience, and a few years later I would try out Mario origins in the rpg genre, so I wouldn't try out the first Paper Mario till last year.
What I liked
Paper Mario to me has a certain charm about it due in part to the writing of the characters that are pretty funny, the relatively great use of music, and well the visuals are still pretty great for a N64 title.

It's a great intro rpg as the overall mechanics aren't too difficult to understand, and the game gives out plenty of hints toward your next goal in the game.

It's also one of the few rpg's for the system, and most likely the best one by default, though it's a well done rpg that's pretty fun to play regardless of that statement.
What I didn't like
Just like any rpg out there the game can get a tad tedious due to hard to avoid encounters, and while the text in this game is pretty funny, there might a tad too much at times in which I just press the A button like crazy.
Does this game still hold up?
Yes as it's a great rpg that while has a predictable story of Mario vs Bowser, it works out due to the execution of the simplify mechanics seen in other rpgs, and mostly it works due to the light hearted appeal of this game. Yeah so I like this game and well I wanted to stop writing this blog in favor of playing Paper Mario instead, so yeah great game.
Next game to see how it fares to me in Mario Kart 64.
My history with this game: Now I love the original Super Mario Kart on the Snes as it might be my most played racing game on that system, and of course I would play it's N64 counterpart, as it became my favorite racing game on that system. The thing is that eventually I would stop playing this game as I just stopped playing my N64 entirely, though I did managed to play the other games in the series except for the Wii entry.
What I liked
Honestly the best part about this game to me has to be the music as while a few of the tracks in this game have seen themselves in other games in the series I still found myself like the original renditions more than the remixes.

Control wise this game still handles really well with the trident shaped controller or commonly known as the N64 controller.

Visually this game looks great for such an early N64 game as everything is distinguishable
What I didn't like
This game just seems rather boring unless I play at 150cc as most of the tracks in this game fell way to barren to me, before I start getting bored.

The battle mode to me is rather dull as well to me due to the limited selection of tracks and only just one mode as well.
Does this game still hold up?
Sort of as while it's still very playable it's nowhere as fun as it used to be to me, as while the new Mario Karts are extremely chaotic I just prefer the other entries in the series more, especially Double Dash. Regardless this game is still fun enough to warrant a look and chances are that many of you are fonder of this game than me, but to me there are better racers on the N64.
Time to look at what is considered one of the best launch titles of all time Super Mario 64.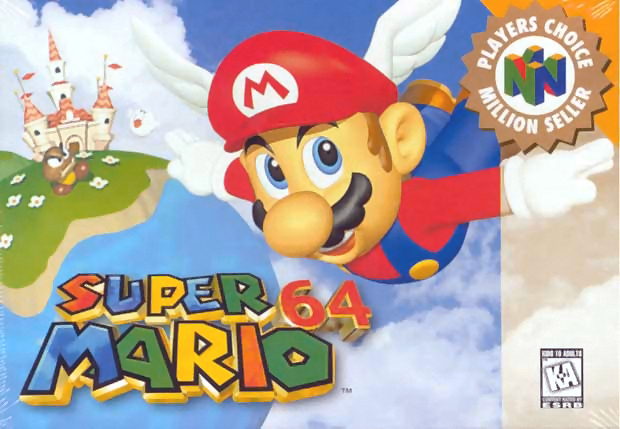 My history with this game: Yeah I actually didn't play this game way probably till 2003 as I was in one of my relatives house and all they had was a N64 to play, though I didn't played it for too long as well I just left and I wouldn't played this version of this game for a long period after that. While I didn't play that much of the original N64 version I did play a lot of the DS version as Super Mario 64 DS was my first game for that system, and I remember playing that version and enjoying it a lot. I would eventually get myself a cartridge of the original N64 version, though it's been way too long since I've played it that I had to "replay" it for this blog you know for research purposes.
What I liked
Honestly the best aspect of this game to me has to be the music as Bomb-omb Battlefield is one of those songs in gaming that can just put me in a cheerful mood, while the rest of the music is great as well.

Control wise I did fear that this game would handle a bit poorly in part due to it's age and me playing the Ds version of this game, but yeah after giving this game another go it controls better than I thought it would.

Visually this game actually looks pretty good considering that it's a launch title as everything is bright, colorful, and really varied when it comes to each of the major stages as it ranges from the standard happy upbeat intro stage to a Ghost house with a demonic piano.
What I didn't like
One aspect that I think that hasn't aged all that great is the camera system as I feel like sometimes I'm fighting more with the camera than playing a stage, though I blame the limitations of the time.
Does this game still hold up?
Actually this game is better than I thought as yeah I went with the mentality "this game has aged badly" and well I was wrong on my assumption as this game is still good. The only thing that is a pain is the camera, but it's manageable, though playing this game makes me want to get the DS version again to see how it fares, though regardless this game is still great.
Time to go Far Far Away, as I look back at the first Rogue Squadron.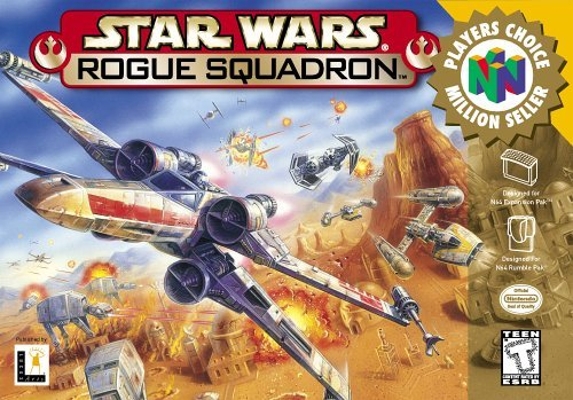 My history with this game: My love for Star Wars has been strong ever since I watched the original Trilogy, which got me into playing the many Star Wars games out there, though I started off with Super Star Wars: Return of the Jedi. Now while I might have missed out on playing the initial Rogue Squadron when it came out I did play the crap out of the 2 game's Death Star mission, then I would get Rebel Strike before I would play the first game.
What I liked
There are plenty of ships to pilot in this game and well they all handle pretty well to me, which if they didn't well this game would be pretty bad to me.

Unlike Rogue Leader and Rebel Strike the missions in the first game aren't escort heavy as here it's more about your piloting skills than you being able to protect a escort.

In terms of presentation this game sounds great as the music will definitely give you the vibe of the films, while the visuals are pretty great as each of the fighters looks great to me.
What I didn't like
Now one of the problems that this game has is that it uses pretty bland colors like brown and grey a lot, which basically blends lets any Tie Fighter blend in with the setting, and alongside the fog can did lead to me crashing into a mountain while chasing a Tie.

No multiplayer this is a shame as yeah I would have liked to have shot down my "friends", which is rather disappointing.
Does this game still hold up?
Yes hell it's my favorite title in the Rogue Squadron series as while this game might not have multiplayer I feel that the missions are better balanced than the two other games, but are just fun regardless. The only thing that I wished this game had was more Lando, since you know that would have made the game so much smoother, well I should move on after that bad joke.
Now the next game to look back is Goldeneye on the N64, which is consider to be the best movie based game of all time, though I'll disagree.
My history with this game: When it came to multiplayer on the N64 yeah this was the first choice whenever I went to my cousin's house to play N64, till Perfect Dark and Super Smash Bros decided to kick it out. Now fast forward all the way to last year in which I would finally replay Goldeneye on the N64, though by that time many FPS games have come and gone.
What I liked
To me the best thing about this game has to be the over the top cheats in both multiplayer and singleplayer, well in part due to how it improves the campaign as having big headed soldiers, and having all the weapons just to wreck shit up is better than the standard campaign, with similar things applying to the multiplayer.

I like how the enemies die so overdramatically in this game.
What I didn't like
While there are plenty of control options in this game I just didn't find any of them all that comfortable, outside of the default one being somewhat playable to me.

Honestly the singleplayer is rather bad to me, in part due to how dumb enemy and partner AI are, as enemies just endlessly respawn or get in the way aka Natalya.

Honestly I just find this game rather boring, plain and just not that much fun as well if I wanted to play an old school console FPS I'd rather play Timesplitters or Perfect Dark.
Does this game still hold up?
To me this game is just not that fun as while it might be a game that had a huge impact on gaming, to me it's just not that fun as other shooters whether they are modern or classic in style, there are a lot better options out there than this. So if you want to play Goldeneye go get the Wii version or the HD version of the Wii version, but hell many people still like this game just not me.
Well now it's time to for me to look at one of the best regarded games of all time Ocarina of Time.
My history with this game: While I might have gotten my N64 a bit later than most people like around 2003 at a Gamestop, well I had the money to buy my own alongside OOT, so naturally I did, since the other choice was some Football game. Now I remember playing this game and thinking it was amazing, but then I kept playing it as I didn't have many other games for it, and I wasn't able to go to my cousin's house as much as I used to which meant I either had to replay OOT or read a book, so yeah this game just got boring to me as I would sell for a pizza. I would regret that decision as while I might have not gotten OOT back till 2 years ago I've still have had plenty of fun with other entries in the series since then.
What I liked
Control wise Link handles great due in part to clever button placement and smooth control.

I really like some of the music in this game as Gerudo Valley and the music in the Spirit temple are still some of my favorite tunes in the LOZ series.

I really like the shooting gallery and Bombchu minigames.
What I didn't like
Honestly outside of the dudgeons I find this game to be painfully boring due to how empty some sections of Hyrule are, and well I don't feel much of a challenge also due to how simple the enemies are in this game as well.
Does this game still hold up?
To me this game is nowhere as good as I remember it as I used to become super excited over the notion of playing Ocarina of Time, but now most of that is just gone due to how easy it feels now. Though I will say that Ocarina of Time control wise is still leagues better than most of the games that came out this time, but if I wanted to play LOZ I would honestly rather play Wind Waker or Phantom Hourglass.
Well it's time for me to look at what I consider to be my favorite N64 game a year ago, which was Conker's Bad Fur Day.
My history with this game: When it came to 3d platformers in the 90's I can honestly remember only playing two major games of that genre with one being Spryo and the other being Donkey Kong 64, but not I wouldn't try out Conker till a bit after I got my own N64. To me Conker was just great as it was just different enough in terms of it's sense of humor, but the gameplay was similar enough to other games I've played, so yeah I really like Conker, though just like OOT I would end up selling this game as well simply I just stopped playing it. I also did put this game as my 1 N64 game on my old ten N64 games, though I shall now tell you how my opinions have change of that game.
What I liked
Presentation wise Conker's BFD is great to this date as the music is fantastic, while visually I find this game to be very pleasing and I'm also impressed by the level of detail put into Conker.

Conker's BFD to this date is still really funny as I really like the crude sense of humor in this game.

Control wise this game handles great as when it comes to the platforming sections of the game, which is most of the game.
What I didn't like
The one part I dislike in this game has to be when you have to use guns in this game as aiming with them isn't all that great, and it doesn't help out that the enemies you have to shoot down are generally faster and tend to not be alone.
Does this game still hold up?
Yes while as while the sense of humor in this game might be crude and some mechanics like aiming could be better I can still say that this is my favorite N64 game as it's just a complete blast to play and if I were ever to redo this list this game would still be without a doubt.
Closing Words
While some games on this look back might have lost some of their appeal to me, well it makes me question how blinded by nostalgia was I when I did my old list, but regardless in the end it up to you as a gamer to decide what you enjoy. So with that I might be redoing my favorite N64 games list as I feel that maybe I've played enough of other games to remake this list, though that's a maybe as of now, so till then I say I hope you've enjoyed this look back and till next time.
Just a heads up that on Friday, December 13th we'll be implementing two options for commenting on ScrewAttack. In addition to the traditional comment system we'll also be adding the ability to post directly via your Facebook account. Thanks!