My five favorite fighting games
1/21/13 6:02pm
Going to list of my favoirte fighting games an why I love each one. I would have made this list a top ten but I play too much Street Fighter for that, but regardless hope you enjoy this blog.
I like fighting games a lot. I have fond memories of laying down my quarters as a kid knowing that I was next. So here are my top five favorite fighting games. "Why five?" you ask, you imaginary person who isn't actually asking a question? It's in part due to the fact that when I thought this up I realized a big limiting factor on this list: I mainly stick to Street Fighter games, so if I made a top ten favorite fighters it would pretty much be nothing but games starting with Street Fighter, but here are my five favorite fighting games. Enjoy!
5) Dead or Alive 4
If you bought this game for the fan service, well I did too. The thing is that you will get destroyed by the game instead.
All right, let's get the most obvious thing about DOA4 out of the way: it has some of the most overly-sexualized women in gaming, but beyond that you have a really difficult fighting game to master. One thing that I love about DOA4 is the fact that it's a pretty easy fighter to get into, but once you start playing the game you have to take into account more actions like holds and throws. The one thing that I outright love in DOA4 was the fact that it's a truly challenging fighter to me, as the default difficultly is normal and only gets more challenging from there. Add in tag matches with survival matches as well and there is plenty of replay value here.
Best Memory - Like I said, DOA4 isn't exactly a friendly game as the challenge is there, but sometimes you get in the mood out of nowhere and you're having the time of your life. After losing in five consecutive survival matches in fewer than 20 rounds, I switched from Ryu Haybusa to Kasumi. Somehow with Kasumi I managed to do beyond well and get past 50 rounds which ended around round 68, but I was just happy making it so far in such a tough fighter.
Worst Memory - DOA4 is a tough game, and I wanted to see how far I could have gotten on the highest difficult setting, which turned out badly for me. When I tried DOA4 on its hardest setting I just couldn't get past the first round with anyone. This made me rage quit, which lead me to stop playing DOA4 for quite some time.
4) Killer Instinct (SNES)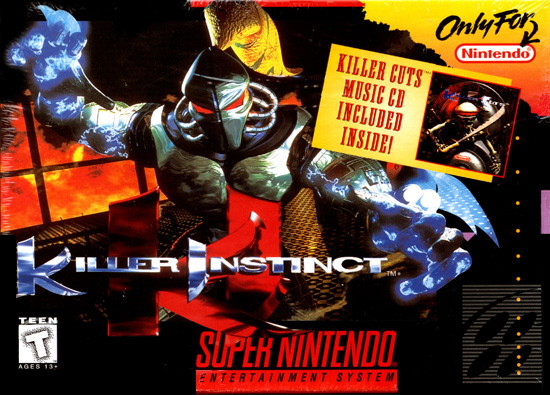 Robots beating up dinosaurs; aka so much awesome in one game
While some people started playing Killer Instinct on the arcade my story of how I got into this game is different: I first got this in a flea market around 2003 for about two bucks. When I got this amazing fighting game I played it exclusively for about two weeks. Sometimes just one really fun game is all you need.
What I love about KI out of the get-go is that it's one of those fighting games that everyone can play by button mashing, but if you want a deeper fighting game you can take your time to master each of the characters. The music is also one thing that many people love about this game because it kicks ass. In the end I enjoy KI because it's a fun, must-own fighting game for the SNES.
Best Memory - Hearing the announcer say "ULTRA COMBO" for the first time was a "holy shit" moment to me. After hearing that sweet voice clip I practiced KI for an almost the entire day just to hear that clip again.
Worst Memory - My copy stopped working. I did manage to find another copy of KI a few months later, but when I was this into KI I felt like I missed plenty of time with such a fun game.
3) Super Smash Bros. (N64)
Even if Melee and Brawl are better, I still love this game the most.
I can already hear it: "But Melee and Brawl are so much better!" Well, this list is my favorite fighting games, and I had more fun with the original than the other two. I played this one the most, and for some strange reason it controls the most naturally for me, even with the N64's strange controller.
What I love about this game is its over-the-top nature. Having four people play a match with all hammers and stars is tons of fun even today. While the first Super Smash Bros. might not have the most characters, it's one of the few games that me and most of my family can enjoy, as it's about as friendly as a fighter gets.
Best Memory - The commercial, but honestly I have no memory as a kid of ever watching it. My other favorite memory is the first time me and my friends discovered how to customize the math settings to have matches like all Bob-Ombs and bumpers; it's likely some of the most chaotic fun I've ever had.
Worst Memory - It was hard to pick out a bad memory, so this was more of a "WTF" moment. SSB is about as easy as a fighter gets (some people even call it a party game). When I played my younger cousins for the first time I thought I was going to win without a doubt, but man was I wrong. They were around 6-8 years old and man did they get into the game fast. After a while they just teamed up on me and I got owned.
2) Marvel Super Heroes Vs. Street Fighter (Arcade/ Sega Saturn)
My favorite game in the Marvel vs. Capcom series.
I always seem to have the most fun with this entry in the series for some reason. What I like about this game is definitely the themes for all the characters. If you played X-Men vs. Street Fighter or Marvel vs. Capcom then you should feel right at home with this classic. If you have the Japanese version of the game you get to play as Norimaro, who is strange but really useful once you get the hang of him. One thing I love about this game is how much goes on-screen, but it's easy to keep track of everything, which contrasts the more recent seizure-inducing MvC games. While this game might not be the best game in the series, it's my favorite.
Best Memory – The first time I saw this game was while I was on vacation in Mexico in 2003 on an emulator cabinet. I spent most of my vacation time playing this game. I also met plenty of people in Mexico just by playing an arcade game (it helps that I rarely lost).
Worst Memory - After my local arcade at home had closed down I was stuck playing the PS1 port. When I finally got myself a copy of the sweet Sega Saturn port I felt dirty for playing the PS1 version. The PS1 port of the game isn't that bad; it just has lots of slowdown and doesn't have the tag-team option.
1) Street Fighter Alpha 3 (Arcade, PS1, Saturn, Dreamcast, PS2, PSP)
Yep, going to mention this game again.
Everyone saw this coming: my favorite fighting game is a Street Fighter game, specifically Street Fighter Alpha 3 (I can already sense a "Street Fighter 3: Third Strike is the best Street Fighter" comment coming). Alpha 3 has plenty of characters to choose from, even though some characters are just Cammy swaps. What makes this my favorite fighter of all time is the combat, which feels like a deeper version of Street Fighter II. I also love the speed of the combat, as I like the game's overall faster pace more than the slower style in Street Fighter 3 or 4. The last thing about Alpha 3 is the fact that I really like the World Tour mode it offers. I have spent so many hours leveling up characters just so I can own in the regular arcade mode.
Best Memory - I have so many fond memories of this game that picking one was hard. If Ihad to pick one, I'd have to go with finding a PS1 copy for free. While the PS1 port might not be my favorite version of Alpha 3, I was beyond happy when one of my friends at the flea market gave this game to me as he was getting ready to go. In his haste to get me to leave him as he was packing up he gave me a copy of Street Fighter Alpha 3, and my god I was about to dance with pure joy when I got home.
Worst Memory - I borrowed my cousin's Dreamcast for a bit, and he had burnt copies of the games (at the time I didn't know you could burn copies of games). I played the crap out of Street Fighter Alpha 3, but that didn't stop my sister from ruining that disk. I thought I broke my cousin's copy of an amazing game, but when I returned the Dreamcast with the broken game he just laughed at me, since he just burned another copy in an hour.
A fighting game doesn't have to be super in-depth for it to be fun. All this list made me want to do was try out other fighting games. I hope you guys and girls enjoyed my blog.