Nintendo 3DS : 5 Games to Buy Now and 5 Games to Buy Soon.
9/3/13 8:00am
FOLLOW ME ON.
Y'know, if you want to...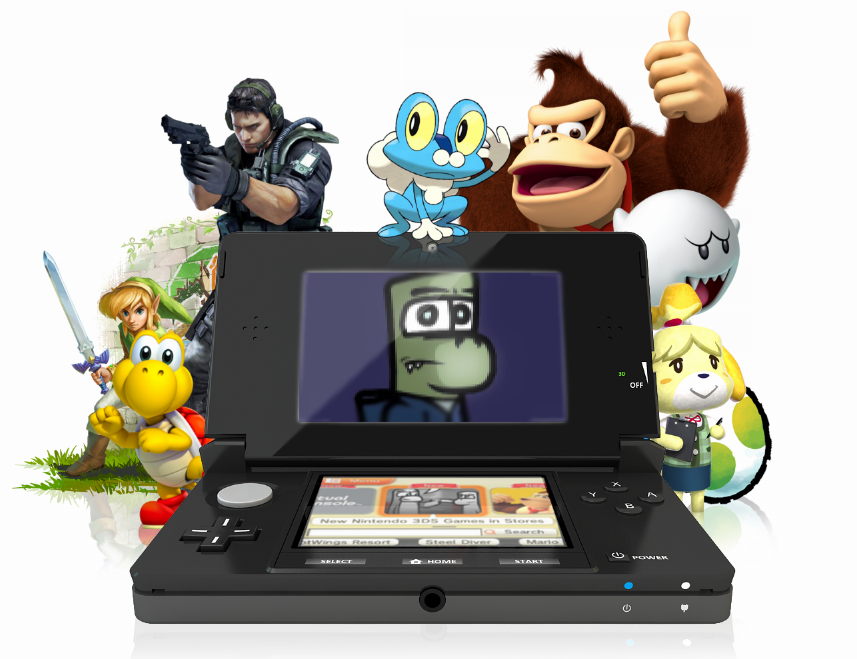 Heeeey guyz, welcome to another blog, my 97th on this iteration of ScrewAttack! That's pretty exciting/sad, huh? Anyhoo, with the recent announcement of the rather silly looking 2DS, I thought now would be a good time to talk about some 3DS games I think you should play, I've split this blog into two halves, 5 games you can walk into a store and buy right now (and should), and 5 games coming out in the near future that you should definetely keep an eye on! Hope you enjoy, and let me know what you think in the comments below!
5 3DS Games to Buy Now.
You Should Get it Because : You didn't need a life anyway.
Now, I've already spoken in great detail about New Leaf, my first Animal Crossing game, and you can read that all here (Nice, subtle plug there!), but I'll summarize here and say this is a game that's perfectly designed for a handheld console, and can be played as much or little as you want, making it perfect for journeys, lunch breaks, shitting or just laying in bed with nothing better to do. New Leaf is basically a life simulator if life wasn't awful, and if you lived in a world where everyone except you was an animal with a weird obsession with giving you tables. The main goal is to expand your home from a mere tent with a lamp to a fabulous 3 floored mansion filled with furniture, useless junk, and even gaming swag if you like to shake your 3DS about to get play coins/exercise. You're also the mayor, which gives you the power to shape this new town to your, and maybe even the townspeoples likings, but mainly yours because who gives a shit about what Cookie the pink dog wants. You can go fishing, fossil digging, gardening, clothes shopping, raving, you can play games on a tropical island, you can send letters to your animal friends, you can style your house, catch bugs, fill a museum, even enter the world of dreams and visit the creepy town of some random Japanese person if you so wish. There are so many things to do, and all of them simple and yet some how engaging. At first you may play it far more than you should, but rest assured after about a month it becomes a 10-30 minute routine you can do once a day to kill some time, with potential for renewed interest as each season/month changes and offers new things to see and do. This is something I personally think you should download instead of purchase at retail, because that way the world of Animal Crossing will always be there to kill some time in no matter where you are or what you're doing.
You Should Get it Because : It doesn't have awful motion controls like Mario Kart Wii.
One of the first big 3DS releases (Far too late in the consoles first year, at that) and one of Nintendo's biggest brands, Mario Kart 7 is great to own because it's a handheld Mario Kart game, basically, and one of the best, if not THE best in the long running spin-off series. The USP for this game is that your Karts can traverse through the air and water now, instead of just driving on the tracks like before, and whilst that's great, the real selling point for the game comes in the choices and track design this new feature opens up. MK7 features some of the best courses in the series, both from a visual standpoint and from the tracks themselves which are far more involving and enjoyable to traverse than previous installments that featured plenty of fun looking courses, but not much in the way of creativity when it came to the tracks themselves. In 7 you'll be mixing up the standard racing with branching paths that take you into the air and sea, and also provide lots of shortcuts that you can take advantage of only if you have the right item at the right time. It's a breath of fresh air for the series, and you still have that same frantic, fast-paced arcadey goodness we all know and love from Mario Kart, with a deadly arsenal of shells, bombs, stars, fire and...urr...raccoon tails at your disposal as always. 7 also features an online mode that's much improved from both Nintendo's first venture into online gaming in Mario Kart DS, and their later attempt in Mario Kart Wii, offering a simple interface for those who just want to race and lose at the last minute against people from across the globe, whilst offering the potential for more depth by means of forming communities which allow groups of people to race each other and follow stats of other members. It's a great little game, and another one perfectly suited to on the go action.
You Should Get it Because : It's the Resident Evil game you've been whining for since 2009.
Okay, sure, it's now also available on PC, PS3, 360 and Wii U, but having played the demo of the 360 version, I can safely say I still think the 3DS version of Resi Evil spin-off, Revelations is the superior option, mainly because it's far more suited to the handheld then it is a HD home console experience (Not to say you won't enjoy it either way). Revelations was put forward at the announcement of the 3DS as an example of both what the system can offer visually, and a hint of the third party support it could receive, and whilst the latter didn't really come to fruition, the former certainly did, as the game is easily the most visually detailed title on the console, and thankfully, it's also a ruddy good game in its own right. The mission statement for this game is pretty obvious to anyone who's followed the blockbuster franchise for the last few years, it was a chance for Capcom to test the waters of a return to its survival horror roots, going against RE5 and 6 which offer a more action packed experience, making a lot long term fans angry. Revelation mostly delivers on the survival horror, bringing back the tense, atmospheric locations and intimidating enemies whilst maintaining the less frustrating game design choices of the original games, and improving on the tank controls of 4 and 5 (Which 6 later improved yet again). What you get is a reasonably chunky, episodic single player campaign with a suitably hammy plot and at least one pair of characters who WILL drive you insane, and once you've beaten that, you unlock Raid Mode, which allows 2 players to co-operatively make their way through a series of enemy wave-based missions with XP and weapons of varying level, which provides a significant boost to both the games running time and replay value. If you're a Resident Evil fan who yearns for a return to less action based installments, this will almost entirely satisfy your wants whilst still providing a good game in the process, which is often a nice thing to do when making a game.
You Should Get it Because : You actually get to use the 3D on the fucking system.
Here's a game some people are going to disagree with me on, a lot of people dislike Super Mario 3D Land because it is basically layed out like a 3D version of the New Super Mario Bros games, in that you have worlds, levels, bonus levels and secret worlds on a mostly linear map screen, rather than a sprawling, world based adventure like Galaxy or Sunshine, and whilst I agree that it's a shame Nintendo have decided to follow this formula for their upcoming Wii U game instead of making a step forwards like they did with Galaxy, I think 3D Land is a ton of fun and perfectly suited in design to handhelds. Being Mario's first original 3D platformer to grace a portable system (Apparently), SM3DLand is already an exciting prospect in itself, anybody who owned Super Mario 64 DS back in the day must be fully aware of how awesome it is to have a great 3D platformer to play on the go, and 3D Land ups the ante on their previous attempt thanks to controls more suited to a fully 3D game and more power under the hood which allows for larger, more exciting levels with nice, clean, consistent visuals that are some of the overall best on the system. The game, remarkably, also offers up an actual use for the no-glasses 3D that Nintendo have all but abandoned now, with a lot of pleasing depth and scope added by turning the slider up, as well as a few fun mini-puzzles that use the depth of the 3D to be solved. At first, the game seems very easy, and it's true that you don't have to try particularly hard in order to beat the main portion of the game, fun as it still is all the while. Those seeking a challenge will most certainly want to hang around after the initial 'ending', because there's basically a whole other set of levels to beat that are a lot more challenging, and often hugely frustrating so HURRAH for people who enjoy suffering! It lacks the epic scale and creativity of Galaxy, but 3D Land is still a ton of fun and great for any Mario fan to have in their collection, just talking about now has made me want to jump back in and play through it again...if the citizens of Bradford will allow it that is (Animal Crossing jokes lololololol).
You Should Get it Because : It'll make you feel better about killing that dog.
2013 is (for Nintendo's marketing team at least) the 'Year of Luigi', and as such we've seen a lot of games come out based around Mario's taller, less obese brother. Luigi's Mansion 2 (Know as Dark Moon in the US) is by far the best thing to come out of this pointless promotion, and almost single handedly justifies its existence, because this game? This game is fab-u-looooous. Technically a sequel to the Gamecube launch title which I haven't actually played, Mansion 2 once again sees you in the role of Luigi as he is called upon by Professor E Gaad (Who is a massive shit, by the way...FUCK HIM.) to help save the day when all the formally docile ghosts of Evershade Valley suddenly turn violent and aggressive when the Dark Moon in the sky is mysteriously shattered. Egged on by the opportunity to step out of the shadow of his brother, Luigi dons the Poltergust 5000 and ventures through numerous mansions to collect Moon shards, capture ghosts and find out who was behind all of this...needless to say this isn't a game which will have you on the edge of your seat with suspense, this is a Mario game, and as such you know exactly what's going to happen, who's behind it and just what that mysterious thing in the bag actually is, it's not complicated...what it IS, however is a huge amount of fun, surprisingly clever in puzzle design and oozing with charm. This game has more personality and love in it than all the rinse and repeat Mario games (There's a reason why New Super Mario Bros 2 isn't on this list...) of the past few years put together. Each Mansion is unique and fun to explore...hell each room is unique and fun to explore, all the characters, from the Boos, to E Gaad, to Luigi and, of course, the Polterpup are brimming with warmth and charm and even when things get rather frustrating (The game is surprisingly unforgiving when it comes to mission failures, i.e, if you die during a mission you have to start the entire thing over again) you'll still want to play on. The gameplay, whilst seemingly simplistic, offers a whole host of unique puzzles and a ton of hidden coins and gems to find if you wish to fully level up your gear. The bosses as well often require some thought before being able to defeat them, two of them in particular left me rather frustrated, which to a lot of you guys is considered a plus for some reason so THERE YOU GO. Luigi's Mansion 2 is a great game, one of my favourite of the year so far, and a must-have for 3DS Owners
5 3DS Games to Buy Soon.
You Should Get it Because : You'll have just managed to escape from Animal Crossing.
What!? I have to talk about Pokemon twice in a row? What is this madness? If you read my blog last week counting down my Top 10 Poke-men you'll know I'm somewhat excited to jump back into the world of Pokemon via the newest iteration in the long-milked series, and as such, it's a no brainer to put X and Y on this list. Games like Pokemon are perfectly suited to handhelds because, like Animal Crossing, you can play them as little or as much as you want. Want to spend 10 minutes leveling up your team? Go for it. Want to spend hours exploring the world and catching new Poke's? You can do that too! The great thing about these games is that you're always guaranteed a lengthy product with each game offering more and more to do both in the main 'campaign' and in terms of side objectives and mini-games, so providing you enjoy what you're playing, you can have anything from 30 to 70 hours of playtime from them. What's particularly exciting about X & Y is that this is the first fully 3D Pokemon RPG, seemingly being a huge step up from the DS titles, at least in terms of visuals and animation. That said, the game is still offering the same basic gameplay that's had people coming back to the franchise year in, year out since the 90's which is a combination of a sprawling, varied world to explore, hundreds of unique Pokemon to catch and train up into fighting machines, and then, of course, the fighting, which despite the jump to 3D, is still the same turn based formula. All in all, X&Y is shaping up to be the best thing to happen to Pokemon in a long while, and certainly a game to watch out for if you own, or plan to own one of the 3DS family. TEAM FROAKIE, YEAH.
You Should Get it Because : It's not Phantom Hourglass.
Now I'll be honest, I'd of much preferred a new 3D Zelda game for the 3DS as opposed to a new 2D one like we've gotten, I much prefer the design and style of the 3D Zelda's myself, that said, a new Zelda game is still an exciting prospect, and for it to be a sequel to what many believe to be the best of the bunch (Not me though) is even more exciting. Yes, 'A Link Between Worlds' is a follow up the SNES classic 'A Link to the Past' and as far as we can tell currently, inhabits the same world with the same basic layout, although we've been promised the dungeons will all be brand spanking new, and will take advantage of the... *Gasp* 3D effects of the 3DS? THOSE ARE STILL A THING!? WOW! Yes, it seems Nintendo haven't given up on the unique prospects of the system and have taken the verticality of ALTTP's dungeons and created a layered, depth based 3D effect which looks to be very nice indeed if the reveal video is anything to go by. One of the games big selling points, at least according to Nintendo is the ability to shift into the wall as a chalk drawing and traverse through narrow gaps and once impossible to reach areas, it's an interesting addition to the series, but we'll see just how much it's actually used in the full game which has been kept under a veil of secrecy for the most part, with only one dungeon and boss being properly shown off since its announcement, and only brief teases of the new and improved dark world which, sadly, doesn't seem to involve you turning into a bunny rabbit anymore...how could they get rid of that? ARE THEY HOPPING MAD!? Hahh...aho...ahee...ahh..ehh...Anyway, the jury's still out on just how good the game will be, and whether or not it'll live up to the originals reputation, but those seeking a return to more traditional styles of Zelda will be silly not to pick this one up.
You Should Get it Because : Yoshi goes "BUM" when he farts out eggs.
It's no secret that I do loves me some Yoshi, he's my go to guy in the many Mario spin-off titles...unless Dry Bones is there, in which case I have to make tough decisions about who I want more. Point being, he's probably my favourite Mario character and I always get excited when I hear he's got himself a new solo outing, specially given how fun the original Yoshi's Island game was. Whilst he's technically got two solo outings on the way, with Yoshi's Yarn for the Wii U having been announced recently, Yoshi's New Island, a 3DS sequel to Yoshi's Island and Yoshi's Island DS seems to be the focus of Nintendo's promotion as of now, and I for one am very much looking forward to it. I'm fully aware that the game could go many ways, it could either another great Yoshi game, or it could play it far too safe and basically replicate the previous games, and thus end up average and forgettable, or it could just turn out plain bad, there's no way of telling right now because we haven't seen enough from it, but I'm optimistic that the game will be at least fun, and most certainly adorable, with the shift to 3D, clay styled visuals tickling my fancy in particular, although like most I'd of preferred a modern take on the 2D crayon stylings of the original. From what we can tell, the game follows the same basic template as the last two games, you're tasked with protecting Baby Mario (And possibly other Babies, like in the DS game) from Kameck, the magician guy on the broom who does all dem bad things. To traverse through levels you gotta eat enemies, poop them out into eggs, and use those eggs to make progress, fight other enemies and obtain the many secret collectibles that can be found. It's a simple premise, but what made the SNES game so much was that simplicity, the levels were all unique and colourful, meaning you never tired of playing even when you 'died', which in this game occurs when Baby Mario is detached from your back for too long, and is stolen by Kameck's minions...and presumably murdered brutally in order to prevent his future shenanigans because Nintendo is deep and stuff. We don't yet know for sure if this will be a game worth picking up, but I'm very much looking forward to it as of now.
You Should Get it Because : Otherwise Batman will put you in a wheelchair.
Batman is awesome, isn't he? The past decade has been very good to the caped crusader, as he's received both a legendarily good trilogy of films and, bucking a bad trend of lame cash-in titles, also gained himself a hugely adored game franchise in the Arkham series. Both offer suitably dark, gritty spins on the character and his world, the difference being The Dark Knight trilogy was set in a mostly realistic tone, whilst the Arkham games are far more open to the more surreal, fantasy aspects that the comics are more known for. The main series is getting a much anticipated prequel later this year, and for this Warner Bros have decided to also create a spin-off to the prequel of a spin-off series! This game is known as Batman Arkham Origins Blackgate, and don't let the woefully stupid name fool you, this is one game you should be keeping your eyes on. What this game is offering, at least on paper, is a game set in the 'Arkham-verse' with the same dark, violent tone as the other games, but instead of a 3D adventure game, this is instead of the Metroidvania genre...yes, that's right...this is a Batman Metroidvania Game, HOW COULD YOU NOT WANT THAT? Like with Yoshi's New Island, it remains to be seen if the game can actually deliver on that glorious proposition, but given the series is known for its robust, polished experiences, hopefully WB aren't going to mess what could be as surprise a hit as the original Arkham Asylum game up. I know a lot of people have written this game off as a mere cash-in on the popularity of the games and the character, and it could very well be just that, but I'm hoping for great things from this game, it may not deliver, but this is certainly one game to look out for when it comes out alongside its big home console brother.
You Should Get it Because : It's as close to getting Megaman Legends 3 as you'll ever get...BURN!
WHAT!? What is this? Me? Talking about Smash Bros in a positive light? HAVE I LOST MY MIND? Well, yes, but that's beside the point. No, I don't think the Smash Bros games are as good as people rave on about, and I certainly don't enjoy the grumpy hardcore fans who demand all the fun and joy be sucked out of what is a simple arcadey brawler, BUT I'm still keeping my eyes on the new Smash Bros games, and I think the 3DS is the perfect system to have such a game on. In the same way I've said that Mario Kart, Animal Crossing and Pokemon are all great handheld titles because they provide both short and long term experiences, Smash Bros is the same in that you can merely play against your friends in a few quick matches casually, or you can play in a more 'serious', tournament style which will take up a bit more time, or you can attempt to conquer the numerous challenges set before you and attempt to unlock all the bonus characters, stages and trophies. Whilst I'm sure most will believe that a fast paced chaotic button mashing brawler is far better suited to a big TV than a tiny 3DS screen, and that certainly is a fair point in some regards, I still think the 3DS is a great idea because it's just so perfectly suited to a casual, on the go style of play. Out of the games on here, Smash Bros interests me the least due to my previous, much loathed thoughts on the franchise, but like I've said before, it's very hard not to get excited about a Nintendo crossover game where Samus can kick the shit out of Mario whilst Pikachu and Star Fox duke it on the other side of the stage. Hopefully, people will enjoy the fast paced, explosive action the fun items and locations provide more in the 3DS version than the Wii U due to the portable, casual nature of play, and if that's the case, I can very much allow myself to look forward to it!
There you have it, what are your favourite 3DS games? What are you most anticipated? Do let me know what you think in the comments below. Later Gators!
» Tagged In: #2DS, #3ds xl, #5, #Animal Crossing, #Batman, #blog, #BUM, #BUUUUM, #coming soon, #community showcase, #Games, #list, #Mario, #Nintendo 3DS, #The Stickman, #To Buy, #yoshi, #zelda
Just a heads up that on Friday, December 13th we'll be implementing two options for commenting on ScrewAttack. In addition to the traditional comment system we'll also be adding the ability to post directly via your Facebook account. Thanks!