TLDR;
Nintendo repeating Dragon Quest IX's publishing efforts? Say what? Yup, they're going to try and help bring some games over to the west from Japanese developers. The full story? Read on to find out.
Remember this game?
If you do and you're from the 'Merica (or Can-A-da), you'll know it was published in this region by Nintendo, something that definitely helped it in the sales department (selling over 1 million copies in North America, something Dragon Quest isn't known for over here...)
Why do I bring this up? Well, recently, Nintendo's President, Satoru Iwata, said Nintendo is planning on working with Japanese developers to bring more 3DS games to both Europe and North America, saying:
"We will increase the number of such games for the U.S. market as well as in Europe. We are also willing to flexibly assist third-party developers in distributing their valuable games overseas." - Satoru Iwata
This means we could be getting these games over here via physical print or digital copies on the eShop:
Bravely Default: Flying Fairy (which sold at No. 1 in its launch week!)
Shin Megami Tensei IV
EX Troopers (aka. we didn't want to waste the Mega Man Legends 3 engine, see here for proof)
Professor Layton X Phoenix Wright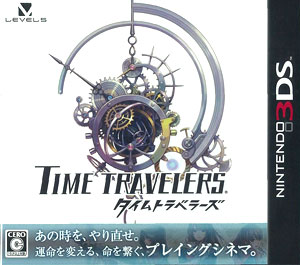 Time Travelers (also on Vita PSP)
The last one is Beyond the Labyrinth in case you're wondering. And there are a ton more worthwhile games worth looking into that haven't gotten a release date for North America I didn't mention like Level 5's Youkai Watch.
Now if you know me, I've complained about Nintendo's debacle at last year's E3 when it announced Fire Emblem: Awakening via Twitter of all places and its previous promotions for its smaller franchises, so hearing this, I'm skeptical as to what it'll do, but it's great news to hear the "Big N" is stepping up and localizing titles to give us 3DS owners even more great games to play. If Dragon Quest IX showed us anything, it was that the Nintendo brand can help boost those sales above what you'd normally expect for a series. Plus some advertising from Seth Green can't hurt.
What do you think fellow G1s? Even if you're not a 3DS owner, does the idea of Nintendo helping out 3rd party developers sound like a smart move?