Nintendo has no need for new IPs when customers pay for advertising the old ones
7/30/13 11:00am
Editor's Note: No doubt SSB has had a hand in prepping people for new IPs, but looking at the recent reveals... should we expect a new Wii Fit or Mega Man game?
One of the most common complaints I see these days regarding Nintendo is their seeming inability to bring new IPs to the center stage. When you think Nintendo, you think Mario, Zelda, and Pokemon. Sure they have others like Pikmin and Metroid, but they've created such a reputation for not being open to trying new franchises. Nintendo has even dug up old franchises that were long forgotten in favor of making new ones. Kid Icarus Uprising is a prime example of this. So with people always wondering why Nintendo doesn't bring out new IPs I want to take a look at why they bring back the oldies instead.
Right now Nintendo has a series that is their all-purpose machine for resurrecting the long lost characters of forgotten lore. Super Smash Bros, while initially not a Nintendo All-Stars game, it became the ultimate spot for everything Nintendo to be found in a single game. The first one saw characters like Samus, Captain Falcon, Ness and Kirby; despite none of them being really well known to newer gamers and haven't seen much game time for quite a while.
What came of this? Well a new F-Zero and Kirby game dropped on N64 not very long after and those games sold well partially due to the success of Super Smash Bros. Metroid Fusion also ended up hitting the Gameboy Advanced down the line. Is it just a coincidence or did Super Smash Bros really help push the IPs of old back into the spot light? Maybe it was just a one-off deal, successful simply for good timing and luck. Or maybe not.
Super Smash Bros Melee came out with even greater success than the first. We also saw the inclusion of new characters like Ice Climbers, Marth and Roy. Now we can't possibly repeat the same success with characters, specifically in America, who have either gone even LONGER without being seen (such as Ice Climbers, last seen on NES) or not seen at all (Marth and Roy, who came from the Fire Emblem series only seen in Japan). It would be ridiculous to even contemplate that the Smash Bros 64 effect would come back now.
None the less, it did. While the Ice Climbers didn't receive the reboot treatment they did get a re-release of their NES game on the Gameboy Advanced as part of Nintendo's classics series (which also included the original Mario, Zelda, and Metroid). The bigger story of this was Fire Emblem. The characters were actually almost cut from the American release, but there was an uproar at the thought. Instead, those characters became well-known from Melee and everyone wanted to see this "JAPAN ONLY" Fire Emblem series. I don't think it takes a lot of guessing to see where this went. Almost every Fire Emblem game that comes out now is shipped outside of Japan and is a successful series on its own. It's difficult to imagine this kind of success without the help of Super Smash Bros being in the picture.
Up next on the block is Super Smash Bros Brawl. This game has a lot of criticism from the competitive community (I've scrutinized the hell out of the dumbed-down gameplay myself) but you can't deny the effect it had was not much different from the other installments in the series. Here we saw the return of Pit from Kid Icarus (yet another NES revival).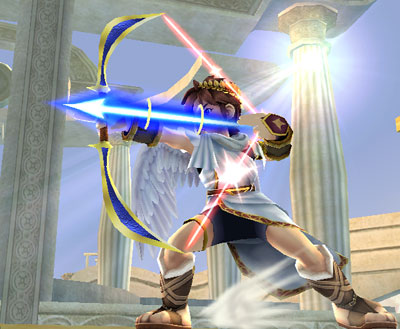 Sure, that's one character that actually triggered a revival, but it's one that was highly anticipated following Brawl's release. It's like everyone knew there would be a new Kid Icarus game coming just because of his appearance in a Smash Bros game. That should tell you something. Nintendo knows they have something with Super Smash Bros, but now even the fans are starting to catch that. Is that a bad thing? No. Smash Bros acts as Nintendo's All-Star fighting game, one that plays unlike any other from any genre and set itself apart in gameplay. The greatest thing about it is it also stands as an all-purpose advertisement for Nintendo's most famous IPs.
Now here's where I want to go ahead an input my own idea into a system that's proven to work. Let's face it, Nintendo has successfully found a way for the consumers to pay for advertising through the Smash Bros franchise. Thing is they realize how well it works in franchise revivals and haven't bothered to notice what potential it has with brand new ones. Imagine a new Smash Bros featuring a cast of 1 or 2 original characters. Those characters could belong to a brand new IP that Nintendo hasn't even announced yet, but added them to a Smash Bros game to go ahead and put them into the minds of the players.
It worked for the Metroid & F-Zero revivals, the Fire Emblem birth in the US, and then the Kid Icarus revival. Many of the people who played Smash Bros didn't even know about those games but, upon seeing the characters in advertisements for their own games, recognized them from Smash Bros and made the conscious decision to check the games out. It's a crazy formula, but one that is smart and actually makes Nintendo money.
So, g1s, I want you to actually think about this. Would you want to see original characters in a Smash Bros game if it meant Nintendo pushing for a brand new franchise? Would you dislike it due to it being a shortcut? How do you think the general fanbase would react to original characters in an All-Stars game?