TLDR;
Each RingtoneAttack session contains one classic video game soundtrack that's been converted into ringtones. All ringtones are 30 seconds in length unless the original track is less than 30 seconds. Four separate audio formats will be available for download, and will comprise of two lossless formats, ALAC and FLAC, and two lossy formats, AAC and LAME MP3. Audio encoding information is specified below each specific audio format download link; for you audiophiles out there.
Once you've downloaded your preferred audio format, you'll notice there are some audio files labeled, (Edited), at the end. Ringtones without this labeling, contain the first 30 seconds of that particular song track. Ringtones with the (Edited) suffix contain either more of the main verse of that song track, like when an intro building up to the main verse of the song track is a bit long, or a different verse/segment within the song track altogether.
WELCOME g1s! I'm fabio73, and THIS… is RingtoneAttack! I'll be bringing you the highest quality video game ringtones on the internet for all your mobile phone devices!
Castlevania II: Simon's Quest, like Super Mario Bros. 2 and Zelda II: The Adventure of Link, is often considered the black sheep of the Castlevania series on the NES. I will assume that we've all seen the Angry Video Game Nerd's review of Simon's Quest, so there's really no need in pointing out the annoying aspects of the game. Regardless of its flaws though, the dramatic style changes in game play are still pretty solid, adding role-playing elements similar to that of Zelda II, and the music, composed by Kenich Matsubara, is outstanding, debuting one of the franchises best recurring songs, Bloody Tears.
Simon's Quest also received criticism from its Nintendo Power Issue 2 cover which displays Simon Belmont standing like a bad ass holding Dracula's severed head. Apparently some kids who purchased the issue started to have nightmares and parents actually called Nintendo to complain about the graphic nature of the cover. I can't help but laugh whenever I think about this because if you've seen the cover, it's really not that scary.
I never played Simon's Quest growing up and it wasn't until I started making the ringtones that I really sat down to play through the game; as playing the game is the best way to figure out which sound effects are which. I owned the NES Game Atlas Player's Guide though, and I would always be looking at the pictures, memorizing the maps/paths, and studying all the information provided even though I didn't own it. Continually looking through my Nintendo Power magazines and strategy guides was my way of preparing for the day I would finally get to play it, and many other games. Like The Guardian Legend, making ringtones gives me that extra incentive to sit down and play the games that I missed out on as a kid; although I really shouldn't need the incentive at all.
Alright everybody! It's time FOOOOOOOOOOOOOOOOOOOOR, your ringtone downloads! CLICK THE MUSIC!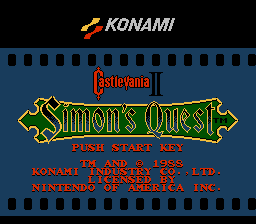 DOWNLOAD DETAILS
Tracks - 12
Sound Effects - 32
That about wraps up Session # 10 of RingtoneAttack! Be sure to subscribe and post comments below sharing your experiences with Castlevania II: Simon's Quest. Also, let me know what NES titles you'd like to see in upcoming sessions too! So until next time g1's…
I'm fabio73, and THAT... was