Smiffleupagus' Top 10 SNES Antagonists
4/11/12 3:51pm
My top 10 antagonists that appeared on the SNES.
Hello everyone, I had not mad a top ten or any other kind of blog in awhile so I figured it was about time for me to write something up. I will make no secret that I hold the Super Nintendo in the highest regaurds, some of my best gaming memories are tied to that system. With that being said I wanted to make a list of some of the baddies that really have endurred with me over the years. Now the requirement is that they must have played a significant role in the game and they had to have maid an apperance on an SNES game. Now this doesn't have to be an exclusive to the system, they just had to be on it. With that out of the way, lets get started!
10) Andross- I'm going to kick off this list with Andorss. I for those of us around at the time Star Fox had some awesome graphics (although the original hasn't aged well). I'll be honest at the time I really had no clue what the story to the game was, I just knew I was a fox in a star ship and I was going to stop some guy named Andross, and you know what, that was fine by me, it was all I needed to know! However, I didn't expect him to be what he was in the end. I mean really who would have seen a big disembodied head that spits things at you coming? With that being said I think that is one of the things that made Andross stand out to me, the initial surprise I got from him.
9) Psy-Crow-I loved me some Earthworm Jim back in the day, and if there was one stand out villain in the game, it would have to be Psy-Crow. He just seems like a natural rival to Jim. Everyone knows that once you were in Andy's Asteroids, you were gonna see Psy-Crow. Who better to take on an earthworm in a super suit than a intergalactic bounty hunter that happens to be a crow (which eat worms). Also, when you jump to the second game in the series you are faced with Psy-Crow being the main villain, not too shabby.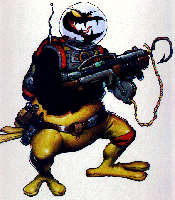 8) Smithy- It is no secret to anyone I know that I am a huge fan of Super Mario RPG. The graphics to the game blew me away when it came out. Who would have thought an RPG starring Mario would be so good (alright I guess Nintendo and Square-Soft). Smithy was another one of those villains that you really didn't have a face to put with until the end of the game. Now personality wise most wouldn't say that Smithy had all that much of one. However, I beg to differ because Smithy actually made most of the other major enemies in the game. So I like to think that a little of his personality is shown in each of his works. Also, I mean this guy uprooted Bowser and made him have to join forces with Mario just to be able to take him down, how awesome is that?
7) King K. Rool- King K. Rool has always been a favorite of mine, (how has he not been in Smash Bros.?) Every good character needs an arch-nemesis and back in the 90's the Kong's could trace their the source to all their troubles back to this one guy. He used a few different names throughout the series but everyone knew he was the same king of the Kremlings. He was responsible for stealing the Kong's banana horde, kidnaping Donkey Kong, and then kidnapping Donkey Kong and Diddy Kong. That is an impressive resume. I really think the Donkey Kong franchise has been hurt without his presence in recent installments.
6) Pokey Minch- Now here's a guy everyone loves to hate. He's a coward, he's a backstabber, and he is just a general slime-ball that will do anything as long as it benefits him. This could be due to his upbringing though because his parents don't seem to be the best of examples. Plus you have to kind of hate anyone that would turn on their entire universe. Although, it wasn't Pokey that was the main threat, he was the one who obeyed orders and orchestrated a lot of the events in throughout the game. I can't really find one redeeming quality about him.
5) Kamek- Here is one that a lot of people wouldn't see coming. If you played Yoshi's Island then you know that this guy was a constant thorn in your side. He would use his spells in order to make normal enemies into huge monstrosities. Oh and there was the time he shrunk you and let you get eaten by a frog. For someone who had very little physical contact with you in the game, Kamek sure made his presence known throughout. He also had something to say about you every time that he saw you. None of the epic fights in Yoshi's Island would have been possible if it wasn't for Kamek. Also, he kidnapped Mario and Luigi as babies, I mean come on they were defenseless.
4) Queen Zeal- Yet another power hungry ruler to make the list. She falls under the category of doing anything it takes to secure her own immortality. She pretty much rules her subjects by fear, and has managed to win their devotion while still instilling fear in them. Although it is said that she was changed due to the amount of power she continues to absorb through Lavos, that doesn't excuse her actions. Zeal will do whatever it takes for power. What's the your Guru's you once trust start talking back to you, get rid of them. Oh your daughter shows high magical abilities, use her for all you want with no concern for her well-being. It is her self-centeredness that really puts her up on my list. Plus I mean it does take an ego to name the entire kingdom after yourself.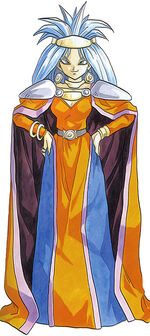 3) Sigma-Sigma is to X as Wiley was to the original Mega Man. Sigma apparently started out as a Maverick Hunter, but went on to corrupt other hunters turning them in to Mavericks as well. Since Sigma is an advanced reploid and was an S class hunter, he is a formidable foe. Sigma wanted to turn all reploids into Mavericks because he thought that reploids were superior to humans. It kind of sounds like your standard robot goes mad and wants to kill all humans story. However, the stark contrast between the characters of X and Sigma is what makes it more intrigues me. Sigma uses his power in order to manipulate and destroy. X uses his in order to protect, even if he though he prefers not to fight. He also cuts a pretty intimidating figure.
2) Agahnim- There is a lot of debate on who or what exactly Agahnim is, some say he was a minion of Ganon some say he was an incarnation of Ganon himself, and some say he was possessed by Ganon. No matter how you look at it though Agahnim was a pretty awesome villain. He gained the trust of the entire kingdom of Hyrule only to turn on the king and gain access to what he needed to break the seal on the Dark World. Agahnim didn't necessarily have a lust for power or control, he had a mission and that mission was to free Ganon from being sealed in the Dark World. He was very efficient at this job and even managed to capture and seal away Zelda before Link had time to rescue her. I always look back at a Link to the Past and Agahnim is really the stand out villain of the whole game.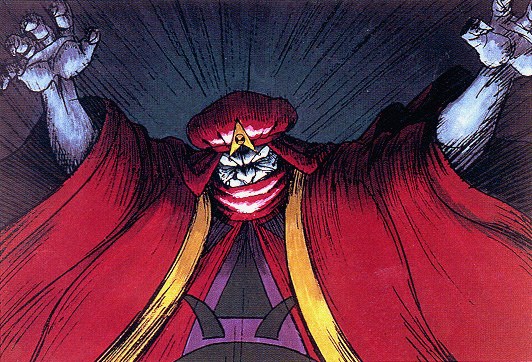 1) Kefka Palazzo- Oh Kefka, how we love to hate you. If anyone of this list deserves his spot it is Kefka. This guy is a complete psycho. There have been a lot of people do a lot of bad things in games, but Kefka could do it with absolutely no second thought and then just laugh about it because it amused him. Kefka certainly doesn't start off as an overly powerful individual. It is only through his underhanded tactics and constant willingness to stab anyone, and I mean anyone in the back, that he came by his power. What was the first thing this guy did when he acquired his overwhelming power? That's right he commenced to completely wreak havoc on the planet. Then he ruled the people that survived by the constant fear of being obliterated at any moment. As if that wasn't enough he even decided that everything was meaningless, so he just mind as well destroy everything!
Well that's it for this time. Be sure to tell me what some of your favorites in the comments below.Also be sure to check out some of my other Top 10's if you have missed them.
» Tagged In: #Agahnim, #andross, #Crono Trigger, #Donkey Kong, #earthbound, #Earthworm Jim, #Final Fantasy, #ganon, #Kefka, #King, #lavos, #Link to the Past, #Mario, #Mega Man, #minch, #Ness, #pokey, #rpg, #Sigma, #smith, #snes, #Star Fox, #super nintendo, #top 10, #Top Ten, #X, #yoshi, #yoshi's island, #zeal, #zelda