TLDR;
I made a small series known as the Rise of the Megamen that told the entire tale of every Megaman ever produced. I said that while certain characters are over, the series will never end. This game does technically prove that point. But it isn't the game Megaman fans wanted…
Like you, and every Megaman fan young and old, when I heard about Rockman Xover being a Social RPG for iOS I groaned. While I did defend Capcom from their decision of using Megaman in SFxT and the Cancellation of MML3, even I found this unbelievable. Megaman X for the iOS got a huge negative backlash in terms of reviews. Why they are going to give it another try is beyond me.
Though looking at the screenshots as well as the sprites of both versions Megaman X, I don't think this is going to be as bad as that game was. Sadly, all I have is screenshots and no game play footage so hating the little we see is a lot easier than liking. But being a spriter (a person who makes pixel images that could be in a game, not to be confused with a Pixel Artist, which is the most advance version of a spriter) I do notice more effort into this game.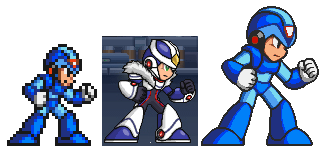 Left: SNES Megaman X 300x. Center: Megaman Xover Jpg. Right: iOS Megaman X
It should be obvious to anyone who has played Megaman X that the Xover sprite is just an edit off the original. But if you compare this to the iOS X sprites and you would see more effort done to this guy than that one. He has a proper outline compared to the other iOS sprites, And he also has better details, like an eye color.
You probably think I'm grasping at straws here considering they did fix up the iOS Megaman X sprites, but there is another character that was in that game as well.
Left: SNES Storm Eagle without and with lines 300x. Center: Xover Storm Eagle. Right: iOS Storm Eagle.
Here is where you can see real effort. With the Megaman X iOS, they look like they just put the sprites in RotSprite to 400% and did minor touch ups. Meanwhile, the Xover sprite of Storm Eagle looks frikkin awesome! They added a lot of details not in the original sprite that makes it worthy of being sprite ripped.
You also see better reshading and coloring as well, giving Storm Eagle that pop feeling the original (and especially the iOS) sprites didn't have. The fact this is leaps and bounds beyond the other iOS Sprites of Storm Eagle has to show they are putting more effort into this game then their last attempt.
So I think it'll be safe to say this game will be leaps and bounds over the Megaman X iOS one. Of course, that's like saying getting hit by a car is a lot better than getting hit by a truck. And like you, I won't plan on getting this game (even if I did had an iOS 4.0). But I doubt this is the end of what Capcom has planned for Megaman for his 25th Anniversary.
As a little homework, I want you guys to see what Capcom did for Megaman in his 15th and 20th Anniversary. I seriously doubt they're ready to make their big cash cow into hamburger yet.
On a related note, here is the reaction of every Megaman about the game, including the new guy .