Talking Handhelds ... now with 10% less Nintendo
2/13/13 5:32pm
So this is the first time me and Alpha Unit have worked on a collab blog and we wanted to showcased some of the best handheld games. The thing was to make this harder as one rule was implied which is no Nintendo developed or published game, so yeah hopefully you'll also enjoy this blog too.
Alpha Unit: Hello everybody, it is the captive Alpha Unit here! I'm being held againts my own will. *noble cocks shotgun* I mean, I'm here on my own accord to help Noble with the special collaboration blog he totally did not force me to do! *gulp*
Me: So yeah .. I'm totally not being evil with a throne while stroking a cat as I look a the the night, but yes I have finally managed to "work" with Alpha on some Handheld games before they where know as Angry Birds or games that I play on my Iphone on the shitter.
Alpha Unit: Help...Me
Me: Really he is prefectly find, but time to get to work on this talk where going to have about some Handheld games, just with one rule No Nintendo developed or published games. So while Nintendo has being rolling on the money train ever since the gameboy it's time to depart that train to talk about other titles though some of these games do appear on Nintendo Handhelds.
Alpha Unit: It's Noble's way of saying Nintendo's handheld e-penis is too big, and that other games on handhelds need love too
Me : So pretty yeah time to show some love for those Non-Nintendo Handheld games, though we won't be discussing the flinging of throwing birds that happen to be angry at pigs.
Alpha Unit: Although we could, but then Noble would kill me...Er, politely excuse me.
Me: Well think I might have a shotgun on me at all times for this blog just in case so now it's time to talk about Alpha Unit's first handheld game, so enjoy this blog or else something happens!
So the Alpha Unit's first game is SCRIBBLENAUTS.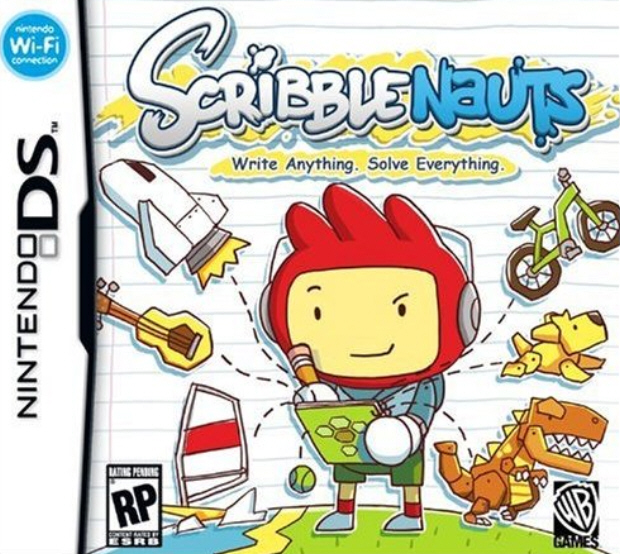 Me: That's a video game ... I honestly don't know much about this game at all, so why don't you tell us about this game?
Alpha Unit: Like, you type things in right? And then, it becomes real! WEEEEEEEEEEEEEEEEEEEEEEEEEEEEEEEEEEEEEEEEEEEEEEEEEEEEEEEEE
Me : So if I type in Hooker and Coke will I get it because that is what the viewer what to know the important stuff like that?
Alpha Unit: You'd probably get a hook and maybe an off-brand cola. Brand names aren't allowed. Or profanity. Or gross ass shit.
Alpha Unit: But you can totally summon a vampire to kill a shark
Me: Dammit I want to play this to make random things fight each, my god this game sounds like a Death Battle Fanboy dream come true, though I just would summon bacon in this game if I ever get the chance to play it.
Alpha Unit: You could summon bacon
Alpha Unit: And Super Scribblenauts is better, it allows you to add...ADJECTIVES! *rainbow appears*
Me: But does this game have a certain Pineapple who lives under the Sea?
Alpha Unit: You could create a sentinent, flying, purple, pineapple
Me : Well looks like I'll need to buy this game for Imagination and all that, but I wonder what you'll think of the next game we'll be talking about?
Alpha Unit: Umm...Fuck...
Alpha Unit: Think
Alpha Unit: Your turn
My first game is Grand Theft Auto: Chinatown Wars
Me : Actually since we been talking so much about Coke (Hope we get that gamer fuel money for that) so much that we will be talk about a game that actually lets you try out drug dealing or know as Grand Theft Auto ChinaTown Wars.
Alpha Unit: My brother plays that game everyday. He loves to run around and puch EVERYTHING. PUNCH EVERYBODY IN SIGHT
Me : Well I loved that game though I never bother punching anything as GTA: ChinaTown Wars has a sword overpowered that it can kill police in amror with one hit, so yeah this game truly uses VIDEOGAME LOGIC. Plus it's basically GTA 4 in a 2d view, just more over the top so most of the time you are blowing shit up.
Alpha Unit: I always liked digging in the trash can in the hopes of finding dildos and condoms. I'm fucked up
Me : Plus looking in the trash also meant you could find food there like burgers, so if your looking for a homless person sim well looks like ChinaTown Wars will be your kind of game.
Alpha Unit: Also it's the perfect drug dealing simulator for kids!
Me : So yeah this game is family friendly like all the other GTA games, so buy your copy today. There is also multiplayer in this game but no download play for the ds version which sucks as I want to kill somebody with a sword.
Alpha Unit: Rated E because you kill everybody! Haha! Moving on
Me: Yes, and I wonder what is the next game that Senor Unit will talk about I bet it's going to be something Family Friendly.
Alpha Unit: Jjjjafkjaefkjaewpjkeajaecjwenfawjeawejfrh
Alpha Unit: Processing
Alpha Unit: Patapon for PSP
Alpha Unit's second game is Patapon
Me : So looks like I'm going in blind again in talking about this game as I didn't have a PSP, so what is about about?
Alpha Unit: Basically your god! YAAAAAAAAAAAAAAAAAAAAAAAAAAAAAAAAAAAY!
Alpha Unit: Except you communicate to eyeball people with drums to command them
Me : Eyeball Poeple you say well based on that and the God thing, this game seems pretty strange from what you said.
Alpha Unit: It's a rhythym game where you...You command tiny eyeball with drums to kill big monsters. That's it.
Me : Well is there any more randomness to this game. Though it does sound like a game I would really like after playing some of the Bit Trip games.
Alpha Unit: It's a game you won't understand when you first play it. At first I was like ?, then I was like :D
Me: Looks like I might have to try this game out if I ever get a PSP.
Alpha Unit: It comes with Loco Roco for 20 bucks
Alpha Unit: I would like to talk about Loco Roco, but talk about your game?
My second game is Final Fantasy Tatics Advance
Me: Well some first send me a PSP with that game.. you yeah hinty hint, but the next game I'll be talking about Final Fantasy Tactics Advance... ohh I wonder what system this game will be on!
Alpha Unit: Playstation 3 ?
Me : Surely YOU JEST and my god did I just say JEST, but nope if it's a Gameboy Advance Game will time to slap Advance at the end of the games title though I really enjoy this game as you can spend hundreds or hours playing it.
Alpha Unit: It was a GBA game? Shit. Color me suprised
Me: YOUR MIND MUST BE BLOWN BY THAT, but yeah Final Fantasy Tatics Advance is light hearted attempt to have a FFT games though the game starts off with a snowball fight in school, and that made me think where is all the stuff from the box art going to show up.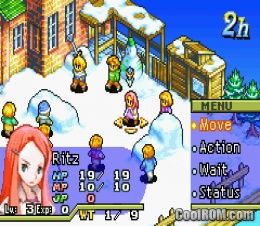 Alpha Unit: Does the game have gore and nudity to make it extra fun?
Me : Nope none of that except that non-essential party members can die off in select stages of the game, though this being a turn based stragey rpg it does take a lot to get some characters to the higher levels.
Alpha Unit: Hwat's the story about, yo?
Me : Some Kid finds a magic book go to another world and has to fight till he finds his way back home, though he tries to find one of his friends on the way too.
Alpha Unit: Loco Roco, from the same guys that made Patapon. It is, without a doubt, the cutest PSP game ever
Me : Well cuter it's than FFTA, as though there are moggle, so what is the next game you want to talk about Mr.Unit?
Alpha Unit: LOCO ROCO
So Alpha Unit's Third game is LOCO ROCO
Alpha Unit: You're a blob that eats rose buds to become a bigger blob who can split in more blobs who can join together to become more blobs
Alpha Unit: I mean, a bigger blob
Alpha Unit: Yes, they made blobs cute
Me : And for a second I thought you were just going LOCO, but looking like this game sounds like a game meant for Amercians.
Alpha Unit: And there's multiple varieties of Loco Roco of various colors, but the black ones are the best ones. They real niggas
Me: So guess this is one game you don't want to fuck with at all, though it looks like I'm going to be even more tempted to buy a PSP now.
Alpha Unit: The DS has a much, much bigger library of games, but PSP is cool too. Though to tell the truth, I don't see too much of a reason to get a PSP unless you like JRPGs, which I don't
Me: BUT I LIKE ANIMU and all that, but is there anything else I should know about Loco ROCO, beside it sounding Spanish?
Alpha Unit: It's not very Spanish. That's all I can say.
Me: Well though I can imagine this game having very strange music or something really what would be the right word LOCO?
Alpha Unit: Yes, but the black one has the best music
Me : NIGGAZ FOR LIFE.
Alpha Unit: Fo sho homie
My next game is one pretty manly aka Contra 4
Me: So lets talk about some of the manlies game ever but on the go Contra 4, which I bet Alpha has something to say about a game in which a guy just starts going into a jungle to stop terrorist/ aliens from doing evil things?
Alpha Unit: KILL EVERYTHING
Me: Pretty much though your best friend in this game will be the spreader and it plays a lot like Contra III, so this game kicks all sorts of ass, The thing is that even on an easy mode for this game you will die a lot, unless you have a friend to play this with is needed to actually beat this game.
Me: But I wonder what Alpha think of all that?
Alpha Unit: Death and destruction! HEEEEEEEEEEEE HAAAAAAAAAAW
Me: FOR AMERICA! though at least this game has some pretty great music while your kicking alien ass. Plus you can also unlock the first two Contra Nes games on this game too, so that's like three games for the price of one.
Alpha Unit: Three for one? That's like...Putting three games in one game
Me: EFFING SMART, though I wonder what is the next game you shall speak of?
Alpha Unit: The World Ends with You, a game where you're basically dead to participate in a game
Me: Outside of you've told me right now, I really know nothing about this game at all. You should tell me more about this game?
Alpha Unit: It takes place in Tokyo and revolves around Neku, who this jerkass who died, but he doesn't know how he died. He was forced to participate in a competition known as the game by a group called the reapers for an unknown reason...
Alpha Unit: Also, the battle system makes use of both screens. Neku is controlled at the bottom with a stylus, and your partner at top is controlled with a d-pad. So basically, you're fighting in two separate battles at the same time
Me: This game sounds very strange from all you told me though I still would want to try it out, though it sounds like the combat can be tough at first
Alpha Unit: Yeah, it's a bit disorienting at first, but after awhile, you get used to it. It has complex plot, one of the most unique battle systems of our time, and it has a JPop soundtrack! JPOP
Me: EHH JPOP I'm not a fan of that, but hell I should try this game out regardless of it's soundtrack.
Alpha Unit: I knew you'd get pissed as soon as I say Jpop, but they make it work. I hate Jpop, but they made it WORK
All right we should move on as all this JPOP talk is giving me the chills, to my next game which is Blaster Master Enemy Below.
Me: So yeah you remember Blaster Master on the NES, well in a sense this is the same game on the NES that you've played but with some slight changes.
Alpha Unit: Sexier changes I hope
Me: Well of the changes is in part due to the hardware as being a gameboy color game, well the music doesn't sound as great as it's NES counterpart, and some layout changes to make a challenging if you've played the first game on the NES.
Alpha Unit: Is it better?
Me : I've played both Blaster Master games and I'll likely put the Gameboy Color game ahead as it it a bit more diffuclut, plus it's Blaster Master on the go so that's good. Plus if you like 2d Metriod games you should really check out this game too.
Alpha Unit: Is that it? What's the reason to like it besides "Holy shit, portable Blaster Master!"?
Me: Outside of that it's a simple game though it's just really fun to play as you'll be exlporing a lot in this game to find power ups to make you tank Sophia better, though you can get out of the tank for some over head levels too.
Alpha Unit: One a scale of 1 to 1.5, how would you rate it?
Me: 10 of alphas
Alpha Unit: 10 Alphas? Jennifer Lawrence herself couldn't handle one Alpha
Me: yep it's that good, but I wonder what will be the final game you have to talk about for this chat we've had?
So Alpha Unit's last game has a Ghost or something from a game called God Of War Chains of Olympus
Alpha Unit: So God of War: Chains of Olympus is another game where Kratos gets pissed off at the gods and goes on a killing spree where he brutally tears apart monsters 20 times his size
Me: Sound pretty like all the other God of War games out there, Kratos gets mad then kills.
Alpha Unit: Exactly. But now it's portable. That's basically it.
Me: Sounds Like my last entry, but with a guy that is whiter than most ghost.
Alpha Unit: Yet Kratos is the blackest white guy ever. He screws chicks like one too
Me: Oh yeah I remeber this game where if you get laid well, that you can recover some of your health, though I bet this game controls a bit different being on the PSP instead of the PS2 or PS3?
Alpha Unit: Nah, not really
Alpha Unit: Triangle, circle, square,applesauce. It's the same
Me: Really well more regarding the PSP's only one analog nub as it made a lot of 3d games hard to control on it, though it seems like this God of War games works well on the PSP.
Alpha Unit: Honestly, there was not need for a second nub. I don't think any of the god of wars need it
Me: At least I can play this game on the God of War Hd collection, but still sounds like an overall impressive psp game.
Alpha Unit: It's not as epic as it's console brethern, but it's tiny Kratos kicking giant ass
Me: Nice, but it seems like we have one last game to talk about aka my last game to talk about, I bet Alpha will be able to guess the last game for this discussion?
Alpha Unit: Halo DS
So since Halo DS isn't out my final game to talk about is Resident Evil Revelations
Me: Oh I though you mean Goldeneye DS with the Halo skin, but sadly since that game hasn't come out the last game that I'll be talking about is actually Resident Evil Revelations which is my favorite 3DS game so far.
Alpha Unit: Oh boy, I hope it's another totally badass action game with big guns and infected people everywhere
Me: Well it sort of is, though the pacing is a lot slower as enemies tend to be a lot more deadly, though in part that you have to take time to get the right shoot as this game doesn't give you all that much ammo unless you play on a New Game Plus Save. The thing is that there is plenty of action in this game if you play raid mode.
Alpha Unit: Sounds sexy. What's your favorite part about it?
Me: Actually my favorite part would be raid mode as it plays a lot like mercenaries mode though, you can level up to use better weapons too unlock new characters to use who each have there own strengths when it comes to certain weapons. I've played this game so much that according to my 3DS I've played over 90 hours of these games since I bought this game last year.
Alpha Unit: How big was your boner when you first started playing?
] nobleteam1: Actually I was actually expecting this game to basically be like RE5, which would be this will be an okay action game, but I came surprised at the end as it feels like it has actual suspense in contrast to the RE5 style.
Alpha Unit: How would you place it in the RE series? Among the best of the best?
nobleteam1: I like this game a lot probaly it's my second favorite game in the series behind RE: Code Vernoica, plus it's also one of the best looking 3ds games out there too.
Conclusion
So I should check on Alpha after making him "Help" on this blog wonder what is doing, .. check that slut left and only left this note..