TLDR;
The Titanium Man of Flash Gaming is back! Sign up and view the rules now so that you can work your way into becoming the true Flash Gaming Master!
Spirits of the Fallen - Megaman 10
NOTE: All games that will be in the TMoFG will be FREE. YOU DO NOT HAVE TO BUY ANYTHING.
Welcome one and all to the return of a new round of Titanium Man of Flash Gaming! Since g1 Woodyman's computer is...not up to its full health I, the great and almighty King of Evil (darkhyrulelord) shall host this round of Titanium Man of Flash Gaming for Spring 2012! Don't worry, Lord Woodyman shall also host this tournament in later TMoFGs (next one will mostly start in August) or when I'm not available.
But, without further ado, here is the start of a new TMoFG!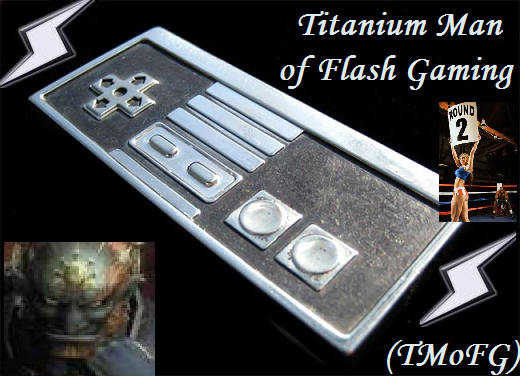 Now know that the TMoFG is not for the weak of heart. Only the strongest of the strong will make it forth to become the next Titanium Man and I will gaurantee that this time in TMoFG, it will be far more challenging and (most importantly) more fun! I have quite a number of surprises up my sleeve, and I will test all of the contestants to the max of their ability to see who will claim victory! MWAHAHAHAHAHAAA!!!
This time, I will try to find a prize of some sort (don't expect anything big though) for the champion of this round and perhaps a bonus prize if he/she can manage to conquer the true final challenge...to be revealed later.
But for now, read the rules VERY CAREFULLY and sign up post-haste! I shall be waiting...
The Rules
Every Monday a new game will be announced. Your object will be to get the highest score/lowest time etc…
Rules for each specific game will be posted with the announcement
You have until Sunday to play the game and send me your best score/lowest time via a Print Screen (usually)
Any signs of cheating will result in immediate disqualification
The g1 who does the worst will be eliminated until only one g1 is left and thus crowned champion
If you miss the deadline and DO NOT speak to me first then you will be disqualified.
If you miss a deadline excessively (definition of excessively up to myself to decide then you shall be disqualified)
If you have any problems with the deadlines contact me ASAP!
The first game will be announced Monday, February 27, 2012. This is also the deadline to sign up.
You have until then to sign up!
If you wish to sign up comment below
For those that want to sign up, make sure that you put in an email address or a twitter account info in case I need to remind you to send in your score.
If you wish to contact or ask questions to the TMoFG account, then email to tmofgemail@yahoo.com ...or you could always PM it or talk to darkhyrulelord via Twitter.
Thanks.
Make sure you tell your frien--I mean--minions about this too, since I wish to hopefully have at least 40 people entering in the first round like last time.
Competitors thus far:
1. Master Shortpants
2. Alpha Unit
3. HybridRain
4. Chikumo
5. Hero of Lime Dood
6. Carlioo41
7. Lyserg.Z (current champion)
8. LurchenGamer
9. Atomic_Tomato
10. Fishman
11. Gaarathedancingpanda
12. Jesse Robles
13. M3sach
14. Tom the Iron Man
15. Jam64
16. Werdman24
17. NODlike
18. JHawk99
19. ParadiseandFairies
20. Xenophobelives
21. Atsinganoi
22. Ivan2294
23. Mad-Hatter
24. Bigman-Q
25. Bugface
26. Gaijin Goomba
27. Akiterra
28. Sean Hinz
29. Flapperdoodle
30. Elmo 3000
31. Monderetro
32. Dabrink05
33. Lloyf
34. Flashpenny
35. Plasmic Ocelot
36. Zach_Arani
37. Kitsume
38. FinalplayerRyu
39. Walatas
40. DJPon3
41. Inatspong
42. Fizzlegif
43. Latinogamer