TLDR;
Woodyman picks his top 10 favorite Muppets. Does yours make the list? Find out!
Top 10 Favorite Muppets
Hey g1s,
Woodyman here with his very first blog over at New ScrewAttack, which I will now refer to as just ScrewAttack.
At first I was going to do a blog about New ScrewAttack and what I think/why I didn't leave, but come on. A lot of g1s will do that, and I have a certain hatred for blogs of that nature (especially for myself). Blogs are supposed to fun… and I don't have fun doing research and sounding like a crybaby!
So here's a stupid list no one cares about! Wheeee!
Recently I was on YouTube watching some funny videos and listening to music when I came across an amazing music video of OK Go singing the Muppet theme song.

After watching that video I got the inspiration for this list. I watched old episodes of The Muppet Show and some of their videos online and went from my 20 favorite Muppets down to 10. Will your favorite be on the list? Maybe not… but that's why it's a good list.
So without further ado, here is…
10.) Pepe the King Prawn

Don't you dare call him a shrimp!
Instead he is Pepe the King Prawn. Now many of you may not know this character, nor understand why he is on this list instead of many other Muppets. Pepe aka Pepino Rodrigo Serrano Gonzales was a chef from Madrid, Spain until he became infatuated with show business and moved to Hollywood. One day in the kitchen he was mistaken as an appetizer and thus quit to become famous. And I gotta say… he is definitely the most famous prawn in Hollywood.
While Pepe never earn the several Oscars, that he believes he deserves he still enjoys relative success. He appeared in several Muppet Movies, once was a spokes-prawn for Long John Silver's Restaurant, and even wrote his own book "It's Hard Out Here for a Shrimp: Life, Love and Living Large."
Now Pepe may not be as famous as Kermit or Miss Piggy, but I had to include him on this show. The three people who watched the YouTube video above, know that Pepe is hilarious. One of his funniest moments occurred in Muppets From Space where he tricks Gonzo into building a Jacuzzi and throwing a party. Pepe can adlib and has unmatched improve skills in the Muppet universe which is why he probably is always on DVD extras, appearing in interviews, and is interviewed himself.
9.) Gonzo
Gonzo… is umm… Gonzo. He is also known as Gonzo the Great or The Great Gonzo. He is the resident dare-devil/artiste for the Muppet show and one of the oddest characters.
He is a blue alien-type creature with a long curved nose. His backstory is quite convoluted. No one is quite sure, and I feel like this is Gonzo's biggest strength. No one is quite sure what Gonzo is, where he came from, or basically anything about him. Gonzo is just Gonzo and that's all we need to know.
Sometime during the series he developed a crush on Miss Piggy, but she found him to be odd and revolting. After that Gonzo set his sights on Camilla the Chicken, and they've been together ever since… A blue alien and a chicken are in a romantic relationship.
Why I chose Gonzo to be on this list? Well besides the fact that he is an enigmatic creature, I love his performances. Gonzo combines artistic and classical music, with bizarre and dangerous acts. In the very first episode of The Muppet Show he ate a tire to 'Flight of the Bumblebee!' Do I really need to say anything else?
8.) Sweetums
Sweetums used to give me nightmares when I was a kid. He is a gigantic brown ogre who towers over all other humans and muppets. He has a large bulbous nose, thick menacing eyebrows, a bulldog jaw, and large fangs. Even though he looks evil and dangerous, Sweetums (like his name suggests) is pretty sweet and genial sometimes… even though sometimes he wants to eat Kermit the Frog.
Some of Sweetums greatest appearance on The Muppet Show were when he sang "Can't Take My Eyes Off of You" with Ruth Buzzi.
and when John Cleese, of Monty Python and Fawlty Towers fame, appeared on the show Sweetums appeared next to him singing opera.
He made appearances in nearly all the Muppet movies and even appeared on Family Feud. And he even appeared as Little John in Muppets Robin Hood.
This gigantic ogre is lovable, odd, and a sure pick for the number 8 spot.
7.) Uncle Deadly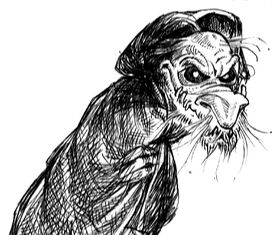 You heard me right g1s.
On a list about Muppets, this scary reptilian creature known as Uncle Deadly aka The Phantom of The Muppet Show makes it on the list.
Sweetums gave me nightmares when I was younger, but Uncle Deadly is the thing nightmares are made of. IDK How he ever appeared on the show, but his unusual appearance and complete departure from the rest of the Muppet crew makes him an instant pick on this list.
It is no shock to me, that Uncle Deadly made his first appearance on the show next to horror icon Vincent Price. He is known by the other Muppets as the Phantom of The Muppet Show, and tells Kermit he used to work at the theatre until he was killed! By the critics… and now he haunts the show.
Creepy, over-the-top, and menacing. Uncle Deadly was such a departure from the usual quirky characters on the show I had to put him on this list.
6.) The Swedish Chef



Børk! Børk! Børk! Børk! Børk! Børk! Børk! Børk! Børk!
The Swedish Chef is a chef from Sweeden… kinda.
In reality, The Swedish Chef is one of the few humanoid characters on the Muppets. He is the official chef for The Muppet Show, and while some consider him a one-note character… I just can't get enough of the guy. In nearly all of his sketches, The Swedish Chef is seen preparing some sort of food, while either singing or gibbering in mock-Swedish. Yes, I hate to burst your bubble g1s but The Swedish Chef doesn't speak real Swedish… although he did say Merry Christmas once in Swedish… He prepares some meals, flails some cooking utensils around, and usually hilarity, death, and explosions occur.

Yeah… if you watched that then you know The Swedish Chef is insane. He carved a pumpkin with a bazooka… and somehow made a pie as well. According to the Muppets Wiki page the Swedish Chef was created because Jim Henson (creator and god of Muppets) had a tape that he used to play call "How to Speak Mock Swedish" he used to speak mock Swedish and pretend to cook on his way to work.
The Swedish Chef took off after that, and he even got his own cereal called "Croonchy Stars"
Børk! Børk! Børk! Børk! Børk! Børk! Børk! Børk! Børk!
Børk! Børk! Børk! Børk! Børk! Børk! Børk! Børk! Børk!
5.) Rowlf the Dog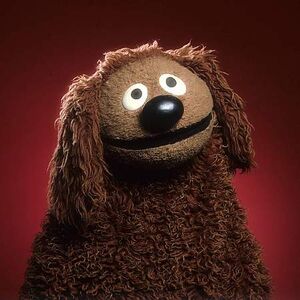 If I had to describe Rowlf with just one word… it would be cool.
Rowlf oozes coolness without even trying, and that makes him cooler.
He doesn't have a gimmick, he plays piano, he's a dog, and he's just cool
Rowlf is probably one of most normal looking Muppets on the show. He is simply a brown dog, with big floppy ears, and a big black nose.
He was the very first Muppet to reach national stardom as a cast member on The Jimmy Dean Show, he plays Dr. Bob on a recurring sketch "Veterinarian's Hospital" and plays the piano for the show.
Rowlf first appeared in Purina Dog Chow, and other ads in the early 60's. He became famous for his comedy acts and duets on the Jimmy Dean Show. He appeared in Sesame Steet and made many other cameos.
He is often seen keeping it easy, and giving sage advice like "Stay away from women."
4.) Animal
ANIMAL IS ONE OF THE MOST ICONIC MUPPET CHARACTER EVER, AND IF THIS WAS SOMEONE ELSE'S LIST THEN HE WOULD PROBABLY APPEAR IN THE TOP 3… BUT THIS IS MY LIST AND ANIMAL JUST MISSES IT WITH THE NUMBER 4 SPOT. ANIMAL IS THE DRUMMER ON THE MUPPET SHOW AND PERFORMS HE THE BAND "DR. TEETH AND THE ELECTRIC MAYHEM" ANIMAL PLAYS DRUMS THREE DIFFERENT WAYS… LOUD, LOUDER, AND DEAFENING. HE USUALLY SPEAKS IN SIMPLE WORDS OR PHRASES, ESPECIALLY WHEN HE GETS EXCITED AND OFTEN SHOUTS BEAT DRUMS! AND WO-MAN! AND MAMA! HE IS CAPABLE OF MORE COHERENT CONVERSATIONS BUT THESE INSTANCES RARELY HAPPEN BECAUSE HE IS RARELY CALM ENOUGH TO SPEAK NORMALLY!
ANIMAL'S CRAZY AND UNRESTRAINED STYLE MAKES HIM A FAN FAVORITE AND HE IS OFTEN SEEN BITING AND CHASING MANY OTHER CHARACTERS. WHILE HE IS A DRUMMER HE BELIEVES THAT DRUMS ARE FOOD AND CAN BE EATEN AND BEATEN.
SOME PEOPLE BELIEVE ANIMAL WAS INSPIRED BY KEITH MOON, DRUMMER OF THE WHO, OR MICK FLEETWOOD OF FLEETWOOD MAC BUT THERE IS NO EVIDENCE TO PROVE THIS. BECAUSE AS BUDDY RICH SAID "ALL DRUMMERS ARE ANIMALS"
ANIMAL IS THE MOST POPULAR MEMBER OF "ELECTRIC MAYHEM" AND APPEARED IN MUPPET BABIES, NUMEROUS PIECES OF MERCHANDISE, AND WAS THE MASCOT OF THE U.S. SNOWBOARDING TEAM FOR THE 1998 WINTER OLYMPICS!
3.) Beaker


Now here is where it started to get extremely tricky. I had a hard time excluding Animal from the top 3… but I had an even harder time putting Beaker in the number 3 spot. I LOVE BEAKER and if I ever met him I'd probably choke him to death in a hugging embrace. Now I gotta stop myself from just posting a bunch of pictures and videos and actually talk about the character himself.

Beaker is the orange haired, bug eyed, lab assistant of Dr. Bunsen Honeydew.
Beaker has been shrunk, cloned, punched, deflated, zapped, turned invisible and blown up multiple times but he is immortal and always comes back for more.
In Muppets Tonight Beaker did an amazing impression of Little Richard and did some great beatboxing. An internet poll sponsored by the BBC claimed that Beaker is more popular than Spock, from Star Trek. Nowadays Beaker appears in numerous internet videos and even won a few Webby awards.

"These days, after we did the viral stuff, I get the impression that Beaker is a guy who goes home at night, you know he's pretty intelligent, he's a smart guy, he works in a lab, and he probably doesn't have much of a social life. He's pretty introverted because he really can't talk, so his only means of communication is the internet. I love the idea that he spends all of his time in front of a computer, which is perfect for the YouTube stuff. "
~Steve Whitmire

All Beaker fans know that he speaks his own language. It sounds like a series of high pitched squeels or "mee mee mee"
He appeared in numerous segments outside of the lab and his numerous appearances made him one of the most popular characters on The Muppet Show.
2.) Statler and Waldorf
Statler and Waldorf are also known as the grump old men in the balcony.
Just so you know Waldorf is the guy with white hair and a wider face, and Statler is the guy with the thinner face and gray hair.
Now I have two Muppets in the same spot because these two are almost NEVER seen apart from one another. They have appeared in separate sketches occasionally but this is a rare incident. Hell even Waldorf's wife looks surprisingly like Statler! Waldorf is always on the left and Statler is always on the right. They were both named after New York City hotels.
The reason these two are in the number two spot of this list is because they are hilarious. I despised them when I was a kid, but as I grew older their heckling and insults directed toward other characters cracked me up.
They insult nearly all sketches, performances, and performers and often drop stuff on the people sitting below them. They are especially mean to Fozzie Bear. They often break the fourth wall and are just hilariously cruel, just watch the video above and try not to laugh.
Statler and Waldorf even had their own internet show at one time called "From the Balcony" in which they criticized recently released movies.
1.) Dr. Teeth


That's right g1s!
My favorite Muppet of all time is Dr. Teeth, the leader and singer of Dr. Teeth and the Electric Mayhem.

Why? You may ask… well I'll tell you. Dr. Teeth has the coolness of Rowlf, with the craziness of Animal, and is a lighter/nicer version of Statler and Waldorf. Dr. Teeth is green-skinned and red-haired with, as his name suggests, a large grinning mouth of teeth, including one gold tooth on his upper jaw. He wears a scruffy beard, a fur vest, a striped shirt, and a floppy purple top hat, though during the 1980s he switched to wearing a black leather vest. He has very long arms so additional puppeteers are required to guide them; this design enabled Henson to work the Teeth puppet while another performer acted as Teeth's "hands" in order to play the keyboard.

After Jim Henson's death, Dr. Teeth wasn't as prominent in acts and sketches.
Some believe that Dr. Teeth's design was inspired by jazz keyboardist Dr. John, Elton John, and Leon Russell.
And while his look may have been inspired by all those amazing artists his jazz-style vocabulary is inspired by Dr. John alone.
Besides that I cannot truly say anymore.
Dr. Teeth is the Muppet I inspire to be, and the one who gathers my full attention when he appears on the screen. Boys wanna be him, girls wanna be with him, and I'm just entranced by him (in a totally non-gay way) Plus… can a Muppet that understands/controls Animal all while looking stylish in fur and a tophot be in any other spot than Number 1? I didn't think so.
Alright g1s, that's the end of my list and my first blog on New ScrewAttack.
Sign ups are still open for TMoFG and the first game will be announced MONDAY!
So get ready.
Besides that Happy Gaming and…