Top 10 Franchises That Should Have Lived
5/3/12 5:19pm
The game industry is a hell of a business and for every hit title that comes out, it seems like there is always a series with promise that never gets their chance. These are series that never got the chance to grow, were cut off in their prime or had to be stopped for other projects and I am paying them tribute today.
#10 Descent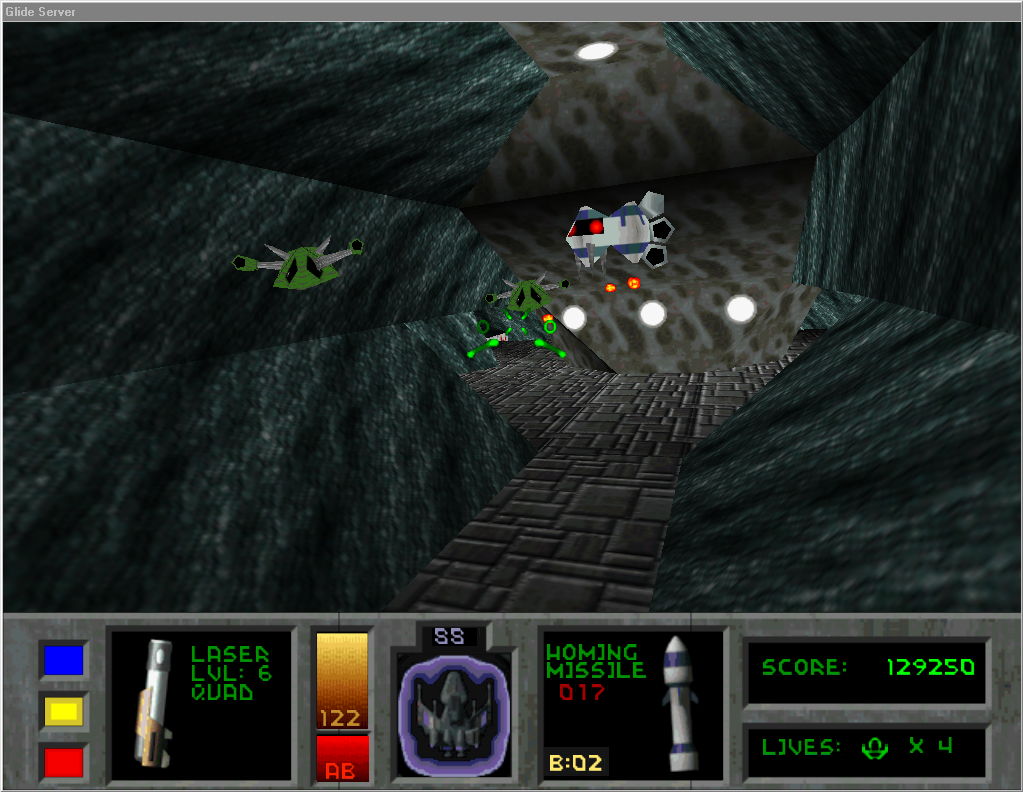 This is a series that I feel is vastly underrated. While games like Doom and Quake pioneered the 3d shooter genre, Descent took it one step further. Instead of being a person, you were in control of a ship, with a plethora of weapons and missiles to find and plenty of rogue robots to blow up. You could move in any direction on the maps, sometimes making it very disorienting, but it was a fresh take on the shooter genre with some kick-ass music to boot. Curently, the Descent trademark is still in the hands of Interplay, but with the Fallout MMO mess, its anyones guess if this series will make a comeback.
#9 Bulletstorm
While it had a few flaws, I felt this series really could have developed into something awesome. Most shooters today are serious, military shooters with action and explosions every 10 seconds amidst a lot of brown and grey. Bulletstorm was different. It had COLOR!!!! More colors than grey, brown, explosion and maybe black. To me, this felt a spiritual Duke Nukem sequel in a way, the wise cracking, the awesome weapons and all the insane ways to kill a person (hot dog stand lol). The series has taken a seat on the back burner for now, and I seriously hope Epic plans another game in the future.
#8 Advance Wars
War has never looked so cute. By far, one of the best turn-based strategy games out there and one of the first games I played for the GBA. Each Commanding Officer had their own specialities and weaknesses and had unique powers they could use to boost their chances of success. Each game in the series added new powers and new units (the anti-tank from Days of Ruin rapes). The series seemed to be doing well, but then it just...stopped. Its been a few years since Days of Ruin and though I expected there to be another game, no further information developed. Maybe they were waiting for the 3DS (Neotanks in 3D!!!) to come out. I'm waiting Nintendo!
#7 Mana Series-Square
Another one of my treasured RPG's. My brother got his hands on Final Fantasy Adventure, which is the first game in the series. It was a combination of Zelda gameplay with RPG leveling up. Then I got to play Secret of Mana, then got my hands on the fan translated Seiken Densetu 3. I never played the later games, but loved the earlier ones. While it has gotten more games than series like Chrono Trigger, this one has faded into obscurity. Maybe when Final Fantasy dies, this will be brought back again.
#6 Legend of Dragoon
By far one of the most ambitious RPG's made, this PSX classic is one to remember. Taking all the usual RPG bits and giving them a unique spin, a huge world and an epic backstory make this one of the best RPG's ever. I haven't finished it yet (on the second disk) but hopefully I'll find some time this summer to finish it. Using your Dragoon form to absolutely destroy your enemies is one of the most satisfying things ever. The recent interview confirmed that a sequel was in the early development phase before it was cancelled for some reason. With this gem out on the PSN as of May 1st, if you love RPG's, play this. Hopefully, some interest can be generated for a sequel again...
#5 Streets of Rage
As a 90's kid, I had to pick a side for the console wars. I ended up getting a Super Nintendo. But then I went of my neighbors house and saw that he had a Sega Genesis. Curious, we popped in some games. This was one of them. I never had Final Fight as my brother wasn't big on fighters, but when I played this, I fell in love. I didn't play the sequels until much later, but my friend and I ended up finally beating the game, on normal, default lives, on coop. A few weeks back we head a sequel was cancelled so Sega still has some interest in this one, but still I'm pissed at them over the Streets of Rage Remake mess.
#4 Star Wars Battlefront
Yeah yeah I bring this up in almost every single post I do on this blog. But seriously, these games were super fun. Ever since I heard that Spark was jerking everyones chain when they were making Lost Planet 3, I was pissed. Despite that,I believe a true third game will be made. Both games were great moneymakers for Lucas Arts so its just a question of when. However, the wait has been killing me...
#3 Republic Commando
Call it a Halo knockoff if you must, but this game was super fun. It gave a more visceral look into the Star Wars universe. It was a great idea for a game, but a sequel never happened! Once again, Lucas Arts, this was a decent money maker for you as well. But most important of all, I want to know WHAT HAPPENED TO SEV!?!
#2 Jak and Daxter
I saw a commercial for the third game and remember it saying "All good things must come to an end". I wish that wasn't true, especially with this trilogy. The 3 PS2 titles were amazing with the PSP ones amounting to......meh. Jak 3 felt like it had too many goodies packed into one game. Naughty Dog, you have made some of my favorite platformers, please take back your IP and do it justice!
#1 Timesplitters
Goddam it I want Timesplitters 4 bad. So bad that I can taste it. Why is it so good? Timesplitters is on the same level of fun of the legend that is Goldeneye. All the weapons, the monkies, the characters, Harry fucking Tipper, setting Snowmen on fire, it was all so good! Crytek UK. Or somebody, I don't care. Please. Get the team back together, and give us Timesplitters 4. I miss punching off zombie heads. I miss having deathmatches with Duckman Drake and the freaking Gingerbreadman. In a market today with so many serious shooters, Timesplitters could seriously make some good money off of this!
That wraps it up folks, Chainsawgrizzly, signing off for 2 weeks. (Finals are hard)