Top 10 "...?!" Moments in Video Games
6/13/12 3:54pm
10: Link is no Longer a Boy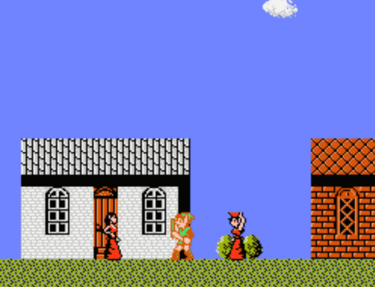 Remember all of the controversy that surrounded Grand Theft Auto when it was realized by the mainstream media that you can heal your character by having a "date" with a prostitute. Well GTA is not the forefather of this in-game even as Nintendo had a similar mechanic in The Legend of Zelda II: The adventure of Link. In every town you can find a horde of red clad women who are more than happy to let you stay in their house and "rest" for a little while. Anyone who has any smarts whatsoever can see that her proposition is only a cover.
9: Date with Paz
Protagonist Big Boss is 39 years old during the events of Peace Walker. After a certain point in the game, players have the ability to have him go on a "date" with the alleged 16 year old Paz Ortega Andrade. One of the possible outcomes of the date ends with the two of them making out in a cardboard box. Good thing that the game's fiction takes place in the 1974, or the fate of Big Boss would have much different.
8: Mommy Issues
House of the Dead Overkill has to have one of the weirdest endings in a game yet. Basically after Isaac and Agent G fight a balls to the wall battle with a mutant zombie queen, she lay dead with her legs spread open for all to see. The somewhat creepy Warden Clement Darling, the man who started the whole mess, comes up and announces that for him to atone for his sins, he must "return to the womb". Agent G and Isaac, then have to witness an unsettling rendition of reverse birth that cannot be unseen.
7: Simply Playing Stretch Panic
Once in a while a game comes around that is so eccentric and bizarre that you can only assume it would stay in Japan, the land of vending machine panties and cubicle hotels. A few games such as Katamari Damacy come over here and become a hit, but others come over here and are still too weird. Take Stretch Panic, a game where you play as a girl named Linda trying to rid your sisters of the curse of vanity. You are aided in this by a mysterious demon scarf that whips around and can snap and stretch objects. This may sound like a good game for people that idolize Paris Hilton to play until you see items such as the following:
6: Hot Tub Party
Cloud was always put in situations where his manhood came under question in the Final Fantasy series. Personally I believe that to be the reason for his over-compensation in weaponry as seen in the game; I mean does he really need a sword that big? Anyway, I would like to start the list off from an event that takes place right at the extreme beginning of Final Fantasy 7, while still in Midgar. At one point in the game cloud not only has to dress in drag in order to sneak into a brothel, but he presumably gets sexually assaulted by a large hairy body builder named Mukki. This scene either happens while Cloud is unconscious or in a hot tub, both are creepy. To see the scene in question look no further:
5: Wait...She Has a What?
The creators of the Guilty Gear franchise must love to mess with their fans, especially by making fans question their sexual orientation. Thus is the exact reason for a character named Bridget in the Guilty Gear franchise. As evidenced by the picture above, Bridget appears to be a "moe" style cute anime character. Dressed in the provocative nun costume Bridget is suddenly a creepy sex object. But Bridget has a surprise, she is a he. He was born in a village where twins were seen as bad luck, so he was put up for adoption and raised as a little girl for some reason. After that he was made into a bounty hunter and yadda yadda yadda the game has a weird story. Publicity photos of Bridget always show him/her as a sex object further making gamers question themselves.
4: The Best Way to Relieve Stress
Ring King is an infamous arcade-style boxing game that won notoriety because of the poor animation of the NES console. The NES/Famicom version of Ring King/Family Boxing shows a scene with the corner men seemingly performing fellatio on the boxer between rounds. The pictures speak for themselves:
3: Oh, you brute
There really aren't enough strong gay characters in gaming that don't resort in some sort of campy stereotype. Take Ash from Streets of Rage 3 for instance, the guy never stood a chance. The man, who was a hidden character in the Japanese version, is dressed for success at a leather bar. He wears tight pants, a golden necklace depicting the female symbol, a leather vest and cap, and black high-heeled leather boots. He even cries when hit. You can definitely see why he was cut from the U.S. version. See what the big deal is:
2: Cho Aniki
Many have heard of this totally insane series on various magazines and TV shows, and many have also played it as the first game is available on virtual console as we speak, so it is quite infamous. The games story is as follows: Bo Emperor Bill, the man who achieved ten consecutive victories in the Great Galaxy Bodybuilding contest, faces an ever decreasing supply of protein. He unilaterally invades neighboring star systems, in order to establish protein factories to replenish his supply. Feeling threatened, the heaven realm sent Idaten and Benten to vanquish Bo Emperor Bill. With that said, be prepared to fight all manner of crazy garish imagery as the scrolling shooter (ala Gradius) game progresses. Just make sure nobody comes over as you are playing the game, as the level of camp can be deadly.
1: ... What?
...?!
Just a heads up that on Friday, December 13th we'll be implementing two options for commenting on ScrewAttack. In addition to the traditional comment system we'll also be adding the ability to post directly via your Facebook account. Thanks!