Top 10 ScrewAttack Moments of 2012
1/11/13 8:02pm
2012 was a big year for ScrewAttack. But which moments from that year outshines the most? Find out below!
MWHAHAHAHAHAAA!!!
Gretings g1s! ScrewAttack has had quite the eventful year in 2012! We have seen many faces come and go, lots of Screwin' Around episodes, many features and shows spring forth, and lots of memorable moments for sure. So many in fact, that I think it's that time of year again for me to hunt down the ten BEST of 2012. It was far from easy. Plenty of sacrifices had to be made and a few great ones were not included.
Before I start though, I have some things I need to mention. First and foremost, this is MY list and it is NOT the official ScrewAttack list. Second, this list will be more focused on the ScrewAttack crew on a whole and on what they did in 2012 that stick out and made it special. Stuff on g1s and the community for 2012 will come shortly enough in due time. Third, I cut out some great Screwin' Around moments so that this list won't be filled entirely with it since I wanted some variety. Fourth, click on the numbers if you want to see the moment again. Fifth, I'm only going to focus on the GOOD memories for obvious reasons. Thanks, and enjoy my glorious list of darkness!
So the ScrewAttack crew went to Japan for a convention and they definitely showed a whole lot of cool and interesting things from Japan. This included their crazy snacks and drinks they found in Japan and lots of pictures showing the wide assortment of games Japan has. While the snack and drink video was entertaining to watch as you see Chad, Craig, and Bryan make all sorts of faces while tasting them, it wasn't quite near to the ridiculousness you would see when they showed off playing Big Bang Smash.
It's an arcade game that....in the words of Craig...pretty much IS one of the best arcade games of all time. Too bad that you will have to go to Japan to play it. If you haven't watched the video yet (for whatever reason) then I urge you to do so before reading on. Actually, let me just say that in the future of this blog, if you don't recall the moment I am speaking of then I urge you to clink the link in each number before reading because I'm going to give out lots of spoilers. Anyway, this game is pretty much like an air hockey table on steroids. After some time has passed, tons of pucks fly all over the place and pure insanity happens as these pucks fly all over the room! To me, it reminds me a lot of Crossfire.
This moment of insanity was one that I was NOT expecting and that's why it made it onto the list. Although, I have to mention that Chad is the man for trying to do a 1 vs. 2 match on that game even if he did lose. Before I move on, I WAS going to put that Sonic moment up here at number 10 with Ben beating the game and where Craig lost a bet, but I didn't want to clutter up the entire list with Screwin' Around moments since that show soon enough takes up a good chunk of it.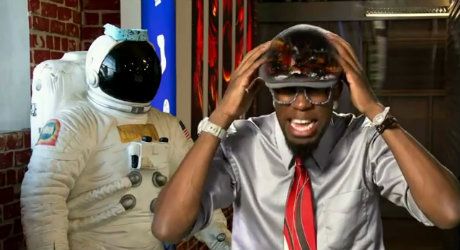 The Tester show itself may stink, but adding in Egoraptor, Skydiddy, Akileez (and others) to the competition with the ScrewAttack crew poking fun at the show somehow not only made it watchable, but a must watch as well. The ridiculousness of the show is off the charts (and I think the creators knew about this too) and they had way, WAY too much fun with the special effects. Probably the best moment of the show was where they decided to have Skydiddy have a third eye (?!?) for whatever reason, but that's just the tip of the iceberg.
Other notable moments include the MOOOOOOON shots, the contestants rummaging about in the sand for God of War items (?!?), seeing Skydiddy's tower reach the heavens, watching the greatest fight scene of all time, and hearing Skydiddy say that a continent was country (I think). Skydiddy pretty much stole the whole show. So much so, that I'm willing to hope that he becomes a DLC character in Sony Smash Bros.
It was also ironic that in one episode where Egoraptor gets eliminated, he gets to do commentary for it! To this day, I still have no idea why he got eliminated so quickly either. The only thing that isn't good about the commentary (or show, rather) is that one female contestant that was just incredibly annoying. (I'm not good with names.) The Super Mario Bros. Movie commentary almost made this list, but Craig didn't seem to be enjoying himself on that one so I cut that one out.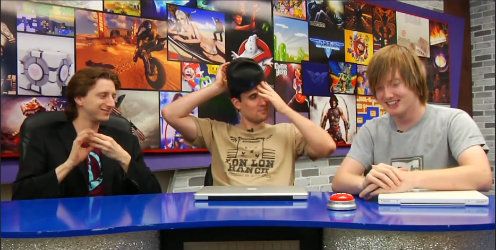 Sidescrollers was super eventful and enjoyable this year with tons of great Newsdesk stories and Hard News material. Some of the more memorable and hilarious moments included Craig's politically incorrectness where he told everyone to dress up as Hurricane Irene (?!?) or to have the most....unique way of ending a Sidescrollers episode by saying only two words. There was also that moment where the power decided to go out for no reason and there was that moment where Craig spun the wheel that would have ended Sidescrollers right then and there! However, surprisingly enough, I would argue that the best Sidescrollers moment of 2012 was during the July 4 special in its middle segment where everyone told their memories of what they did. Long story short, Chad's stories of what he did on that holiday will put all of yours to shame.
I was pretty much laughing the whole time Chad kept divulging into his mischievous past of where he and his friends probably had too much fun playing with power. The one that shocked me the most was how he nearly got away with accidentally setting a tree on fire by putting fireworks in a trash can. It's a good thing that he told someone about it and that nothing too bad happened there. Hearing these stories makes me think that Chad was some kind of daredevil back in the day like some pro Dennis the Menace or something. In a way, Chad STILL IS by sharing his stories of some of the naughtier things he has done in the past. It wouldn't surprise me at all if he had even more stories to share on July 4. I hope for another enjoyable year of Sidescrollers as well.
2012 certainly started off with a bang by ultimately obliterating extra copies of Shaq Fu from Magfest. This moment was so awesome that I even made a card out of it....yeah. We get to see even more depth into just how hardcore Chad and his dad are as we see them shoot Shaq Fu cartridges with a variety of weapons (some of which are just simply powerful) and toys. It's like watching an episode of Mythbusters but even better! They even had a small contest going on with target practice as well. They even played around with explosives as well, and it just raises so many questions in my mind into just how many ways there are to destroy them.
One of the cartridges manages to survive the mayhem (somehow) but it doesn't live for too long as expected. There isn't much more I can say on this other than that it is pure bliss of Shaq Fu destruction and that it will take a LOT in order to top this one off. I urge you to watch it again. .....hmm....Well, SGC 2013 is a thing and that hotel is a very tall building..... Even if I do have a copy of Shaq Fu without a working Genesis, I won't destroy it....... >: )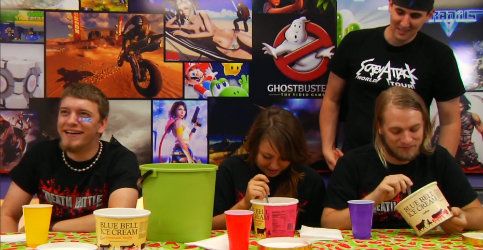 Who knew that brain freezes are so fun to watch? Craig had another crazy-yet-brilliant idea for Drake, Lauren, and Sam to have a competition to see who can eat a half gallon of Blue Bell Ice Cream the fastest (gosh, can you imagine the amount of calories that thing has?? Editor's Note: 2880). I have no idea HOW, but Drake, the ice cream eating machine managed to engulf that thing down in an extremely fast time (less than 12 minutes!!). So fast in fact that they even recorded him doing it again on a livestream to give to Guinness World Records to see if has the world record. (I'm curious to see what they said or if they said anything. For those that know, I would greatly appreciate any word on this in the comments. Thanks.) Drake even won like a district contest or something on Cici's Pizza by only a few bites, so congrats man! I bet that he could even give Jose a run for his money. I smell a new Eating Khallenge for SGC. In fact.....that might not be impossible...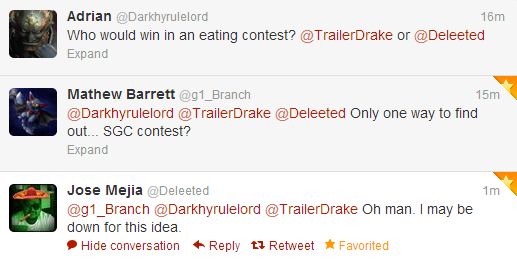 Sam managed to eat the whole thing down later on, but poor Lauren.... even though she certainly gave it her all, she just couldn't win. Her punishment was to do the Napoleon Dynamite dance (twice, one in public) where I think she tried her best to refrain from laughing too hard. This makes sense since she had the flavor of ice cream called Neapolitan that she ate at the contest. .....Gosh, even a pint of ice cream I ate at summer camp was enough for me.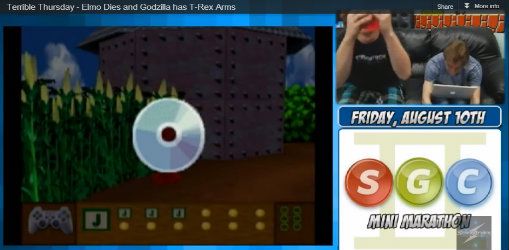 Chad finally snapped on Terrible Thursdays on Screwin' Around when he got around to playing that Elmo letter game. While the Teletubbies episode got me rolling on the floor laughing with the utter insanity that game had that bended all the rules, the moment when Chad did the unthinkable and snapped the Elmo game in half in front of everyone was when everyone simply was just shocked at what he had done. It's like watching that Sonic '06 moment from Game Grumps except this time with Chad and Jared. Yes, it was that glorious...especially when Jared went all out afterwards and holds the remains of the Elmo CD to the world and cried at how that game was a gift to such a loyal and generous fan (poor guy). Chad apparently has a very destructive nature when it comes to bad games. First the Shaq Fu and now Elmo now face his wrath. I think it's to the point that I believe that no game is safe from Chad's hands. Yes, they may even be safer in the AVGN's or Nick's hands.
Then again, I don't blame him. This game was terrible. This game pretty much boiled down to just finding the same level over a set (and incredibly slow) path over and over and over and over and over and over and over again until you can't take it anymore. Add Elmo's grating demonic voice and you have a winner. Only Godzilla afterwards can ease your pain.
This was one of the phrases that practically started a bit of a meme on ScrewAttack. It also helped to truly help kick off the Mario Party After Dark (MPAD) series with them playing Mario Party 1-9 that went through the whole year (and the finale is still to come). MPAD is certainly one of those things where you leave your friendship at the door since it's four teams in a free-for-all match where everyone plays dirty in the hopes of getting those golden stars with eyes.
After roughly two hours of the crew playing the original Mario Party in Luigi's ****room as Jared likes to call it, Nick was getting picked on the whole time for getting unlucky and for playing as Peach. Jared had lots of smack talk (well actually everyone did) throughout the whole game and it certainly look like he was going to win with coins and stars in tow. (Jared also took his shirt off for whatever reason.) However, it all came down to the wire when they reached the bonus stars and Nick made Jared eat his words by winning by only one coin. Jared got so mad that he stormed and said "ONE ****ING COIN!" thus starting one of the many phrases of this year to be used over the MPAD chat. Gah....if only Jared tried a little harder in only one of those mini-games....or if he didn't buy that mushroom.
There were plenty of other great Mario Party moments of this year, but I had to choose this one since I felt that it was the most ironic/memorable out of all them. Although....I will admit that I liked the Mario Party 3 and 6 one a lot.
Of course this was going to make it on the list. It would be a CRIME if it didn't. ....Then again, I am an evil villain so....nah, I'm just joking.
Over the course of the year, Screwin' Around was HUGE part of ScrewAttack ever since it kicked off. I mean, having it run one hour for five days a week can add up FAST. (So much so that I think that this may be the reason as to why it's only once or twice a week now.) There were some cool themes to each day such as Challenge Mondays, Zelda Wednesdays, Terrible Thursdays, PC Fridays, etc. While the Mike Tyson challenge, Ben flailing through the Dragon Roost Temple, and the Beetlejuice gameplay were good highlights, the one took that probably took the cake was one Terrible Thursday where Chad and Jared decided to tackle PREDATOR!!!
I wouldn't call Predator a bad game....just a flawed one. Especially after Chad and Jared played through it, it kind of has this charm to it in a way. I mean, how many games let you ride a freaking scorpion? ....Not many. Watching them play through it is rather inspiring and it makes me want to beat some of my older NES games that I never got around to since they may have been too difficult. It's like what Jared said on one Sidescrollers after beating the game: newer games don't have that kind of satisfaction as Jared did when he beat Predator. This playthrough also possibly inspired AVGN to play the game himself in that Schwarzenegger games episode....and I can believe that after the epicness of what is riding the scorpions.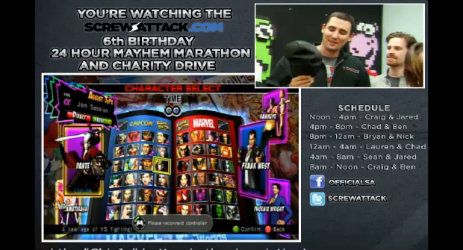 Despite being a g1 that started in late 2010, it still might be safe to say that this.... THIS was one of the most powerful moments in ScrewAttack history. This is definitely saying a bunch since nearly seven years is actually quite a big chunk of time in terms of Internet time.
During the 24 hour marathon of 2012, there was a charity fundraiser going on where g1s and the crew would do something if the amount pledged reached a certain number (something that would be used later *hint hint*). At a certain amount, Craig said that he would finally.... at long last..... take his hat off FOREVERZ (or at least be more willing to show off himself without the hat). I still find it strange that he has that offer at much lower rate than him going to go to a haunted house. Before I die, I would want to see Craig eventually go to a haunted house--even if it's as late as 2043! It would probably be one of the most hilarious SA moments ever too!
Getting off topic. At the end of the livestream, Craig gave out one of the most inspirational speeches ever. Afterwards, he took off his cap and I'm pretty sure that the internet exploded afterwards (or at least the chat flooded like crazy). It was definitely worth staying up for the near majority (I had school) of the marathon just to see that. But would you know that SOMETHING this year actually topped off this somehow? Oh yes, it certainly did. The number 1 SA moment for 2012 IS.........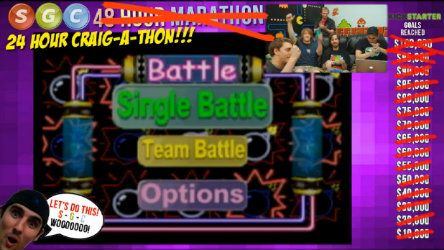 The impossible happened. ScrewAttack and the g1s managed to raise more than $100,000 and made SGC happen. Simply put, it was a miracle, and it probably was one of THE biggest SA moments of all time....period.
Craig made the decision to set up a Kickstarter to make SGC 3 happen. He gave everyone a little over a month to be able to pledge money towards it. He also had some mini-marathons going on and other livestreams to make money towards it. Unfortunately......let's just say that they didn't do as well as hoped comparatively. It was to the point that the Kickstarter was about at the $30,000 mark with only TWO days left. (Kickstarter is one of those things where if the amount raised is NOT reached in time, then it is canceled...period, no matter how close it is to the goal.) Craig, however, wasn't about to give up and pulled out all of the stops to create a 48 hour marathon to raise the money.
Things didn't look too good early on when it wasn't nearly making the amount of money as hoped after the initial 24 hours. (Confession: Even I wasn't very hopeful at that point.) There were even trolls that stated it wasn't going to happen. But again, Craig and the crew were optimistic and refused to give up. Craig played video games for 24 hours straight and at the final hours, the numbers were pouring in and it came up to around $120,000 at the end mark. This means that the fundraiser earned $90,000 in just TWO DAYS. That's a lot of money and that is certainly incredible. While I wish I put more in at the time, I was glad to put some in toward the SGC and I hope that it will be a blast when June comes around. At the end, every single g1 was joyous as they proved the trolls wrong. Thanks to this, many g1s can now experience what they have missed in SGC 1 and 2. You should all be proud.
Also, thank you Jared for all that you have done this year. I hope that your future will be more than great on your YouTube channel.
Today's GANON AWARD goes to g1 Nobleteam for his blog on defending DLC. I command you to read it!
I hope to put some other great SA moments up for 2013 when the time comes around. Stay tuned as I talk about great g1s of 2012, have a collab blog with g1 Dr. Cool Guy, and eventually have a review for Pokemon Black Version 2. Thanks for reading!