TLDR;
Counting down the Newtworks 20 best shows, since its inception in 1992. Which shows made the cut, read and find out.
Man does time certainly fly by. Can you believe that Cartoon Network is celebrating it's 20th birthday this year. Looking back at all the programs that Cartoon Network has produced it is certainly a daunting task trying to determine which ones where the best of the best. And you certainly cannot go wrong in choosing any show, but the following list is my opinion on what have been the best Cartoon Network shows. Just a few things to note real fast, this list is only for shows that where made for and premiered on Cartoon Network, so this excludes any Anime and shows that where acquired to fill the earlier part of Cartoon Networks lifespan, as they where not made for the Network itself. Also excluded from the list are any original programming that appeared on Adult Swim as that is a countdown all itself, so without further delay here is my opinion on the best Cartoon Network shows.
Honorable Mentions
Twenty is such a small number considering we have over two decades of shows to countdown, but here are just a few shows that just missed the cut.
Green Lantern The Animated Series.
Sheep in the Big City
Sym-Bionic Titan
I Am Weasel
Chowder
Now let us get started with the countdown
20. What-a-Cartoon Show
We get this countdown started, with what was the catalyst for several Cartoon Cartoons. Back when Cartoon Network was in its early stages, many of the executives didn't know how to go about producing original content. They knew that eventually people would get tired of several of the older programming, so they put in place the What a Cartoon Show.
Where several shows began
It was here that several animators and writers where able to show to the public what kind of programs they could make. From here several people including Genndy Tartakovski, Craig McCracken, Seth MacFarlane where able to get their start and lay the foundation for what would become several of Cartoon Networks key programs.
19. Teen Titans
The first of three shows on this list, which utilized DC comics characters, Teen Titans was a nice blend of the western comic book style of storytelling and the Anime art style of the east. Unlike Justice League Unlimited (which was airing at the same time) Teen Titans had a more humorous tone.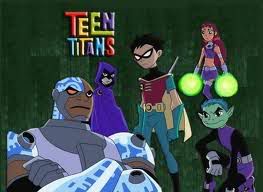 When theres trouble you know who to call!
For all intents and purposes Teen Titans was a show with a younger audience in mind, but that did not take away from storytelling and more serious tones from the shows adaptations of "The Judas Contract" and "Reign of Trigon" stories in seasons 2 and 4. On its own Teen Titans still retains a strong and loyal fan base
18. The Marvelous Misadventures of Flapjack
The Marvelous Misadventures of Flapjack, is a show which sees the titular character Flapjack, along with his friend Captain K'nuckles go on various adventures to find the fabled Candied Island. Flapjack contained, what can sometimes be described as very odd humor and art style, however that added to the charm of the show.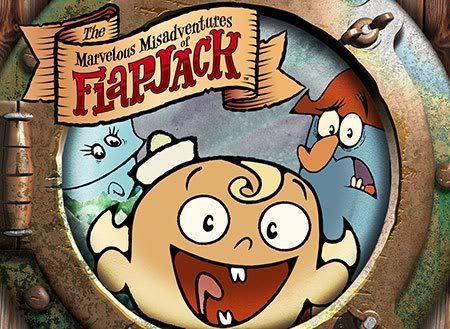 ADVENTUUUUREEE!!!!!!!!
Flapjack was ultimately canceled After it's third season, due to creative artist JG Quintel and storyboard artist Pendleton Ward leaving to pursue their own projects, Regular Show and Adventure Time.
17. Megas XLR
As the shows main theme taught us, we all dig giant robots. Megas XLR was a show that centered around New Jersey native Coop, as he remodels a robot from the future that was designed to ward off an alien invasion.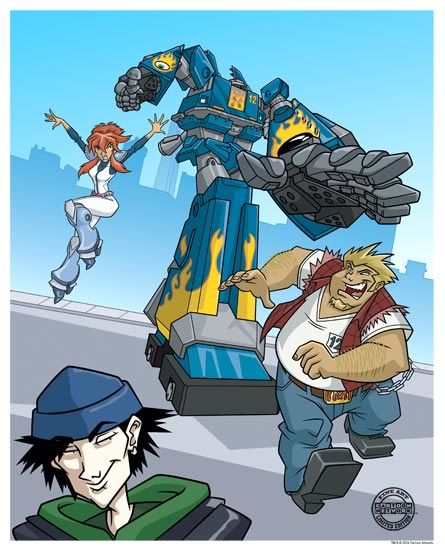 You dig giant robots, I dig giant robots, we dig giant robots, chicks dig giant robots!!!!
The show pays homage (and parodies) several other popular shows (Sailor Moon, Power Rangers, other Mecha Animes, etc). Though the show was canceled after only two seasons, its great humor, action sequences, New Jersey getting destroyed every episode, and Bruce Campbell appearances make this a show that will appeal to just about everybody.
16. Cow and Chicken
One of the first shorts from the What A Cartoon Show to get its own series. Cow and Chicken got the green light to become a half hour show after it's pilot "No Smoking" was nominated for an Emmy, and several fans had sent letters to Cartoon Network asking for more episodes of Cow and Chicken.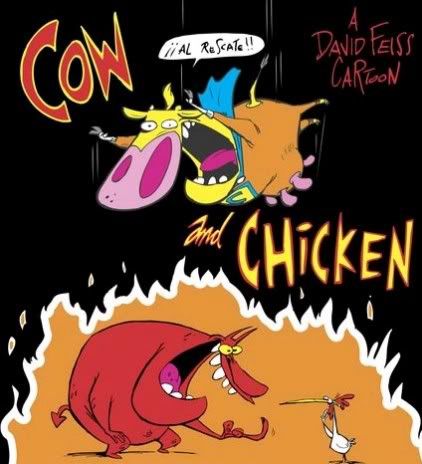 Seriously how did this get past censors?
Cow and Chicken, had a very unique style of animation but what made it stand out was it's sense of humor. Using normal childhood anxieties like cooties, phobias, or venturing into the girls bathroom, only vastly exaggerated. The show had a very great voice acting cast, including Charlie Adler, Seth MacFarlane and even Will Ferrell Cow and Chicken was just a treat to watch.
Like Cow and Chicken, Johnny Bravo was one of the first Cartoons to get its own series from the What a Cartoon Show. Johnny Bravo's premise was simple, a young stereotypical beefcake is trying to get with a woman. However he never succeeds, with each encounter ending in a hysterical failure.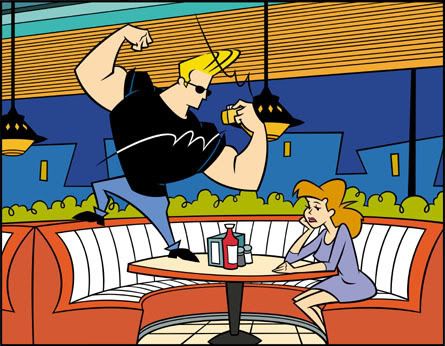 Seriously how did any lady resist the charm of this manly man
Johnny Bravo also heavily featured celebrity guests on it's show. These included and not limited to Mark Hamill, Luke Perry, and Adam West. With it's sly adult humor and great creative writing, Johnny Bravo Stands among the best shows that Cartoon Network has created.
14. Star Wars: Clone Wars
Note to some people, this is not the CGI Star Wars show, but rather the micro series that was headed by Genndy Tartakovski. Cartoon Network was looking into creating a Star Wars animated series for a time, when Lucas Studios allowed Cartoon Network to do a series, Tartakovski was the man they knew would get the job done.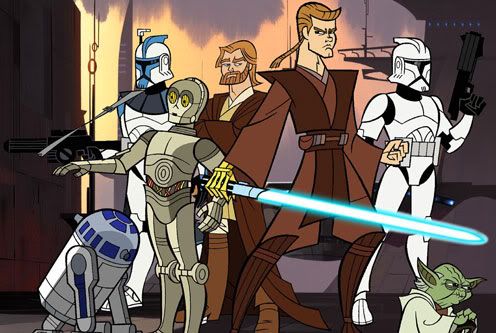 Though short each episode contained pure amazingness
And what a job he did, in 3 seasons with most episodes only being about five minutes, Tartakovski was able to deliver an excellent thrill ride, and many have argued that he gave a better product than George Lucas did in the first two films. Nominated for multiple Emmy's and winner of one, Star Wars Clone Wars is a must see for any fan of the Star Wars series and Science Fiction.
13. Adventure Time
It's hard to believe that Nickelodeon passed on Adventure Time, twice. Before finding its home on Cartoon Network, the short was aired on Nickelodeons Random! Cartoon show. However as stated the show was passed over twice, series creator Pendleton Ward then pitched the show to Cartoon Network.
Most random fun you can ever have
Cartoon Network after seeing the success of the short online gave the show the go ahead. Several merchandise sales and Emmy Award nominations later Adventure Time seems to be the networks most popular show currently, and if the series continues to go in the direction it is going, it may end up being Cartoon Networks best show.
12. Regular Show
When a show has "Regular" in its name, you don't expect much do you? But as the tagline reads, Its anything but. The show concentrates on the lives of Mordecai and Rigby, two twenty three year old slackers whose attempts to slack off often results in crazy adventures.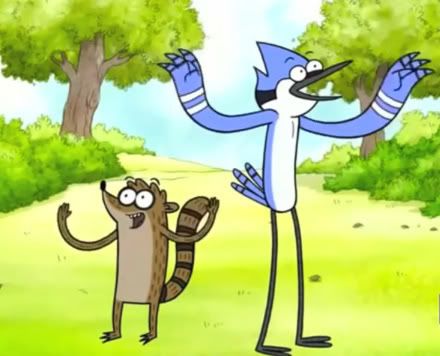 FREE CAKE!!!!
Regular Show is unique in that it carries a TV-PG without being on adult swim, with most of its humor is generated towards a young adult audience. Regular Show has proven to be a smash hit, scoring high ratings and even an Emmy win over fellow Cartoon Network show Adventure Time. Given a few more seasons, like Adventure Time, Regular Show can climb higher up this list as well.
11. Batman: The Brave and the Bold
The second show on this list which uses DC comics characters. Batman the Brave and the Bold premiered in 2008, and many didn't know what to make of it. The Dark Knight had just been released and most people understood Batman as a dark and gritty character.
Not the Batman we are used to seeing lately, but just as good.
Brave and The Bold was the complete opposite, instead it took Batman, and most DC characters to their Silver Age roots, which was a risky move, however it turned out to be a move that worked out perfectly. Using lesser known heroes such as Blue Beetle (Jaime Reyes), Guy Gardner, and Aquaman, Brave and the Bold quickly won over the hearts of many naysayers and comic book fans alike, to become one of DC's finest animated outings.
Well that is the first half of the list, what do you g1's think so far. Are there some shows you think should be on the list, and which ones are you excited to see in the top ten, leave a comment below and discuss.