TLDR;
There is a 50% chance that the one you prefer will wind up winning at the end.
Also, I do once again apologize for the erratically-sized pictures. I used to be able to resize them but not anymore, nooooooo.
Oh boy, I've been gearing up to do this one ever since I got both of these games. I know it seems a bit strange comparing Spirit Tracks and Skyward Sword to each other in the Legend of Zelda series but I actually think it's a valid comparison. Not only did both of them come out on the most recent consoles on their time (Spirit Tracks on the DS, Skyward Sword on the Wii) but also both of them pushed both of their respective consoles to the absolute limits of what they could accomplish. In addition to that, both of these games were the second Zelda game on their respective consoles and easily blew their predecessor out of the water (so no, I'm never going to compare Spirit Tracks to Phantom Hourglass or Skyward Sword to Twilight Princess).
But between these two, which is better? If you have both a DS and Wii and can only afford one, which should it be? First off, let me solidify that, again, both of these are phenomenal games (which is sort of to be expected from the Legend of Zelda series) and I'd highly recommend them both. Still, we do have to decide which is better so let's get the show on the road.
vs.
Story
vs.
The Zelda series has always been a strange beast when it comes to storytelling. They're generally good enough to keep you invested enough to want to see what happens next. On the other hand, they really are all pretty much the same exact generic story: Link discovers that he's destined to be the hero of Hyrule and saves the land and Princess Zelda from whatever villain there is this time around. Sure they spice it up a little but they generally remain the same throughout. And these two are no different.
In Spirit Tracks, Link is crowned the royal engineer of the trains criss-crossing the land of Hyrule. Apparently the train tracks on which the trains operate are known as the Spirit Tracks and are put there to hold down the evil Demon King, Malladus. Soon it's discovered that the Chancellor of Hyrule, Cole, is masterminding a scheme to resurrect the Demon King and him and his bodyguard, Byrne, rip Zelda's soul from her body so as to use her body as a vessel for Malladus. Thus Link and Zelda's soul embark on a quest throughout Hyrule to restore the Spirit Tracks and stop Malladus.
Skyward Sword, oddly enough, is sort of the same story. Link and Zelda live in the land of Skyloft which is basically a big floating island above the clouds which got put there when the Goddess uprooted it off the ground during her battle with the Demon King, Demise (which raises the question, how often does that title get tossed around?). Several millennia later, Zelda gets sucked down to the surface world (which is strongly implied to be Hyrule) and Link goes after her. Here, he meets the villainous Lord Ghirahim, who is also the evil servant of the Demon King trying to bring him back.
It's strange that both of these games have the same basic premise but, if we had to choose a better one, Skyward Sword does do it better. I probably should mention right now that Skyward Sword was created with the mindset to try to differentiate it from the tried and true Zelda formula. They vowed to have a better story, better characters, change the system of accessing dungeons up a little etc. While these ideas tend to be hit and miss in how well they hit their mark, the story idea is definitely one of the ideas that did hit its mark.
Skyward Sword is one of the very few Zelda games, if not the only one, that actually kept me second-guessing what would happen next. Sure, it does generally follow the same formula but they do throw some unexpected plot twists your way such as why Zelda's the chosen one and other stuff. Like I said, I did enjoy both of these decently enough but Skyward Sword did do its job better at telling a good story than Spirit Tracks did.
Winner:
Hero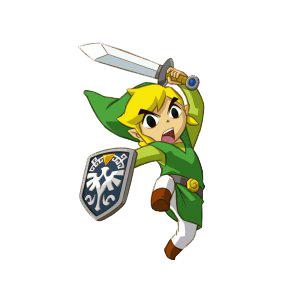 vs.
Pop quiz fellas: why is Link constantly cited as one of the greatest video game characters of all time? That's not a rhetorical question by the way, I'm genuinely wondering that. On average, he has about as much personality as a rock and yet everyone calls him the greatest video game hero ever blah blah blah.
Yes, throughout the whole series, Link doesn't talk at all thereby requiring you to project your own personality onto him. This gets annoying in the most recent games when they actually do give him some merits of a personality which makes you wonder why they're still dicking around with it when they should just go all the way. With that said, I've repeatedly said that I view Link as being somewhat androgynous and I don't think Skyward Sword has dismissed that from my mind completely yet. I dunno why: toon Link and OoT adult Link are the only two Links who don't look like a girl to me (also SSBB Link).
With that said, I am placing Spirit Tracks for the victor here and, no, it's not because he looks less like a girl. I probably should mention at this point that as the Zelda series has progressed, fans have speculated the possibility of a romance between Link and the Princess of Hyrule herself, Zelda and the game creators have tossed this idea around a little as well. To date, these two games are the closest they've gone to actually identifying an actual romance between the two.
Yeah, in both games you see Link and Zelda making googley eyes at each other but, honestly, I felt it was a lot of better in Spirit Tracks. I dunno in Skyward Sword, it was pretty goddamned obvious, all that was missing for them to come outright and say it. In Spirit Tracks, it was left a lot more ambiguous as to whether or not they actually did have feelings for each other. They dropped little hints here and there which I actually enjoyed a lot more. They didn't need to make it overt, they just left you to put the pieces together yourself. For that, I do prefer Spirit Tracks' interpretation of Link even though, again, both of them have about as much personality as a rock.
Winner: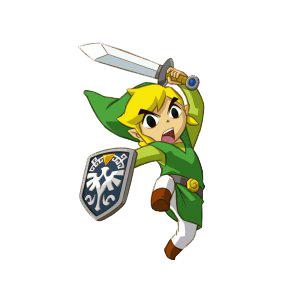 Villain
vs.
The Zelda series has consistently churned out some pretty damn good villains. Granted, Twilight Princess' abysmal dealing with it is a story I've recounted time and time again but overall, the series' perennial villain, Ganondorf, kicks massive amounts of ass but you also get some other hardcore bad guys here and there such as Majora and… no, that's pretty much it. Seriously after Wind Waker, they got into a bad rut with their villains gallery and stayed that way until these two games showed up.
With that said, both games have more than just one chief villain acting as an antagonist to Link and co. As mentioned before, in Spirit Tracks, Chancellor Cole and Byrne are trying to resurrect Malladus while in Skyward Sword, Lord Ghirahim is trying to bring back Demise. For the sake of this comparison I chose to cut out Byrne simply because he doesn't really have a counterpart in Skyward Sword so it doesn't feel right comparing them. So, in essence, this part of the comparison boils down Demise and Ghirahim vs. Malladus and Cole.
Just talking on the Demon King front it is more or less dead even. Back during my end-of-year countdowns, you may recall how I bemoaned how Demise felt like a bit of a cop-out considering how at first he seemed like a mindless beast but then later turned out to be a Machiavellian demon (you know, just like every other villain in the series) so whatever. Malladus falls somewhere between those two tropes as he does seem to have somewhat of a conscious mind but he also seems pretty damn happy with mindless murder and mayhem.
So yeah, tie on that front so it comes down to between Cole and Ghirahim. And, honestly, it really is no contest. Honestly, the only two things that Cole has going for him is that a. his theme song is awesome and b. his comeuppance is incredibly satisfying. He's just plain not interesting and is constantly overshadowed by either Byrne or Malladus.
Ghirahim, on the other hand, is a very fun villain. He's already ranking up there as one of the most popular Zelda bad guys and, honestly, it's not hard to see why. What makes Ghirahim work is that he's so arrogant that he's unable to comprehend that Link is a threat to him yet, at the same time, he possesses this hidden anger that makes him threatening. When you first meet him, he's very polite and egotistical but as the game goes on, he slowly begins to show more of his true colors (literally). This actually adds a lot of menace to him, especially when he just absolutely snaps during his final battle with Link at the end of the game.
So yeah, both Demon Kings are eh, Ghirahim is the better servant.
Winner:
Companion
vs.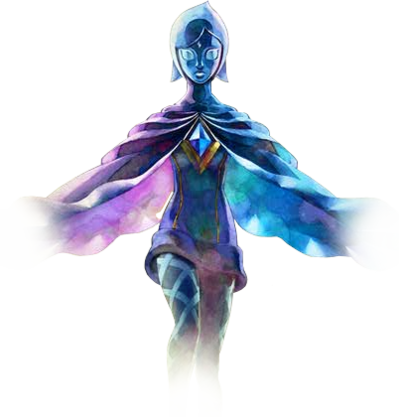 Am I really bothering to compare these two? Like, seriously? There is no competition, I know who's going to win, you know who's going to win, everyone and their father knows who's going to win. *sigh* I suppose it must be done though.
Both of these games have two separate companions for you to work with. In Spirit Tracks, as mentioned before, Zelda's disembodied soul chooses to follow Link around and help him on his quest, often residing in some off-screen hammer space. Skyward Sword has the same deal with the robotic spirit known as Fi who resides within Link's sword.
With all that said and done, let's look at Zelda first. To me, this is the best interpretation of the character in the series. She's strong but does have some fears. She's nice but she does have her limits. And, honestly, you do genuinely get the feeling that she has grown up as royalty. She's not wise in the ways of the world, in fact she's actually shown as being very naïve. She sort of expects everyone else to do things for her. This makes it all the more rewarding when she does grow up and ultimately help Link beat the bad guys.
Fi… good God, I have no idea what the Hell they were thinking with this character. Honestly, for some strange reason, I feel as though some Nintendo exec may have, by some haphazard miracle, saw my complaints on Twilight Princess on how Midna is annoying as all Hell and has a character arc that's generically uninteresting as all Hell. Unfortunately, they took this complaint way too much in the opposite direction.
When I said that Fi is like a robot, I wasn't kidding. Everything that comes out of her mouth is as bland as possible with her spouting out random bullshit like 80% probability and giving out random suggestions. Which wouldn't be so bad but her advice as a companion is pretty much useless. "Master, I have noticed that your hearts are being depleted. I recommend that you find some more. If not I calculate a 95% chance that you will die." Oh, no shit Sherlock! Thanks for the tip! I wouldn't have guessed that from looking at my depleted health bar and the fact that there's an alarm going off!
Oh and God help you if you're stuck on a puzzle because she doesn't help much either. For example, when I died during the mini-boss fight against the Stalmaster, I asked her advice. "I calculate an 85% chance that you need to be a master swordsman to defeat him." You don't say?! This wouldn't be so bad but she actually feels the need to interrupt your progress to give out this tedious bullshit. That, to me, is the biggest insult. They felt the need to stop the game dead in its tracks so this annoying little fairy could give you some annoying bullshit that actually feels like it's insulting your intelligence.
For example, in the Ancient Cistern level, you get to the subterranean areas and you notice that there's a huge spire beneath where the statue is. You then remember that the boss door was near the top of the dungeon, out of the statue's path. Just as you begin putting the pieces of the puzzle together, Fi literally stop the game to tell you, I shit you not, "I recommend you raise the statue to reach the boss door." SHUT THE FUCK UP!!!!!!!!!!!!
Good God, I have never been so annoyed by a video game character in my life. Every time she's on screen, I feel like reaching through my TV screen to strangle her. So yeah, the victor is clear here. Don't get me wrong, Zelda is a great companion but, in all honesty, you could probably hold a comparison between Fi and Slippy Toad and Fi would probably still end up as the loser.
Winner:
Secondary Characters
vs.
Ah yes, the NPCs are what makes a good journey worthwhile, no? Well, referring back to my earlier point on how Skyward Sword attempted to redefine the Zelda formula, another addition is by making the secondary characters more imbued with the main story thereby creating more secondary characters for you to get attached to. Did they succeed?
No, no they didn't. Yeah, I've already stated my belief that Majora's Mask is the only Zelda game that really got the "relatable and tragic side-characters" thing down perfectly. Again, nothing wrong with that, it's pretty damn hard to do that in video games so I can't really fault either of these games for not having surprisingly complex characters.
With that said, let's look at the main character gallery of both games, barring the ones we've mentioned before. In Spirit Tracks, we've got Byrne, as mentioned before, who is just a badass. Unlike some other Zelda baddies, however, (coughcoughZantcoughcough) he stays a badass throughout the whole game which is a good plus. Not to mention he has a good character arc. You also have this old lady in the Tower of Spirits who guides your journey named Anjean who's sort of your typical "old man" character.
I've already talked about Zelda beforehand and how I really like Spirit Tracks' interpretation of the character moreso than any other incarnation of the princess in the franchise so I won't go into her that much in Skyward Sword since it's obvious which one I prefer. The other major players are this old sagely woman in the Sealed Grounds as well as Impa, Zelda's bodyguard. Personally, I really like Impa in this game since you really do get the feeling that she's never going to give up. She also lends herself to a nice plot twist near the end of the game.
After that, most of the characters are about tied. The characters do tend to still be likable, just not particularly interesting. Again, nothing wrong with that, it's just a good tie. With that said, again, Byrne is a great character so one might think that he scores the win for Spirit Tracks. And he would, if not for the existence of one other character in Skyward Sword that I haven't talked about yet. Ladies and gentlemen, meet Groose!
How can you not love Groose? The best way to describe this guy is to imagine Gaston from Beauty and the Beast only instead he goes from being a bad guy and becomes a good guy instead of the other way around. Groose is a bumbling bully around Skyloft who is obsessed with getting in Zelda's pants and becomes all the more distressed when he learns that she goes missing and, ultimately, joins Link on his quest.
Not only is this guy hilarious (like really, really funny) but you do genuinely believe that he's turning over a new leaf. In addition to that, he also helps you out in a couple boss battles and, surprisingly, actually helps Link during the game's climax, isn't that unusual (although I do actually prefer Byrne's last stand in ST)?
So, yeah, it really is kind of a close call between Byrne and Groose but since we're looking at secondary characters overall, the rest are sort of tied. The only one I will admit I do prefer is that I really liked the old lady in Skyward Sword more than Anjean in Spirit Tracks. So, yeah, bit of a close call, but I'm going to have to go with Skyward Sword on this one.
Winner:
Soundtrack
vs.
This is one big joke of a comparison because there is no competitor and brings me to one of my biggest problems with one of these games in general. And, believe it or not, it's not the one you're thinking. That's right, I'm attacking Skyward Sword's soundtrack and how absolutely, unforgivably disappointing it is. I mean it's orchestrated! And it's Zelda! How do these two things not gel?!
The Legend of Zelda series has always had a high standard of quality for musical themes and somehow Skyward Sword failed to deliver. It just blows my mind on so many levels. For one thing, the orchestration only occurs during boss fights and while you're crossing the overworld (oh, we're going to talk about that overworld). Sometimes, it sounds really awesome. A couple of these boss themes are actually pretty freaking sweet such as the music that plays during the battles against Bilocyte, Koloktos and, my personal favorite, the Stalfos.
Other themes do tend to do less to impress. This, again, blows my mind because Zelda is infamous for having great music and the music in SS is bland and boring, especially compared to Spirit Tracks. Just as an example listen to the main town music from both games compared back to back.
Or how about the dungeon music? Well, actually this one does anger me a little bit since there are actually two genuinely great dungeon songs in Skyward Sword: the Earth Temple and the Sandship. So, if these two songs were so awesome, why couldn't the rest of them be? And if you think that the amount of songs being named here is big, it's not, the amount of cool songs on Skyward Sword's soundtrack is in the minority.
And that's not to say that Spirit Tracks doesn't have its own fair share of awesome dungeon music under its belt too.
And, honestly, here's the strangest thing: some of the songs that are orchestrated in Skyward Sword are actually one-upped by their counterparts in Spirit Tracks. Let me rephrase that: I was blown away by the musically-limited DS but completely underwhelmed by the orchestrated soundtrack on the Wii. Go ahead, listen to the overworld and final boss songs of both games and you tell me which one is better (obvious musical spoilers in the latter category BTW).
Oh, and in case you're going to argue about Groose's amusing theme song up there, keep in mind that Spirit Tracks had cooler character theme songs…
…and more epic remixes to compliment said songs.
Hell, even some of the shortest songs on Spirit Tracks' soundtrack sound a million times more epic than the ones on Skyward Sword's.
Thus, I have no trouble whatsoever giving a very easy victory to the all-around better video game soundtrack.
Winner:
Bosses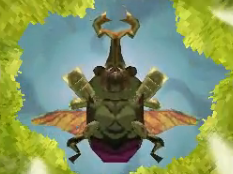 vs.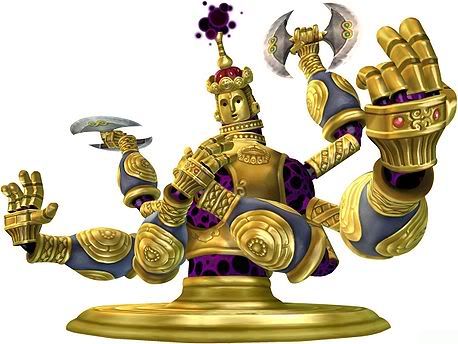 One of the best parts of any great video game are the boss fights and these two games are no different. Shortly after you get through the first couple levels, both games deliver boss battles that kick massive amounts of ass. Both games have a lot of fun and epic boss battles but which one has the all-around better gallery of boss battles?
First off, let me just say that if you were to gauge it based solely on challenge, Spirit Tracks is the easy victor in that regard. With some exceptions (e.g. Ghirahim, the Stalmaster) the boss battles in Skyward Sword are pretty easy to beat in only one try. Spirit Tracks' boss battles, on the other hand, are far more difficult in nature. They're not "Volvagia in Ocarina of Time" levels of difficulty but they can get pretty close sometimes.
Actually, now that I really start thinking about it, this is a really difficult comparison to make. Spirit Tracks has only about seven dungeons with seven bosses (well, five dungeons plus the final level which I like to count as a dungeon) all of which are actually pretty consistently awesome. Skyward Sword, however, numbers in at around nine however it slips up more often. Despite this, however, the ones that don't slip up are a million times more awesome than the best in Spirit Tracks (except Fraaz; Fraaz is the best boss battle in both games).
Hmm… I think what it comes down to, in my opinion, aren't the bosses themselves but the mini-bosses. Not the guy waiting for you at the end of the dungeon but the guy you fight in between, about halfway through. And, when you bring that into consideration, I have to give the edge to Skyward Sword because one area that it really did a lot better than any other Zelda up to this point in time is definitely the mini-bosses.
Spirit Tracks' mini-bosses tend to be a lot more plain, usually just amounting to "kill this number of powerful enemies" or some other annoying bullshit (see also: mini-boss of Ocean Temple). In Skyward Sword, you have epic battles that are sometimes more awesome that the end-of-dungeon bosses themselves. I've already talked about the Stalmaster but remember that battle on the masthead of the Sandship with the undead robot skeleton? Or how about your first encounter with a Stalfos in the game?
In addition to that, I generally felt more adrenaline during Skyward Sword's boss battles so there's that too.
Winner: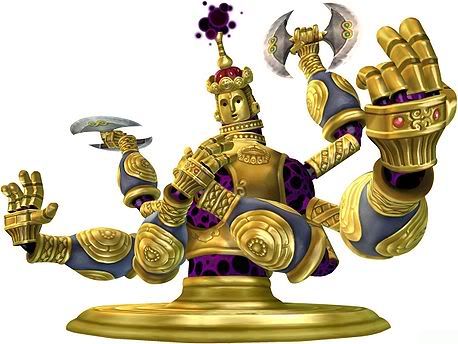 Final Bosses
vs.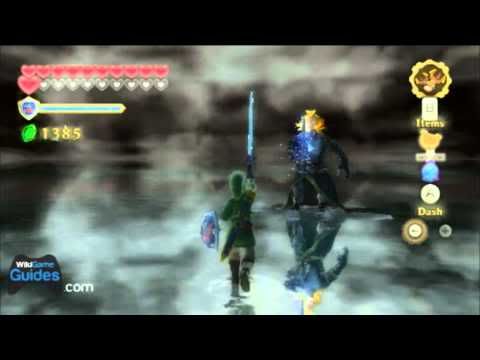 I know this seems a little redundant to talk about considering how not only did I compare the boss gallery of both games in general just now but I also made an end-of-year countdown a few months ago which anyone who read that should be able to see the victor coming from a mile away. But, hey, I needed nine categories and I couldn't think of anything else to pad it out so here we are.
With that said, the final battle in Skyward Sword is really bad. Not only is the boss pretty damn easy (considering how he's modeled off of the Ganondorf fight in Twilight Princess which, surprise, also sucked) once you figure out what to do but the fight itself is really boring and slowly-paced. I don't know, when I compare it back to back with the final battle from Wind Waker, this fight has a lot less energy to it making it a lot more boring. There are a few cool parts to it but the overall package feels lackluster and it does make you feel satisfied for completing the game.
Now, don't get me wrong, Spirit Tracks isn't one of the great video game final bosses either but it's still good. For one thing, it's a lot longer with several stages designed to kick your ass. For another, it's actually pretty decently challenging. Not incredibly difficult, I still beat it in about five tries, but it still requires you to stay on your toes. It's also a lot more energized and, on top of that, it has some of the best music in the entire franchise. Why am I still talking anyway?
Winner:
Overworld
vs.
Hey, remember my earlier rant on how shitty the soundtrack of Skyward Sword was? Guess what else about it really sucks? The goddamned overworld! And, once again, this just blows my mind; the overworld of Zelda games is often one of the coolest parts in the game and this is what the supposed "greatest Zelda game of all time" delivers to us in its stead?! Are you high?!
Ignoring the sub-par and bland orchestra, the overworld is, in a word, boring. I'm serious, I've never been this uninterested in crossing a Zelda overworld before in my life and that is not a good thing. Honestly, whenever I'm in the Sky, I feel like I just want to get to Skyloft and then go back down to the surface; I genuinely don't care to go exploring. And that's not a good sign, is it? That I'm so focused on just moving on that I don't feel the time to go exploring around the overworld a little bit.
With that said, the Loftwing you ride moves incredibly slowly. Once again, what the Hell?! The point of your vehicle in the Zelda franchise is to make travel faster. Oh, and get this; if you want to find hidden collectibles on the various islands strewn throughout the Sky, first you have to destroy various Goddess Cubes down on the surface. It's an annoying system, especially when you come to an island, find a chest and discover you can't open it because you haven't destroyed its corresponding Goddess Cube (more on that later).
It's surreal because Spirit Tracks actually has one of the best overworlds in the franchise. Funny how that works out, isn't it? Not only does the train actually move fast, but it's actually fun to ride on. Seriously, I could just ride around Hyrule for an hour or so especially since it's really fun to actually explore this world. There's a bunch of side-quests abound and you're going to certainly have a fun time exploring around on your little locomotive.
It also does benefit from a much better system for exploration than the one that Skyward Sword possesses. Basically, for doing various odd jobs for various people in Hyrule, their gratitude causes pieces of the Spirit Tracks to rejuvenate allowing you to access other areas to search for even more stuff. It's a great system and it works out well.
So, between a bland and boring overworld that I just want to skip through versus one that's incredibly fun and I enjoy traveling through? Gosh, I wonder who the winner is. /sarcasm
Winner:
Dungeon Design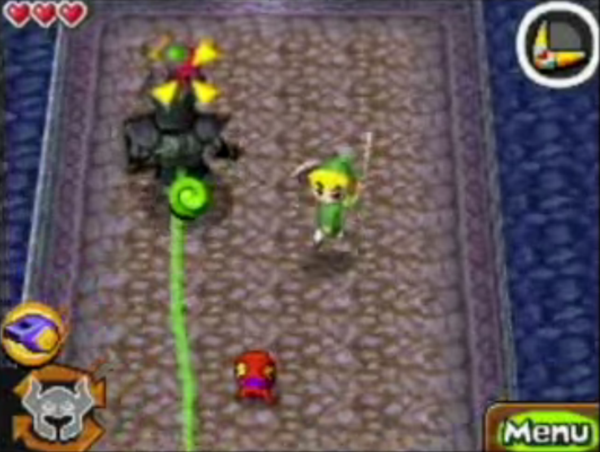 vs.
Hey, there's the other most important asset of any good action-adventure game: overworlds and dungeons. And boy, is this another close call. I'm actually starting to notice a pattern here. We have a lot of close calls and then a lot of landslides, there's never a middle ground. Why is that?!
With that said, both of these games have some of the absolute best dungeon design in the franchise. They generally test your wits while utilizing the dungeon's theme in such a way that's hard enough to be challenging while easy enough to not be frustrating. It's a great balance that both of these games find really well (you know, when fucking Fi's not spoiling everything).
So, with that said, you're probably wondering if I have a victor. And yes, yes, I do. And believe it or not, it's not because I think one area both of these games succeeded where the other failed. Both of these games have water levels that don't suck, both have great fire levels, great desert levels, great forest levels, great final levels, you get the point. So where does one game succeed while the other failed? Ladies and gentlemen, welcome to the Tower of the Spirits!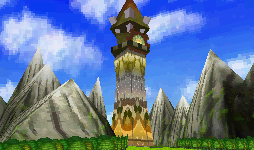 Considering how Spirit Tracks was sort of designed to one-up Phantom Hourglass in every way, shape and form, it's surreal as to how they took one "meh" part of the game (the Temple of the Ocean King) and somehow made it even worse. Pretty much, every time you complete a main dungeon, you have to return to the Tower of the Spirits and complete another mini-dungeon so as to open up the door to the next dungeon.
Decent idea but apparently they shoved all their shitty ideas for dungeon design onto this area for some strange reason. The first couple times are okay but each trek through the Tower of the Spirits gets steadily harder and more frustrating each time you visit, enough so that by the time you reach your final trip there, you're faced with an area that's one of the cheapest, hardest, most frustrating levels in video game history. We're talking just as bad as, if not worse than, the Water Temple from Ocarina of Time here! Yes, it's that bad!
Skyward Sword, thankfully, never reaches such levels of shit. In fact, it never comes close; every dungeon in the game is awesome… or at the very least decently fun. And most of Spirit Tracks' are too, they just get bogged down by the one really bad one. But it is enough to seal Skyward Sword's victory in this category.
Winner:
Gameplay
vs.
I would like to restate my earlier point on how these are both phenomenal games (since, after all, they are Zelda games) and, honestly, I'd recommend you to play both of them. However if you can really only play one, which one would it be? Well, let's buckle down and try to find out.
As I mentioned before, Skyward Sword took more measures to try to break the Zelda formula while Spirit Tracks does still sort of follow it. In Skyward Sword, generally you don't really meet a whole lot of people outside of Skyloft; everywhere leading up to every dungeon is some dangerous wilderness that, in and of itself, sometimes feels like a dungeon. I have mixed feelings about this approach overall. On one hand, the lack of general villages does sort of make it so that you don't feel like the whole world is resting on your shoulders at the end of the game. On the other hand, I'm an emotionless prick and I generally don't feel that in most Zeldas anyway.
With that said, another thing that did bother me was sort of the last third of Skyward Sword. This may count as spoilers but it's nothing major so I wouldn't worry about it. In order to access the final area, you must awaken the three Dragons who are in the various parts of Hyrule (the forest, volcano and desert). My question is why aren't the pathways to get these dragons also dungeons? I dunno, in a game brimming with great dungeon design and great bosses, it wouldn't have hurt to have three more thrown into the mix.
Spirit Track's overall story structure doesn't really have any gripes like that, in my opinion anyway. While I've already talked about what a Hellish nightmare the Tower of Spirits is and how you do have to visit there every time you complete an actual dungeon, it isn't until the last time you go there that it really becomes annoying and feels unnecessary. That aside, the place is okay and doesn't interrupt the overall flow of the game.
The other thing I probably should mention is the difficulty. It's no secret that I'm not a fan of games that are too easy to beat and I'd be lying if I said that Skyward Sword didn't fall victim to this trap as well. While I am currently playing through Hero Mode (which is very difficult), just beating the game the first time around shouldn't require too much effort and few deaths on your part. Spirit Tracks, on the other hand, is incredibly difficult. Like I said, maybe not Ocarina of Time levels but its high up there. By the time you reach the halfway point of the game, the game really will punish you for mistakes and will deliver puzzles that require some serious brainpower on your end. However, except for the aforementioned stage, I never felt they went too far with it. The game is challenging but in a good way; when you screw up, it's your fault, not the game's.
I actually do really like a game like that: they respect your intelligence well enough to let you figure everything out on your own but still give you enough materials to work with to try to deduce what you should do next. I never got that in Skyward Sword. Between Fi's constant annoying bullshit messages and the overall easy enemies and bosses, I never really felt like I was being challenged outside of a few choice areas. That's not to say it doesn't have its hard parts, it still does, but they're generally pretty few and far between. The game's still fun regardless, and it's certainly much harder than Zelda's last outing on the Wii, but you never really do get that feeling of satisfaction you'll find yourself encountering a lot in Spirit Tracks.
But honestly, I still think this is an issue in Skyward Sword which also ties back into my earlier complaint about not enjoying the 3-dimensional world it created because I never did feel like accomplishing the side-quests. I may have mentioned earlier that I abhor the system of Goddess Cubes to find collectibles in the Sky. Pretty much every time you find and destroy a Goddess Cube on the surface, you can now open up a chest on one of the islands in the sky above. What happens if you found a chest before you activated it? Too bad, you have to still find the Goddess Cube below. What kind of bullshit is that?! If I find a chest, I should be able to open it.
As if that isn't enough, once you activate the chest, it's marked on your map and you can also use the dowsing option to find your way to the Cubes later in the game. This all makes Skyward Sword feel like it's going to be the only Zelda I'll ever 100% without ever having to use outside help. And, honestly, that really does rub me the wrong way. If you're going to make the overall main quest easy, that's fine, but when you make the side-quests and what-not also laughable in nature, that just pisses me off.
Plus, the side-quests are just not appealing. I've already talked about how I straight-up do not enjoy flying around the Sky on the Loftwing because of how slow it moves but all of the side-quests boil down to the same basic gist: someone needs something, go down to Surface, dowse for and find object, go back to sky, rinse, repeat. It wears on you real fast.
Spirit Tracks' side-quests are much more fun. Like I said, the train is a blast to ride on and in exchange for transporting people from Point A to Point B, you get more tracks to ride on. In addition to that, you also have an overall side-quest to help return rabbits to the Rabbitland Rescue. What's the Rabbitland Rescue? It's a sanctuary for lost rabbits that's run by a guy who hires you to blow up rocks that the rabbits were no doubt using as homes, forcibly catch them in your net and then return them to him in exchange for prizes. This guy does this in the middle of Hyrule Field since he got kicked out of Hyrule Castle Town, presumably because everyone around him realized that he was a schizophrenic and a danger to society.
Clearly, this man has issues.
All jokes aside, I really do like the side-quests aspect of Spirit Tracks. I actually felt inclined to dabble in something other than the main quest. In Skyward Sword, the main quest kept me occupied for the duration of my time playing because I genuinely did not want to try out anything else the game had to offer. And that's not a good sign.
Another thing that grinds me gears about Skyward Sword is the saving system. While in Spirit Tracks, you can save at any time you want thanks to the convenience of a button on your pause screen, Skyward Sword instead uses save points; that is you can only save at certain places rather than whenever the Hell you want. And that, to me, is outrageous. We live in the year 2012, save points should be extinct by now! We should be able to just pause and save whenever the Hell we want, we shouldn't have to be forced to hunt down the next save point when we have to turn the game off to go eat dinner!
However Skyward Sword takes this problem to dizzying extremes by having the save points being freaking everywhere. Literally in every room in every dungeon, odds are you can find a save point. You never ever have to look far to find one. So why is this an issue if I just said that save points annoy me because they make you go to unbearable lengths just to turn off the game? Because what's the point of making it possible to only save at certain areas if you're going to make those areas everywhere in the game?! Why don't you just make it so that you can save from the pause screen at any time?! GOD ALMIGHTY WHY IS THIS A DIFFICULT CONCEPT TO UNDERSTAND?!
But, if we are to decide a true victor, we have to go straight to the heart of the matter: the gameplay itself. Assuming you know anything about either of these games, you should know that both of them are generally considered the pinnacle of quality on their respective systems with Spirit Tracks utilizing the DS stylus to its absolute fullest potential and Skyward Sword utilizing the Wii's motion controls to their absolute fullest potential. So… what does or doesn't work about either of these things?
Spirit Tracks' controls are handled swimmingly despite the fact that the only thing you ever use to advance in the game is the DS stylus: no buttons whatsoever are ever used. By putting the pen on a certain direction, Link will go in that direction and you also have a little status screen at the bottom of the DS screen that you can pull up at any time to pause the game and fetch items. This may sound simple but the game often requires you to be very precise leaving to have some surprisingly deep gameplay in disguise as some really simple gameplay. It's fun and it works.
Admittedly it does get a bit wonky at times although those times are actually pretty rare. The only problem I ever had while playing Spirit Tracks was that the sword-swinging is a bit problematic at some moments. To be more specific, in order to swing the sword you have to tap the area you want to strike with the DS pen. However, sometimes the game fails to differentiate between you trying to swing your sword and just walking forward, causing you to get hurt. It's annoying at times but it does generally work pretty well.
Skyward Sword utilizes the Wii Motion Plus as, unlike games such as Twilight Princess and Okami where you just waggle the Wiimote in order to attack, you use it more like you use an actual sword. Direction matters in this game as the Zelda series' more basic enemy, the Deku Baba, actually no longer requires you to just swing your sword to beat them; you actually have to notice in which direction they're opening their mouths and slice them in half accordingly. And, yeah, it does actually work well at making you strategize while fighting your enemies most of the time. Key words: most of the time.
Admittedly, Skyward Sword runs into a lot of issues with its gameplay. For one thing, executing a stab is one of the most frustrating things you'll ever have to do. I'm sure you know what it means to stab something but the problem is that the Wii sensor just reads the silhouetted movements of the Wiimote which is why it's effective at reading where it is any given time. However if you're moving the Wiimote towards the TV screen, it possesses great difficulty in picking the motion up.
Why is this an issue? Well, a lot of enemies can only be defeated with a stab which is a problem because you're going to spend five fucking minutes thrusting your arm straight at the TV screen while they wear your hearts down. Seriously, I lost so many fucking hearts just trying to kill the Beamos! WHY THE HELL DO WE NEED TO STAB STUFF?! THE GAME IS UNIQUE ENOUGH WITH ALL THE VARIOUS SLASHING MOVES, WE DON'T NEED THE EXTRA MILE TO MAKE IT STAND OUT!
And God, I haven't even talked about some of the other shit that the game forces you through. Some of you may remember my end-of-year countdowns such as my worst bosses' countdown. The opening boss battle against Ghirahim is some of the most frustrating bullshit you'll ever have to sit through which has the bonus of pissing you off and making your arm hurt like Hell after it's over.
In addition to that, another thing that really bothered me is trying to aim some of your items. Generally it actually does work pretty well, especially with the game forcing you to steady your arm to aim it. My issue occurs, however, whenever you Z-target an enemy, you still have to manually aim your arm to kill it even though the camera is focused on the enemy.
Say, remember Zelda: Ocarina of Time? Remember how it had the revolutionary Z-targeting system where generally you do have to manually aim your weapons unless you Z-target in which case, the arrow/whatever other projectile you're using will automatically hit the enemy? Remember how every other 3D Zelda game used this system because it was awesome? Why did Skyward Sword get rid of it? It just makes killing certain enemies more of a pain in the ass than it has to be.
Now, again, don't get me wrong, Skyward Sword is actually fun to play, it just has a lot of big issues with is gameplay. After all, no game is perfect. Spirit Tracks, after all, is the same deal: it's a lot of fun to play even though it has… one… big issue with its gameplay… and… even then it's not really a big issue just a minor peeve that gets in the way every now and then…
……………………………….
Yeeaaaah, I think the winner is starting to become more and more clear the longer we're on this. I mean, Skyward Sword has a lot more problems with its central gameplay system than Spirit Tracks does and, in addition to that, a lot of the bells and whistles of Spirit Tracks like the overworld and the music and the companion (especially the companion) just trump Skyward Sword's equivalents beyond belief. Again, Skyward Sword is still a magnificent game I'd recommend to any Wii owner but best Zelda game of all time it is not. It just has way too many problems and showcased that some parts of the tried-and-true Zelda formula were… well… formulaic for a reason to even be considered for that category.
Also, Spirit Tracks has Linebeck. Insta-win that regard. Play me out Linebeck!
Winner:
Well, thank you for reading ladies and gentlemen and, if you disagree, leave your opinions below. I don't expect you to agree with everything I say, I just expect you to be cool about. As long as you can explain why you think SS is better than ST (even though you'd be wrong), I don't see why we can't disagree.
So yeah, hope you enjoyed the blog and- wait a minute, didn't I just say earlier that we're currently in the year 2012? I did, didn't I? Well, in that case, I think you all know what's next on my agenda.