TLDR;
Originally had this blog as part of my Super Mario Bros. 25th Anniversary red Wii unboxing blog however, I decided to separate them into two blogs.
MonoPrice.com is an AMAZING company I stumbled upon a while back. Based in California, "Monoprice, (DBA. MonoPrice.com) Inc. is an eCommerce leader specializing in high quality cables, components and accessories for computer and consumer electronics. Established in 2002, we have built our reputation by the word of mouth of our customers. The Monoprice brand's greatest claim to fame is our consistent ability to deliver premium quality products on par with the best known national brands at prices far below the retail average along with unmatched speed and service.". (Off the company wesite). And let me tell you... THEY DEFINITELY LIVE UP TO THEIR CLAIMS!!! AAAND... if you are ordering in California, you can get overnight shipping for under $5!!! WIN!!!
Let's look at some of the upgrades that I purchased for my Wii!
Audio/Video UPGRADE
Now, we all know that the Wii's maximum resolution output is 480p; which still looks good on an HDTV, just not as good as 1080p. So spending saaay, $30 on a brand new Wii Monster Component Cable (now $18 on Amazon) seems a bit excessive; even for an HDMI cable of the same length.
However, MonoPrice.com provides a high quality component cable for the Wii for a mere $2.72. It's a 6ft cable that displays in 480p, and also comes with a net jacket surrounding the cable to prevent wear and tear; making your $3 investment last even longer! :) LINK PROVIDED BELOW!!!
6ft Wii Component Cable - $2.72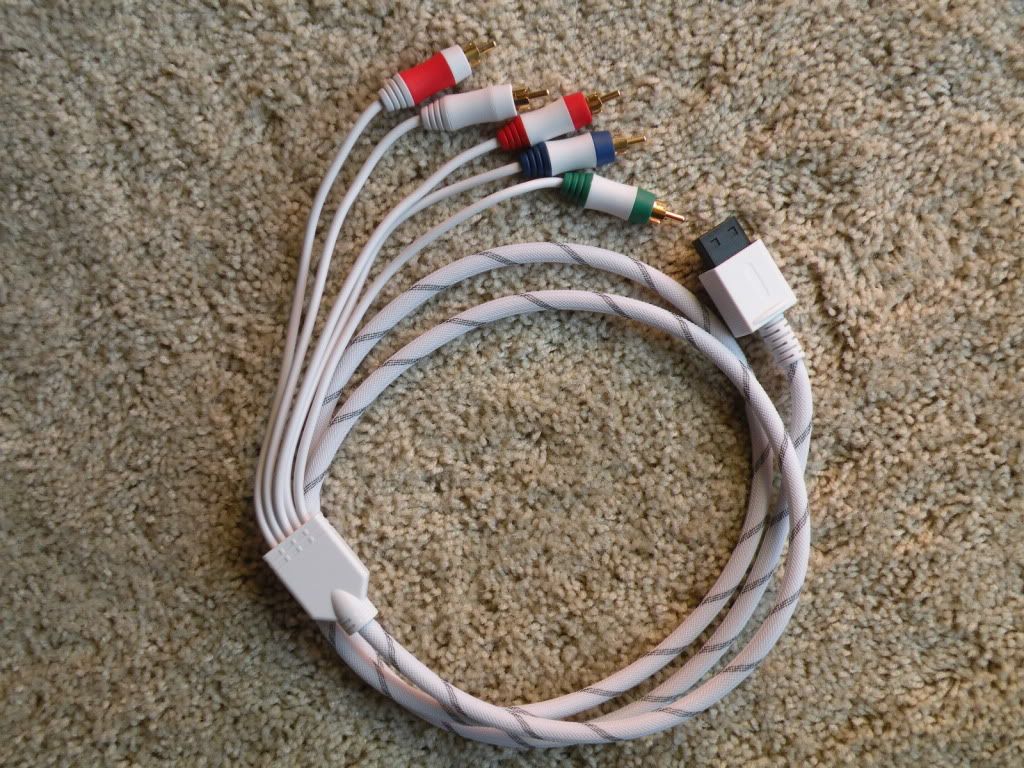 Wireless Sensor Bar UPGRADE
Any of us that own a Wii, know that the console comes with a sensor bar that is used by the Wii-mote to track its position. We also know, that attached to this sensor bar is an ANNOYINGLY LONG cable, whose only purpose is to provide power to the infrared LEDs within the sensor bar, and is completely unnecessary!
Luckily, MonoPrice noticed how completely unnecessary this cable is and developed a wireless sensor bar that runs on 4 AAA batteries. And what is the cost? REAL LOW CHEAP!!! $3.21!!!
Wii Wireless Sensor Bar - $3.21
Your probably thinking... $3.21 for a wireless sensor bar IS real low cheap however, 4 AAA batteries to power it over time... now that's going to get expensive. And you would be right... if you were not using RECHARGEABLE BATTERIES.
I bought an Energizer recharge station that came with 4 AA batteries, enough for 2 Wii-motes, over 3 years ago, and it has been well worth the investment. The recharge station also charges AAA rechargeable batteries; which I think is a standard for these charging stations. So buy yourself a charge station, doesn't really mater what brand, and a package of AAA rechargeable batteries and you're golden Ponyboy!!!
Wii Stand UPGRADE
I know that the Wii stand that comes with the console works perfectly fine however, this MonoPrice Wii stand upgrade is nice because it gives you a place to organize your controllers and or games! This is more of a luxury purchase so, if you have the $7.43 lying around to purchase the stand, you may want to consider picking this one up.
Say hello to my girlfriend Tiffany's cat, Ratatouille!!! Or at least his back side, HAHAHA!
Wii Multifunctional Stand - $7.43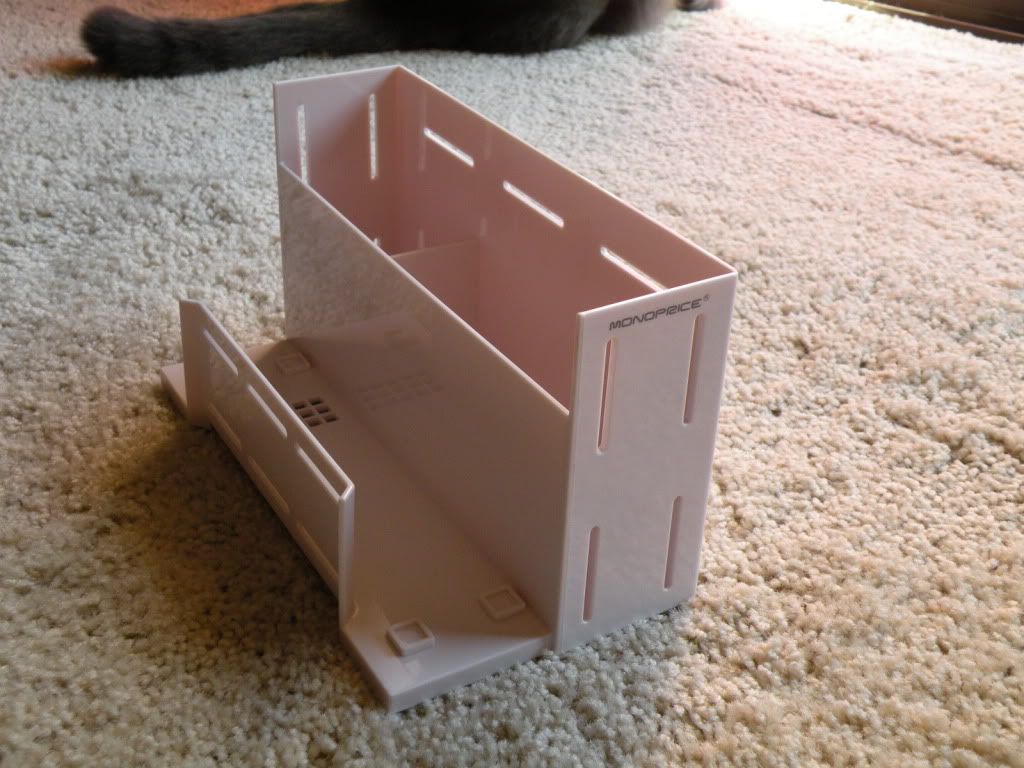 Ferrite Core UPGRADE
What the hell's a Ferrite Core??? Ferrite Cores help to improve/enhance the signal quality of audio/video cables by absorbing signal interference, reducing signal errors and improving signal integrity; and when your maximum picture resolution is 480p... protecting that signal from degradation is always a plus; and a good idea.
I think now would be time to define what AWG is as well. AWG stands for "American Wire Gage". It's a standard that describes the thickness of the copper wire inside the center of audio/video and power cables. The lower the AWG rating, the thicker the copper wire inside the cable is. The thicker the copper wire, the less electric resistance there will be and better overall signal quality.
The component cable mentioned earlier is rated 28AWG. The smallest Ferrite Cores that MonoPrice has available are for HDMI cables rated 24AWG. However, because the Wii component cable has that nice net jacket around it, the cable is thick enough for the Ferrite Cores to fit snugly without sliding up and down the cable. Signal integrity is improved, and all you had to spend was $2.33 to do it!!!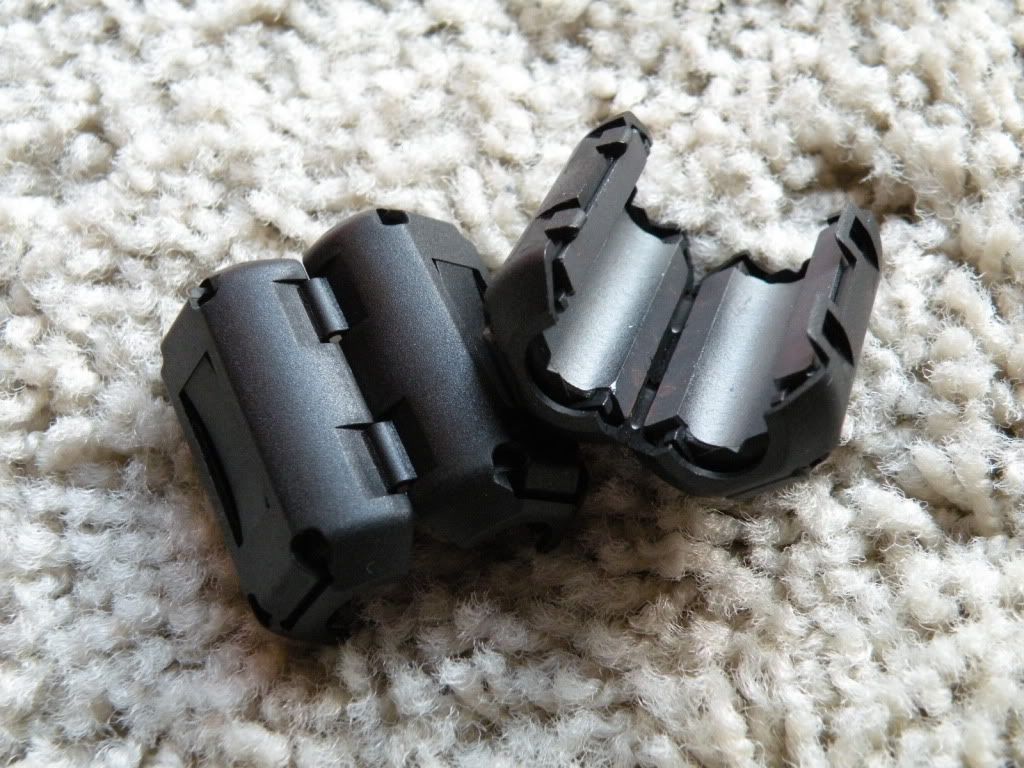 [Wii Component Cable w/ 24AWG Ferrite Core Pair]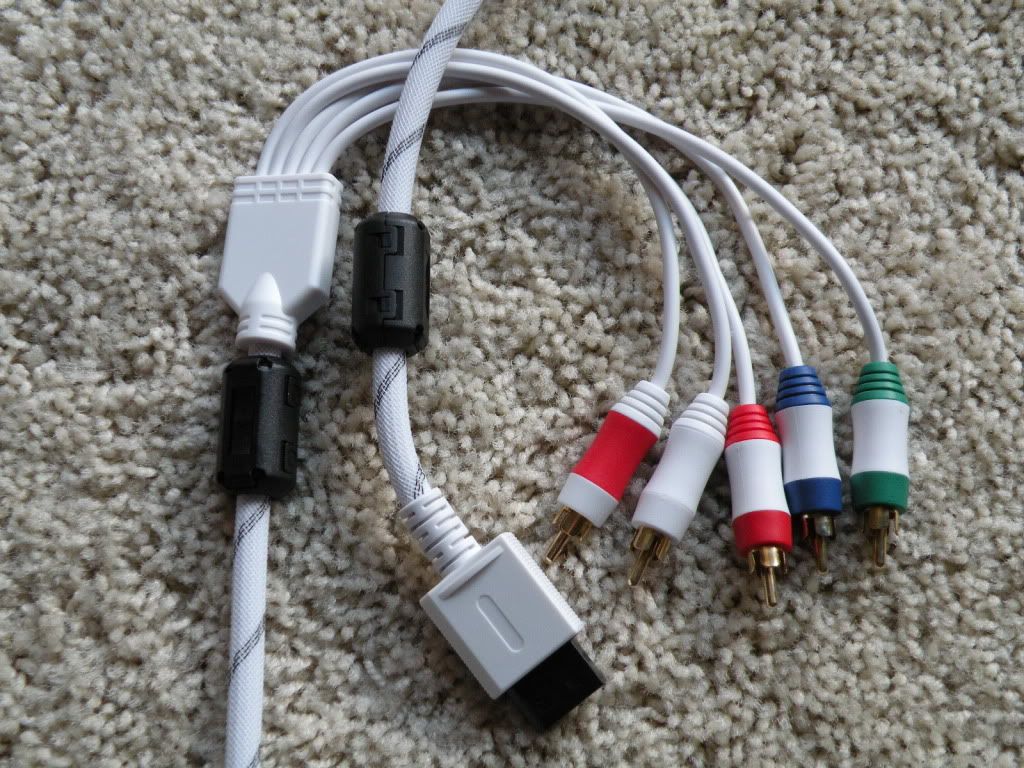 Monoprice.com has a ton of great products available for purchase. So if your looking for high quality cables and other great products, Monoprice.com is your one stop shop!!!